Located in the desert state of Rajasthan, Pushkar is a small temple town known for housing the only dedicated Brahma Temple in the world. Another thing that makes this hamlet quite famous around the country is the grand Pushkar Camel Fair. Also known as Pushkar Fair or Pushkar Mela, this 9-day annual event commences in the month of Karthik and goes on till Karthik Purnima. Pushkar Fair 2023 will attract traders, artisans, and tourists from across the country for a vibrant and fun-filled event.
Pushkar Fair 2023 – Important Information
Dates

 1st November 2023 to 9th November 2023

1st to 6th November 2023 – Pushkar Cattle Fair
7th and 8th November 2023 – Pushkar Cultural Fair
9th November 2023 – Pushkar Festival

Location

 Pushkar, Rajasthan (15 km away from Ajmer)

Entry Fees

 Free Entry

Nearest Railway Station

 Ajmer Junction (14 km)

Nearest Airport

 Kishangarh Airport (46 km); Jaipur International Airport (151 km)
Why is Pushkar Fair Celebrated?
Pushkar Fair is organised to celebrate the important occasion of Karthik Purnima. This is an auspicious time to wash away past sins and make a wish for something. While the first 8 days of the fair are kept for competitions and cultural performances, the last day is reserved for different religious activities, such as offering prayers at Brahma Temple and bathing in Pushkar Lake and Maha Aarti. 
It is believed that all 330 million Hindu Gods and Goddesses came to Pushkar Lake on the full moon night of the Karthik month to bless the devotees. Hence, pilgrims from across the world come to Pushkar every year and take a dip in the lake to commemorate the event and participate in the celebrations.
Another intention of organising Pushkar Mela was to bring many tradesmen together for commercial activities. However, the fair attracted many locals and tourists as well and went on to become one of the biggest tourist attractions in Rajasthan. This 100-year-old camel fair is now an important event where you can witness the vibrant culture of Rajasthan at its best. Talented artists from across the globe, such as magicians, dancers, and snake charmers, come to Pushkar Mela to showcase their skills and entertain the crowd.
Main Attractions at Pushkar Fair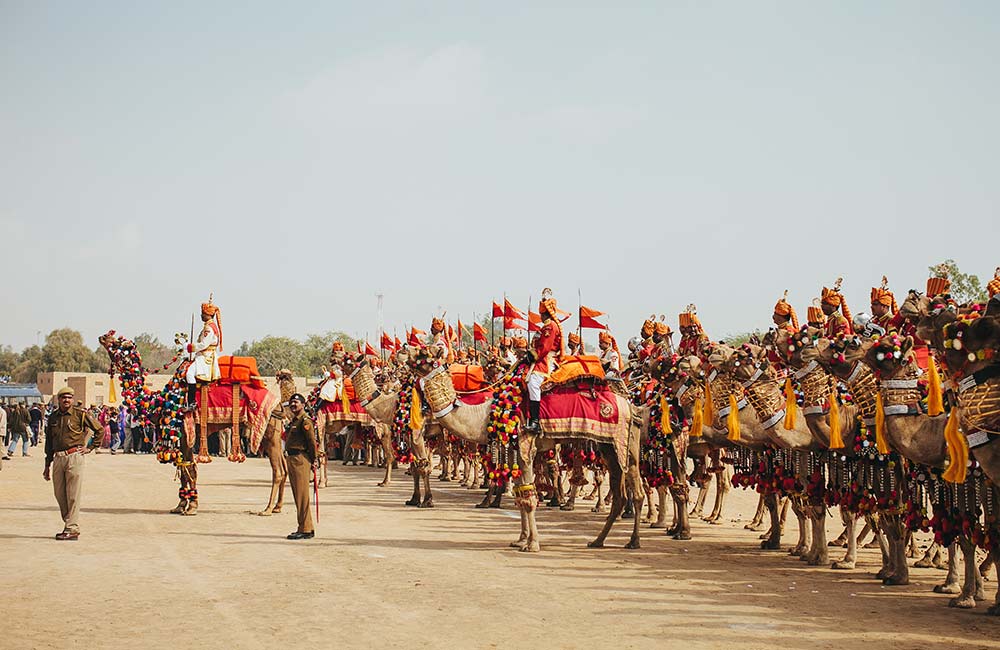 The Pushkar Fair organises various competitions, magic shows, cultural performances, and exhibitions that keep visitors entertained. It also brings thousands of livestock in one place for trading and competition. Here is a look at the primary attractions of this grand fair.
Camel shows: Thousands of beautifully dressed camels are the focal points of the Pushkar Fair. Hence, the fair is popularly called Pushkar Camel Fair. You can see some of the best camel shows and activities, from camel dance and parades to beauty pageants and auctions at the fair. Over 25,000 camels are traded at the Pushkar Fair every year.
Cattle fair: This is yet another major highlight of the fair. Cattle owners from across the state dress up their cattle, including cows, horses, goats, and sheep, in colourful clothing and bring them to this grand event for trading. In the initial years, cattle trading was one of the main reasons for organising the fair.
Cultural performances: Pushkar Fair is known for hosting some amazing cultural performances, such as folk dances, acrobats, matka phod competitions, and bride and groom contests. Talented artists from across the country come to this special event and showcase their skills.
Moustache competition: Growing long and thick moustaches is a matter of pride for Rajasthani men. Hence Pushkar Fair also organises a moustache competition that sees participation in large numbers.
Souvenirs: The colourful stalls at Pushkar Fair sell a range of local products that you can take back home as souvenirs. From Rajasthani garments, bags, and jewellery to brassware, toys, decorative pieces, and handicrafts, the collection here will blow your mind! Camel souvenirs are most popular among tourists visiting the fair.
Religious activities:Devotees engaging in religious activities is yet another highlight of the fair. Locals bathe in the holy Pushkar Lake, participate in Maha Aarti, and perform other rituals such as Deepandaan and Pushkar Abhishek.
Other activities:You can also enjoy magic shows, turban tying and tilak contests, tug of war, live music performances, carousel rides, and other interesting activities and competitions at Pushkar Fair.
Pushkar Fair – Things to do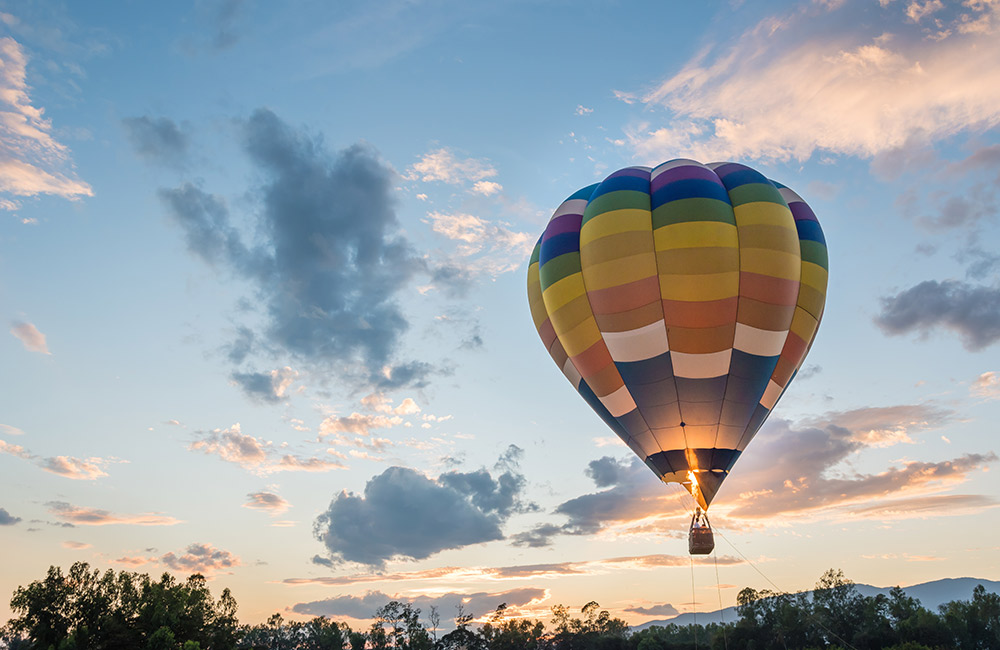 Enjoy desert camping or glamping: Desert camping or glamping is one of the best things to experience in Pushkar Mela. The fair has large luxury tents with all the facilities for a comfortable stay. Camping in the dunes under the full moon is a different experience altogether. It is so famous that people from across the globe come to Pushkar for desert camping.
Try camel safari: When you are in Pushkar, you should hop onto a camel and ride through the rolling dunes and the desert terrain. Camel safari is one of the best ways to explore the vast desert and enjoy mesmerising views during sunrise and sunset.
Take a hot air balloon ride: If you are up for some thrill, you must go for a hot air balloon ride to enjoy panoramic views of this desert town. However, the activity is not advisable for the faint-hearted.
Participate in Harmony Half Marathon: The Harmony Half Marathon is a popular event among locals and tourists. This 14 km run from Dargah Ajmer Sharif to Pushkar Stadium Ground is organised to honour the uniqueness of Rajasthan. If you are a running enthusiast, you can register for the marathon online on the official website of Pushkar Mela and participate in this thrilling event.
Take a dip in Pushkar Lake: Pushkar Lake is considered one of the holiest lakes in India, and taking a dip here on Karthik Purnima is a religiously significant activity. Many devotees come to Pushkar Fair just to take a dip in this holy lake. It is believed that the holy water of the lake leads devotees to a path of salvation.
Indulge in famous Rajasthani food: If you are a gourmand, you are in for a treat as you can relish some of the finest delicacies from different countries at the Pushkar Fair. From Indian and Italian to Chinese and Lebanese cuisines, the food stalls at Pushkar Fair serve them all. However, the delectable Rajasthani food steals the show, especially the lip-smacking Dal Baati Churma!
Engage in handicrafts shopping: The mela has many makeshift stalls where the craftsmen sell a range of intricately designed products. The options here are endless, from patchwork garments and Rajasthani footwear to printed textiles and silver jewellery. Explore these stalls and purchase some traditional products as they make perfect souvenirs and gifts for loved ones and friends.
Interesting facts about Pushkar Fair
Pushkar Fair attracts over 2,00,000 people every year from around the world.
There are around 400 temples and 52 ghats around Pushkar Lake.
Taking a bath in Pushkar Lake during Karthik Purnima is believed to help cure skin diseases and other bodily ailments.
Horses at the fair are more expensive than camels.
The camels at Pushkar Fair are adorned with clothes, jewellery, silver bells, and bangles and paraded around for everyone to see.
The remains of Mohenjo-Daro, the largest settlement of the ancient Indus Valley Civilization, were found in the historical town of Pushkar.
Pushkar Fair is a spectacle that showcases the culture of the vibrant state of Rajasthan and the locals of the desert. Besides all the religious activities, the fair is a truly entertaining affair for people of all ages. If you are keen to visit the upcoming Pushkar Fair 2023, act fast and book hotel rooms in advance. The town experiences a huge influx of tourists for the fair and finding end-minute hotel accommodations can be next to impossible. Have you been to the Pushkar Fair already? Do share your experience with us in the comments below.
FAQ
Q. What is the best time to visit Pushkar?
A. The best time to visit Pushkar is October and November.
Q. What to wear in Pushkar Mela?
A. The traditional attire for Pushkar Mela is 'Ghaghra' and 'Lehenga' for women and 'Dhoti-Kurta' for men.
Q. How many nights in Pushkar are enough?
A. Two nights are enough for Pushkar Mela to explore.
Q. Which is the biggest fair in Rajasthan?
A. Pushkar Fair is considered to be the biggest fair in Rajasthan.
Q. Which day is best to visit the Pushkar Camel Fair?
A. Kartik Poornima is the full moon day and the main day of the fair. This is also where you will catch hundreds of Hindus bathing in Pushkar's holy lake.
Q. Can we see the desert in Pushkar?
A. Yes, you can try the desert safari in Pushkar with breathtaking views of sand dunes.