When I told my mom I am writing a blog on Coimbatore, her first reaction was, "On textiles?" When I said no, she assumed with confidence "Aaah! Educational institutions! I see." Well, who can blame her? For many in her generation, the word Coimbatore means two things – clothes and colleges. If you live in the southern part of India, you most likely have a cousin or a friend who is doing an engineering course in Coimbatore. And almost every family has that proverbial uncle who went all the way to Coimbatore, that too with his entire family, to shop for wedding clothes. If you too, like my mom, think that finding tourist places in Coimbatore is as difficult as making Sheldon Cooper give up his favorite spot, here's news for you. The city has everything to make a lasting impression on the minds of travelers.
Tracing its existence to before the second century, this city in Tamil Nadu effortlessly bridges the gap between the past and the present. Also known as Kovai, it ticks the boxes for everything that your heart may desire for a great holiday experience. If you are planning a trip to Coimbatore on your next long weekend, do not miss out on visiting these 20 incredible tourist places in and around the city.
Popular Attractions in Coimbatore
1. Gass Forest Museum
The Gass Forest Museum holds a special attraction in Coimbatore for tourists of all ages. Once inside the museum, you will come across a number of stuffed animals and birds, such as gaur, leopard, peacock, chinkara, etc. Located within the campus of the Forest College, this natural history museum is a one-of-its-kind destination that you mustn't miss visiting.
Location: RS Puram
Timings: 09.00 am to 01.00 pm and 02.00 pm to 05.30 pm
Entry Fee: 
          Adults – ₹ 10 per person
          Children – ₹ 5 per person
2. VOC Park and Zoo
When you take a count of tourist destinations in Coimbatore that holds an equal attraction for people of all age groups, the VOC Park and Zoo is on the top of the list.  It is a nature park that features a zoo having 900 animals. More than 100 mammals, 300 birds, and about 50 reptiles call this place their home and enthrall visitors.
Location: Gopalapuram
Timings: 
          04.00 am to 07.30 pm; Monday to Saturday
          10.00 am to 07.30 pm; Sunday and public holidays
          Adults – ₹ 3 per person
          Children – ₹ 2 per person
3. Ukkadam-Valankulam Lake
Fancy witnessing the sunset with your partner beside a serene lake, even as flocks of birds head towards their nests? Ukkadam-Valankulam Lake offers you such an experience that you will cherish in this life and the next. For a nature enthusiast, the place offers a fine opportunity to spot a variety of birds like purple moorhen, little grebes, etc. Don't forget to take your camera; you don't get to see such a picturesque place every other day.     
Location: Highways Colony, Ramanathapuram
Timings: No specific timings
Entry Fee: Free Entry
4. TNAU Botanical Gardens
If you are a nature enthusiast, you will definitely love visiting the TNAU Botanical Garden. This huge garden is situated within the Tamil Nadu Agricultural University (TNAU) Campus and features an astounding variety of trees and plants. The Covai Flower Show that is hosted in the campus in January every year is a great draw for the people.
Location: Pappanaicken Pudur, Lawley Road
Timings: 08.00 am to 11.30 am and 02.00 pm to 04.30 pm
Entry Fee: ₹ 10 per person
5. GeDee Car Museum
One of the most interesting places to visit for car freaks in Coimbatore is the GeDee Car Museum. This exemplary car museum resulted from the efforts of GD Naidu, a visionary and an industrialist. You can have a look at various German, Japanese, Indian, British, American, and French cars that have been kept in excellent condition. The place also has a science museum that highlights the contributions of the legendary inventor and industrialist G.D. Naidu. You can even witness various famous electronic gadgetry and scientific inventions from the 1950s to date.
Location: Avinashi Road
Timings: 
          09.00 am to 05.00 pm; Tuesday to Saturday 
          10.00 am to 06.00 pm; Sundays
          Closed on Mondays and Public Holidays
          Adults (individuals, above 13 years) – ₹ 50 per person
          Adults (group of 20 or more) – ₹ 40 per person
          Children (Individuals) – ₹ 20 per person
          Children (group of 20 or more) – ₹ 15 per person
          Children below 6 years – Free
6. Perur Pateeswarar Temple
Perur Pateeswarar Temple is an ancient Hindu temple that traces its origin to the reign of King Karikala Chola. This centuries-old temple boasts of an eye-catching architecture in the Dravidian style and is quite popular among the devotees and tourists alike.
Location: Perur
Timings: 07.30 am to 09.00 pm
Entry Fee: Free entry
7. Kasthuri Sreenivasan Art Gallery and Textile Museum
As I already said, Coimbatore carries the moniker 'Manchester of South India' due to its textile industries and cotton production units? At Kasthuri Sreenivasan Art Gallery and Textile Museum, you will be able to have a glimpse of the growth of the textile industry in the city. It will be an interesting journey to discover how people progressed from spinning wheels to the new-age sewing machines.
Location: Avinashi Road
Timings: 10.00 am to 06.00 pm
Entry Fee: ₹ 20 per person
8. Infant Jesus Church
Set up in 1984, the Infant Jesus Church in Coimbatore is among the most visited churches in the city. The church attracts tourists due to its grand exterior and beautiful interior. Masses are held every week on Sundays and Thursdays.
Location: Thirupathi Nagar
Timings: 06.30 am to 06.30 pm
Entry Fee: Free entry
9. Kovai Kondattam
Adventure and fun lovers out there, here's good news for you. When you want to visit an amusement park and have a bash, Black Thunder is not your only option. For a short and sweet day trip, you can also visit Kovai Kondattam, a small amusement park packed with wonderful rides and water slides.
Location: Kalampalayam
Timings: 10:30 am to 06:00 pm; every day
Entry Fee:
          Adults – ₹ 600 per person
          Children – ₹ 550 per person
10. Eachanari Vinayagar Temple
The 16th century Eachanari Vinayagar Temple draws scores of devotees and tourists to its premises every day, thanks to its splendid architecture and serene ambiance. Dedicated to Lord Ganesha, the temple stands as a major spiritual landmark of the area and is a must-visit destination for anyone visiting the city.
Location: NH-209 Road, Eachanari
Timings: 05.00 am to 09.00 pm
Entry Fee: Free entry
11. Marudhamalai Temple
Nestled in a lush green milieu on the Western Ghats, Marudhamalai Temple is one of the most popular religious destinations in Coimbatore. Built in the 12th century, this hill temple is dedicated to Lord Murugan aka Subramanya and hence also known as Subramanya Swami Temple. It is believed that the two springs found on the hillock, namely Marudha Thirtam and Pambatti Sunai, contain medicinal properties and can cure many diseases.
Location: Marudhamalai
Timings: 06.00 am to 08:30 pm
Entry Fee: Free Entry
Places to visit near Chennai within 100 km
1. Dhyanalinga Temple
When the purpose of your weekend break is to escape from your busy life and get rejuvenated, the Dhyanalinga Temple makes for a must-visit destination. It is a great place to meditate, imbibe the energies distilled by yogic sciences, and get back to life with a renewed mind. 
Location: Booluvampatti
Timings: 06.00 am to 08:00 pm
Entry Fee: Free Entry
Distance: 29 km (approx.)
2. Kovai Kutralam Falls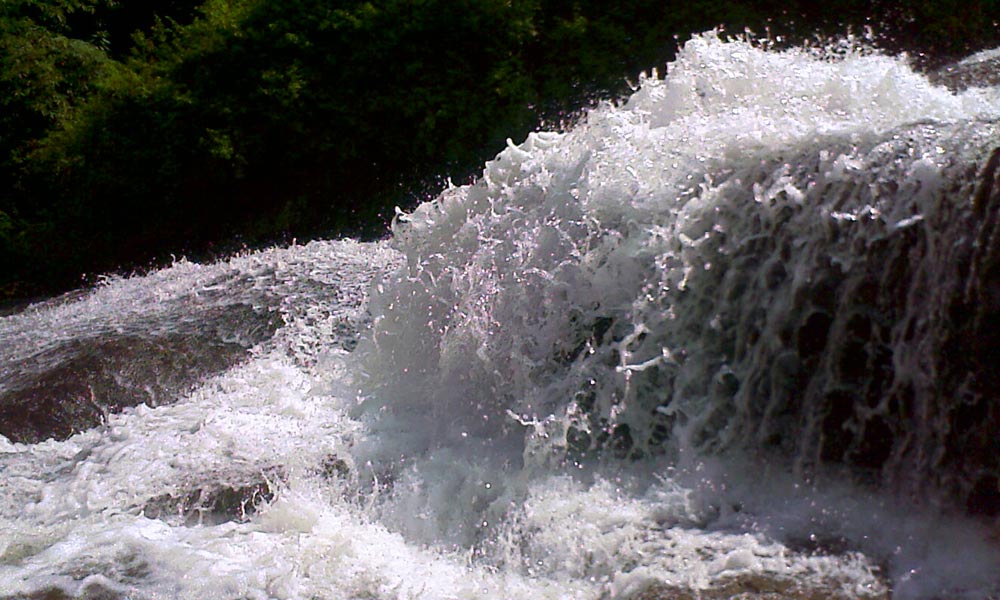 If you love witnessing the pristine works of nature, head out to Kovai Kutralam Falls in Siruvani Hills. You will need a drive of just one hour from Coimbatore to reach the destination. Situated against the backdrop of a lush green forest, the magnificent waterfall is undoubtedly one of the best places to visit in Coimbatore with your girlfriend or boyfriend and enjoy a few romantic moments.    
Location: Suruvani
Timings: 10.00 am to 03:30 pm; closed on Mondays
Entry Fee: Free Entry
Distance: 35 km (approx.)
3. Black Thunder Amusement Park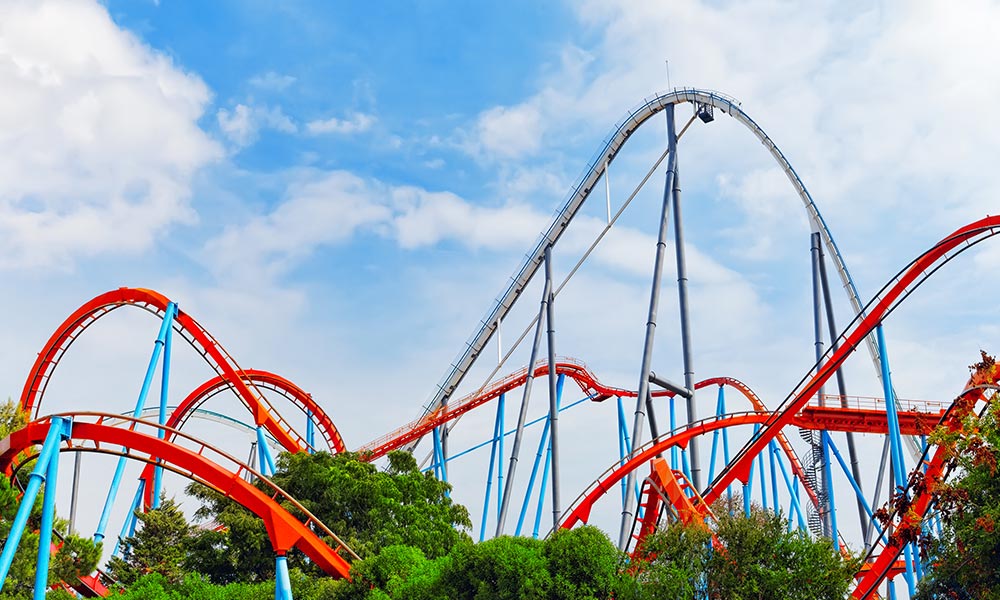 Looking for places near Coimbatore for a one-day trip with the kids in tow? Well, there can be no better option than Black Thunder Amusement Park. Famous for its adventure rides, the amusement park will keep the kids and the kid-at-heart adults thoroughly engaged through its 49 exciting rides and other thrilling activities.
Location: Mettupalayam
Timings: 09.30 am to 05:30 pm
Entry Fee: 
          Adults – ₹ 750 per person
          Children (3 to 10 years) – ₹ 650 per person
Distance: 40 km (approx.)
4. Velliangiri Mountains
Also known as the 'Kailash of the South', the Velliangiri Mountains is one of the top tourist destinations of Coimbatore. Apart from the natural beauty of the mountain, which is situated at 6000 feet in the Western Ghats, it is also known as a popular religious destination. The main attraction is the Shiva Temple that stands atop the mountain.
Location: Western Ghats border of Coimbatore district
Distance: 40 km (approx.)
5. Thoonakkadavu Lake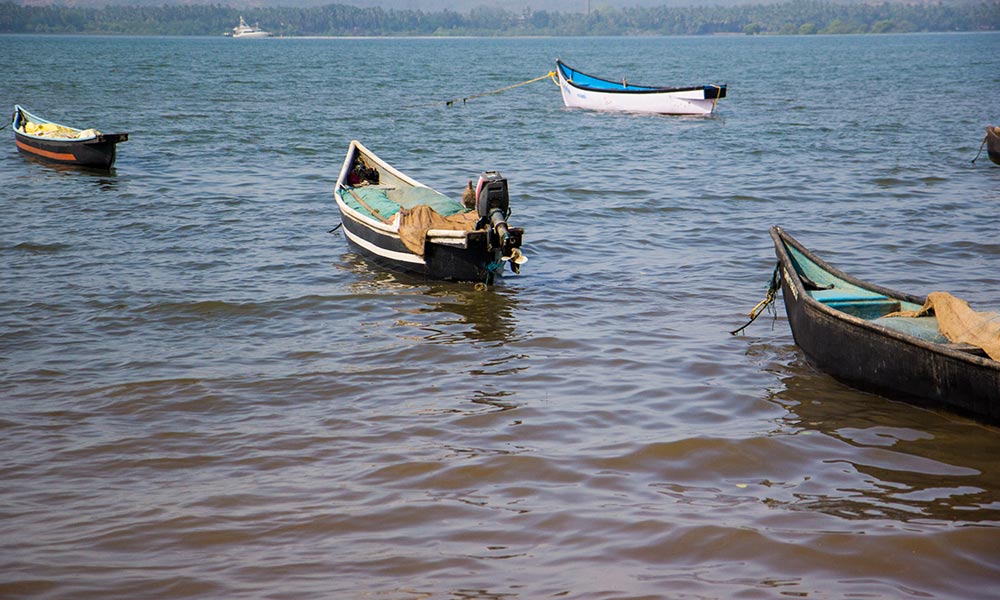 Ranking top on the list of scenic picnic spots in Coimbatore, Thoonakkadavu Lake is favored by families, backpackers, honeymooners, and shutterbugs alike. The crystal clear water and the picturesque surroundings make for some great photography backdrop. If you are lucky, you can even spot a few wild animals or watch crocodiles lazing on the rocks.
Location: Anaimalai
Timings: 07.00 am to 05:00 pm
Entry Fee: Free Entry
Distance: 60 km (approx.)
6. Aliyar Dam
Aliyar Dam is an ideal getaway from the monotonous daily life. All you need to do is drive a couple of hours and you will be in the vicinity of the dam that offers a garden, park, play area, aquarium, and even a mini-theme park. All these and the bewitching natural beauty of the place make the dam one of the best dating places near Coimbatore.
Location: Valparai, Coimbatore
Timings: 09.00 am to 06.00 pm
Entry Fee: ₹ 5 per person
Distance: 67 km
7. Monkey Falls
Now, here's a destination that counts among the most popular places to visit in Coimbatore for lovers and friends. This refreshing waterfall is situated in the Anaimalai Hills range and a thrilling trek through evergreen forests will take you there. What attracts tourists and young lovers alike to the site is the sight of the magnificent falls and the breath-taking beauty of the surrounding area.
Location: Near Aliyar Dam, between Pollachi and Valparai
Timings: 09.00 am to 06.00 pm
Entry Fee: ₹ 20 per person
Distance: 71 km (approx.)
8. Topslip
Topslip tops the list of weekend places near Coimbatore. This popular tourist spot stands at an altitude of 2554 feet in the Annamalai Mountain range in the Western Ghats. It is renowned for its wildlife sanctuary and national park. Topslip is also a great destination for bird watching and trekking.
Location: Veerakeralam, Coimbatore
Timings: 
          National Park – 06.00 am to 06.00 pm
          Trek Timings – 07.00 am to 02.00 pm
Entry Fee: ₹ 20 per person
Trek Fee: ₹ 200 per person for 4 hours  
Distance: 76 km (approx.)
5. Arulmigu Masani Amman Temple
Arulmigu Masani Amman Temple stands at the meeting point of Aliyar River and Uppar Stream. The main deity of the temple, Goddess Arulmigu Masani Amman is represented in a lying posture. Do you know that nowhere else in India is the Goddess represented in such a posture? During the annual festival of Kundam Thiru Vizha, the temple is crowded with visitors who come from far off places to offer their prayers.
Location: Temple Rd, Pollachi Taluk
Timings: 06.00 am to 08.00 pm
Entry Fee: Free entry
Distance: 60 km (approx.)
While in Coimbatore, you can expect to be beckoned by historical monuments, natural wonders, and adventurous activities in equal measures. Add to that a pleasant weather and mouth-watering cuisines and the city is sure to charm you in more ways than one. You can find hotels in Coimbatore that cater to every pocket range. With so much going in favor of Coimbatore, isn't it time for you to book your tickets and explore this majestic city and its varied attractions?