Indian Railways (IR) is the national railway system in India which is operated and maintained by the Ministry of Railways. With over 20000 trains and over 7300 railway stations spread across the country, it is touted as one of the four largest railway networks in the world. Since the railway network in India connects most states and parts of the country, it is the most preferred mode of transportation for billions and trillions of Indians.
In order to cater to their needs and in keeping with the latest technological advancements, Indian Railways has made train ticket booking, payments, cancellation, refund, inquiry, complaints and feedback, and all related processes simple and trouble-free. Today, all you need is an internet connection to book your train tickets online through computers as well as smartphones.
Indian Railway Catering and Tourism Corporation (IRCTC)
The online booking and ticketing operations of Indian Railways are carried out by one of its subsidiaries called Indian Railway Catering and Tourism Corporation, popularly known by its acronym IRCTC. Set up by the Ministry of Railways, it manages online ticket booking services through its website called IRCTC Next Generation. In fact, IRCTC is the only official train ticket booking website of the Indian Railways even though several other platforms and apps are available these days. In addition to facilitating online train ticket booking, IRCTC is also into catering and tourism services.
The website of IRCTC has a user-friendly interface that allows you to book your train tickets online. Once you create an account and log on to the site using your login credentials, you can do the following:
Search for trains running between any two stations (destinations)
Look for seat availability on trains
Check train ticket fares in different travel classes
Book your train tickets
Check PNR status
Check train schedule
Check train running status (through National Train Enquiry System)
Cancel your train tickets, if required
Change the boarding point, if required
Book meals (available only for certain stations)
Book special tourist trains
The website supports many payment methods including debit cards, credit cards, net banking, and digital wallets. IRCTC also has a mobile train ticket booking app for Android devices, called IRCTC Rail Connect. 
Indian Railway Ticket Reservation
Indian Railways requires that you book or reserve your seat in advance on all travel classes except for the General Class.  This makes sure that you have a confirmed berth or seat in the train and class of your choice. You can make a booking or reservation in three ways:
By visiting the PRS (Passenger Reservation System) counter of a railway station and filling a form
Online through IRCTC portal directly (website as well as mobile app)
Online through third party websites and apps ( which book the ticket through IRCTC)
For General Quota seats, advance reservation can be done up to 120 days prior to the date of travel. Tatkal booking, however, can be done only one day prior to the date of travel. Once you reserve your seat by making a payment, you will get a ticket with a number called Passenger Name Record aka PNR. Your ticket will be a physical one (paper ticket) in the case of counter bookings and digital (Email and SMS) for online bookings. 
Tatkal Ticket Booking
Tatkal is a ticketing scheme or quota introduced by the Indian Railways. It allows passengers who plan their journey on a short notice or who didn't manage to get tickets on General Quota can book tickets one day prior to the date of journey. This facility is available for all express trains and mail trains, and for all types of reserved classes.
The charges of tickets booked through the Tatkal scheme are higher than General Quota tickets. Tatkal bookings can be done online as well as through railway reservation counters. The reservation, cancellation, and refund rules for Tatkal booking are different from general bookings. For instance, no refund will be given if you cancel your confirmed Tatkal ticket while you still get a refund if you cancel a confirmed ticket booked on General Quota. 
Premium Tatkal Booking
Premium Tatkal is a new ticketing scheme/quota introduced by the Indian Railways where, just like Tatkal, passengers can book their tickets one day prior to the date of journey. The major difference between Tatkal and Premium Tatkal is that the latter will cost you twice the Tatkal ticket prices. Also, Premium Tatkal follows a dynamic pricing system. This means that as the demand for tickets increases, the prices of Premium Tatkal tickets also increase. Another major difference is that Premium Tatkal tickets can only be booked online through IRCTC portal.
Indian Railway Classes
In the railway lingo, the word class refers to different kinds of train coaches with different ticket prices and facilities. The classes of travel in Indian Railway trains are as given below:
| | |
| --- | --- |
| AC Classes | Non AC classes |
| AC First Class (1 AC) | Sleeper Class (SL) |
| AC Two Tier (2 AC) | Second Class or Second Seater (2S) |
| AC Three Tier (3 AC) | Unreserved/General (UR/GEN) |
| AC Chair Car (CC) |   |
| Executive Chair Car (EC) |   |
A train might not have all these classes. Moreover, a few travel classes such as First Class (FC), AC Three Tier Economy (3E), and Anubhuti (EA), etc. can be found only in certain categories of trains. 
Indian Railway Train Types
Indian Railway trains are categorized into different types based on several factors such as speed, number of stops, fare structure, facilities, priority on the network, etc. The different types of trains in Indian Railways include:
Passenger
Mail
Express
Superfast Express
Intercity Express
Suburban
Garib Rath
Toy Trains
Tejas Express
Humsafar Express
Rajya Rani Express
In addition to these, Indian Railways has introduced several other trains including Uday Express, Mahatma Express, and Double Decker Express, to mention a few. 
PNR Status
PNR and PNR Status are two important terms used in the ticket booking system of Indian Railways. The abbreviation PNR stands for Passenger Name Record, which is a 10 digit number generated when you book a train ticket, online or offline. This number denotes passenger and itinerary details stored in the Indian Railway database.
The PNR number on your ticket can be used to check the following details about your journey:
Name and number of train
Seat and coach
Fare
Class of travel
Chart status (prepared or not)
Booking status and current status (whether Confirmed, Waitlist or RAC)
Boarding time and reaching time, etc.
You can check your PNR status on the IRCTC site or via SMS or call. The PNR number generated against a ticket is unique and valid only until the journey is completed. 
Indian Railway Quotas
Depending on the number of coaches on it, a train will have several hundreds of seats spread across different travel classes. These seats are distributed to passengers under different reservation quotas. This means that specific numbers of seats are set aside in a train for different categories of passengers and also for certain emergencies. While some reservation quotas are open for the general public, others are allocated exclusively to people who meet the eligibility criteria of those quotas.
The majority of seats in a train are distributed under quotas for the general public, such as General Quota, Tatkal, Premium Tatkal, etc. The quotas for special categories of passengers, railway personnel, emergency, etc. constitute the remaining percentage of seats.
The reservation quotas in Indian Railway trains are as follows:
| | |
| --- | --- |
| Name of the Quota | Available for |
| General Quota | General Public |
| Tatkal Quota | General Public |
| Premium Tatkal Quota | General Public |
| Roadside Quota | General Public |
| Pooled Quota | General Public |
| Senior Citizen Quota (Lower Berth Quota) | Male senior citizens above the age of 60 years, female senior citizens above 58 years, women above 45 years, and women who are pregnant (combined quota for all these categories of travelers) |
| Ladies Quota | Female passengers  |
| Parliament House Quota | Both sitting and former MPs |
| Defence Quota | Defence personnel |
| Divyangjan Quota | Passengers who are physically handicapped |
| Yuva Quota | Passengers who are unemployed (15 to 45 years of age) |
| Foreign Tourist Quota | Foreign nationals traveling in Indian Railway trains |
| Duty Pass Quota | Railway employees (both serving and retired) who are traveling on duty pass, privilege pass or post-retirement complimentary pass in specified trains |
| Railway Employee Quota | Employees of Indian Railways who are traveling on duty in a train |
Checking Trains between Stations and Seat Availability
In order to help you plan your journey without any hassles, Indian Railways offers the online facility for checking trains between stations and seat availability. Earlier, people had to go to ticket reservation counters for this, but with the advent of IRCTC website, you can now check seat availability for trains running between any two stations via your computers or smartphones.
Registered users can log on to IRCTC website using their login credentials and check seat availability by entering the date of journey and the name or code of source station and destination station. This will give you access to information such as:
A list of available trains on the route for the date you specified, with train names and numbers
Details of arrival, departure, and journey duration for each train
Number of seats available for different classes and under different quotas
Fare details
For example: Below are the search results for seat availability on trains running between Bangalore and New Delhi stations.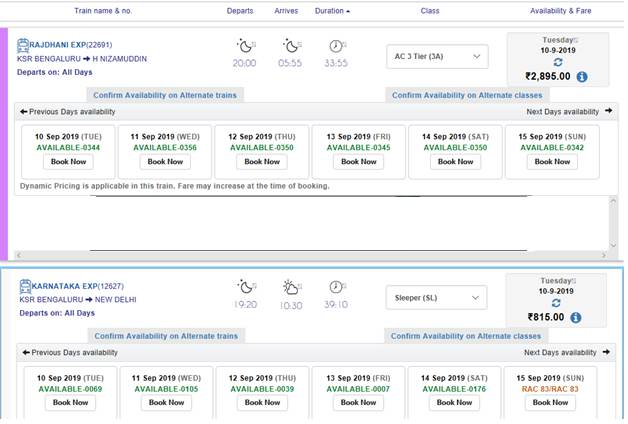 Indian Railway Rules for Reservation, Cancellation, and Refund
The ticketing operations of Indian Railways are bound by certain rules, eligibility criteria, and conditions. These rules pertain primarily to three areas:
Ticket Reservation Rules: There are specific rules and conditions applicable to passengers who reserve their tickets online or offline. These cover:

General conditions for ticket booking like how many days before the journey you can book your ticket, how many seats you can book in one go, etc.
Conditions applicable to senior citizens and people traveling on different quotas
Rules regarding proof of identity
Rules regarding the transfer of booked tickets
Rules related to changing the boarding station
Ticket Cancellation Rules: After reserving your seats on a train, you can cancel the journey, if required, until the chart is prepared. For canceling tickets after the chart preparation, you will have to file a TDR (Ticket Deposit Receipt) as per Indian Railway rules. Likewise, you can cancel your tickets partially – that is, cancel the reservation for one or more passengers out of the total number of passengers traveling on a ticket. Cancellation of e-Tickets booked online through IRCTC can also be done online. Those who booked their ticket from reservation counters can cancel it through IRCTC website or by visiting the counters. The rules of Indian Railway train ticket cancellation pertain to the following areas:

Cancellation of e-Tickets
Cancellation of counter tickets
Cancellation of General Quota bookings
Cancellation of Tatkal bookings
Cancellation rules of Premium Tatkal bookings
Cancellation of Waitlist tickets
Cancellation of RAC tickets
Cancellation of bookings if the train is cancelled
Rules related to partial cancellation of bookings
Rules related to the cancellation of tickets after chart preparation and Ticket Deposit Receipt (TDR) filing
Refund Rules: You will get a refund for the cancelled ticket in accordance with the refund rules of Indian Railways. Depending on when you cancel the ticket, a cancellation fee will also be charged. Refund for counter tickets can be collected from any PRS counter upon submitting the ticket while refund for e-Tickets booked through IRCTC website will be credited to your bank account. Major rules related to refund include:

Refund rules of General Quota bookings
Refund rules of Tatkal bookings
Refund rules of Premium Tatkal bookings
Refund rules of Waitlist tickets
Refund rules of RAC tickets
Rules related to refund of partial cancellation
Refund rules for cancelled or diverted trains
India Railway Zones
The operations of Indian Railways are divided and organized into different zones. To put it simply, these zones are geographical regions such as Northern, Eastern, Southern, Central, Western, North Western, North Eastern, East Coast, etc. Each zone has a headquarter and is divided further into divisions. As of today, there are 18 zones including the Metro Railway of Kolkata and these zones together constitute 68 divisions. (Read More)
Filing Customer Complaints and Suggestions
India Railways has a web portal and mobile application called Complaint Management System or COMS exclusively for handling customer complains. Passengers who want to lodge complaints or make suggestions or give feedback can do it in the following ways.