Looking for an exhilarating yet charming break? Pack your bags and head out to Udaipur – the Venice of the East. It is indeed one of Rajasthan's most spectacular cities and is perhaps the best destination in India to marvel at the bygone-era palatial architecture. Udaipur will surely mesmerize you with its regal past, grand edifices, vibrant bazaars, and absolute serenity. Though the city is home to many unique attractions, the below 15 tops the list of Udaipur places to visit!
Best Places to Visit in Udaipur:
1. Udaipur City Palace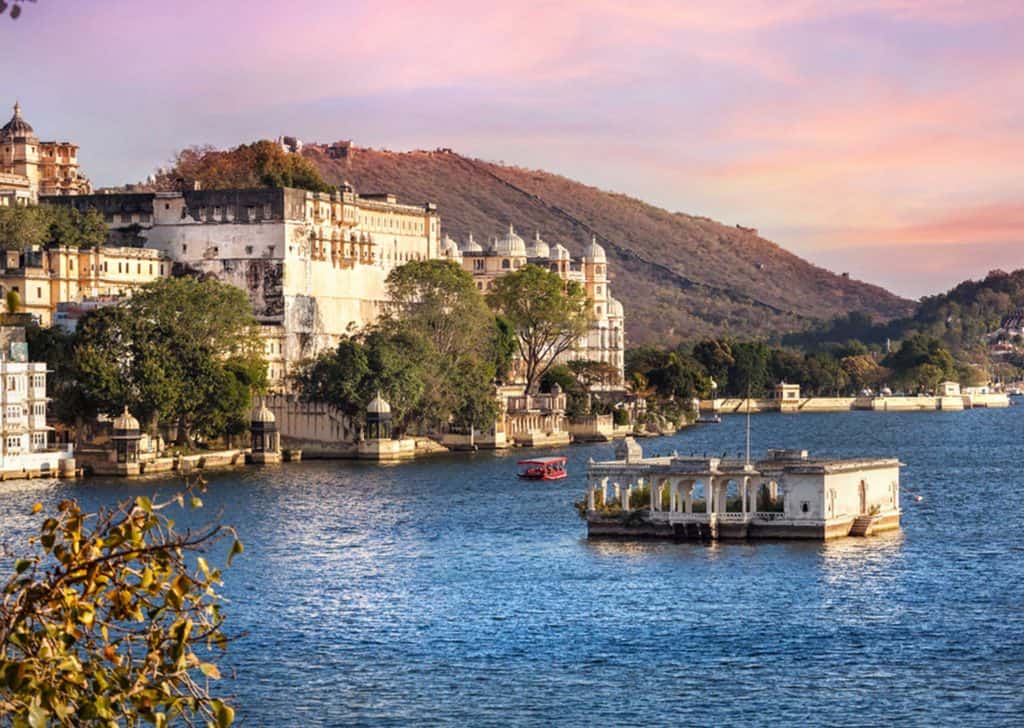 Once you have got your hotel room sorted, this is the first landmark that you should visit. The City Palace, located on the banks of Lake Pichola, will give you a glimpse into Rajasthan's princely grandeur with its towering structures built for the erstwhile Mewar ruling family. The palace will wow travelers with its exquisite interiors consisting detailed mirror-work, unique paintings, murals, antique furniture and marble work. The palace complex is divided into many beautiful villas and palaces, including Amar Vilas, Bhim Vilas, Krishna Vilas, Manak Mahal and Moti Mahal. The Mewar Light and Sound Show in the evening is also worth waiting for!
Timings: 09:30 am to 05:30 pm (All Days)
Entry Fee: Rs. 30 for Adults and Rs. 15 for Children
2. Lake Palace
The iconic Lake Palace will arrest you with its beauty and scenic location on the 4-km long, man-made Lake Pichola. The palace is now operated by the Taj Group and offers captivating views of the Aravalli Hills. This is certainly one of the most romantic locations in the entire state and the heritage walks are to die for! Maharaja Jagat Singh II built this amazing palace that will bowl you over with its sculpted marble and moldings. While here, you can spend all day boating on the placid Lake Pichola, commencing from Rameshwar Ghat to the City Palace.
Timings: 09:00 am to 06:00 pm (All Days)
Entry Fee: None
Boat Ride Fee:
Rs. 400 per head for Adults
Rs. 200 per head for Children
Also Read – 35 Places to Visit in March in India for a Relaxing Family Vacation
3. Jagmandir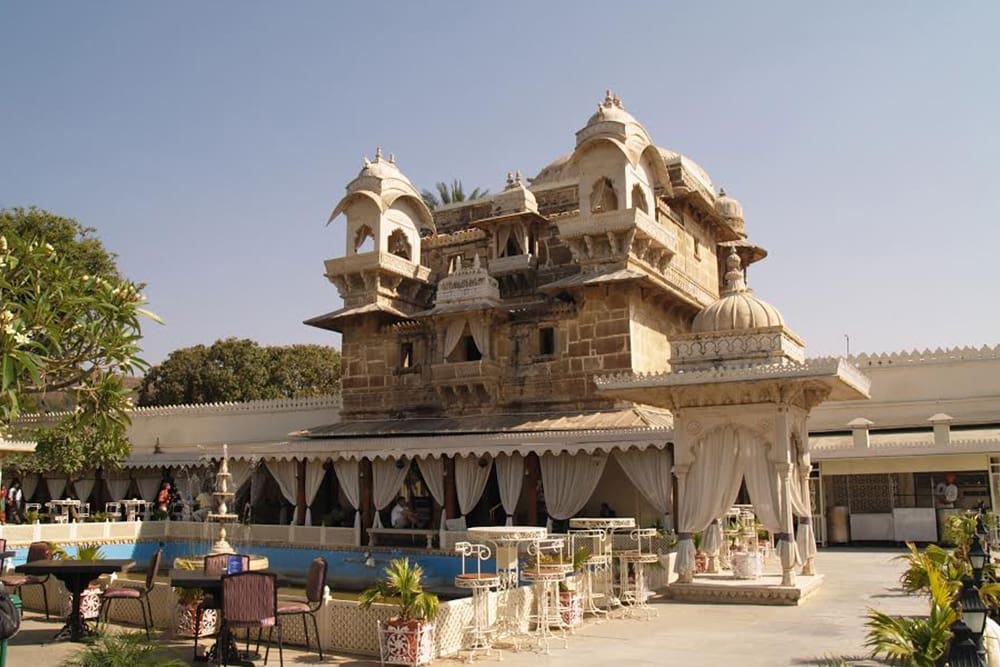 Another romantic destination in Udaipur, this 17th-century palace complex is also situated on Lake Pichola. Also, known as Lake Garden Palace, Jagmandir will draw you with its sheer splendor and tranquility. It has divisions like the Garden Courtyard, Gul Mahal, Darikhana, Bara Patharon ka Mahal, Kunwar Pada ka Mahal and Zenana Mahal. This is another must-visit during your boat ride.
Timings: 10:00 am to 06:00 pm (All Days)
Entry Fee: None
Explore recommended places to stay in Udaipur at best price
4. Jagdish Temple
The Indo-Aryan Jagdish Temple owes its creation to the Maharana Jagat Singh. The temples in Udaipur lies near the City Palace's Badi Pol entry and you have to go up through a few steps. The black stone deity of Lord Vishnu will awe you and so will the brass Garuda image facing it. There are many other shrines dedicated to the Sun God, Lord Ganesha, Lord Shiva and Goddess Shakti. The sunset Aarti will be a wonderful experience here.
Timings: 05:00 am – 02:30 pm and 04:00 pm to 10:00 pm (Everyday)
Entry Fee: None
5. Saheliyon Ki Bari
Saheliyon Ki Bari or the Garden of the Maidens was built by Maharana Sangram Singh in the early years of the 18th century. This awe-inspiring development catered to the maids who would go with the Princess of Udaipur to her husband's hearth (part of the dowry given by the Maharana). This place had pretty women dancing, singing and making merry and the beautiful marble elephants, fountains, a lotus pool and kiosks bear ample testimony to the richness of the time.
Timings: 9:00 am – 07:00 pm (Everyday)
Entry Fee: Rs. 5 per person
6. Sajjangarh Palace
Sajjangarh Palace or The Monsoon Palace is positioned on a hilltop and offers amazing views of Fateh Sagar Lake and the surrounding Sajjangarh Wildlife Sanctuary. This castle-like building is straight out of a fairy tale and is a perfect example of the opulence of the Rajput rulers – the palace was made just to be able to enjoy watching monsoon clouds gather promisingly in the sky! Built by Maharana Sajjan Singh in 1884, the Sajjangarh Palace should be on your list of places to visit in Udaipur mainly for the spectacular panoramic views of Udaipur city and its stunning lakes, mountains and palaces. This majestic palace is truly a sight to behold especially when it is illuminated in the evenings. You can take some unbelievably beautiful pictures here!
Timings: 8:00 am to 06:00 pm (Everyday)
Entry Fee: Rs. 10 for Indians, Rs. 80 for foreign nationals.
Also Read: Places to Visit in India in April
7. Fateh Sagar Lake
This beautiful man-made lake with its striking blue-hued waters against the backdrop of green hills is what has earned Udaipur its sobriquet of "The Second Kashmir". Exceptionally clean and expansive, the Fateh Sagar Lake is a great place to visit in Udaipur mainly for its 4 islands that are attractions in themselves. Accessible only by boat, the islands play host to public parks and a solar observatory that is worth a see. The lake in Udaipur, named after Maharana Fateh Singh of Udaipur and Mewar, is a central to the city's life that not only supplies water to the urban areas but also provides employment to a large fraction of the populace.
Timings: 8:00 am to 06:00 pm
Entry Fee: None
Boat Ride Fee:
Rs 30 per person for Regular Boat Ride
s 100 – Rs 200 per person for Motor Boat Ride
Rs 200 – Rs 400 per person for Speed Boat Ride
8. Lake Pichola
Constructed in 1362 AD, most likely by a banjara tribesman, Lake Pichola today is an iconic symbol of Udaipur. Measuring nearly 4 Km in length and 3 Km in width, the lake is a must-see place to visit in Udaipur. A myriad of palaces, temples, royal quarters and ghats and chabutaras have been developed around the lake and on its several islands over the years. These structures like the Lake Palace and Jag Mandir are the most popular sites here but for a fresh experience we'd recommend taking a boat from the City Palace to the Arsi Vilas Island to go explore the bird sanctuary it hosts.
Lake Pichola,Udaipur
Timings: 09:00 am to 06:00 pm
Entry Fee: None
Boat Ride Fee:
Rs 400 per person for Adults
Rs 200 per person for Children
9. Udaisagar Lake
Built by Maharana Udai Singh in 1565, the Udaisagar Lake is one of Udaipur's 5 famed lakes that was in fact, a by-product of a dam built across the Berach River to ensure constant water supply to the city. Today it is one of the top places to visit in Udaipur because of its tranquil surroundings and scenic sunsets. You could also take a boat cruise of the lake or a shore-cruise on a camel.
Timings: All round the day
Entry Fee: None
10. Jaisamand Lake
Jaisamand Lake, also known as Dhebar Lake is one of the most beautiful water bodies in Udaipur and is also one of the largest artificial lakes in the world. One of most popular places to visit in Udaipur, the lake was formed by the famed Marble Dam built by Maharana Jai Singh in 1685. The marble dam is in itself quite the attraction as are the marble statues and chatris that dot the structure. Enjoy boat rides in the lake and visit the summer palaces built around the lake for the queens. You could also spend time at the Jaisamand Wildlife Sanctuary located on the lake watching out for panthers, wild boar and migratory birds.
Timings: All round the day
Entry Fee: None
Boat Ride Fee: Rs 30 – Rs 80 per person
11. Rajsamand Lake
This 17th century lake is most famous for being the place where the Maharanas performed tuladan or giving away their weight in gold. The five toranas or weighing arches stand testimony to this practice on the pavilions constructed on the lake shore and are well-visited by tourists. An old Vaishnava temple situated here also attracts devotees and tourists alike as does the charm of boating on this gigantic lake.
Timings: All round the day
Entry Fee: None
12. Jiyan Sagar
Jiyan Sagar or Badi ka Talab is another popular place to visit in Udaipur attractive for its calming vibes and the beautiful chatris on its pavilion made in the artistic Rajasthani style of architecture. Commissioned by Maharana Raj Singh in the mid-1600s to counter the destruction caused by a famine in the area, the lake was named after his mother Jana Devi. Check here – Best time to visit in Udaipur
Timings: 08:00 am to 06:30 pm
Entry Fee: None
Boat Ride Fee:
Rs. 30 per head for Regular boat
Rs. 200 per head for Motor boat
Rs. 400 per head for Speed Boat
13. Doodh Talai
One of the most charming Udaipur tourist places, Doodh Talai is a lake very close to Lake Pichola. Even though it is just a small pond, Doodh Talai (literally meaning, 'Milk Pond') attracts visitors to its two parks that lie on adjacent hillocks. The Manikya Lal Verma Garden is a municipal park that affords beautiful views of the Lake Pichola and houses the Karni Mata Temple that also attracts many visitors. Pandit Deen Dayal Upadhyay Park is the other public park hemmed to Doodh Talai and attracts visitors to its musical fountain – a first in Rajasthan.
Timings: 08:00 am to 10:00 pm
Entry Fee: Rs. 10 per person
14. Maharana Pratap Memorial
Right at the top of the Moti Magri, overlooking the Fateh Sagar Lake is a lifelike statue of Udaipur's most celebrated ruler, Maharana Pratap and his beloved horse Chetak. Visit this imposing memorial to the warrior king and his favorite mount who is believed to have saved his master's life in the epic battle of Haldighati. A Japanese rock garden and the remnants of an old fort in Udaipur lie nearby and make for an interesting vignette.
Timings: 09:00 am to 06:00 pm
Entry Fee:
Rs. 20 per person for Adults
Rs. 10 per person for Children
15. Vintage Car Museum
If this is your first visit to the City of Lakes, then visiting the Vintage & Classic Car Collection – a museum of vintage vehicles – is a must. Housed in the former Mewar State Motor Garage, the museum displays luxury vintage wheels like the 1934 Rolls-Royce Phantom II that was later converted into a pick-up truck used during royal hunts, another 1934 Rolls-Royce that was converted to transport the entire Mewar royal cricket team. You can also see Cadillacs, several Mercedes-Benzs, Buicks, a Ford Model A and many others. A high point of the museum is the royal Shell Petrol Pump that still works! here you can check all museums in Udaipur
Timings: 09:00 am to 09:00 pm
Entry Fee:
Rs. 250 per person for Adults
Rs. 150 per person for Children
There are many other historical places in Udaipur that add to the distinctive experience and if you have time you must try for Ambrai Ghat – a stunning pavilion on Lake Pichola, Shilpgram – a handicraft center and the Hathi Pol Bazaar – the best place to shop for authentic Pichwai and Phad paintings, Rajasthani miniatures, intricate stonework home accents and typical Rajasthani garments. If you like museums, try the Crystal Gallery that houses rare crystals ordered by Maharana Sajjan Singh from England in 1877. Legend has it that the crystals stayed packed in their original boxes for more than a century because the Maharana passed away before his consignment arrived and the boxes were forgotten.
There are stories and tales like these nearly everywhere you go in Udaipur. Seek them out by exploring the City of Lakes at your own pace.
Places to Visit in Udaipur (Video):
Frequently Asked Questions About Udaipur:
Q: Which are the best shopping places in Udaipur?
A: When in Udaipur, you can buy a variety of Rajasthani products at markets like Bapu Bazaar, Bada Bazaar, Hathipole, Chetak Circle, City Palace Street, Jagdish Temple Street and Ghanta Ghar.


Q: What is the ideal time to visit Udaipur?
A: Udaipur experience extremely hot and dry summers and humid monsoons so it is best to plan a trip to the city during the winter months of October to March when the weather is quite pleasant with sunny days and chilly nights.


Q: Suggest some good places to eat in Udaipur.
A: Ambrai, Chandni, Millets of Mewar, Palki Khana, Upre by 1559 AD, Royal Repast, Charcoal by Carlsson, Udaipuri Restaurant, Jheel's Ginger Coffee Bar and Bakery and Tribute are among the best restaurants in Udaipur.


Q: How is the nightlife in Udaipur?
A: There are many pubs and bars in Udaipur where you can enjoy the city's vibrant nightlife. Panera Bar, Mudra, F3 Bar, Brewz Rock Cafe, Hola Spanish Pub, Hook and Irons, Bamboo Beats, The Winos, Tehkhana, Stallion Sports Bar and Dine, Aangan Terrace Bar, AmBar, Jannat Rooftop Bar, Harbour Bar and The Wine Rack are some popular places.


Q: Where can I enjoy sunset views in Udaipur?
A: Sajjangarh Fort (Monsoon Palace) is one of the best places to visit in Udaipur for the most mesmerising sunset views. You can also head to Jagmandir Palace, Sunset Terrace at City Palace Complex, Lake Pichola and Gangaur Ghat to witness a beautiful sunset.


Q: Any suggestions for good picnic spots in Udaipur?
A: For picnicking with family or friends, you can head to Fateh Sagar Lake, Rajiv Gandhi Park, Saheliyon ki Bari, Moti Magri, Manik Lal Verma Park, Sajjangarh Wildlife Sanctuary, Jungle Safari Park, Gulab Bagh, Marvel Water Park or Jeel Water Park.


Q: What are the best things to do in Udaipur?
A: Take a boat cruise on Lake Pichola, click postcard-worthy pictures, explore the old-world charm at historical places in Udaipur, ride the Mansapurna Karni Mata ropeway, shop at local bazaars, take a tour of the City Palace, watch the sunset at Fateh Sagar Lake, spot wildlife at Sajjangarh and hike up to the Monsoon Palace.


Q: How to reach Udaipur?
A: Udaipur is served by Maharana Pratap Airport that services direct flights from Delhi, Mumbai, Jaipur, Bangalore, Hyderabad, Ahmedabad, Jaipur, Bhopal, Surat and Aurangabad. You can also take a train to Udaipur railway station or travel to the city in a bus, if coming from nearby cities.