Railway stations, typically, are places where you start and end your trips. Crowded and noisy all through the year, these are the least exciting places to be. Or so you would have thought till you visited an iconic railway station in India, rich in history, architectural beauty, and picturesque setting! Believe it or not, many Indian stations are so full of life and heritage that these have become tourist attractions in themselves. What's more, some of them are so stunning that even Simran would stay back at the station rather than hopping onto the train with Raj, giving DDLJ an unexpected twist!
Touted to be the fourth largest in the world in size and covering a whopping 65000 km of total track, Indian Railways has many famous stations that will make you completely awe-inspired. That's not all! These are famous not just for their grand architecture or history but also for their frequent appearances in Bollywood films. Whether it is the hero meeting his heroine or the villain creating a ruckus, several movie scenes have been shot at the popular railway stations of the country.  
Here is a list of the iconic railway stations in India. So, how many of these have you been to and how many remain etched to your mind? 
Iconic Railway Stations in India Known for their History and Heritage
Would you mind a lesson or two on history, heritage, and architectural styles while waiting to catch your train? Here are a few top and postcard-worthy railway stations in the country, many of which with a history of more than 100 years.
Chhatrapati Shivaji Terminus, Mumbai
Remember the Oscar-winning song "Jai Ho" from the globally acclaimed movie Slumdog Millionaire? Chhatrapati Shivaji Terminus was the shooting location for this song! Formerly called the Victoria Terminus for its magnificent Victorian Gothic architecture and also because it was dedicated to the Queen, this Indian railway station has rightfully earned a place in the UNESCO's list of World Heritage Sites. Constructed more than 130 years ago to commemorate Golden Jubilee of Queen Victoria, the station was renamed Chhatrapati Shivaji Terminus (CST) in 1996 to honor the founder of Maratha Empire, Chhatrapati Shivaji. One of the top 10 busiest railway stations in India and the world owing to the hundreds of trains that arrive and depart from this station, CST is a must-visit place when you are in Mumbai. So if you are attracted to architecturally inspiring sites and building, this station should feature in your bucket list!
Charbagh Railway Station, Lucknow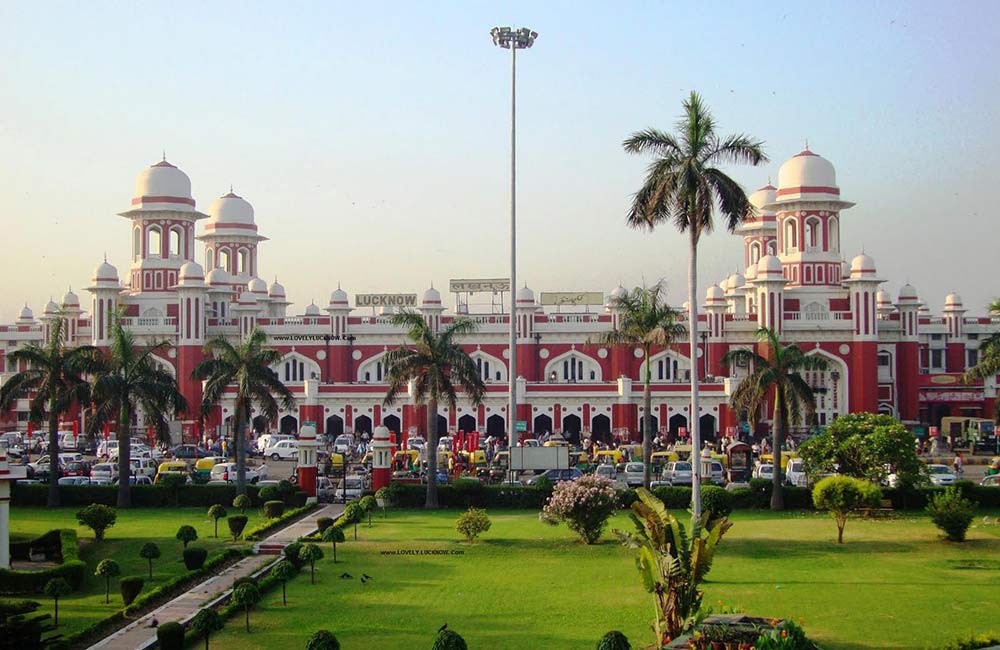 Lucknow city is an echo of spectacular architecture created by the Mughals and Nawabs and Charbagh Railway Station is the best example of it. The station was named so because of the four gardens (char bagh) that existed there. Unless known, this railway station is often mistaken for a palace or mansion, owing to its royal appearance. This iconic station, which is a breathing exemplar of Rajput, Awadhi and Islamic styles of architecture, boasts a design that includes domes and minarets, a semblance of what is found in the massive forts and tombs found in the country. No wonder it is considered one of the most beautiful stations in India. As you enter this historical city through Charbagh, you will be instantly transported back to the glories of the Nawabi era.
Howrah Junction, Kolkata
The biggest railway station of India, Howrah Junction serves two major cities of this state, namely Kolkata and Howrah. It consists of 23 platforms and 25 tracks, a feat that no other railway station in India could achieve. Designed by Halsey Ricardo, this station resplendent of colonial architecture was brought to life in 1854 at the western bank of Hooghly River; it was electrified 100 years later, in 1954. Also, this is the station from where the first Rajdhani Express (superfast train of the country) commenced its journey up till New Delhi. This station houses a regional rail museum for travelers to visit. 
Chennai Central, Chennai
Which is more iconic, Chennai's central station or its filter coffee? Nine out of ten Chennaites' answer would be "Of course, Chennai Central" and for good reason. Created in the Gothic Revival architectural style, this is the only clock tower railway station in India, which connects you to the bustling Tamil capital. The main building has been granted the Heritage status owing to its unique design. The Travancore-capped clock tower (which stands 136 feet tall) and the brick-red facade can never miss the attention of a newbie in town; it often forms the portrait for picture postcards. This station stands tall adjacent to two other architecturally beautiful buildings – headquarters of the Southern Railway and Ripon building. Here's something to kindle the interest of literary enthusiasts – Chennai Central has been poetized by the award-winning poet, Vijay Nambisan, in his work, "Madras Central".
Mysore Junction Railway Station, Mysore
Mysore is a city known for its lush green landscapes and royal landmarks that which include its railway station too. The station, situated on the Bangalore-Mysore line, connects many major cities in India. With a history of about 150 years, the structure stands as testimony to history in more ways than one. A major attraction here is the railway museum that showcases vintage coaches, such as the Maharani Saloon which had a dining car and a royal toilet, and the Austin railway car. Mysore is the second city in India after New Delhi to have such a museum. It also has in its display the first steam engine built in India. So a visit to Mysore station is incomplete without checking out the well-preserved museum! 
Iconic Railway Stations in India Known for their Picturesque Setting 
Wondering whether any Indian in their right mind would use the words 'picturesque' and 'railway station' in the same sentence, are you? Visit any of the below-listed stations and you will start doing it! Here's a list of famous stations, offering a picture-perfect background to your trips. 
Dudhsagar Railway Station, Goa
Dudhsagar station gives the most exhilarating experience to anyone traversing this route. Set between Dudhsagar Falls on one side and lush green deciduous forests on the other, this station is famous for its picturesque views. Among numerous man-made marvels, Dudhsagar station is the one that gives you a glimpse of nature at its best. Although the station lacks some amenities because of the location where it is built, it compensates for it with the breathtakingly beautiful landscape it offers, leaving every traveler with a surreal experience. 
Barog Railway Station, Himachal Pradesh
Lying on the UNESCO-listed Kalka-Shimla railway line, Barog Railway Station in the Solan district is at an altitude of 1560 m above sea level. It is renowned for the picturesque view it offers of high hills covered by dense deodar jungles. Since 1903 (when this station was opened for public) till date, trains have been running on Narrow Gauge lines. As you take a trip to here, you pass through the hilly landscape covered with numerous trees such as pines, deodars, willows, rhododendrons, and oaks. The Kalka-Shimla route also has a kilometer-long tunnel (Tunnel Number 33) which is considered to be the longest straight tunnel on this route. Local stories have it that the place is haunted by the friendly ghost of an engineer, Col. Barog, who shot himself inside the tunnel. Feeling goosebumps, already?
Ghum, Darjeeling
The highest railway station in India, Ghum is a cute little railhead in the hilly region of Darjeeling in West Bengal. It is at an altitude of 2225 meters above the sea level, and a ride from Siliguri or Darjeeling to Ghum on the meter-gauge toy train will give you an opportunity to take a close look at wonderful nature as well as popular landmarks, such as Ghoom Monastery and Batasia Loop. You will also get a glimpse into the culture and traditions of people from Bengal, Nepal, and Darjeeling. The Ghum Museum right across the station showcases the history of the Darjeeling Himalayan Railways that spans a period of 150 years. Overall, a short ride up till Ghum gives you a sight of the beautiful terrain, lesson or two on the history of railways in the Himalayas and also on the culture and tradition of the people residing here. 
Other Iconic Railway Stations in India – the Longest, the Cleanest, and the Others 
That's not all! There are more such gems to Indian Railways' credit. While some of these are known for passenger handling, others remain favorites due to their cleanliness index and top-notch amenities. Here are a few to include in your must-visit list. 
Kanpur Central, Kanpur
Earlier known as Cawnpore Barracks, Kanpur Central is the busiest station in terms of frequency of trains and it caters to more than 750000 passengers each day. The construction of this station commenced in 1928 and completed in 1930. It is one of the five central railway stations of India that have found a place in the top hundred booking stations of the Indian Railways. The architecture of this station was inspired by Charbagh station of Lucknow, but due to lack of sufficient funds, an exact replica could not be achieved. 
Vijayawada Junction, Vijayawada
Vijayawada Junction has successfully found a place in the list of A1 railway stations in India. It was built in 1889, and in 1899 a Broad Gauge line was laid between Vijayawada and Chennai. It is also the fourth busiest railway station in India in terms of passengers using it (1.4 lakhs every day). It consists of the Route Relay Interlocking system that aids quick and punctual maneuvering of trains. 
Nagpur Junction Railway Station, Nagpur
Considered to be one of the busiest and oldest stations in India, Nagpur Junction caters close to 1.6 lakh passengers. Around 280 trains arrive at this station on a daily basis. Designed by the British, the columns and pillars of the building give it an amazing appearance. 
Cuttack Railway Station, Cuttack
Cuttack Junction railway station looks nothing less than He-Man's Grayskull Castle, which once used to be a favorite show of every kid. Its design was inspired by the remodeled shape of Barabati Fort, which has a history dating back to the 14th century. The mammoth structure was built by the Ganga dynasty on the banks of river Mahanadi. This is claimed to be one of the busiest stations of Odisha, and it is also listed in the top 100 booking stations of Indian Railways. 
Visakhapatnam Railway Station, Vizag 
Originally called Waltair Railway Station, Visakhapatnam station is one of the busiest railheads in this state of Telangana. This station ranks at the top of the list of the cleanest railway stations in India. Well maintained public conveniences, regularly cleaned dustbins, and clean platforms welcome the lakhs of travelers who arrive at and depart from this station. Overall, this station happens to be the best example of a busy, yet well-kept railhead in India.
There are many other beautiful railway stations, such as Jaisalmer Railway station in Rajasthan, Kollam Junction in Kerala and Srinagar Railway Station that are worth a visit. The Indian railway lines were laid in the British era, and although the British Raj has ended today, the architectural mastery resplendent in these railway stations is still a visual treat to the eyes.