You often come across the terms PNR number and PNR status in relation to Indian Railway ticket booking. So what is PNR number and how is it useful to passengers? And how do you check PNR status and get seat confirmation updates? Here is everything you should know.  
Complete guide for PNR Number:
What is PNR 10 Digit Number?
PNR is the abbreviation for Passenger Name Record and PNR number is a 10-digit number that you get against every train ticket you book. This number is unique, which means the PNR number for each journey will be different. Irrespective of how you book your ticket – from counters, through IRCTC website, Rail Connect App or third-party websites and apps – your ticket will certainly contain a PNR number. When you make reservations for a group, a single PNR number is given to a maximum of 6 passengers.
What Does PNR Number Denote?
Simply put, PNR number contains details about a passenger/s and the journey. Whenever you reserve a ticket in Indian Railway trains, your personal as well as itinerary details are stored in the database run by the Centre of Railway Information Systems (CRIS). This includes details about the passenger (name, gender, and age) and details about the itinerary (train name, number, seat, class of travel, station, quota, fare, reference ID, and the like). A 10-digit number – that is a PNR number – is generated by the system which corresponds to the information fed and stored against each booking. In other words, it is a reference number to access this information. The passenger and itinerary details will remain in the database for 9 months, after which it is deleted.
Where to Find PNR Number on Your Ticket?
Whether you are booking a counter ticket or e-Ticket, all reserved bookings have a PNR number. When you book your tickets online through IRCTC, your PNR number will be on the ERS (Electronic Reservation Slip) and it will also be sent via SMS and email to your registered mobile number and email address.
PNR Number on Counter Tickets: For counter tickets, you can find the PNR number printed on the top left corner. Here is an example: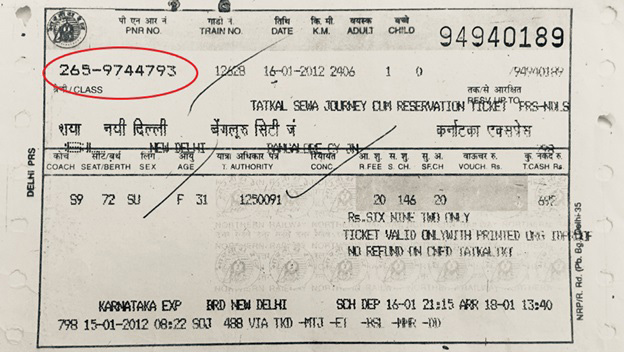 PNR Number on eTickets and other Digital Receipts: For electronic tickets, reservation slips, emails with seat position and reservation details, etc., you can find the PNR number on the top.
Example 1: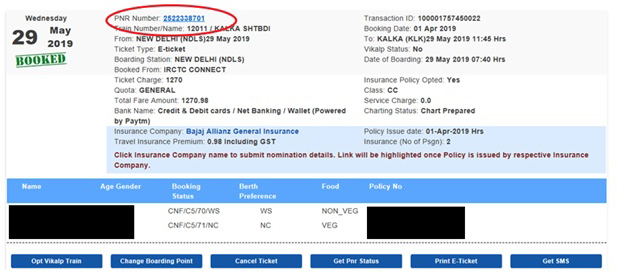 Example 2: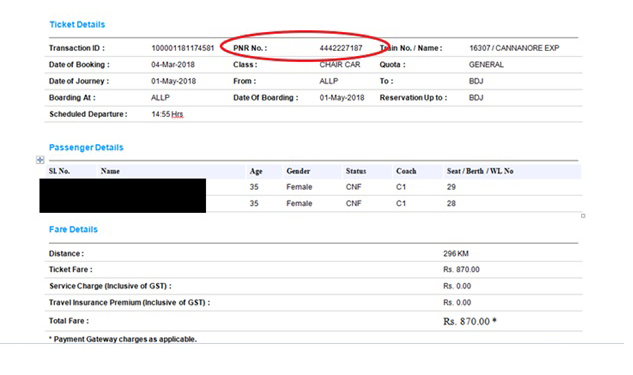 How is PNR Number Generated? What do the numbers signify?
As mentioned, every PNR number contains 10 digits. The first three digits of a PNR number signify the Passenger Reservation System or PRS i.e. from which PRS the particular ticket was issued to the passenger. Of these, the very first digit stands for the Railway Zone from where the train originates.  The remaining seven digits are random numbers that are generated to make your PNR number unique.
The following numbers are assigned to the different Railway Zones in India:
| | | |
| --- | --- | --- |
| Starting Digit of PNR | PRS | Railway Zones |
| 1 | Secunderabad PRS | SCR |
| 2 and 3 | Delhi PRS | NR, NER, NCR or NWR |
| 4 and 5 | Chennai PRS | SR, SCR or SWR |
| 6 and 7 | Calcutta PRS | ER, ECR, NFR, SER, ECoR or SECR |
| 8 and 9 | Mumbai PRS | CR, WR or WCR |
To know more about the Railway Zones in India, click here. (Link to the Railway Zones Page)
What is PNR Status?
PNR number gives you information about the booking status and current status of your railway ticket reservation, along with seat/coach position and other details about the train and your journey. For instance, if you have a Waitlisted seat at the time of booking and you want to know whether it is moved up the list or got confirmed, you can check for confirmation update using your PNR number. This current reservation status is also known as PNR Status. You can access the following information by checking the PNR status:
Train name
Train number
Coach, seat number, and quota
Date of journey
Booking status (whether it is waitlisted, confirmed RAC, etc. at the time of reservation)
Current status (whether it is waitlisted, confirmed RAC, etc. at the time of checking)
Ticket charges
Class of travel (1 AC, 2 AC, CC, SL, etc.)
Status of Chart Preparation (Chart Prepared / Chart Not Prepared)
From (Station)
To (Station)
Boarding point
The point up to which you have reservation
Methods to Check PNR Status
There are many ways you can check your PNR status. These include:
Through IRCTC website (registered users)
Railways Passenger Reservation Enquiry (for unregistered users)
IRCTC mobile app called Rain Connect (for Android users)
Railway inquiry counters
Other mobile applications and third-party websites
Final reservation charts
How to Check PNR Status Online
If you are a registered user, you can check your PNR status for railway ticket through the official website of IRCTC. Unregistered users can check it through Indian Railways Passenger Reservation Enquiry site powered by CRIS.
Through IRCTC
Step 1: Go to IRCTC official website https://www.irctc.co.in/nget/train-search
Step 2: Log on to the site using your login details
Step 3: Click on 'Trains' found on the Menu Bar. Choose PNR Status from the dropdown list. This will take you to the PNR status checking page.
Step 4: Enter your PNR number in the box. Click the 'Get Status' button.
Step 5: Now, you will get the PNR status of your booking with all ticket information. 
Through Indian Railways Passenger Enquiry Website
Step 1: Go to Indian Railways Passenger Enquiry Site found at indianrail.gov.in/
Step 2: Click on PNR Status on the Menu Bar. This will take you to the PNR Status checking page.
Step 3: Enter your PNR number. Click 'Submit'.
Step 4: Your PNR Status with journey details will be displayed on the page, as given below: 
How to Check PNR Status through SMS
Indian Railways also allows you to check your PNR status through SMS in case you don't have access to the internet. For this, you have to send a text message to 139 in the format given below:
Format: PNR <10 digit PNR Number >
Example: PNR 4360393388
You will receive an SMS with your PNR status, confirmation updates, and journey details. This service is available for almost all major telecom service providers in India such as Airtel, BSLN, IDEA, Reliance, etc. 
How to Check PNR Status through Phone/Call
Alternatively, you can check PNR status by dialing 139 from your phone. The steps are as follows:
Dial 139
Choose your preferred language as per instructions (1 for Hindi, 2 for English, and 3 for other languages)
Press 1 for PNR status
Key in your 10-digit PNR number
Confirm the PNR number
The PNR status and journey details will be read out to you
Abbreviations Used in PNR Status and Their Meaning
When you check your PNR status for confirmation updates, you can see that it contains several abbreviations. In order to understand the status of your reservation, you must know what each of these abbreviations stands for. Here's a list of abbreviations used in PNR Status:
| | |
| --- | --- |
| Abbreviation | Meaning |
| CNF | Confirmed |
| RAC | Reservation Against Cancellation |
| WL | Waitlist |
| CAN | Cancelled |
| GNWL | General Waitlist |
| TQWL | Tatkal Waitlist  |
| PQWL | Pooled Quota Waitlist |
| RLWL | Remote Location Waitlist |
| RSWL | Roadside Station Waitlist |
| RQWL | Request Waitlist |
To know more about these codes and their meaning, check our page on Indian Railways Reservation. (Link to Reservation Page)
PNR Related FAQ:
Q: I am getting error status when I try checking my PNR status online. What could be the reason?
A: If you cannot get details of a PNR number or if you get error messages, it could be due to three main reasons – you have entered the incorrect PNR number, the server is down or you are checking it past the journey date and hence your PNR number is invalid.
Q: Can I get the passenger name by checking PNR number of another person on the IRCTC website?
A: No. Even though the name, age, and gender of passengers are stored in the CRIS database, you won't be able to see those details when you check PNR status online on IRCTC website on any other sites. These details are kept confidential due to privacy reasons.
Q: Will my PNR number and journey details be stored in Indian Railway's database forever?
A: Nope. These details will be stored in the database for a period of 9 months. After that, the details are deleted from the system.
Q: Can I see my journey details by checking the PNR status after the journey?
A: A PNR number becomes invalid shortly after the journey and it is flushed out from the server. If you check your PNR status after a few days of journey, you will get the message "Error! FLUSHED PNR / PNR NOT YET GENERATED".
Q: How many seats are allotted on one PNR number?
A: The maximum number of passengers allocated on one PNR number is 6.
Q: I am booking a ticket for 5 passengers. Does this mean that these 5 passengers will have 5 different PNR numbers?
A: No. All passengers booked on one ticket will have only one PNR.
Q: Do unreserved tickets also have PNR numbers?
A: No. PNR number is only for reserved ticket bookings where personal and journey details of passengers are collected and stored in the database. For unreserved tickets, such details are not collected or stored and therefore, they don't have PNR numbers.
Q: Can I travel only with my PNR number?
A: Yes, provided that you have a valid ID proof and you know the seat number reserved against the PNR number. You can approach the ticket examiner with your PNR number and ID proof and get the examiner to verify the booking.
Q: Which has more confirmation probability – General Waitlist or Tatkal Waitlist?
A: At the time of chart preparation, passengers on the General Waitlist are given priority as compared to Tatkal Waitlist passengers. So, typically, General Waitlist Tickets have more confirmation probability than Tatkal Waitlist tickets.
Q: Can I travel on another person's PNR number?
A: No. Every PNR number has the name and details of the passenger recorded against it. The ticket examiner will be checking your ID against these recorded details. It is an offense to travel on another person's PNR number.
"