What are Indian Railways e-Tickets?
Electronic tickets, more popularly known as e-Tickets, are the digital equivalent of paper tickets. Earlier, passengers had to go to PRS booking centers of Indian Railways and fill up a reservation form to reserve seats and obtain paper tickets. However, with the advent of technology and digitalization, Indian Railways has introduced the facility of paperless electronic tickets aka e-Tickets for passengers. Today, you can book e-Tickets online through your computers or smart phones from the comfort of your home provided that you have access to the internet. You can also cancel your e-Tickets, change the boarding point, transfer it to a family member, and avail a number of other services related to e-Ticket booking.
Where to Book Indian Railways e-Tickets?
Indian Railways has an official website for passengers to book e-Tickets – Indian Railway Catering and Tourism Corporation aka IRCTC. It is a subsidiary of Indian Railways and manages end-to-end online e-Ticket booking services through two platforms – its official website called IRCTC Next Generation e-Ticketing System and an official mobile app for Android devices, namely IRCTC Rail Connect. These two are the only official platforms of Indian Railways for booking e-Tickets online. While there are several third-party apps and websites that allow you to book Indian Railways e-Tickets online, they all do the booking through IRCTC.
What Details Does an e-Ticket Contain?
An e-Ticket is a comprehensive record of your journey and contains personal and itinerary details such as:
PNR number
Train name/ number
Source station
Destination station
Boarding station
Station up to which you have reservation
Transaction ID
Booking date
Journey date
Travel class
Quota
Concession, if any
Scheduled departure time
Name, age, and gender of passenger/s
Seat/berth number
Coach number
Booking status
Food preference (for trains like Rajdhani, Shatabdi, etc.)
Ticket fare
Travel policy details, etc.
Given below is a screenshot of the reservation particulars of an e-Ticket: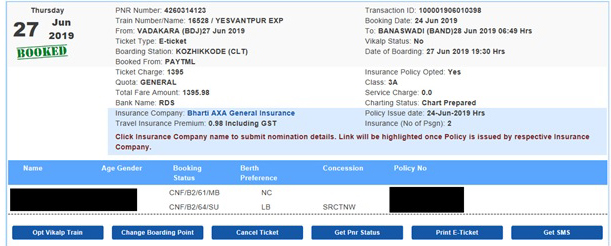 How to Book e-Tickets through IRCTC Website?
In order to book e-Tickets, you must have an account with IRCTC.  If you are a registered user, you can login to the site using your credentials. Once logged in, you can search for trains, look up seat availability, and book tickets in a train, travel class, and quota of your choice by providing passenger details. You can make the payment online using different modes such as debit cards, credit cards, net banking, digital wallets, etc. Click here for a step-by-step guide on how to book e-Tickets through IRCTC. (Link to IRCTC page)
How to Carry e-Tickets While Traveling?
Once the reservation is done, you will get the e-Ticket for your journey in different forms. These include:
ERS: Electronic Reservation Slip (ERS) which you can access through IRCTC> My Account> My Transactions > Booked Ticket History. You can take a printout of the ERS and carry it as proof of booking.
VRM: You will also get a mail to your registered mail address with the reservation particulars. You can take a screenshot of this mail or a screenshot of the e-Ticket displayed through laptops, mobiles, etc. This is called Virtual Reservation Message or VRM, which is accepted by Indian Railways as proof of booking.
SMS: Indian Railways also accepts the SMS you get to your registered mobile number as proof of booking.
Please remember that whether you are carrying ERS, VRM or SMS, you must also carry a valid photo identity proof.
How to Cancel Your e-Tickets?
You can cancel your e-Tickets online through IRCTC, fully or partially. This can be done by logging in to your IRCTC account and by choosing the PNR number you wish to cancel. You can cancel one or more of the total passengers booked on an e-Ticket (partial cancellation), you will get a fresh ERS which must be shown to the ticket examiner during the journey. To learn more about how to cancel e-Tickets through IRCTC, click here. (Link to IRCTC page)
Cancellation Rules for e-Tickets
Cancellation of e-Tickets is bound by certain rules. To begin with, an e-Ticket booked through IRCTC can only be cancelled online and not through PRS ticket booking centers. Confirmed e-Tickets can be cancelled up to 4 hours before the scheduled train departure while for RAC and Waitlisted e-Tickets, the time limit is up to 30 minutes prior to the scheduled departure. Once the chart is prepared, you can cancel your e-Ticket only by filing a Ticket Deposit Receipt or TDR. To learn more about IRCTC cancellation rules for e-Tickets, click here.
Refund Rules for e-Tickets
Once you have cancelled your e-Ticket, you will get a refund after deducting applicable cancellation charges. For e-Tickets booked online through IRCTC, the amount will be credited to the account using which you have made the payment at the time of booking. To know more about IRCTC refund rules for e-Tickets, click here.
What is the Difference between e-Tickets and i-Tickets?
While e-Tickets are paperless electronic tickets, Internet Tickets aka i-Tickets are a version of paper tickets. This was introduced by Indian Railways for people who have access neither to ticket booking counters to book counter tickets nor to printers for printing e-Tickets. Passengers with internet access could book i-Tickets through IRCTC website (just like e-Tickets) and a printout of the ticket was delivered to them through courier. The facility for booking i-Tickets has been discontinued by IRCTC from 2018 onwards and currently, you can only book e-Tickets online through IRCTC.
E-Tickets FAQ:
Q: Is there an official mobile app to book IRCTC e-Tickets?
A: Yes. Since Sampark Kranti trains have general/unreserved (GEN/UR) coaches, you may travel in this train without prior reservation.
Q: Can I cancel e-Tickets from a nearby PRS counter?
A: No. Food prices are not included in the ticket fares of Sampark Kranti trains. The train doesn't have onboard catering services.
Q: Can I book e-Tickets on the Tatkal quota?
A: Most long-distance Sampark Kranti trains are equipped with pantry cars. You can order food from the pantry while traveling in such trains.
Q: What is the booking window for e-Tickets through IRCTC?
A: Yes. The pantry cars of Sampark Kranti trains offer both vegetarian and non-vegetarian food to passengers.
Q: Can I get concessions on IRCTC e-Tickets?
A: Yes. You can book Tatkal tickets in Sampark Kranti Express trains and the general Tatkal rules apply. Please note that Tatkal booking is not available for Sampark Kranti 1 AC coaches.
Q: How many e-Tickets can I book in a month through IRCTC?
A: Yes. To avail senior citizen concession in Sampark Kranti trains, male passengers must be 60 years and above while female passengers must be above 58 years. The senior citizen concession is 40 percent for men and 50 percent for women.
Q: Do I need any photo identity proof to book e-Tickets?
A: Yes. Sampark Kranti trains have a reservation quota for ladies. Seats under this quota can be availed by any female passenger traveling alone or in an all-female passengers group.
Q: Should I carry a printout of the e-Ticket while traveling?
A: Passengers traveling in the AC coaches of Sampark Kranti trains are provided with bed-rolls that contain pillow, blanket, sheets, and hand towels. However, if you are traveling in non-AC coaches, you cannot avail this facility.
Q: Is there a price difference between e-Tickets and counter tickets?
A: Yes. You can avail Lower Berth Quota in Sampark Kranti trains for AC two-tier, AC three-tier, and sleeper coaches. This quota can be availed by senior citizens, pregnant women, and female passengers above 45 years of age.
Q: What are the transaction charges for e-Ticket booking?
A: Yes. Since Sampark Kranti trains have power ports inside the coaches, you may charge your devices during the journey.
Q: Can I change my name on e-Tickets?
A: In the case of Karnataka Sampark Kranti Express, H represents 1AC or First Class AC and A1 represents 2AC or Two-Tier AC. So, HA1 refers to a coach that provides combined accommodation to both 1AC and 2AC passengers. Typically, half of the coach is 1AC and the other half is 2AC.   
Q: Can I insure my journey while booking e-Tickets?
A: No. Some Sampark Kranti trains have other cities as their source station/destination station, but they travel via New Delhi. For instance, Kerala Sampark Kranti and Goa Sampark Kranti connect the capital cities of these states to Chandigarh. However, New Delhi is a major stoppage for such trains.
Q: Can I change the boarding point mentioned on e-Tickets?
A: While the base fare is almost the same for both these trains, the final ticket fare differs because of catering charges and dynamic pricing. For instance, the ticket charges for 2 AC from Bangalore to Delhi in Sampark Kranti are around ₹ 3300. For Rajdhani, the same will be around ₹ 4000 without dynamic pricing and might go up to ₹ 4700 or more with dynamic pricing applied.
Q: Can I transfer my e-Ticket to another person?
A: No. Sampark Kranti is not a premium train, so it doesn't have dynamic pricing.
Q: Can I opt for i-Tickets at the time of booking?
A: No. That facility has been discontinued by IRCTC.
Q: My e-Ticket booking has failed, but the amount is debited from my account. What should I do?
A: If you have not been issued an e-Ticket, you will get the amount refunded from IRCTC to the bank account you have used for booking.