What is Train Running Status?
Often, passengers want to know the exact location of a train that has departed from its originating station. Indian Railways has come up with facilities that allow you to track your train in real time – that is, get the live location of your train at the time of tracking. In addition to showing where your train is currently at, this gives you latest info about your train such as its time of departure, real-time delay, and estimated delay and time of arrival at each station on the route. This facility, which is called Live Train Running Status, can be used to track any running train in India.
Why Should You Track Live Train Running Status?
Many a time, Indian Railway trains are delayed from a few minutes to a few hours due to rains, fog, and technical and other reasons. Passengers who are boarding a train from a station other than the origin station would want to know whether their train is running on time. Likewise, passengers onboard also would want real-time info about the delay and scheduled arrival of the train at the destination station. The facility to check live train running status keeps you informed about the latest updates and also helps you save time and energy.
Information Required to Check Train Running Status
In order to spot a train in real time and track its live running status, you typically need the following details:
Train number/ name
Date (journey date or start date, as required by the particular website/app you are using)
Station name or code (if you want the running status of a train vis-à-vis a particular station en route)
Terms and Abbreviations Used in Live Train Enquiry
The apps and websites that give live train running status use certain terms and abbreviations to show you the details you have asked for. The most commonly used terms and abbreviations are as given below:
ETA and ETD: These terms mean Expected/Estimated Time of Arrival and Expected/Estimated Time of Departure, respectively. They stand for the tentative time your train is expected to arrive at or depart from an upcoming station based on the current running delay. The ETA and ETD keep changing as trains recover time during the course of their run.
ATA and ATD: These terms mean Actual Time of Arrival and Actual Time of Departure, respectively. They refer to the time your train actually arrived at or departed from a particular station en route. In other words, the ETA and ETD for a particular station become ATA and ATD once the train arrives at and departs from it.
Scheduled Arrival/ Scheduled Departure: These terms refer to the arrival and departure time of a train at a particular station as per the Indian Railways schedule, without any delays.
RT: This means Right Time and it is used to convey that a train is expected to arrive at or depart from a station on time, without any delays.
PF: Expected Platform
UA: Update Awaited
CNC: Cancelled at this station
Last Reported Station/ Last Updated Station: This refers to the station based on which you are being shown the current train running info. It could either be a stoppage where the train has arrived at or departed from, or it could be an intermediate station (without stoppage) which the train has passed.
How to Check Train Running Status through IRCTC/NTES?
To get the live train running info, you can track your train through the National Train Enquiry System (NTES) or make use of third-party apps and websites. Here's a step-by-step guide on how to check train running status through NTES/IRCTC:
Step 1: Go to the IRCTC official website at www.irctc.co.in
Step 2: Click on 'Trains' on the menu bar and choose 'Track Your Train' from the dropdown list. This will redirect you to the train tracking page of NTES. You can also directly access the NTES site at https://enquiry.indianrail.gov.in/ntes.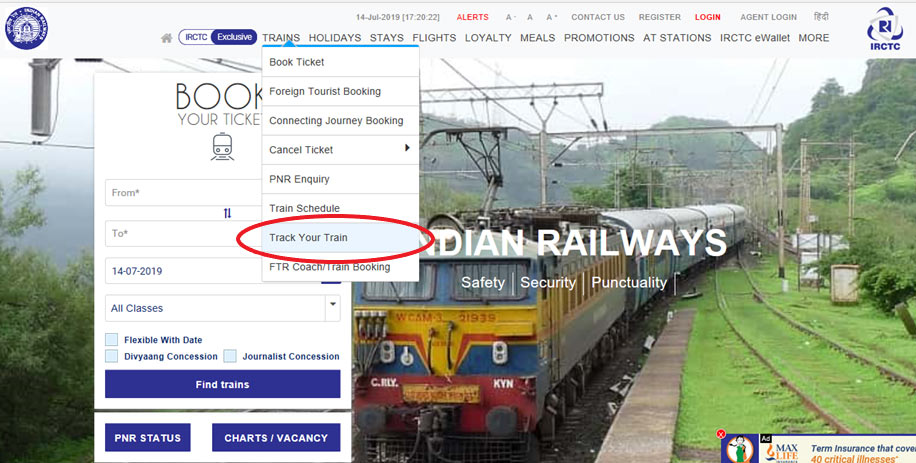 Step 3: Enter the number of the train in the box shown on the screen.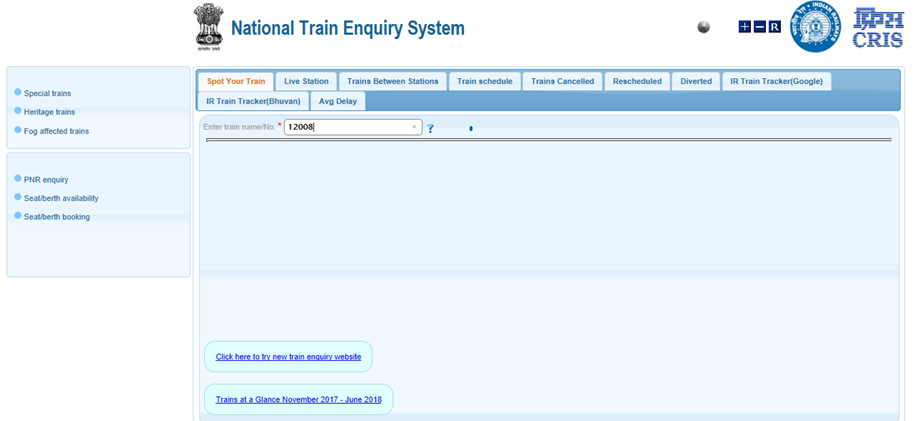 Step 4: Journey details of the train appear on the screen as a list. Choose the journey/boarding/arrival station and the journey/boarding/arrival date from the list.  
Step 5: You will be shown the train running status info which includes the current position of the train, name of last updated/reported station, distance between the current location and the queried station, status of the train at the queried station, expected arrival, expected delay, if any, etc.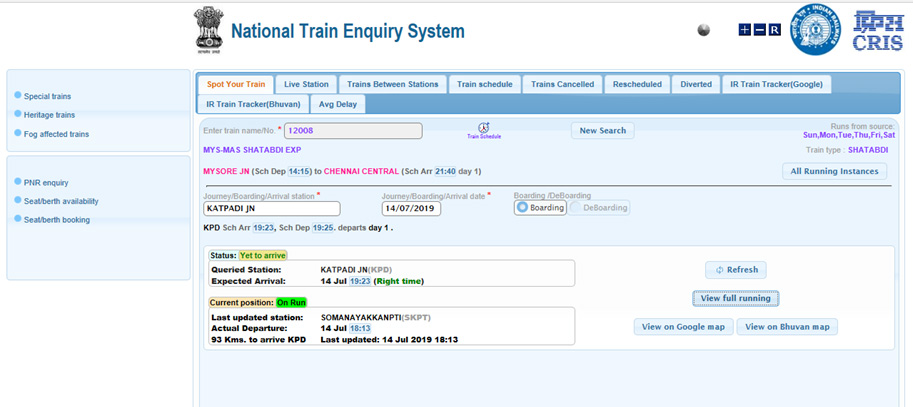 Step 6: You can also check the Full Running Status (for all the stations between the source and destination) of the train by clicking on 'View Full Running' button.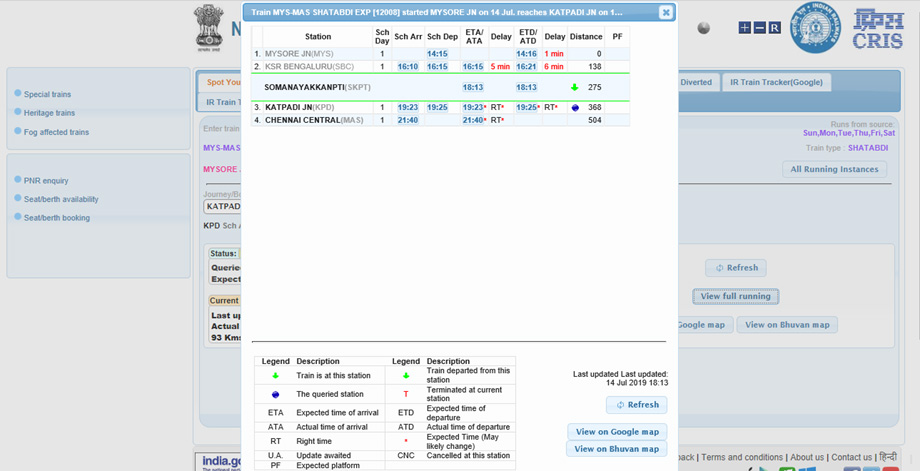 Other Online Sites and Mobile Apps for Live Train Tracking  
Besides the NTES website, there are several other useful online resources to track your train and get live running status. Some of the most popular Indian Railways train tracking apps and sites are listed below:
NTES app (the official mobile app of National Train Enquiry System)
Where is My Train
Rail Yatri
Confirmtkt
Trainman
Hotfoot
FAQ
Q: My train currently has a delay of 50 minutes at a station I have queried for. Does this mean that it will be delayed by 50 minutes at all the upcoming stations?
A: Not necessarily. You must keep in time that trains do recover time, so the delay at upcoming stations might be a lot less than the current delay. It is best that you keep tracking your train at regular intervals to know the latest running status.
Q: Can I check the live status of a train through SMS?
A:  Yes. In order to get the live train running status via SMS, you need to send an SMS to 139 in one of the following formats – SPOT<Train Number> or LOCATE <Train Number>. For instance, if your train number is 12008, the format is SPOT12008 or LOCATE12008. You will get an SMS with the current running info of the train you have queried for.
Q: Do I need a PNR number to track train running status?
A: No. You only need details like train name/number, journey/start date, and station name to get the live train running status.
Q: Are there any mobile apps to check train running status?
A: Yes, you can download the official app of the National Train Enquiry System, which is called NTES app. The app is available for both Android and iOS devices. Alternatively, you can use third-party apps like Where is My Train, Rail Yatri, Confirmtkt, etc.
Q: Do I need the internet connection to make a live train running status enquiry and spot a train?
A: Yes. Since the NTES website and app show you the train running status in real time, your device must be connected to the internet. However, there are some third-party apps that help passengers sitting inside a train to track the status even in the offline mode. This is done using the location of the passenger's device. 
Q: Should I check train running status frequently?
A: Yes. Since the train running status changes frequently, it is recommended that you check the updates at regular intervals of time. It should be kept in mind that the live running status and the ETA of a train with regard to a particular station become more and more accurate as the train draws closer to the station.  
Q: Why am I getting an error message when I try checking the train running status through NTES website?
A:  Typically, this happens due to three reasons – the train number you have entered is incorrect or invalid, the date you have entered is invalid or the train doesn't run on that particular date, or there are some technical issues with the server.
Q: Can I see Indian Railway trains running status on Google Map?
A: Yes. The NTES website has an option to see the train running status on Google Map. Just like in other train tracking websites, you need to enter the train number/name, journey station, and journey date. You will get the results in a table as well as map format, as given below: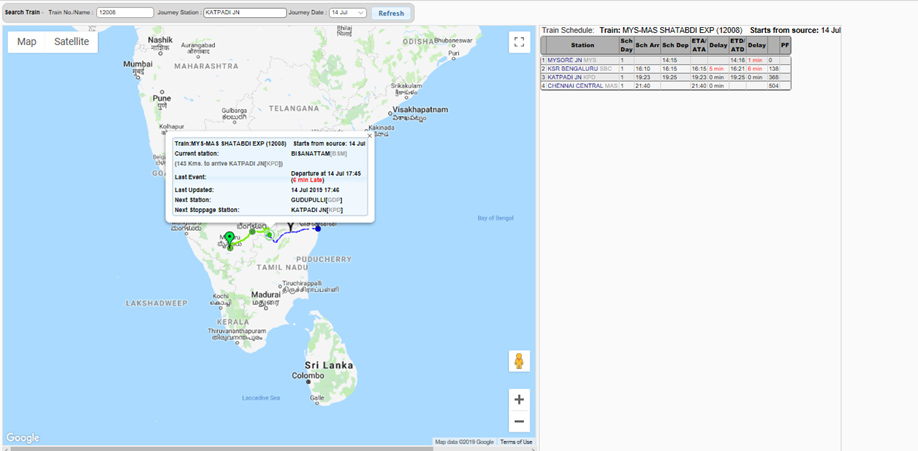 Q: Is there a way I can get the average delay of a train?
A: Yes. NTES allows you to access details of the average delay (both arrival delay and departure delay) of a train in all its stoppages for the last 7 days. You can check a train's average delay here.
Q: Do I need to register on NTES site or mobile app to get train running status?
A: No registration is required to get live train running info.
Q: Can I get train running status on phone via call?
A: Yes. You can get the arrival, departure, and delay details of a train at a particular station by dialing 139.
Q: Which date should I enter to get the live running status info of a train – the start date or the journey date?
A: It varies from app to app. While some apps and sites (for instance, NTES) require you to enter the journey date, others require that you enter the start date to get the required details. Usually, it is mentioned on the site/app.
Q: Why don't I get Expected Platform details for all stations?
A: Typically, the platform on which a train arrives is decided by the station master depending on the current train traffic. As a result, it is likely that there are last-minute changes in the platform number and real-time update might not be available for smaller stations.