What is a Tatkal Ticket?
Tatkal is a scheme or booking quota that the Indian Railways has introduced for people with immediate travel plans. It is also often used by people who weren't able to get a confirmed ticket on General Quota. Under this scheme, a particular number of seats in a train are set aside for passengers who are traveling on short notice. These seats are released only one day before the chart preparation and passengers can book Tatkal tickets on all express and mail trains by paying extra charges over the base fare. The Tatkal Quota is available for all travel classes except for Unreserved/General Class (UR/GEN) and reserved First AC class (1 AC).

Tatkal Ticket Charges
The prices of tickets booked under Tatkal scheme are considerably higher as compared to tickets booked under General and other booking quotas. Tatkal ticket charges are decided based on the basic – that is, the basic fare + a specific percentage of the basic fare. It should also be noted that these additional charges are also subject to minimum and maximum fare as given below:
| | | |
| --- | --- | --- |
| Travel Class | Minimum Tatkal Charges | Maximum Tatkal Charges |
| Second Seater (2S, Reserved) | ₹ 10 | ₹ 15 |
| Sleeper Class (SL) | ₹ 100 | ₹ 200 |
| AC 2 Tier (2 AC) | ₹ 400 | ₹ 500 |
| AC 3 Tier (3 AC) | ₹ 300 | ₹ 400 |
| AC Chair Car (CC) | ₹ 125 | ₹ 225 |
| Executive Class | ₹ 400 | ₹ 500 |

Booking Your Tatkal Tickets
You can book your Tatkal tickets through the official IRCTC website or the official mobile app for Androids, named IRCTC Rail Connect. Alternatively, you can make Tatkal bookings through PRS (Passenger Reservation System) counters of railway stations. Even though there is a provision to book Tatkal tickets through third party apps and websites, these sites and apps again connect to you IRCTC to complete the transaction.
Tatkal Booking Timings
The booking window for Tatkal tickets are as follows:
From 10:00 am onwards for all AC classes except 1 AC
From 11:00 am onwards for sleeper (SL) and all other non-AC classes like First Class (FC) and reserved Second Seater (SS)
Advance Reservation Period (ARP) for Tatkal Tickets
As mentioned, the Advance Reservation Period (ARP) for Tatkal tickets is one day prior to the journey. This is calculated by excluding the date of journey which, in turn, is determined based on the train originating station. Here are two examples to help you understand Tatkal Advance Reservation Period better:
If your date of journey is 15/04/2023 in a train that starts on the same date, the date for Tatkal ticket booking is 14/04/2023.
If your date of journey is 15/04/2023, but the train starts from its originating station on 14/04/2023, the date of Tatkal ticket booking is not 14/04/2023 but 13/04/2023.
Concessions and Quotas under Tatkal Scheme
The concessions and quotas that you can normally avail on General Quota bookings are not allowed under Tatkal. Everyone, including senior citizens, should pay full fare while booking Tatkal tickets.

Premium Tatkal (PT)
First introduced in 2014, Premium Tatkal is a new ticketing scheme of Indian Railways. It is similar to the Tatkal Scheme in many aspects and allows passengers to book their seats on trains one day prior to the date of journey. However, the charges, fare calculation system, a few of the booking rules of Premium Tatkal differ from Tatkal bookings.
Special Features of Premium Tatkal
Premium Tatkal Scheme follows a dynamic fare system where ticket prices increase based on demand and the number of seats left on a train. In other words, it is similar to flight ticket bookings
While Tatkal tickets can be booked through counters, IRCTC website and mobile app, and third party website and apps, Premium Tatkal can be booked only through IRCTC site and app. Agents and third parties are not allowed to book premium tickets. Counter bookings are also not available
Premium Tatkal only allows e-Ticket bookings. i-Ticket bookings are not allowed under this quota
PT doesn't allow Waitlist/RAC bookings
Step-by-Step Guide to Booking Tatkal Tickets
Want to know how to book Tatkal tickets through IRCTC website? Here's a step-by-step guide to help you:
Step 1: Go to the official website of IRCTC i.e. https://www.irctc.co.in/nget/train-search
Step 2: If you are a registered member, log on to the site using your login details like username and password. Unregistered users should first register on the site, create a username and password, and then proceed to the following steps.
Step 3: Enter your journey details – name or code of the source station, name or code of the destination station, date of journey, and class of travel. Click on 'Find Trains'.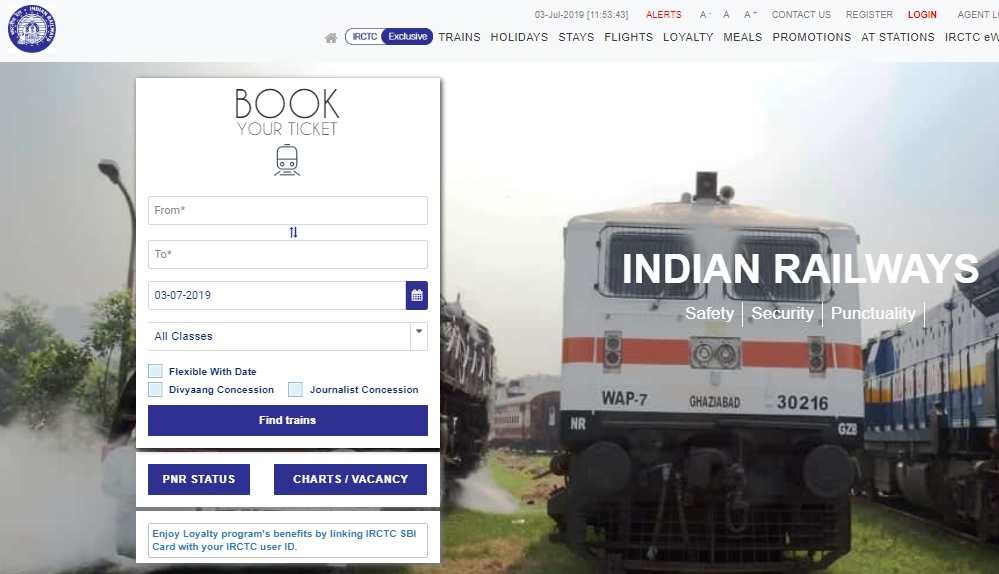 Step 4: Now, you will get a complete list of trains running between the two stations you have entered. Choose 'Tatkal' or Premium Tatkal from the dropdown menu on the right side and choose the travel class of your preference (2 AC, 3 AC, CC, SL, etc.) Click on the 'Check Availability and Fare' button for the train you want to book your tickets in.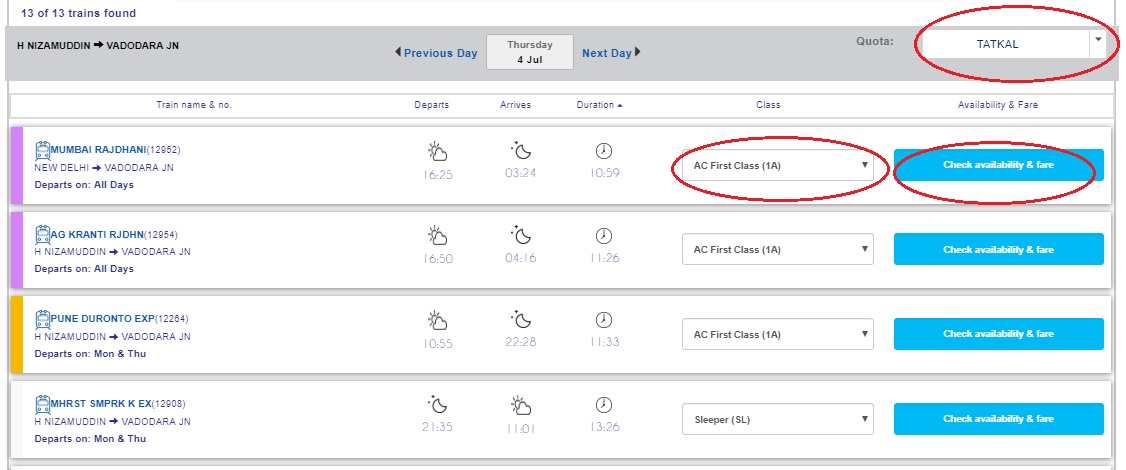 Step 5: You will now get the Tatkal seat availability for the train and class you chose. At this stage, you also have the option to check availability on alternate trains and alternate classes. Click on 'Book Now' button.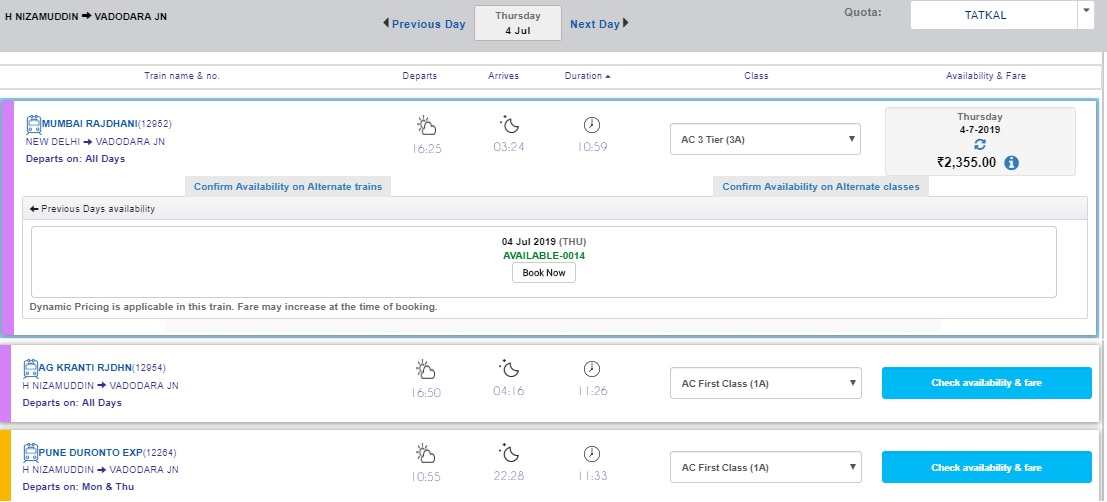 Step 6: Fill in details of the passenger/passengers, such as name, age, gender, berth preference, food preference (for certain trains), etc.
Step 7: Review your booking.
Step 8: Make payment using your preferred mode of payment such as debit cards, net banking, digital wallets, debit cards, etc.

Tatkal Ticket Booking FAQ:
Q: Can I book my Tatkal tickets through train ticket agents?
A: IRCTC has restricted authorized train ticket agents from booking Tatkal tickets for a certain time frame – that is from 10:00 am to 12:00 pm. You can book through agent after this restricted timeframe if tickets are still available.
Q: Will I have to pay for end-to-end distance when I book Tatkal tickets?
A: No. You only have to pay for the actual distance of travel when you book Tatkal tickets. For instance, if you are booking tickets from Bangalore to Nagpur on a Bangalore-Delhi train, you will only have to pay for Bangalore to Nagpur distance.
Q: Do I have to produce any identity proof or number at the time of booking my Tatkal tickets?
A: No. You don't have to furnish your ID proof or number at the time of Tatkal booking. However, you must carry a valid identity proof while traveling. Indian Railways accepts PAN card, Aadhaar Card, passport, driving license, etc. are valid ID proof.
Q: Can I book seats of 6 passengers on one Tatkal booking?
A: Unlike General Quota bookings, you cannot book seats for 6 passengers on Tatkal tickets. The maximum number of passengers allowed per ticket is 4. If you are looking to book seats for 6 passengers, you'll have to do the booking twice.
Q: Is partial cancellation of Tatkal tickets allowed?
A: Yes. IRCTC allows you to cancel your Tatkal eTickets partially.
Q: Will I get a refund if I cancel my Tatkal ticket?
A: That depends on whether you are cancelling a Confirmed Tatkal Ticket or a Waitlisted Tatkal Ticket. You don't get any refund when canceling a confirmed Tatkal ticket. However, cancellation of Waitlisted Tatkal Tickets is eligible for refund and you will get the refund after deducting applicable charges as per Indian Railway rules.
Q: Can I book Taktal tickets for First AC Class?
A: No. As of now, First AC Class is exempted from the Tatkal scheme.
Q: Can I combine any other quota (for instance, Ladies Quota) with Tatkal?
A: No. You cannot combine any other quotas with Tatkal Quota.
Q: Will Senior Citizens get a concession on Tatkal?
A: No. Senior Citizens are not allowed any concessions when they reserve their seats on Tatkal quota.
Q: What if my Tatkal ticket is on Waitlist after chart preparation?
A: If you have a Tatkal ticket that doesn't confirm even after chart preparation, the ticket will automatically be cancelled and the amount will be refunded to you. However, applicable charges will be deducted from the amount in line with the railway rules.
Q: Can I book Premium Tatkal tickets by visiting the nearest railway counter?
A: No. Premium Tatkal tickets can only be booked online through the official website of IRCTC. You cannot book PT tickets through counters.
Q: What is the timing for booking Premium Tatkal tickets?
A: The booking window for booking Premium Tatkal tickets are as the same as Tatkal tickets. That is, the booking opens at 10:00 am for AC classes and 11:00 am for Non-AC reserved classes.
Q: Is food included in my Premium Tatkal charges?
A: Premium Tatkal tickets don't include food charges per se. If you are booking PT tickets on a train that by default provides meals on General Quota tickets too (Rajdhani, Shatabdi, etc.), you will get it on PT bookings too.
Q: What are the chances of my Tatkal waiting list ticket getting confirmed?
A: That depends. It should be noted that during the chart preparation, passengers on General Quota waitlist get preference over passengers on Tatkal quota waitlist. The positive aspect, however, is that if a Tatkal ticket goes up the list, it is not slotted under RAC. Instead, it directly gets confirmed.
Q: Can I book as many Tatkal tickets as I want at a time from my IRCTC account?
A: No. A passenger is allowed to make only two Tatkal bookings per user ID a day. You can book 4 seats per bookings.
Q: Can I book Tatkal tickets on the date of journey?
A: Yes. If seats are available, you can book Tatkal tickets till the chart is prepared on the date of journey.
Q: Do Tatkal charges increase during peak seasons?
A: No. Tatkal ticket charges (except PT) are not dynamic. The fare structure will not fluctuate based on peak seasons or demand.