Of the many things Noida is known for, food tops the list and for all the right reasons. If you are on a diet, the city will force you to make every day a cheat day and if you are not, then you are in for a never-ending feast. Aromas that tickle your senses waft through the bustling streets of Noida, where food is nothing less than pure dope for any gallivanting gastronome. And guess what? Making a table reservation and eating at a stationary venue is an outmoded thing here. The newest trend in the city is – yes, you guessed it right – food trucks!
Well, the concept of mobile eateries is not really a new phenomenon for many of us. We have always had food vendors who, with their make-shift cart, magically appeared every evening at some corner of our streets, cooking and selling bhajis and omelets and dosas and what not! The food trucks and mobile eateries in Noida are offering a modern, twist to this endearing phenomenon. Rising steadily in popularity, these trucks are where lip-smacking, finger-licking, tummy-tingling food is dished out at affordable prices. They exist everywhere, from parks and residential streets to corporate premises and commercial venues, offering treats of North Indian, South Indian, Lebanese, American, Thai, Chinese, Japanese, Mexican, Italian, and other origins.
Planning a gastronomic tour through the city to find happiness sold on wheels? Here's to you a handpicked list of the top food trucks in Noida you must try at least one in your lives.
1. Oh Buoy
Get going to Oh Buoy because this is where you can take a serious dig into the distinct culinary wonders served on your plate. A defining feature of this food truck is that it celebrates the unique union of flavors from across the world. Parked at a busy corner, the orange truck has its large pool of customers waiting in long queues, every day, just to get a nibble of the signature dishes in exotic flavors. The quick grab-and-go options let the busy bees spend some quality break-time with utmost gratification. And the best part? Oh Buoy delivers amazing food to your doorstep as well. Want to treat your tummy with some delish sandwiches, burgers, falafel rolls, tacos, dim sum fry, quesadillas, hot dogs, and noodles? Or do you want to delight yourself with some chilled quenchers? Come to Oh Buoy! We bet you won't stop till you drop with a belch and say "Oh boy"!
Locations:

Near HCL Office, Sector 125
Near Supertech Building, Sector 93
Near DLF Building, Sector 62
Timings:

12:00 pm to 03:00 pm and 06:00 pm to 11:00 pm; every day (Sector 125 and Sector 62)
05:00 pm to 11:00 pm; every day (Sector 93)
Must-try Items: Creamy Peri Peri Chicken Pasta, Chicken Quesadillas, Falafel Combo, Chicken Wings, Pop Romain Burger, Masala Lemonade, Truck Ki Lassi
Average Cost for Two: ₹ 300 
2. Burnout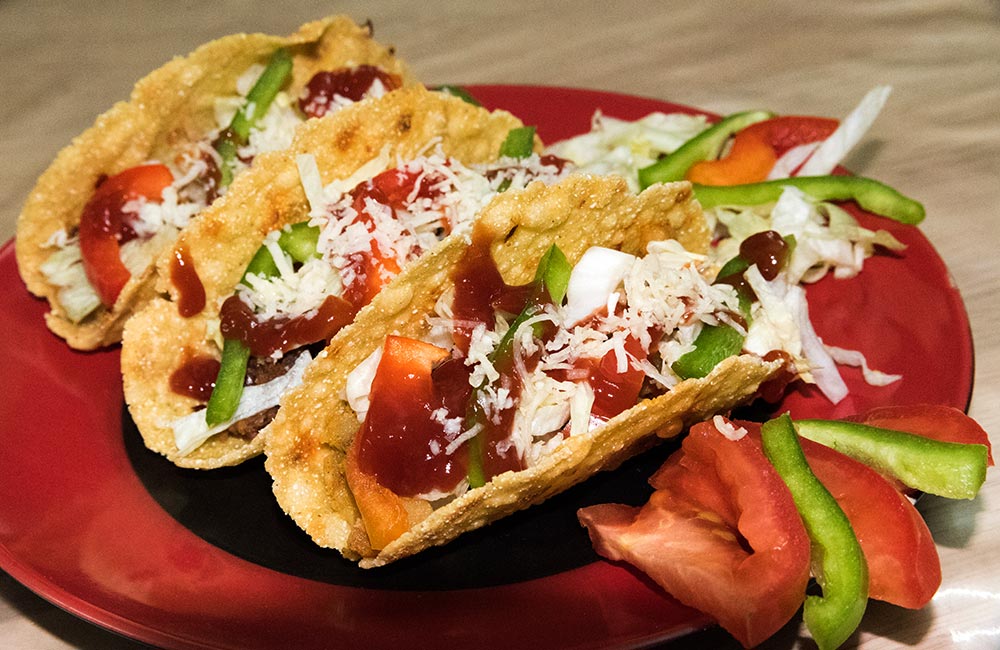 Global comfort food is what keeps us going, isn't it? When you are burned out from the daily grind, we suggest you binge on some yummilicious food at the Burnout Food Wagon. This café-style truck attends to all your food woes with its well-curated menu. Everyone in the vicinity waits with bated breath for this black truck to come rolling to their rescue. Their Mexican spread has rave reviews while the American vittles will be gone in a jiffy! An amalgamation of great munchies and some hunger-inducing BG music is the USP of this truck. With mind-blowing flavors, Burnout will make you want to live another day just to experience its gastronomical magic.
Location: Sector 110, Sector 104 (Location varies)
Timings: 11:00 am to 11:00 pm; every day
Must-Try Items: Corn & Veggie Tacos, Chicken Steak Quesadilla, Carlito Mexican Chicken, Nacho Crunch Veg, BBQ Cheese Veg, Steaks, Cold Coffee
Average Cost for Two: ₹ 450
3. Food Fix
This Zebra-painted truck brings Lebanon to Noida to give in to your food fixations with its ever-evolving menu. This perfect eat-treat venue offers melt-in-the-mouth Doner kebabs, Mezze delights, rolls, and what not! If you need something that is light on your tummy and also your pocket, then this is your perfect dwelling ground. Want to take your lady love to an airy dating venue and get her gorging on some scrumptious yummies? Food Fix is the word! After all, there's NOTHING that food can't fix!
Location: Sector 50 and Sector 93 (Location varies)
Timings: 04.00 pm to 10.30 pm; every day
Must-try Items: Shawarmas, Lebanese drinks, Falafels, Pita Chips, Hummus
Average Cost for Two: ₹ 400
4. Wanchai by Kylin
Touted to be the coolest Pan-Asian experts on wheels in town, Wanchai by Kylin offers quick meals in a box, making it a habitual convenience. Whether a quick bite is on your mind or a laid-back noodle-slurping dine-out, Wanchai is game. This red food truck, which was originally a restaurant and later burgeoned into multiple food trucks across the NCR, specializes in poultry, sushi, and seafood. Adding culinary charm to the busy streets of Noida, Wanchai glorifies your weekend outings. Going by local rants, if you have not eaten here, you haven't eaten at all. Party orders with a customizable menu are also undertaken here, just in case you want to do your next party the Wanchai way!
Location: Outside Gate Number 8, Great India Place
Timings: 11.00 am to 10.00 pm; every day
Must-try Items: Sushi, Momos, Prawn, Khao Suey, Vegetable Noodles, Chilli Chicken, Manchurian
Average Cost for Two: ₹ 700
5. Rolling Beans
If you have meetings to attend near the Noida Expressway, you can't possibly miss out on some serious binge time at the Rolling Beans that hosts genuine and unadulterated food with two food trucks, the Chennai Express and the Pindi Express. Experience Ghar Ka Khana at these friendly neighborhood trucks that take their customers' hunger pangs very seriously. You would see the corporate crowd thronging these super trucks during lunchtime for some homely idlis, dosas, parathas, tandoori bites, dal makhni, rajma-chawal, chaat, and more dishes that remind you of home. This is where Zaika Dil Ka comes alive.
Location:

Near HCL Technologies, Sector 127 (Pindi Express)
Near Galaxy Business Park, Sector 62 (Chennai Express)
Timings:

01:00 pm to 11:30 pm; Monday to Friday (Pindi Express)
11:00 am to 11:00 pm; every day (Chennai Express)
Must-try Items: Idli, Masala Dosa, Onion Rava Masala Dosa, Parathas, Tandoori Items, Dal Makhni
Average Cost for Two: ₹ 250
6. Ammi's Kitchen
Who better than your Ammi (meaning mother in Urdu) to understand your food cravings? Dedicated to the mothers of all the foodies out there, Ammi's Kitchen is an ode to the flavorful Mughlai food. The Chicken Korma served here is to die for, while the tikkas and the Shandaar Soy Chaap are its top contenders. Feel like the king/queen of the Mughal era when you get all engrossed into the aromatic splendor offered at this truck, that too at affordable prices. The food is handed out in hygienic foil containers, while members of the service staff are constantly on their toes to give you a luxe experience which only royalty could possibly enjoy eons ago.
Location: A 14, Sector 4
Timings: 12.30 pm to 12.30 am; every day
Must-try Items: Chicken Korma, Paneer Tikka, Kheer, Paneer Biryani, Soya Chaap Roll, Shahi Rabri, Sheer-e-Akbari
Average Cost for Two: ₹ 400
7. Being Truckers
The bistro binge routine never seems to dim in Noida. Being Truckers is a contemporary and funky food truck that serves scrumptious sandwiches, amazing burgers, soul-elevating thick shakes, hot dogs, Chinese delights, in short, the best light bites from around the world. The dishes you get here are gentle both in your mouth and on your wallet. This artistically painted truck is a joy catalyst among foodies and it rightfully converts boring street eating activity into a well-conceptualized fun event.
Location: Opposite Lotus Panache, Sector 110
Timings: 12:00 pm to 10:30 pm on Monday to Friday; 12:00 pm to 11:00 pm on Saturday and Sunday
Must-try Items: Chicken & Cheese Toast, Sesame Chicken, Osibisa Cottage Sandwich, Burgers, Watermelon Cooler, Oreo Shake, Snickers Shake, Death by Chocolate Shake
Average Cost for Two: ₹ 500
8. Drop! In
If you are a city-dweller who loves fusion, and 'spice' and 'surprise' are the elements that make your food senses go bonkers, don't miss a meal at Drop! In. Catering to the Chinese lovers in town who can't really let go of their roots either, Drop! In specializes in a mouth-watering range of Chinese and North Indian dishes. Keeping hygiene and taste at the highest level, the service here is exemplary too. Touted to be the best Pad Thai Noodles makers in Noida, this food haven offers a truckload of gastronomic innovation.
Location: Opposite the Millennium School, Sector 120
Timings: 12.00 pm to 11.00 pm; every day
Must-try Items: Pad Thai Noodles, Mutton Keema Pav, Chicken Grill, Kadai Murg, Mountain Chicken
Average Cost for Two: ₹ 350
9. Caffeinated
This coffee-brewing beverage truck offers a startling 10-second take away to the coffee divers of Noida. Brewed freshly using beans from the coffee estates near Bengaluru, the beverages you get here are going to wash your Monday blues away. The authentic, premium, and price-perfect range of brews at Caffeinated make the cup-to-lip affair nothing less than divine, that too without a dearth in the options they provide in food and beverages. At Caffeinated it is better latte than never where a coffee buff would exclaim Mocha mat chodna!
Location: Near Amity University, Sector 125
Timings: 10.30 am to 06.30 pm; Sundays closed
Must-try Items: Oreo Shakerato, Coleslaw Sandwich, Chicken Dim Sum, Ice-Cream Blended Coffee, Hazelnut and Caramel Cold Coffee, Cappuccino, Whole Wheat Momos
Average Cost for Two: ₹ 200
10. Hunger Theka
This mini food truck has the power to banish hunger with its American, Continental, and North Indian dishes made on the spot. The entrée menu sticks to the basics, while the pasta, burgers, wraps, sandwiches, and shakes take you on an extensive continental culinary journey. The sauces and fresh veggies mixed with the choicest of ingredients will make the compact menu give a larger-than-life experience to your taste buds.
Location: Sector 22, Sector 125, and Sector 56 (location varies)
Timings: 11.00 am to 10.00 pm; closed on Sundays
Must-Try Items: Cheese Garlic Toast, Mixed Sauce Pasta, Special Cheesy Burger, Special Mushroom Sandwich
Average Cost for Two: ₹ 300
Noida has once again scored aces as the innovation capital of India with the creativity of these food trucks that are winning the hearts of foodies across the city. So next time you are in the city, do visit one or more of these food trucks and sign-up for some heavenly indulgence without reservations. Give the exorbitantly priced buffets at your hotel in Noida a miss, my friend. Happiness can always be found on wheels and on plates too!