Bangalore…a city that has so much to offer when it comes to taking some time off work and relaxing with friends, with family or enjoying some "me time". The city is a haven for food lovers, adventure lovers, solitude and enlightenment seekers, and plain simple fun lovers. This cosmopolitan will not disappoint you in any way when you are trying to find things to do in Bangalore, a city which is now much more than just the City of Gardens.
Top Things to do in Bangalore for Youngsters
1. Picnicking at Hesaraghatta Lake
Another one of the natural beauties of the city is this decade-old freshwater lake, which is the source of water for the people of Bangalore. The reverie of the place is broken only by the sound of birds. You can enjoy a blissful picnic on the banks of this lake while some amazing birds like Bushlarks, Paddy Field Pipit, Pond Heron, Black Drongo, Magpie Robin, Brahminy Kite, Cormorants, Egret, and Pale Billed Flowerpecker soar above you.
Location: Hesarghatta
What you must do: Enjoy the refreshing surroundings and put your camera to use by clicking on some fabulous picture of the avifauna at the lake
Opening hours: 6 AM to 6 PM
Entry Fee: Free
2. Admiring the Natural Beauty at Lalbagh Botanical Gardens
Splashes of colour in every shade possible and the scent of flowers transport you to a state of zen instantly when you enter the Lalbagh Botanical Gardens. Nature is in full bloom at this park which comes across as an oasis in the tech city. Rows and rows of exotic flowers and over a thousand species of plants keep you transfixed and spread a sense of calm all over you. Some trees in this garden are as old as hundred years. This park is spread over almost 40 acres and was set up Hyder Ali, who was one of the famous rulers of Mysore. Some highlights of the park include rare species of tropical plants, a clock adorned with flowers, and a Snow White and Seven Dwarfs themed park.
Location: Mavalli
What you must do: Attend the flower show that is organised here in January and August
Opening hours: 6 AM to 6 PM
Entry Fee: ₹10
3. Boating on Ulsoor Lake
Be it with friends, family or even alone, boating on this lake is always a fabulous experience. Located right in the centre of the city, Ulsoor Lake is the almost like a lifeline for the people of Bangalore who are looking for a respite from their mundane routine. There are several small islands in this lake where you can stop over for a while. If you just want to relax in the surroundings, then, you can take a stroll along the pathway on the side of the lake.
Location: MG Road
What you must do: Soak in the landscape around the lake while your boat goes swishing the lake
Opening hours: 6 AM to 8 PM. Wednesdays closed
Entry Fee: Entry to the lake is free.
Boating Charges: ₹35
4. Hiking the Shivagange
Want a kick-ass start to your day? Pack your gear and head over to this 804.8m high mountain peak. The mountain peak is in the shape of a shivalinga and has a little stream by the name of Ganga flowing by, giving it the name of Shivagange. It is just the perfect trekking spot for the youngsters of Bangalore. This peak holds a religious importance too because of the Sharadambe temple and several teerthas such as Kanva Teertha, Agasthya Teertha, Kapila Teertha, and Pathala Gange that are there on this hill.
Location: 60 km from Bangalore
What you must do: Visit the Gangadhareshwara temple, Nandi Statue, Olakal Teertha, and Patalagange around the peak
Opening hours: Start your trek early to reach Bangalore back by evening
Entry Fee: Free
5. Having a Gala Time at Rasta Café
Rasta Café has a special place in the heart of the young crowd of Bangalore. Though the place does not serve alcohol to its guests, it is still the chill-out hub for Bangalore youngsters, especially at night. The café is open all day long and has an indoor as well as an outdoor seating amidst a well-kept garden.
Location: Mayaganahalli
What you must do: Try their Rasta Cappuccino and Hot Brownie
Opening hours: 24 hours
Meal for two: ₹1000
6. Striking your Stress Away
Fun and frolic come together when you bowl away with friends at the bowling alleys in Bangalore. A favourite activity of the young crowd of the city, it is a perfect way to have a good time even in the middle of the week. Quite a number of these bowling alleys are open till a little before midnight and even if all your bowling balls go berserk, you are guaranteed a whole lot of fun. Most bowling alleys in the city also have other sports as well as foosball and air hockey, which are equally popular.
Location: PVR BluO at Orion Mall and Amoeba on Church Street are some of the popular bowling alleys
What you must do: Bowl, eat, drink and repeat!
Opening hours: 11 AM to 11 PM
Entry Fee: ₹200
7. Watch Magnificent Horse Races at the Bangalore Turf Club
It is fun to spend an afternoon at the races, whether or not you are a horse racing enthusiast. When in Bangalore, plan a day out to watch a horse race at the Bangalore Turf Club. The club conducts racing in two distinct seasons – in summer from May to August and in winter from November to April.
Location: Gandhi Nagar
Opening Hours: Check with the club during the season
8. Attend a Play at Jagriti Theatre
Among the most popular things to do in Bangalore for youngsters is theatre. And Jagriti Theatre in Bangalore organises a range of theatre, drama and comedy plays, music and dance shows, etc. on a regular basis. Visitors can check the websites of the theatre to keep an eye on the upcoming shows and book tickets.
Location: Whitefield
Opening Hours: Depends on the show
Entry fee: Depends on the show
Top Things to do in Bangalore if you are Alone
9. Go Karting
Adrenaline rush, mixed with rubber tyres vrooming across the go-karting track gives an extreme sense of exhilaration to the adventure sports lovers in Bangalore. One of the best ways to have an exciting evening in Bangalore does not require a special skill set but does need a heart filled with daredevilry. The small four-wheeler cars are big enough for one, but you can also race along the track with your friends. International standards software coupled with a state-of-the-art race track that is equipped with safety barriers are a treat not only for seasoned go-karters but even for amateurs.
Location: Play Arena, Kasavanahalli. Other good go-karting locations are at Torq03 at E-Zone Club at Marathahalli and Raceway Motorsports at Pattareddypalya.
What you must do: Just have a great time!
Opening hours: 10.30 AM – 10 PM for Play Arena. Most of the other arenas are generally open from 10 AM to 8 PM
Entry Fee: Monday to Friday ₹150 for 6 laps. Saturday & Sunday ₹200 for 6 laps
10. Attending Music Gigs
Bangalore is a city which comes to nightlife and what a night it is if you spend it enjoying some live music gigs which are an integral part of Bangalore. The city has played host to several prominent music bands in the last few years. Names like Metallica, Iron Maiden and Guns n Rose have all entertained the Bangalore crowd. The genre of these live gigs includes everything from rock, pop, EDM, Sufi, jazz, and even the all-time favourite Bollywood.
Location: Some popular venues that host these music gigs are Indigo XP in Koramangala, Hard Rock Café on MG Road, and The Humming Tree in Indiranagar.
What you must do: You do need to book your tickets in advance as almost all of these gigs always run houseful.
Opening hours: Mostly in the evenings but be prepared for a long wait before the gig actually begins
Entry Fee: The tickets are generally priced around 3000 but it varies according to the performing artists and music groups.
11. Meditating and Rejuvenating at Art of Living International Centre
Art of Living Centre is not only an experience for the body but for the mind and soul as well. You can indulge in some seva, satsang, and meditation here to attain a state of bliss for the mind and to garner some divine knowledge. Built on a lush green hillock, the ashram offers a rejuvenating experience to the soul through its calm and serene landscape, amidst which the ashram stands pretty as a picture.
Location: Kanakapura Road, Udayapura
What you must do: Yogic meditation with some yoga and visit the Ayurveda Panchakarma Centre
Opening hours: 6 AM to 9 PM
Entry Fee: Free
12. Offering Prayers at ISKCON Temples
Connecting with the Almighty is done best when done alone, away from the worries of the world. And if you are out on such a quest in Bangalore, then ISKCON Temples are your destinations. Bangalore is blessed to have two of these, Sri Radha Krishna Temple and Sri Sudarshana Narasimha Temple, both unparalleled in beauty and serenity. Both these temples pay homage to Lord Krishna and are flocked by devotees from all across the globe.
Location: ISKCON Sri Radha Krishna Temple is at Hare Krishna Hill in Rajaji Nagar and Sri Sudarshana Narasimha Temple is at Vaikuntha Hill on Kanakapura Road.
What you must do: Krishna Lila Theme Park at Vaikuntha hill
Opening hours:15 AM to 8.20 AM
Entry Fee: Free
Also check couple friendly hotels in Bangalore
Top Things to do in Bangalore at Night
13. Strolling Along the MG Road
There are places which bring out the essence of the city and present its best picture. One such place is MG Road in Bangalore where you can have a great evening just by taking a stroll on the well-lit road. It is the busiest road in Bangalore and yet when it comes to selecting a place for doing something at night, it stands at the top of the list. Being the hub of most recreational activities and the commercial centre of the city, it has something for every kind of visitor. Go on a shopping spree, binge on your favourite food, or shake a leg while sipping drinks, at MG Road, getting bored is not an option!
Location: MG Road
What you must do: Take a stroll, enjoy the delicacies offered by the big basket of restaurants, and then chill at the pubs while enjoying live music
Opening hours: Open all day but best explored at night when the road is illuminated and the pubs offer good music and happy hours
Entry Fee: Free
14. Savouring Street delights
The Silicon Valley of India, Bangalore, is home to country's best techies and a vast student crowd, leading to a flourishing street food industry. If you are the herbivore kind then head to VV Puram Food Street when the dusk falls, to sample some lip-smacking vegetarian delights. The street will spoil you for choice, offering you dishes from pav bhaji and dal bhaji to various varieties of chaat. Over twenty food stalls on this street dole out some delectable food that will make you yearn for more. Another option for street food in Bangalore is Jayanagar, which is open till midnight and is good for those spicy midnight cravings.
Location: VV Puram Food Street and Jayanagar
What you must do: Try Hari Super Sandwich, Rakesh Kumar Pani Puri & Chaat, and The Lassi Park in Jayanagar
Opening hours: 7 PM till midnight
Cost for two: ₹200 to ₹500
Also Read: Things to do in Bangalore at Night
15. Dancing the Night Away
Home to some swanky pubs, Bangalore has options galore when it comes to drinking the mundane office sorrows while admiring the glitzy skyline of the city. Pub-hopping is how our Silicon Valley loves to spend its evening, especially on a weekend. The rooftop bars and pubs in Bangalore offer some fantastic happy hour deals and you can sip your drinks while the pleasant evening breeze adds to the settings. Many of these spots also host live music bands on weekends along with sports screenings.
Location: Some good rooftop bars in Bangalore are Double Decker at Brigade Road, Hangover, Monkey Bar, Toit and The Humming Tree in Indiranagar
What you must do: Karaoke nights on weekends
Opening hours: Open till 1 AM on weekends
Entry Fee: ₹1300 – ₹2500 for two people
16. Trekking with the Moon Light
Bangalore, with its unending love for adventure, is a city that never sleeps. You can have a host of activities lined up for you to take part in, at every hour of the day. For those who love the taste of adventure, you can plan a night trekking trip with friends, where you can see the moonlit sky when you start the trek and end your trek watching the sky resplendent with the morning rays of the sun. There are several night trekking trails around Bangalore that humour not only the professionals but also the novice trekkers. Here are the Best trekking places near Bangalore to fuel your adrenal rush!!
Location: Skandagiri night trek, 70 km from Bangalore. Other night treks that offer an easy trail and are within 100 km from Bangalore are SRS Hill night trek, Achchalu night trek, and Makalidurga night trek
What you must do: Have a light dinner and reach the trail by midnight
Opening hours: Starts around midnight
Entry Fee: ₹1000 with refreshments included
17. Camping under the Starry Night
For the outdoorsy night traveller, another great activity to indulge in Bangalore is going for a camping night out. Camp under the stars and enjoy some live music with a bonfire in winters. Several groups in Bangalore organize these night camps around the city, within 100 km. The entire camping gear is provided by the organizers, and some even offer refreshments with their package.
Location: Kanakapura at 63 km and Ramanagara Hills at 50 km from Bangalore
What you must do: Do not forget to carry your iPod or Kindle
Opening hours: Starts late evening
Entry Fee: ₹1200 to ₹2500
Top Things to do in Bangalore with Kids
18. Connecting with the Wild at Bannerghatta National Park
Kids who visit this park have a ball and that goes for the adults accompanying them as well. Well maintained and home to some amazing wildlife, this park is good for a full day outing with your tiny tots. Watching the animals in their natural habitat offers a learning experience to kids and is a delight for wildlife photographers. And that is not it, for there is also a butterfly park in the premises which weaves almost wonderland-like scenery.
Location: Bannerghatta main road
What you must do: The mini safari and the Aquarium with some exotic fishes
Opening hours: 9.30 AM to 5 PM
Entry Fee: ₹80 for Adults, ₹40 for Children, ₹400 for Foreigners, and ₹300 for Foreigner Kids
19. Adoring Dolls at Bal Bhavan
With parks getting smaller and kids getting busier, the best way to give children a fun-filled day in Bangalore is by planning a trip for them to Bal Bhavan, which is located inside the Cubbon Park. It's a heart-warming sight to see kids giggling with delight while aboard the toy train, Putani Express, or looking with gaping mouths at the dolls in the Dolls Museum. The sprawling twelve-acre premises also has horse riding for kids along with other games.
Location: Kasturba Road, Sampangi Rama Nagar
What you must do: The famous twenty million years old fossilized tree and the art and craft workshop
Opening hours: Tuesday to Thursday – 10.30 AM to 10 PM. Saturday& Sunday- 9.30 AM to 10 PM. Monday Closed
Entry Fee: ₹10 per person. Free entry for kids under 10 years
20. Having a Gala Time at Wonder La
We all have a little kid inside us, waiting to be let out at the first opportunity. So give that inner kid a chance along with your teeny toddlers, and head to Wonder La, Bangalore's famous Amusement and Water Park. The park has fifty plus rides in its large eighty-two-acre campus for kids of all ages, made with sophisticated technology, and world-class safety. Not only does the park maintain a hygienic condition for its guests, but it takes care of their comfort too by keeping the water heated in the water park during winters. So, you can visit the park any time of the year and have a memorable experience, no matter the season.
Location: Mysore Road
What you must do: Laser Show and Musical Fountain, RECOIL which is India's first reverse looping roller coaster, Techno Jump, Boomerang, Magic Mushroom, and Carousel
Opening hours: Monday to Friday – 11 AM to 6 PM. Saturday& Sunday- 11 AM to 7 PM
Entry Fee: ₹920 for Adults and ₹740 for Kids. Fastrack Tickets: ₹1,840 for Adults and ₹1,480 for Children
21. Entering a New World at Innovative Film City
This Indian-themed Film City is quite a popular kids' attraction in Bangalore. The fifty-eight-acre premises have some splendid activities like Dinosaur Park, Cartoon City, Haunted Mansion, Miniature City, and the Louis Tussaud's Wax Museum.
Location: Bidadi (40 km from Bangalore)
What you must do: Wild West Wind, Go-Karting, and meals at some of the fabulous themed restaurants in the film city
Opening hours: 10 AM to 7 PM
Entry Fee: ₹600 per person before 3 PM and ₹400 per person after 3 PM
22. Making Furry Friends at Gerry Martin Farm
This is one place where all your nursery rhymes come alive! While you go on a nostalgic trip, your little ones play can around with little ducks, horses, pigs, emus, bunnies, turtles and cute guinea pigs. Large trees and plenty of cuddly animals give this farm the perfect country setting amidst the bustling city of Bangalore. Kids can also feed the animals the food provided by the farm, and learn to value other living beings.
Location: Chikkabelandur
What you must do: Nature Workshops
Opening hours: 10 AM to 6 PM. Mondays closed. Feeding Time: 11 AM to 4.30 PM
Entry Fee: ₹100
Things to do in Bangalore on Sunday/weekend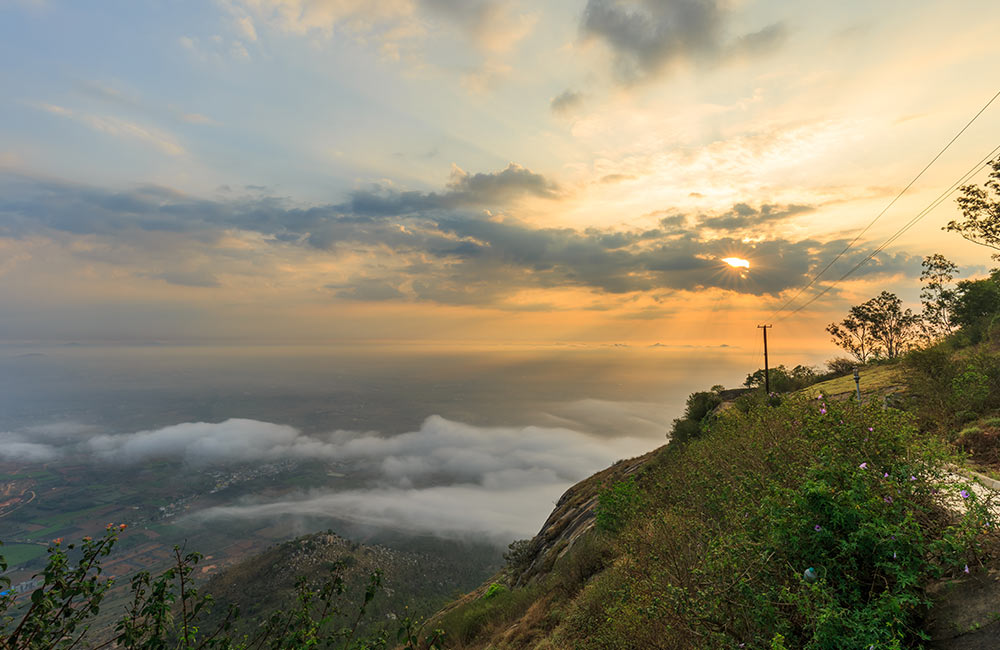 23. Head to Cubbon Park for a Picnic and Bird-Watching
Nestled in the middle of the city, Cubbon Park is the best place to spend some peaceful time amid lush green landscapes. The park boasts of a variety of flowering trees, lotus ponds, dancing fountains, flowerbeds, and even an aquarium. This is an ideal spot to host a picnic for friends and family, which also happens to be a popular thing to do in Bangalore on Sunday. The area is also a delight for birdwatchers who will be able to spot herons, kingfishers, magpies, bulbuls, robins, bee-eaters, sparrows, spotted doves, rock pigeons, and more.
Location: Kasturba Road, near Vidhana Soudha
Opening Hours: 6 AM to 6 PM (closed on Mondays)
Entry fee: Free
24. Visit the Nandi Hills
Located quite close to the main city, Nandi Hills is a perfect choice for a weekend getaway. Among the best activities to do in Bangalore is hiking in the Nandi Hills. Picturesque sunrise and sunset points draw locals and tourists here for the perfect photo op. On your visit here, make sure to explore the Bhoga Nandeeshwara Temple at the base, Yoga Nandeeshwara Temple located atop the hill and the Tipu's Drop, a cliff face at a height of 600 m.
Location: 60 km from Bangalore
Opening Hours: 6 AM to 10 PM
Entry fee: Parking charges for two-wheelers and four-wheelers
25. Shopping on Commercial Street
Shopping is another popular activity to do in Bangalore and the iconic Commercial Street will not disappoint the shopper in you. From affordable and stylish, ethnic and modern apparel, smartest fashion accessories, home décor items to the latest electronics, this street shopping hub has a lot to offer. The wide variety on display will leave you both excited and dazed, and if you bargain right, then every deal will feel like a steal! Streetside shopping is incomplete without streetside eating and here at Commercial Street, the restaurants and roadside vendors will keep your tummies happy with an array of quick snacks.
Location: Tasker Town, Shivaji Nagar
Opening Hours: 10:30 AM – 8 PM
Entry fee: Free
Things to do in Bangalore for couples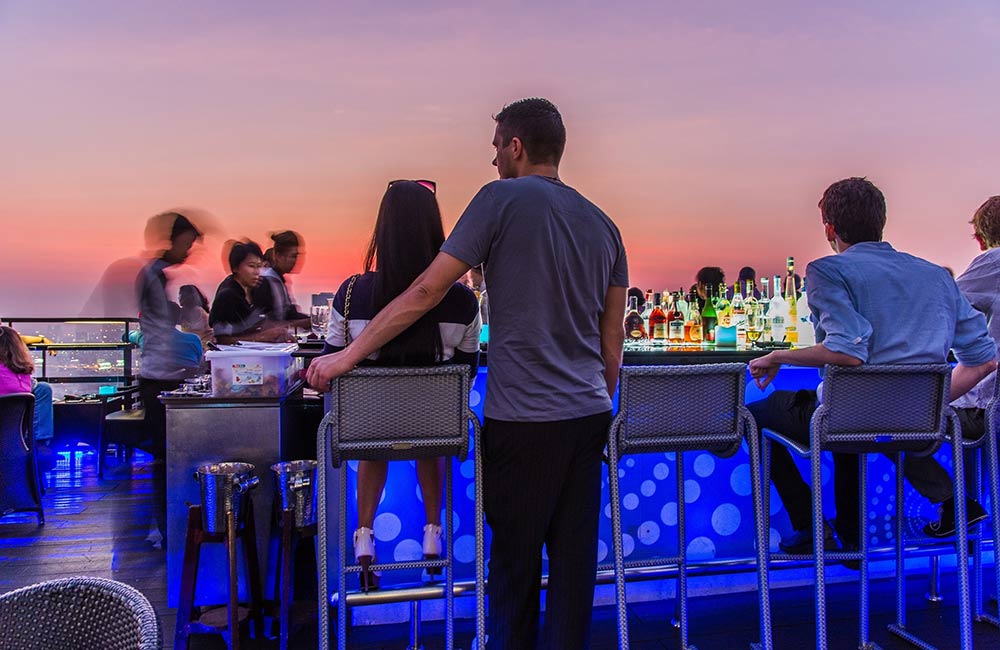 26. Head to High Ultra Lounge, the Highest Lounge in South India
Couples looking for mood dining must visit the Head to High Ultra Lounge. It is one of the highest lounges in South India with a breath-taking view, 430-feet above the ground, all of which can be experienced from the rooftop lounge. The Asian-inspired menu composes of some delectable Japanese, Thai and Korean dishes, which can be paired with the house special mocktails and cocktails. A meal here is counted among the quintessential things to do in Bangalore for couples.
Location: Malleshwaram
Opening Hours: 6 PM to 11:30 PM on Wednesday and Thursday, 6 PM to 12:30 AM on Friday, Saturday, 12 noon to 12:30 AM on Sunday (closed on Monday and Tuesday)
Price: INR 2500 (approx. for two people)
27. Go for an Exquisite Lunch at the Olive Beach Bar and Kitchen
If you are looking for things to do in Bangalore for couples, then book a brunch or dinner date at the Olive Beach Bar and Kitchen. A Sunday brunch at this exquisite restaurant is sure to kick-start your romantic day on the right note! Everything about this restaurant from its delicious food, soothing drinks and cosy ambience is perfect. The restaurant is famous for its menu that includes a mouth-watering and delectable spread of Mediterranean, European, and Seafood dishes.
Location: Ashok Nagar
Opening Hours: 1 PM – 12 AM
Price: INR 1800 (approx. for two)
28. Take a Wine Tour at Grover Zampa Vineyard
Are you searching for offbeat activities to do in Bangalore? How about a wine tour? Yes, in Bangalore, those interested in wine tasting experiences and exploring vineyards can do so at the Grover Zampa Vineyard. Learn everything about the winemaking process and also get recommendations about wine pairings, especially with Indian cuisine. The winery offers five varieties of wine, which you will get to taste right from their wine cellar. You can also partake in the age-old tradition of grape stomping for making wine.
Location: Devanahalli Road, Doddaballapur
Opening Hours: 10:30 AM – 3 PM
Price: INR 650 on weekdays and INR 1000 on weekends
Also Read: Things to Do at Bangalore Airport
Things to Do in Bangalore with family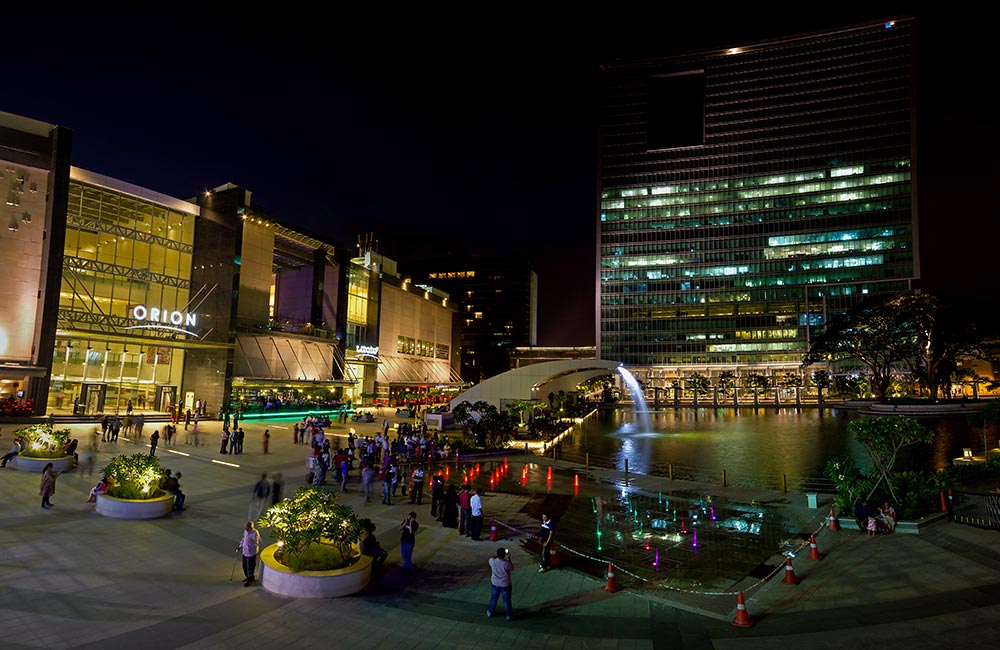 29. Take a Hot-Air Balloon Ride at Jakkur
A fun and thrilling thing to do in Bangalore for families is to experience flying in a hot-air balloon. This amazing ride at Jakkur will suspend you 250-feet above the ground from where you get a bird's-eye view of the city. This activity is organised and conducted by trained guides who undertake all safety measures. A maximum of four people can go for the flight at a time. Please note that the minimum age for the hot-air balloon ride is 5 years and everyone under the age of 18 needs to be accompanied by an adult. ID proof is a must for all adults.
Location: 13 km from Bangalore Palace
Opening Hours: 5:30 AM to 7:30 AM on Saturday and Sunday
Entry Fee: INR 1500 (approx.) per person
30. Hangout, Shop or Watch Movies at the Orion Mall
Spending time in a shopping mall is a favourite past time for most Bangalorians. Orion Mall is one of the largest and most popular shopping malls in the city. Apart from shopping, you can watch the latest movies in the theatres, gorge on food at the food court, entertain yourself at the game zones or simply hang out with friends or family at this mall. Do try your hand at bowling as Orion Mall boasts of the biggest bowling alleys in Bangalore.
Location: Rajaji Nagar
Opening Hours: 10 AM to 10 PM
Entry fee:  Free
31. Visit Some Great Restaurants at the UB City
UB City has evolved to be a hub for some great fine dining restaurants in Bangalore. From tantalising Mediterranean cuisine from Fava to fusion Indian cuisine from Farzi Café, this place is every food connoisseur's dream destination. Café-hopping, which is a popular thing to do in Bangalore on weekends can also be experienced here in the lounge area.
Location: Ashok Nagar
Timings: 10:30 AM to 11 PM
Entry fee: Free
If this list still makes you want for more, then, Bangalore holds many other super fun things on offer. Visit the popular places to visit in Bangalore, enjoy a violin recital with your partner at the Chowdiah Memorial Hall or soak in some spirits (pun intended) at the gregarious pubs and bars of the city, there's something to do for everyone!  What's more? There are tons of affordable hotels in Bangalore that are situated close to these spots. So pack your bags and get going!
Things to do in Bangalore Video: