India is set to host the 18th G20 Summit 2023 from 9th to 10th September in New Delhi. Spanning two days, the event will witness participation from representatives from around the world. The summit will focus on the deliberations of economic reforms.
What is G20 Summit?
The G20 is comprised of 20 nations with the largest economies in the world. G20 was established in 1999, with the purpose of making a platform for leading developing economies to discuss the concerns for global financial and economic stability.
The G20 nations collectively account for approximately two-thirds of the global population, more than 75% of the worldwide trade, approximately 85% of the global Gross Domestic Product (GDP), and more than 75% of the worldwide trade.
You May Also Like: Restrictions in New Delhi due to G20 Summit 2023
G20 Summit 2023: Countries to Participate
The G20, consisting of 19 individual permanent guest nations (Argentina, Australia, Brazil, Canada, China, France, Germany, India, Indonesia, Italy, Japan, Republic of Korea, Mexico, Russia, Saudi Arabia, South Africa, Türkiye, United Kingdom, and the United States) along with the European Union, collectively forms a prominent international assembly.
Every year guest nations are also invited to the summit. This year, India has invited Bangladesh Prime Minister Sheikh Hasina, Egypt President Abdel Fattah El Sisi, Netherlands Prime Minister Mark Rutte, Mauritius Prime Minister Pravind Kumar Jugnauth, Nigerian President Bola Ahmed Tinubu, Singaporean Prime Minister Lee Hsien Loong, Spanish President Pedro Sanchez, UAE President Sheikh Mohamed Bin Zayed, and Oman Deputy Prime Minister Sayyid Asad Bin Tariq Al Said.
G20 Summit 2023 Venue
The G20 Summit 2023 will be held in New Delhi, India at 'Bharat Mandappam' at the ITPO Convention Centre, Pragati Maidan. The event will be held on September 9th and 10th with its presidency's theme being "Vasudhaiva Kutumbakam" translated as "One Earth, One Family, One Future'. In addition to the primary summit location, foreign delegates are also set to visit key venues of the national capital like Rajghat, IARI Pusa, and NGMA (Jaipur House).
Where US President Joe Biden and Leaders From Other Countries Stay?
Preparations are in full swing as the G20 summit is being held in Delhi on the 9th and 10th of September. Numerous security provisions have been made for the safety of the delegates. More than 30 prominent hotels have been booked and around 10,000 staff from the hospitality industry will be involved in the operations.
US President Joe Biden is reported to stay in ITC Maurya Sheraton during the time of the summit. Extreme security measures will be enforced. Commandos from the Secret Service will be posted on every floor of the hotel. A dedicated elevator will be put into place to take the President to the 14th floor where his room is. 400 rooms in the ITC Maurya Sheraton have been reserved for all the delegates who will be accompanying the President.
According to numerous media reports, 23 hotels including ITC Maurya, Taj Mansingh, Taj Palace, Hotel Oberoi, Hotel Lalit, The Lodhi, Le Meridien, Hyatt Regency, Shangri-La, Leela Palace, Hotel Ashoka, Eros Hotel, The Surya, Radisson Blu Plaza, JW Marriott, Sheraton, The Leela Ambience Convention, Hotel Pullman, Rosette Hotel, and The Imperial and 9 additional hotels have been booked in Delhi-NCR for the delegates.
PM Sunak's accommodation has been booked in the Shangri-La Hotel. PM Albanese's stay has been booked at the Imperial Hotel and President Macron will be staying at the Claridges Hotel. Le Meridien has been reserved for delegates coming from Nigeria, Spain, Mauritius and the Netherlands. The Oberoi Hotel will be providing accommodation for the Turkish delegates.
The Oberoi Gurugram will be hosting the Korean delegates and The Lalit Hotel will accommodate the Japanese and Canadian delegates. The Leela Hotel in Gurugram has been reserved for the Saudi Arabian delegation and the Egyptian delegates are scheduled to stay at the ITC Sheraton in Saket. Lastly, the Taj Mahal Hotel in Delhi will be accommodating the UAE delegation.
G20 Summit Full Schedule
September 3-6: 4th Sherpa Meeting
September 5-6: Finance Deputies Meeting
September 6: Joint Sherpas and Finance Deputies Meeting
September 9 – 10: Meeting of Ministers at the G20 Summit
September 13-14: 4th Sustainable Finance Working Group Meeting in Varanasi
September 14 – 16: 4th Meeting for the Global Partnership for Financial Inclusion in Mumbai
September 18 – 19: 4th Framework Working Group Meeting in Raipur.
G20 Summit 2023: Logo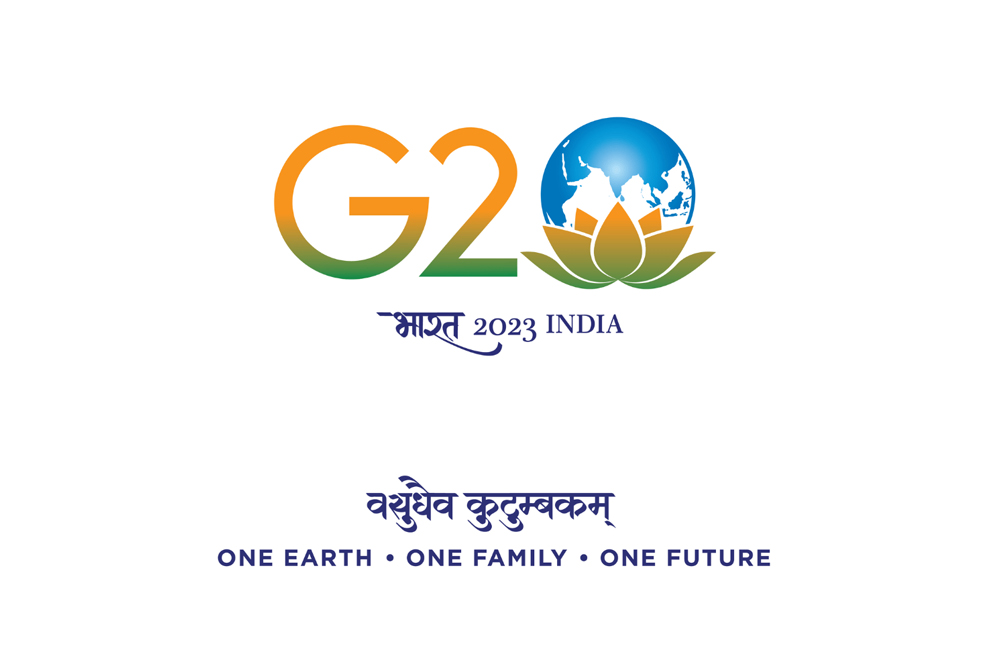 The inspiration for the intriguing G20 logo has been derived from the national flag of India. The logo contains bright colours from the Indian 'Tiranga' i.e. white, blue, green and saffron. The logo displays a beautiful combination of the lotus adorned in blue, green and white with an image of the Earth. The Earth is a reminder to adopt an environmentally conscious approach in lieu of the severe loss of property, resources and life due to climate change. The word 'Bharat' is written in the Devanagari script beneath the G20 logo.
Who is Attending G20 Summit 2023 and Who Giving it a Miss?
Some of the prominent leaders who are sure to attend the G20 summit in New Delhi include British Prime Minister Rishi Sunak, US President Joe Biden, Australian Prime Minister Anthony Albanese and French President Emmanuel Macron.
Russian President Vladimir Putin and Chinese President Xi Jinping will not be attending the event.
What are the Security Measures Taken by Delhi Police ahead of G20 Summit?
To avoid any sort of hostage situation during the G20 summit being held in Pragati Maidan in Delhi, the security forces have strategically placed 69 explosive detection dogs at important locations across New Delhi. The Delhi Police has restrained the flying of sub-conventional aerial platforms like hot air balloons, hang-gliders and paragliders in New Delhi from 29 August to 12 September for security reasons. This order was given by the Delhi Police Commissioner Sanjay Arora saying that certain anti-social or criminal elements may be a threat of the general public's security.
What is India's priority?
India is focusing on the following in the G20 summit being held in New Delhi:
Green Development, Climate Finance and LiFE
Accelerated, Inclusive and Resilient Growth
Accelerating Progress on SDGs
Technological Transformation and Digital Public Infrastructure
Multilateral Institutions for the 21st Century
Women-led Development
G20 Summit 2023 – Engagement Groups
There are 10 engagement groups in G20 Summit 2023. These are Business 20, Civil 20, Labour 20, Parliament 20, Science 20, SAI 20, Startup 20, Tech 20, Think 20, Urban 20, Women 20, and Youth 20.
B20 Summit
The Business 20 (B20) represents the global business community. The B20 India 2023 has a theme of R.A.I.S.E – Responsible, Accelerated, Innovative, Sustainable, Equitable Businesses. The main agendas are:
Inclusive GVCs for Resilient Global Trade and Investment

Future of Work, Skilling, and Mobility

Digital Transformation

Financing for Global Economic Recovery

Financial Inclusion for Economic Empowerment

Energy, Climate Change and Resource Efficiency

Tech, Innovation and R&D
C20 Summit
C20 India 2023 provides a platform for Civil Society Organizations (CSOs) around the world. C20 will strive towards the Indian C20 motto – "You Are The Light". The priority issues of C20 will focus on solving the socio-economic matters which include education, health, environment, technology, and sewa (sense of service).
L20 Summit
The Labour 20 – L20 is an integral part of the G-20 and represents the interests of workers at the G20 level.  The priority issues of L20 2023 are Universal Social Security and Women & Future of Work.  Bharatiya Mazdoor Sangh, India's largest Trade Union has been appointed chair to host the L-20.
S20 Summit
The Science 20 and Startup 20 (S20) are an integral part of the G-20 and represent the interests of science and startups at the global level. India has proposed "Disruptive Science for Innovative and Sustainable Development" as the subject for S20 this year. 
The main agendas are:
A call for universal holistic health – with emphasis on prevention of disease. 

Adoption of clean energy for a greener future.

Connecting Science to Society and Culture.
T20 Summit
Think20 and Tech20 (T20) serve as an "idea bank" for the G20 by bringing together think tanks and high-level experts to discuss policy issues relevant to the G20. T20 policy briefs are presented to G20 working groups, ministerial meetings, and leaders' summits to help the G20 deliver concrete policy measures.
U20 Summit
Urban 20 (U20) represents the urban population and encourages environmentally responsible behaviours, ensuring water security, accelerating climate finance, championing local identity, reinventing frameworks for urban governance, and planning and catalyzing digital urban futures.
W20 Summit
W20 is the G20 engagement group for gender equity. Its objective is to ensure that gender considerations are mainstreamed into G20 discussions, policies, and commitments that promote gender equality and women's economic empowerment.
Diplomatic solutions to global issues

Focus on food security and traditional food. Celebrate the International Year of the Millet in 2023

Clean energy and solutions to the global climate crisis

Women-led development
Y20 Summit
Youth 20 (Y20) is an official engagement group for youth in G20. Y20 encourages youth as future leaders to raise awareness of global issues, exchange ideas, negotiate, and argue. 
Y20 2023 focus agendas are:
Future of Work: Industry 4.0, Innovation and 21st Century Skills

Peacebuilding and Reconciliation: Ushering in an Era of No War

Climate Change and Disaster Risk Reduction: Making Sustainability a Way of Life

Shared Future: Youth in Democracy and Governance

Health, Wellbeing and Sports: Agenda for Youth
FAQs
Q. Which city will host the G20 Summit 2023?
A. The G20 Summit 2023 will be hosted in the city of New Delhi, India.
Q. What is the theme of the G20 Summit 2023?
A. The G20 2023 presidency's theme is "Vasudhaiva Kutumbakam" translated as "One Earth, One Family, One Future' in English.
Q. When is the G20 2023?
A. India is set to host the 18th G20 Summit 2023 from September 9th to September 10th.
Q. How many countries will attend the G20 2023?
A. The G20 2023 will be attended by 18 countries and 1 European Union as permanent guests along with 9 guest countries.
Q. How many engagement groups are the in G20 2023?
A. There will be 9 engagement groups in G20 2023 which are B20, C20, L20, S20, T20, U20, W20, and Y20.