Every year in the month of December, all 17 indigenous warrior tribes of Nagaland come together to showcase their distinct cultures and heritage to the outside world at the Hornbill Festival. Organised by the State Tourism and Art & Culture departments, Government of Nagaland, this festival is aimed at encouraging inter-tribal interaction and harmony, and giving people an opportunity to experience the Naga way of life – their cuisine, songs and dances, arts and crafts, folklore and much more.
Incepted in the year 2000 as a representation of the cultural heritage of the state, Nagaland Hornbill Festival has today evolved into a 'Festival of Festivals'. It draws thousands of people from across the north-eastern states of India and other parts of the country to the foothills of Mount Japfü, wherein lies the official venue of the event – Naga Heritage Village, Kisama (around 10 km from Kohima). The festival usually starts on December 1 (Nagaland Statehood Day) and extends till December 10.
(Note: The 17 tribes that take part in Nagaland Hornbill Festival are Angami, Ao, Chakhesang, Chang, Dimasa Kachari, Garo, Khiamniungan, Konyak, Kuki, Lotha, Phom, Pochury, Rengma, Sangtam, Sumi, Yumchungru and Zeliang)
Nagaland Hornbill Festival: Events/Activities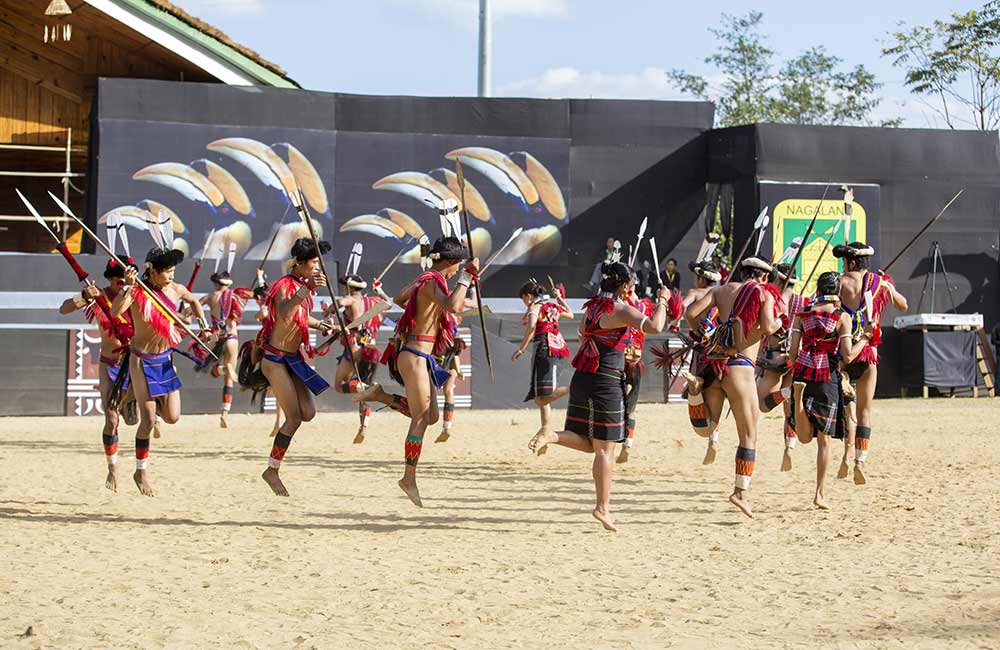 The 10 day-long Nagaland Hornbill Festival sees a mix of folk songs, indigenous dances, tribal games, sporting events like archery and wrestling, traditional arts and crafts, local food and drinks, musical concerts, fashion shows, flower shows and a series of competitions. A prominent sight at the event is the traditional Naga Morungs exhibition – a brilliant specimen of vernacular architecture.
Hornbill Music Festival, also known as The Experiential Festival, is an offshoot of the main event that takes place at Dimapur and Kohima. This musical event, which includes live concerts and a rock band competition, is organised in association with Task Force for Music & Arts (TaFMA) and receives participation from a number of bands and international artists, year after year.
Nagaland Hornbill Festival: Entry Permits
Certain entry formalities need to be checked upon before embarking on a journey to Nagaland.
For domestic tourists: All domestic travellers need to obtain the Inner Line Permit (ILP) from the local authorities.
For international tourists: International tourists* no longer require a Restricted Area Permit (RAP) or Protected Area Permit (PAP) to visit Nagaland. But they need to register themselves with the Foreigners Registration Officer (FRO) of the district where they will reside, within 24 hours of their arrival.
*An exception is Pakistani and Chinese nationals who still require RAP/PAP
Nagaland Hornbill Festival: Accommodation
People attending Nagaland Hornbill Festival have a range of accommodation options to choose from including the luxury hotels and budget hostels at Kohima as well as Dimapur. There are also camping facilities available at Kisama and the nearby village of Kigwema. It is likely that all accommodation in Kohima will be booked quickly followed by the ones in Dimapur, so always book in advance.
Nagaland Hornbill Festival: How to Reach
The best way to reach the festival venue is to take a flight to Dimapur and then continue the journey by road. It will take about 3 hours to reach Kohima and another 30 minutes or so to Heritage Village, Kisama from the airport. Another option is to get on a train to Guwahati and from thereon, travel to Dimapur Railway Station. Travelling by train can be slow but it offers the most scenic views.
Important Details about Nagaland Hornbill Festival 2019: