Famous as the Garden City and the Silicon Valley of India, Bangalore is a fine blend of history, business, and leisure. The city, which had been ruled by many powers including the Vijayanagara Empire, the Wodeyars, Haider Ali, and the British, retains traces of each in the form of palaces, forts, and other historical edifices. At the same time, the cityscape is also filled with parks, pubs, restaurants, shopping streets, high-end malls, gardens, and lakes where you can chill out to your heart's content.
If you are planning a 2-day trip to Bangalore, make sure to enjoy the best of everything that Bangalore has to offer. Here is the perfect itinerary to explore the top attractions in Bangalore in just 2 days. 
DAY 1
10.00 am – 11.30 am: Visit Tipu Sultan's Summer Palace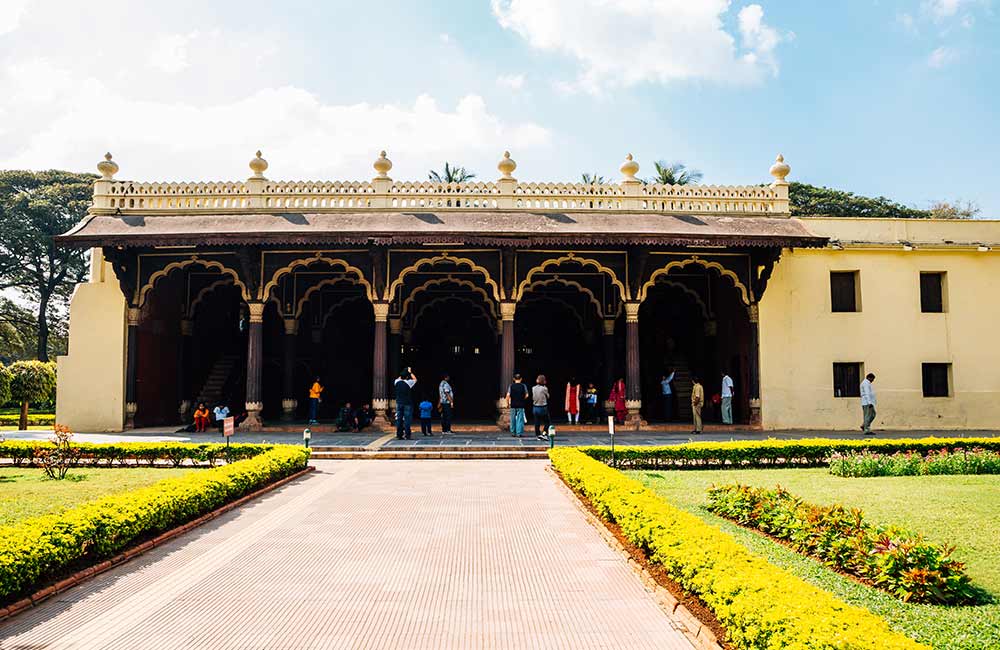 Start your first day by visiting one of the top historical places in Bangalore that showcase the city's rich past – Tipu Sultan's Summer Palace. This 18th-century fort-cum-palace is a fine example of Indo-Islamic architecture. Make sure to not miss the museum inside as it has many interesting exhibits and artifacts.
Timings: 8:30 am to 5:30 pm; every day
Entry Fee: ₹ 15 for Indians; ₹ 200 for foreigners
Photography: ₹ 25
After exploring the palace, proceed to the central part of Bangalore that houses many historical buildings and museums.
By road: Approximately 20 minutes' drive
12.00 pm – 4.00 pm: Explore museums and historical places in Central Bangalore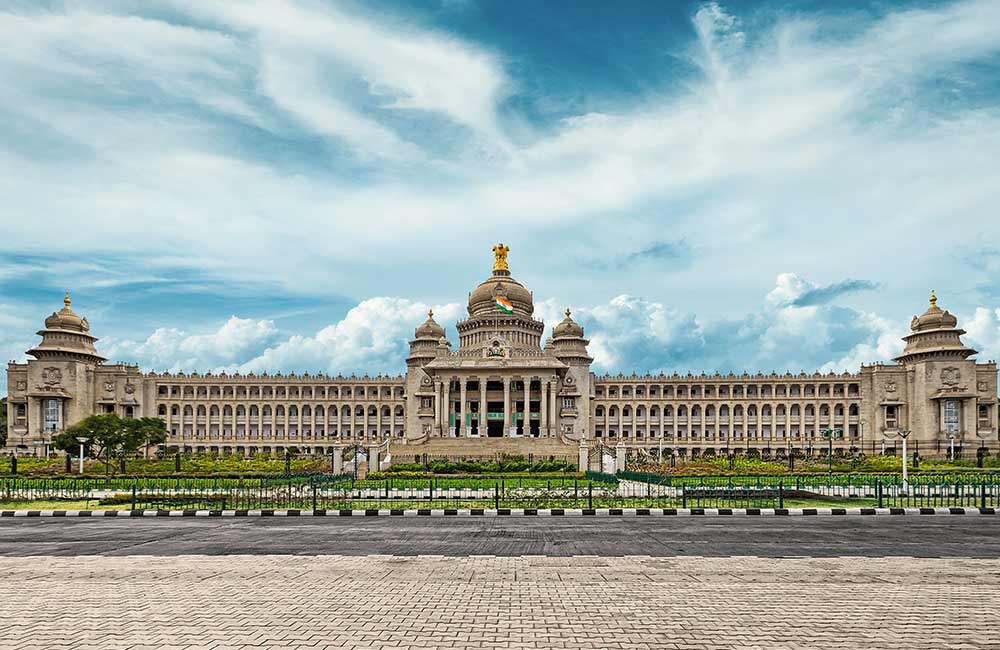 Welcome to Central Bangalore, the liveliest and busiest part of the city. The area is dotted with many historical edifices, including Vidhan Soudha, the seat of Karnataka State Legislature. All these attractions are located within walking distance of one another, so you can easily explore this circuit on foot. 
What to see
Vidhan Soudha
Attara Kacheri
Mark's Cathedral
Venkatappa Art Gallery
Government Museum
Mayo Hall
Visvesvaraya Industrial and Technological Museum
After visiting a couple of these attractions, you can take some time off and fuel yourself up. And guess what? Some of the best restaurants in Bangalore are located in and around this area.
Where to eat
Airlines Restaurant
Spice Terrace
SodaBottleOpenerWala
Shiro
Farzi Café
Smoke House Deli
Rasovara
Toscano
Energized enough? Continue exploring the rest of the attractions and by early evening, proceed to Cubbon Park, which is located at a 5-minute walk from Visvesvaraya Industrial and Technological Museum.
4.15 pm to 6.00 pm: Spend some relaxing moments at Cubbon Park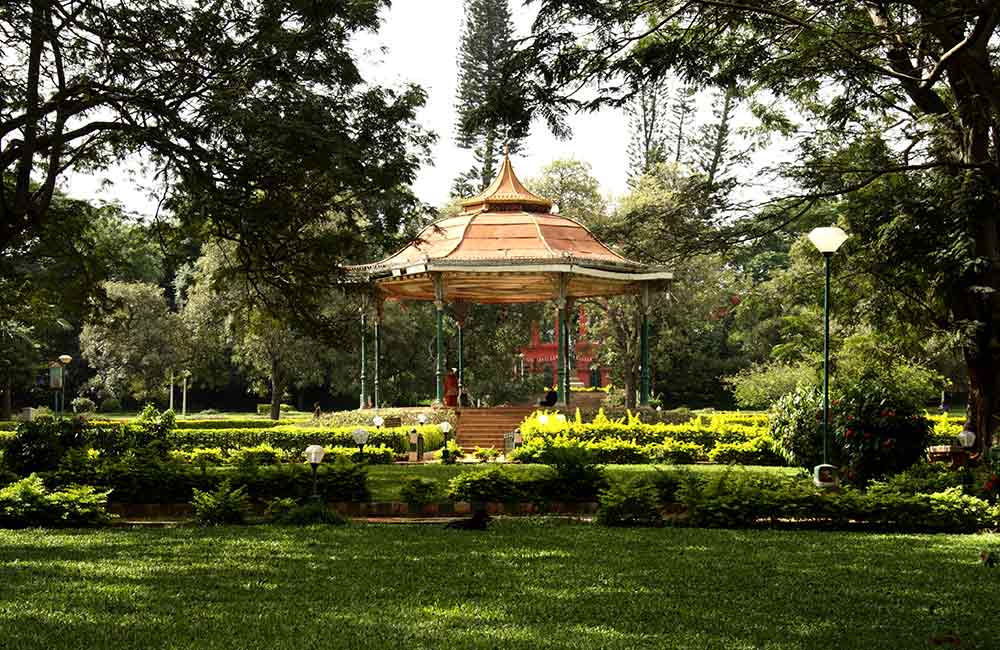 Cubbon Park counts among the top hangout places in Bangalore and why not! This 300-acre green expanse is where Bangaloreans laze their evenings away. Take a break, take in some fresh air, and relax!
Things to do
Take a walk through Cubbon Park or relax on the lawns
Visit Bangalore Aquarium
Take a toy train ride through the park
Grab a quick bite at the food stalls or from the vendors at the park
Explore the botanical assets in the park
Now, it's time to end your day with some soulful shopping, great food, and finely mixed drinks. From Cubbon Park, you can walk your way to MG Road and also explore the adjoining Brigade Road and Church Street.
By walk: Approximately 10 minutes
6:15 pm – 8.30 pm: Explore MG Road, Brigade Road, and Church Street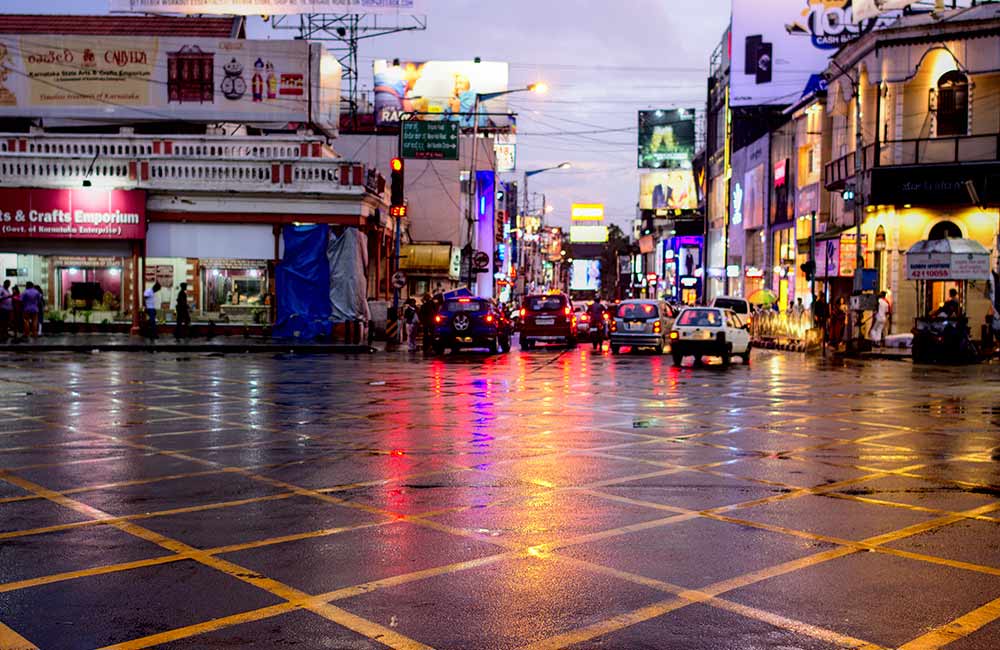 The MG Road-Brigade Road-Church Street circuit is a must-visit while in Bangalore. Make your way through these boulevards, soaking in the sights and sounds and enjoying some street food.
Things to do
Pamper the bibliophile in you at Blossom Book House
Buy souvenirs and handicraft items at Cauvery Emporium
Shop till you drop at the numerous brand showrooms and local stores lining MG Road and Brigade Road
Check out Rangoli Metro Art Center
Where to eat
MG Road and its surrounding areas house some of the best cafés in Bangalore. Take a break during your shopping spree and enjoy your evening tea/coffee and some snacks at one of these cafés.
Indian Coffee House
Café Azzure
Café Mozaic
Matteo Coffea
Tea Villa Café
Starbucks
Koshy's
Explored every nook and corner? You must be pretty exhausted by now, so we suggest you head off to a pub in MG Road, stretch your sore feet, and chill out over your favorite poison.
8.30 pm onwards: Unwind at the best pubs and bars in and around MG Road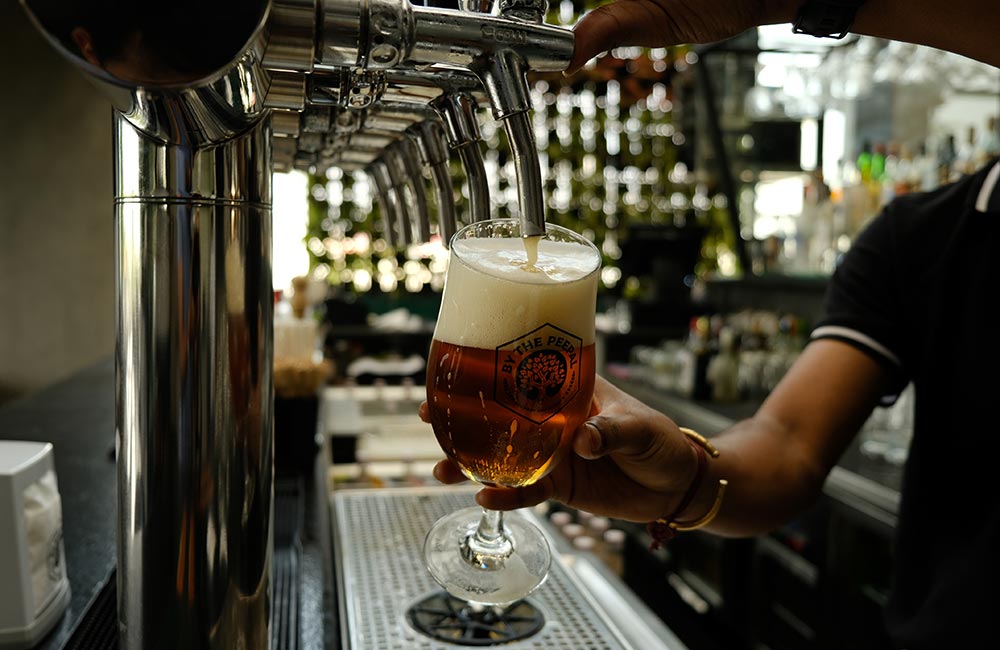 Bangalore is known for its nightlife – pubs, bars, lounges, dance floors, music, cocktails, and food. Of the numerous watering holes in the city, some of the most iconic ones are located in and around MG Road. Our suggestions include:
SkyDeck By Sherlock's
The 13th Floor
Communiti
Ebony
Bangalore Pub Exchange
Church Street Social
Hard Rock Café
The Bar Stock Exchange
All these places are open till late in the night, so you can call it a day when you are done, return to your room, and catch a good night's sleep.
DAY 2
10.00 am – 12.30 pm: Explore the botanical wonders at Lal Bagh Botanical Gardens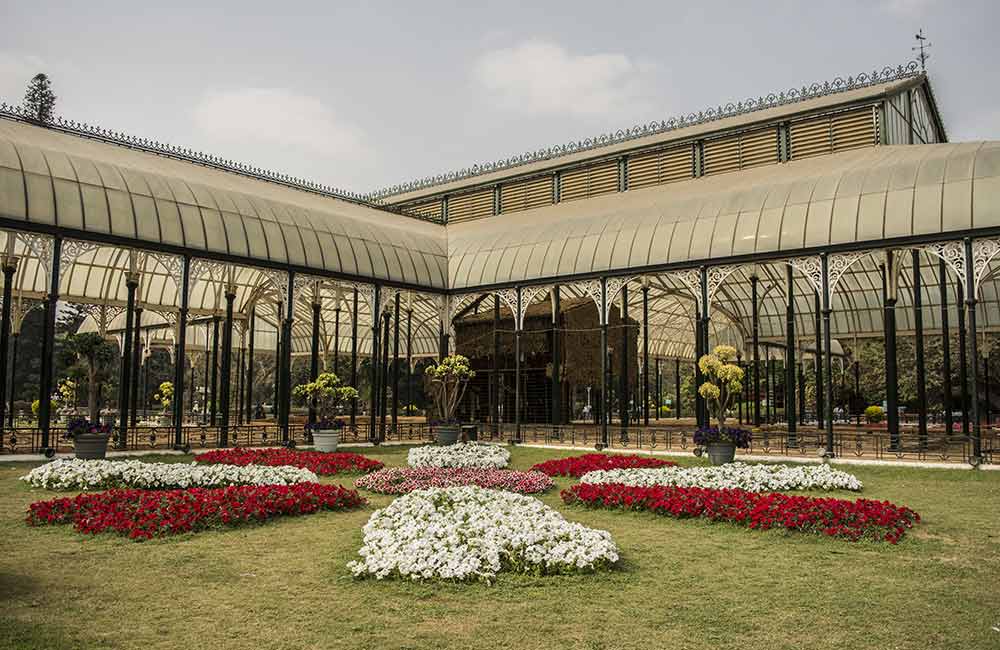 After enjoying a filling breakfast at your hotel, get ready for another round of sightseeing. You will start your second day in Bangalore by exploring an urban green space spread over 240 acres of land – Lalbagh Botanical Gardens. You can either walk through the garden or take a quick tour in a battery-operated vehicle.
Timings: 6:00 am to 6:00 pm; every day
Entry Fee: ₹ 10 per person
Things to do
Chill by the lake
Shop for seeds, plants, and kitchen garden accessories and ornamental plants
Visit the Glass House
Enjoy the unique charm of the Flower Clock
Spend some time at the Bonsai Garden, Rose Garden, Lotus Garden, and Topiary Garden
Visit Lalbagh Rock, one of the oldest rock formations on the earth
Now that you have used up all your energy, how about replenishing yourself with an authentic South Indian lunch at one of the top restaurants around Lalbagh?
12.30 pm – 1.30 pm: Eat a local lunch at some of the iconic restaurants near Lal Bagh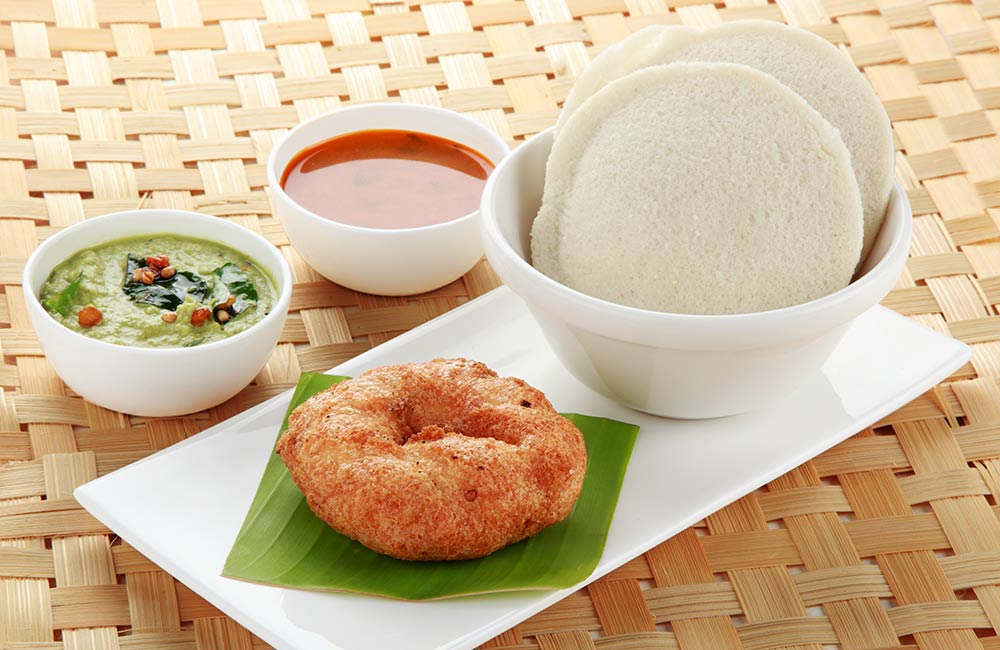 Want to enjoy your lunch at an all-time, old-time favorite of Bangaloreans? Head off to the 95-year old Mavalli Tiffin Room aka MTR which is just a short walk away. Another great option is the good-old Vidhyarthi Bhavan in Basavanagudi, which is just about 1 km away from Lal Bagh.
Other places to eat
Lalbagh Grand Veg
New Modern Hotel
Bharjari Oota
Brahmin's Coffee Bar
The Rogue Elephant
Kabab Magic
Once you have had your fill, set out to explore the magnificent Bangalore Palace, another edifice that testifies to the city's glorious past.
By road: Approximately 30 minutes' drive
2.00 pm – 4.00 pm: Soak in the royal charm of Bangalore Palace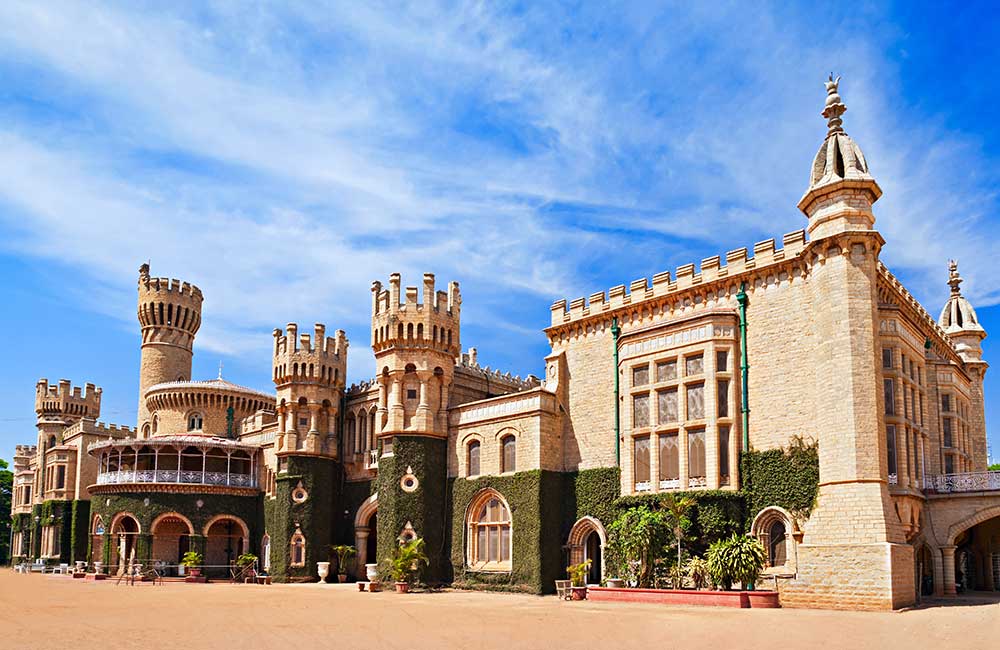 Bangalore Palace is an epitome of regal splendor and architectural magnificence. Spend some time exploring the interiors of the palace including the Darbar Hall and Ballroom, and also the sprawling grounds surrounding the palace.
Timings: 10:00 am to 5:30 pm; every day
Entry Fee: ₹ 230 per person for Indians; ₹ 460 per person for foreigners
Photography: ₹ 685 for still camera; ₹ 1,485 for video camera; ₹ 285 for mobile camera
Now, proceed to Ulsoor Lake where you can spend some relaxing moments or go boating or birdwatching.
By road: Approximately 20 minutes' drive
4.30 pm – 6.00 pm: Take a stroll at Ulsoor Lake followed by an evening coffee and some quick bites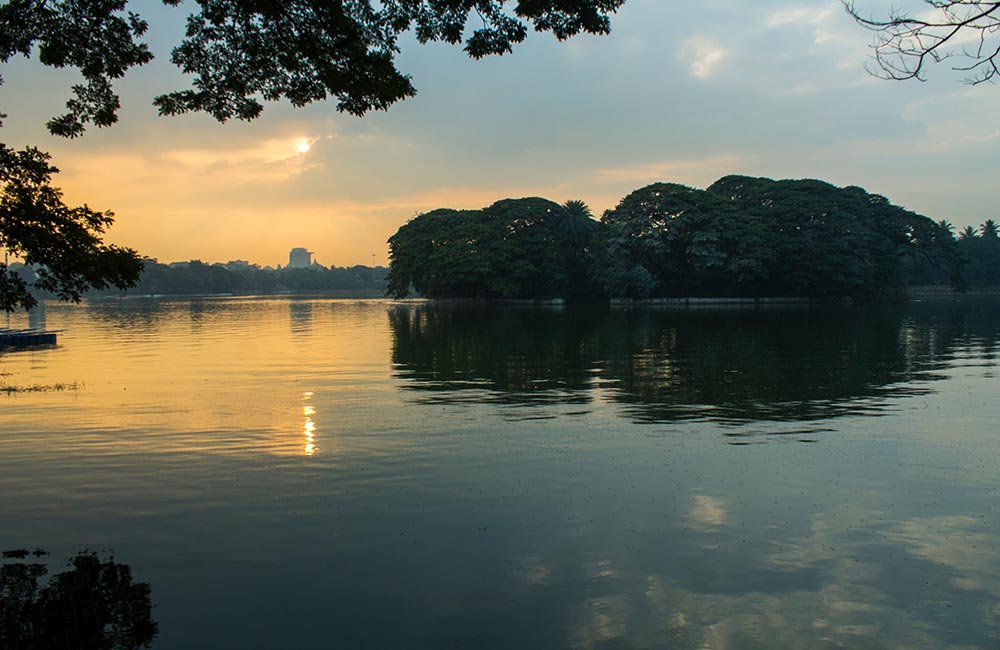 Spread over 120 acres, Ulsoor Lake is one of the most beautiful lakes in Bangalore, complete with lush trees, boating options, interesting avifauna, and jogging tracks. An evening spent here will energize you and fill you with serenity.
Timings: 6:00 am to 8:00 pm; closed on Wednesdays
Entry Fee: Free
After spending some time at the lake, you can enjoy your evening tea at one of the popular cafés in Ulsoor.
Where to eat
Café Kaara
Marzipan Café and Bakery
Urban Solace
Hatti Kaapi
It's time to end your sightseeing tour and we have saved the best for the last – go on a shopping spree at Commercial Street.
By road: Approximately 20 minutes' drive
6.30 pm onwards: Shop and eat to your heart's content at Commercial Street 
A trip to Bangalore is not complete without going on a shopping spree at Commercial Street. Apparels, handicrafts, jewelry, footwear, bags, books, or antique pieces, you will find it all in the lanes and by-lanes here. Don't forget to take a break occasionally and have a fill at the eateries and restaurants dotting the street.  
Where to eat
Konark Restaurant
Woody's
Shiv Sagar
Haji Ali Juice Centre
Sri Saravana Bhavan
Khan Saheb Grills and Rolls
Walk around, shop, and eat all you want and once you are done, retire to your room with bags full of goodies and a heart full of memories.