The joy of visiting any Indian city lies in exploring its streets. The lanes and intersections of a metropolis are a cultural phenomenon in themselves, offering you a glimpse into everything the city is made up of, from people to food and everything in between. And what better way to experience a city than through the food joints and stalls that line up its most popular bazaars and commercial areas? The same goes true for Hyderabad, the capital city of Telangana. It's a city where history meets modernity; a land where medieval structures sit amidst modern glass buildings; a place where food is very close to people's hearts.
Wait, my friend, before you judge the city's culinary culture based solely on its world-famous biryani, which is often considered the king of meals. Hyderabad's street food is also quite an experience, to say the least. It comprises of dishes that encapsulate the cosmopolitan and heritage-laced identity of the city. When you walk through the lanes of Hyderabad, famous food items of the city will beckon you from all nooks and crannies. And our advice? Just yield to the temptation! Follow your instincts (and also the whiff coming out of these streets) and treat yourself to the culinary surprises in store.
If you are up for a gastronomic tour through the city, yet confused about where to start, here's help for you. This blog talks about some iconic street food places you need to check out while in Hyderabad.
NON-VEGETARIAN STREET FOOD PLACES IN HYDERABAD (Near Charminar)
The Charminar is not just an architectural wonder that watches over the teeming thousands who walk and drive underneath its four minarets every single day. It is also in this vicinity that you can gorge on some delightful street food, including dishes that are unique to the Telangana region. Amidst the crowds, you will come across some very famous establishments that are loved by local patrons and travelers alike. Here are some of the crowd favorites in the Charminar area:
Akbar Fast Food Corner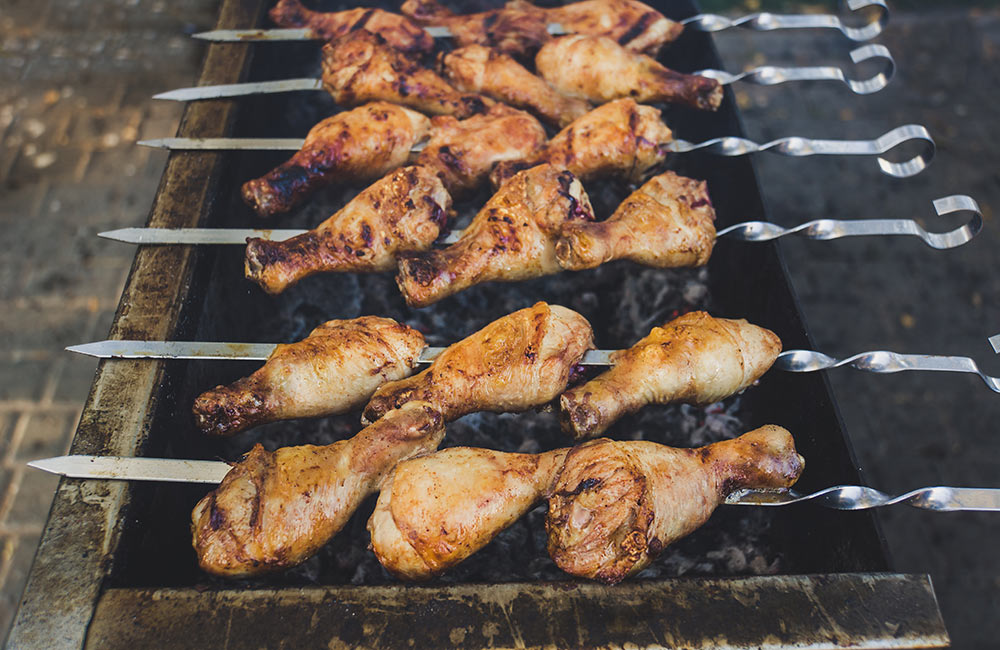 Another famous restaurant in the Charminar vicinity is Akbar Fast Food, a place famous for its succulent kebabs and other "meaty" delights. Service here is prompt and the interiors are dotted with vintage pictures from the days of Hyderabad's royal history. So if you want a bit of a history lesson to go with your grilled chicken, this is the place to be.
Location: Beside Mecca Masjid
Must-try items: Tandoori chicken, warqi paratha, chicken 65, rumali roti
Open: 12:00 pm to 12:00 am; every day 
Pista House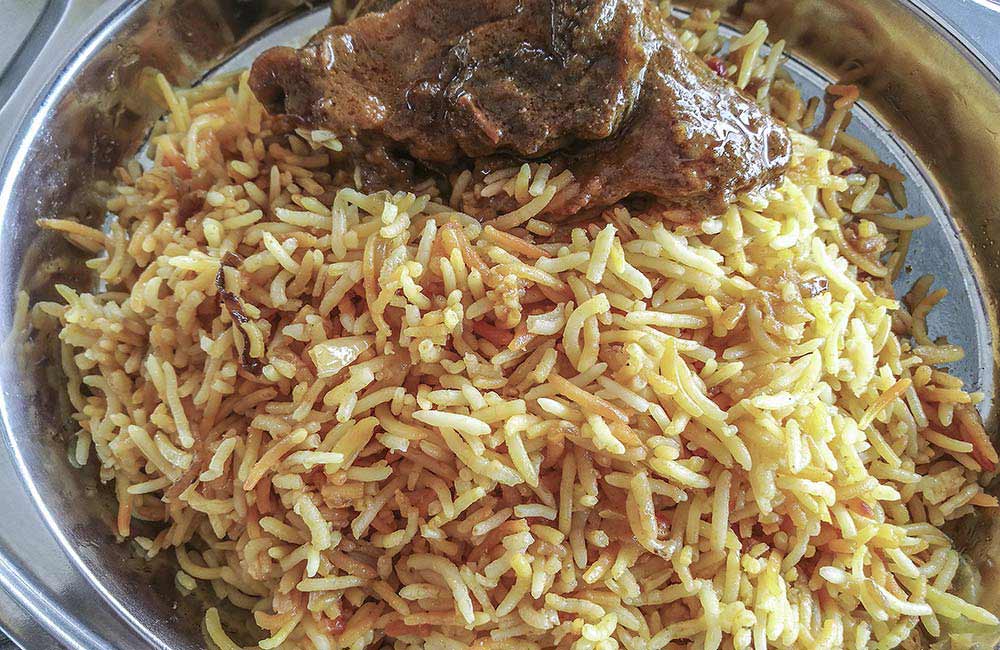 Pista House has more than a dozen establishments in Hyderabad but its Charminar outlet remains a crowd favorite. The menu covers all the city favorites and this outlet mixes traditional hits with more contemporary snacks like sandwiches. The place is also famous for its haleem, a slow-cooked meat stew with Arabic origins. It is a power packed meal – almost like a protein shake of the Nawabs – loaded with lentils, mutton and pounded wheat. This is a Ramzan staple, so if you happen to be in Hyderabad during the month of Ramzan, don't leave the city without tasting Pista House's much-talked-about haleem.
Location: Shalibanda Road
Must-try items: Chicken and vegetarian sandwiches, Pista House haleem, kheer, mutton biriyani, Hyderabadi biriyani
Open: 11:00 am to 11:30 pm; every day 
Shadab Hotel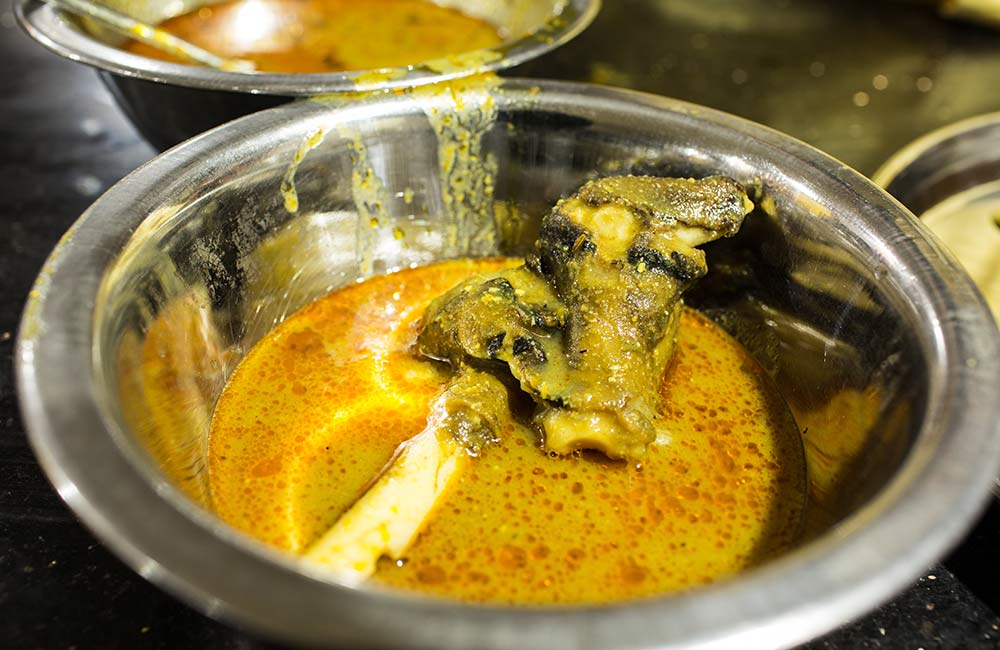 Another popular hub of Hyderabadi cuisine, Shadab Hotel is the first to open and the last to close. Expect a rush in the evenings and late afternoons when the entire city is having a hunger pang. It is a good spot for people watching, situated in a rather busy neighborhood. Going by the local reviews, Shadab is apparently the best place to have Hyderabadi biriyani and also many other Mughlai delicacies.
Location: High Court Road, Ghansi Bazaar
Must-try items: Haleem, falooda, kebabs, paya, qubani ka meetha, nihari (a mouthwatering lamb stew)
Open: 05:00 am to 02:00 am; every day
Shah Ghouse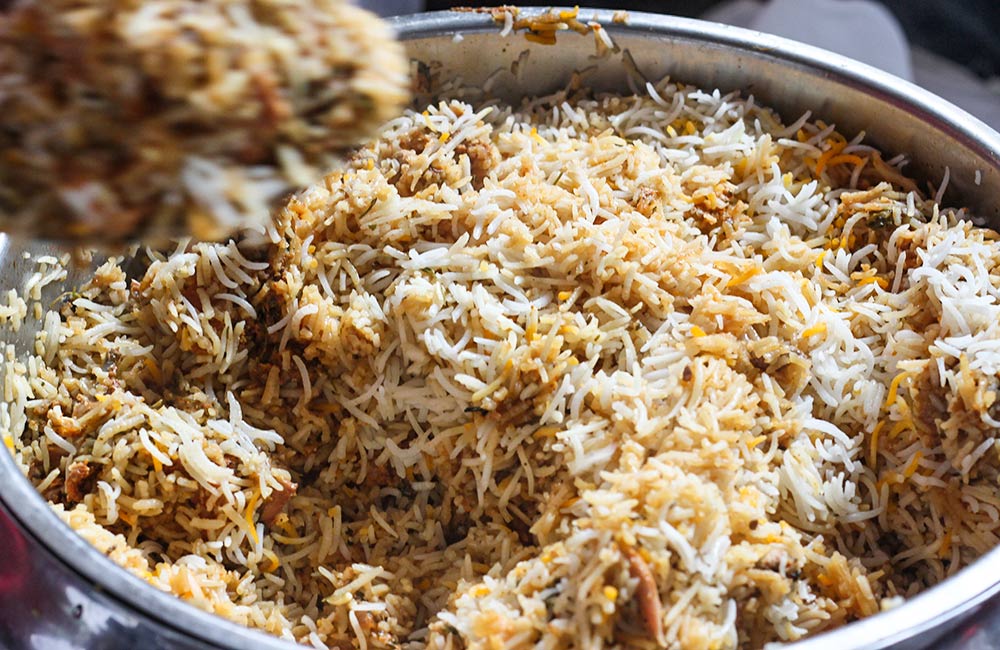 Breakfast, lunch or dinner, this Irani café will tickle your taste buds with its mind-blowing variety of dishes, both vegetarian and non-vegetarian. Of the three outlets Shah Ghouse has in the city, the one near Charminar is the oldest and the most crowded one. From soups and snacks to platters and desserts, this place has it all.
Location: Shalibanda Road
Must-try items: Mutton haleem, khichdi kheema, boti kebabs, mutton biriyani, Hyderabadi chicken biriyani, phirni, Irani chai,
Open: 12:30 pm to 12:30 am; every day 
Other Honorable Mentions:
The city's culinary delights are not limited to Charminar area alone! From the South Indian delights of Golconda Street to the Mughlai cuisines of Madina, Hyderabad has many things keep your food trip going. If you fancy a plate of egg or chicken noodles or fried rice, head to Golden Point Tea and Snacks, Himayat Nagar. Those who have a strong thing for kebabs shouldn't miss visiting Bade Miya Kebab and Siqqique Kebab Centre while stalls near Madhapur Main Road and Golkonda Fort are ideal for tasting kheema samosas. 
VEGETARIAN STREET FOOD PLACES IN HYDERABAD
Vegetarians do not have to worry. Hyderabad's famous veg food makes for a pretty long list and many dishes found here reflect the pan-Indian identity of the city. Here are some great places to go to if you are a vegetarian.
Chachaji Vada Pav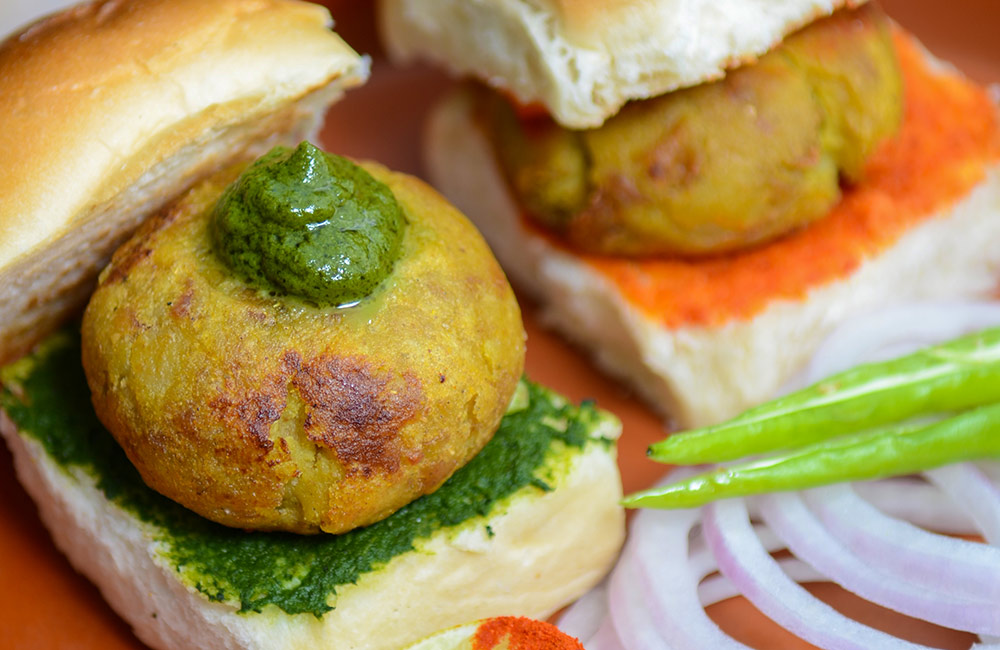 Chachaji's vada pavs are pretty famous across the city and even beyond. This kiosk (oh yes, it is not even a food stall but a cart) is also famous for its Gujarati special dabelis – a desi version of the sandwich stuffed with spicy potatoes, and garnished and served with different types of chutneys, peanuts, sev, and pomegranates. With just these two items, Chachaji has been successful to maintain a steady stream of loyal patrons.
Location: Sindhi Colony
Must-try items: Vada pav and dabelis, of course!!
Open: 04:00 pm to 10:30 pm; every day
Maharaja Chaat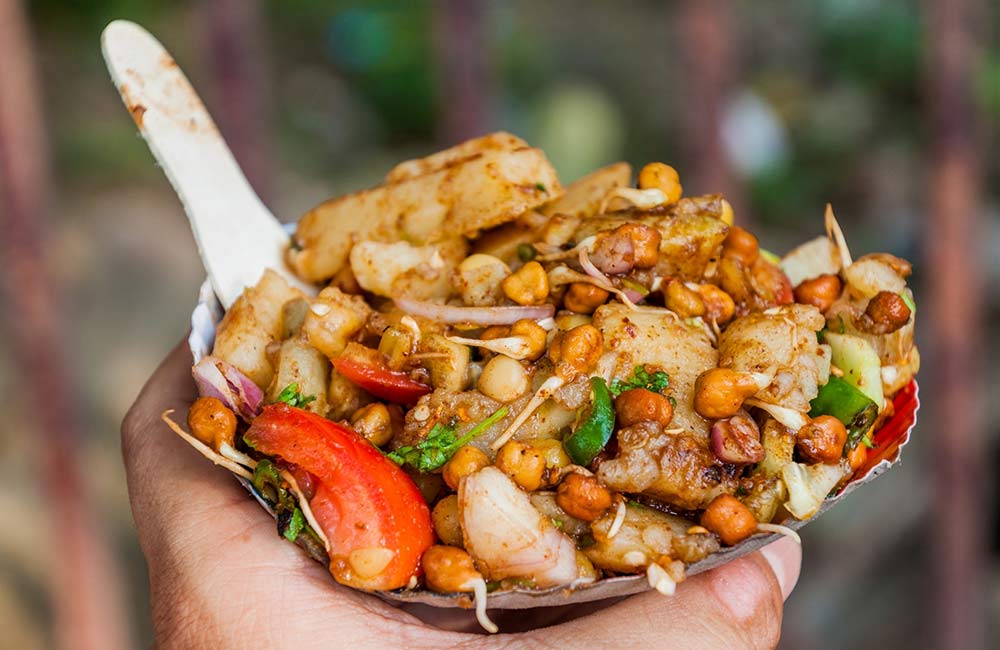 If you are craving some North Indian chaats, then the famous Maharaja Chaat will certainly satiate your hunger. There is always a crowd gathered around this stall, waiting for the next round of pani puris. Make your way through the crowd and order your favorite snack and get ready for an explosion of flavors.  
Location: Jubilee Hills
Must-try items: Pani puri, bhel puri, ragda patties, dahi puri, masala puri 
Open: 03:30 pm to 10:00 pm; every day
Mayur Pan House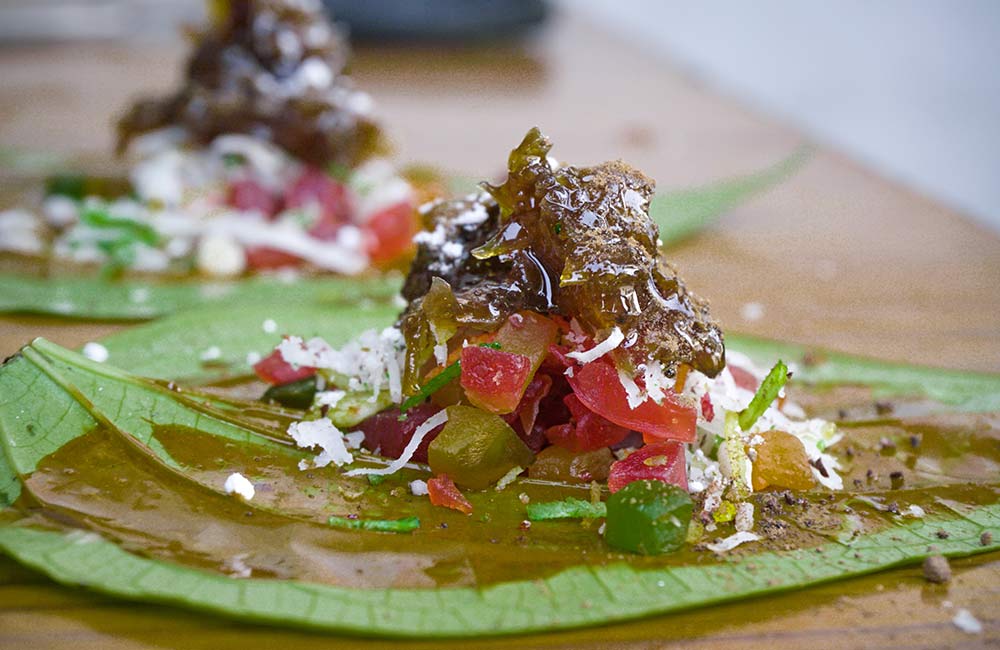 There are more than one Mayur Pan House outlets in Hyderabad but the Sindhi Colony stall wins in terms of ambiance, especially during the evenings. You can try out the myriad types of paans, guaranteed to cause a beautiful burst of flavors in your mouth. Mayur Pan House also has a selection of other snacks on its rather enterprising menu. So start with the savory items on the menu and top them with a paan.
Location: Sindhi Colony
Must-try items: Paan, tava sandwich, butter alu toast, strawberry juice, mango juice
Open: 09:00 am to 11:00 pm; every day 
Ram Ki Bandi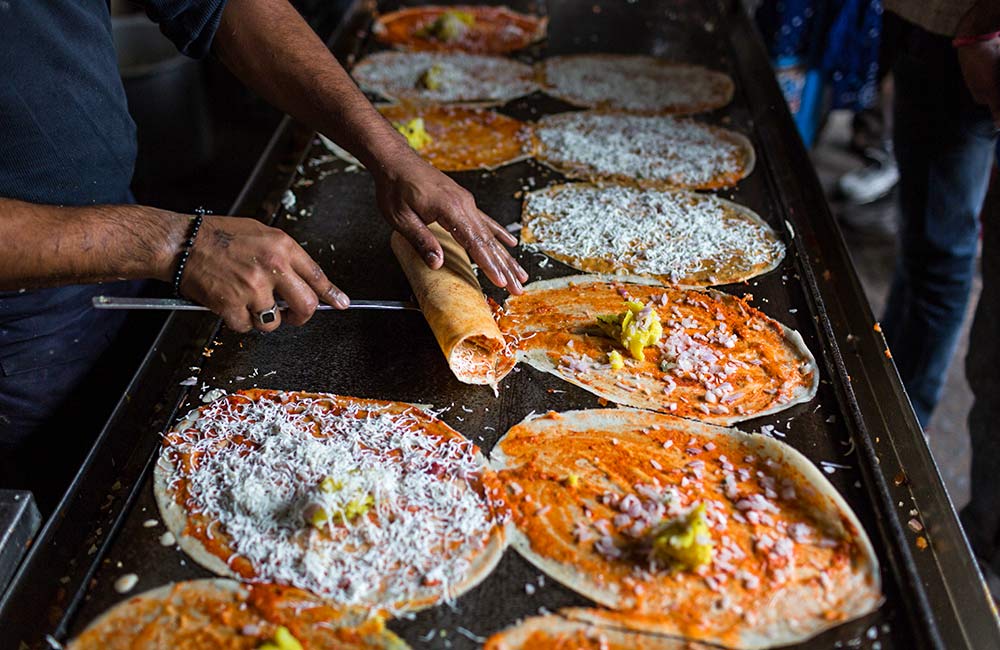 Located in Nampally, Ram ki Bandi is a haven for those who love twists on popular Indian snacks. The amazing part about this food joint is that it caters to the late-night revelers and those who are up at the odd hours.
Location: Mozamjahi Market, Nampally
Must-try items: Butter idli, cheese masala dosa, paneer butter dosa
Open: 05:00 am to 08:00 am; every day 
Pragati Tiffin Centre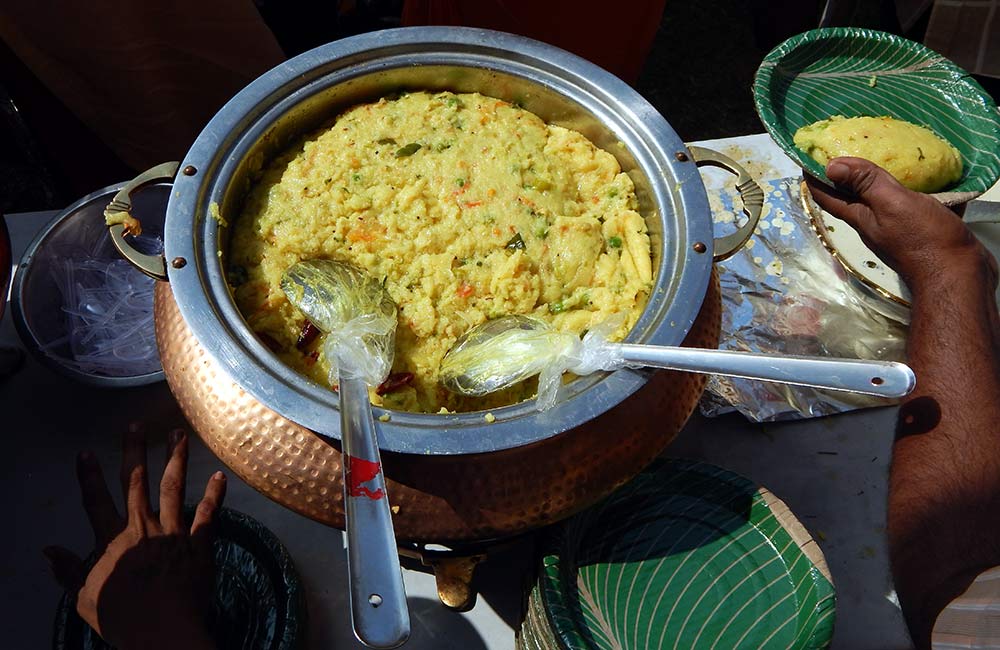 If you care about the atmosphere as much as the dish, then Pragati Tiffin Centre is a nice place to indulge in dosas and idlis. Apart from the plain and masala dosas that we are all familiar with, you can try out onion dosas and paneer dosas. Watching the preparation is part of the whole experience as the cook expertly lays out the batter on a hot top. Fluffy idlis are the comfort food you will relish after a night of binging on kebabs. Located in Sultan Bazaar, this street food hub is always full of famished patrons.
Location: Hanuman Tekdi, Near Pragati College
Must-try items: Dosas, idlis, upma
Open: 06:30 am to 9:00 pm; every day 
Nimrah Café and Bakery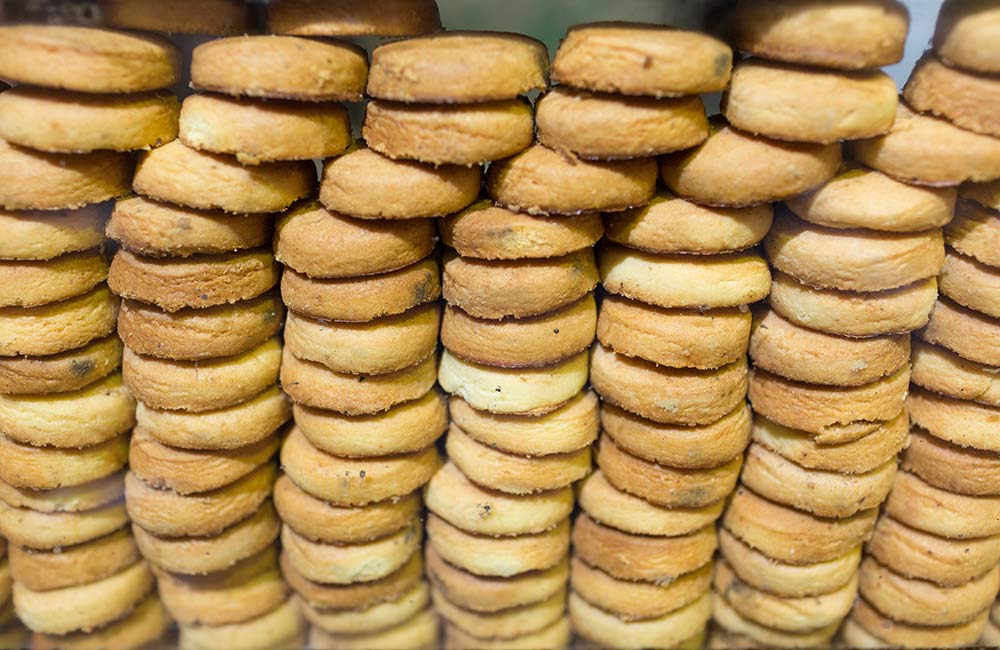 One of the local legends in this area is Nimrah Café and Bakery, an Irani establishment that dates back to the 1960s. Situated right next to the Mecca Masjid, this place is famous for its chai and Osmania biscuit, a daily Hyderabadi ritual. Don't forget to take that Instagram-worthy picture of you dipping the biscuit in a steaming cup of tea, with the splendid Charminar serving as the backdrop!
Location: Beside Mecca Masjid
Must-try items: Veg puff, egg puff, malai bun, Osmania biscuits, Irani chai, sulemani
Open: 04:00 am to 11:00 pm; every day 
Other Honorable Mentions:
Whether it is a plate of hot mirchi bajji or delicious pav bhaji, Gokul Chaat located near Women's College Road is indeed your best bet. Sardarji's Chaat at Gachibowli and Ohri's Chowpatti at Banjara Hills are also worth a visit if you fancy a plateful of chaat.  Those who crave for something South Indian shouldn't give a miss to the tawa vada and paneer and cheese dosa at Govind's Bandi, Gulzar Hauz.
BEST DESSERT PLACES IN HYDERABAD
What better thing to do after a spicy meal than having a finely prepared dessert? Hyderabad is a hot place and the locals love their cool and sugary stuff. If you have a sweet tooth, here are some popular destinations for desserts.
Famous Ice Creams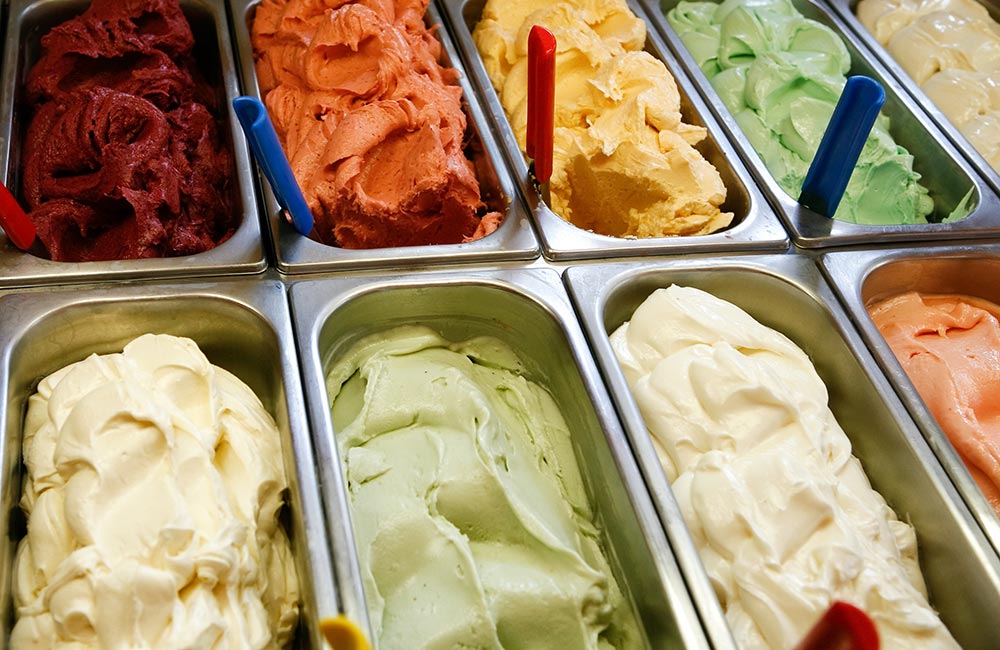 One cannot discuss a topic like 'dessert' in Hyderabad without mentioning Famous Ice Creams. It may not be the most glamorous looking place in the city but dessert lovers from all over Hyderabad flock here to try out some distinctive flavors crafted from local produce. The outdoor seating allows you to soak in the surrounding vibes while tucking into your freezing treats in the warm Hyderabadi weather.
Location: Mozamjahi Market, Nampally
Must-try items: Watermelon ice cream, muskmelon ice cream, fig ice cream, custard apple ice cream, waffles, fruit salad
Open: 09:00 am to 01:00 am; every day 
Hameedi Confectioner & Co.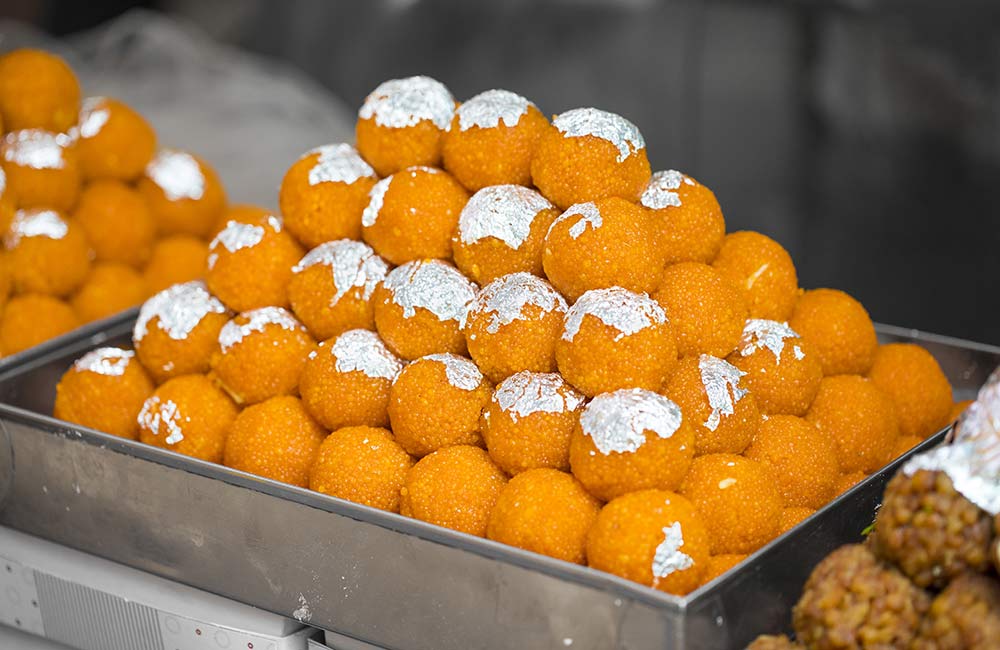 How about something rich in almonds and dry fruits? Hameedi Confectioner and Co., one of the oldest sweetmeat stalls in the city of Hyderabad, is the place you should be. With a history of more than 100 years, the place has been serving up sugary delights to the people of Hyderabad and pleasing their palates without fail. Go for a piece of Jouzi Halwa, which is the house special or some of the all-time classics like dry fruit ladoo or Gajar Halwa, the choice is yours!
Location: Mozamjahi Market, Nampally
Must-try items: Badam ka Halwa, Jouzi ka Halwa, Kalakand, Motichoor Ladoo
Open: 09:00 am to 01:00 am; every day 
Other Honorable Mentions:
You will need to try out some local favorites like Qubani ka Meetha and phirni to get a taste of the original Hyderabadi desserts. Shah Ghouse in Gachibowli and Café Bahar in Basheer Bagh are good places to indulge in these sugary delights. And don't leave the city without tasting a plateful of jalebis and jahangiris from Rajasthan Jalebi and Namkeens located in Ghansi Bazaar.
FOR THE NOCTURNAL FOODIES
Evenings are usually the best time to go on a food trip and the culinary adventures can go on pretty late, as temperatures cool down and your appetite heats up. Some of the best places for late night street food in Hyderabad include the Syala Drive-In in the swanky Jubilee Hills neighborhood and the street food stalls near the DLF building. Moreover, many of the above-mentioned stalls are open till late night should you feel like grabbing some munch after midnight.
Hyderabad is like a story that continuously unfolds before your eyes. Just like the old architecture found here, Hyderabad's famous street food also charts the movements of civilizations – a blend of West and East. Visit this grand hub of culture and dedicate some time to its epicurean offerings. All this eating and street hopping will require you to have some good rest too. Find quality hotels in Hyderabad that provide you with a private oasis from where you can also feel the pulse of the city.
You may also like to read : Hangout Places in Hyderabad