One of the most amazing Hindu festivals, Holi is here to rock the nation and like everyone, we are as excited. However, it's not just India where Holi is celebrated with as much zeal and gusto. Indians are present pretty much all across the globe and so is the Hindu culture and hence, the festival of colours is no more just an Indian thing. It's spread worldwide. And people of various cultures and regions come together with their Indian friends to celebrate this lively and vibrant festival all across the globe. Let's take a look at the best places for Holi celebrations in India and around the world.
1. Mauritius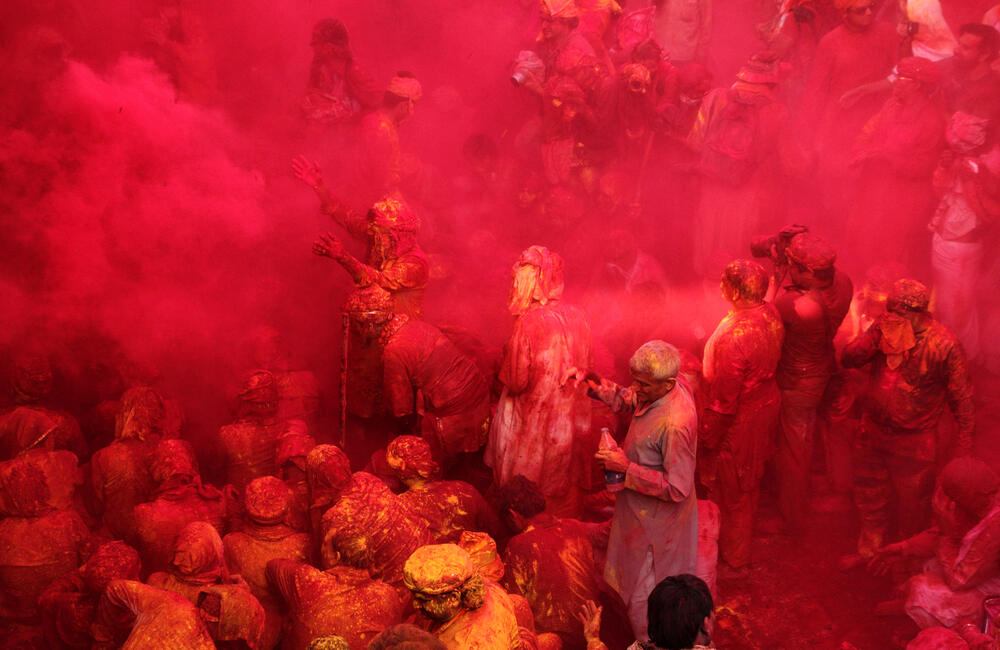 Being a Hindu country, Mauritius celebrates pretty much all the festivals with utmost dedication as in India. Since it marks the beginning of spring season, people celebrate the festival with fun, frolic, and laughter. Similar to celebrations in India, gujiyas and dholak remain a part of the event. Mauritius is mesmerizing during this time of the year with the whole country being beautified with blooming flowers and green happy fields.
2. Guyana, Surinam, Trinidad
Around 30-35% of the total population of these countries comprises of the Hindu community and hence, it is among the important festivals here. Holi is referred to as Phagwah here and is celebrated with great pomp and show. Back in the 19th century, a lot of people from U.P and Bihar migrated to this land as contractual labourers and since then it has been a part of their culture. Initially, it used to be a modest celebration but now, a national holiday is observed for Holi and people of all communities participate in the event. Like Holika is burnt in India, here too a castor oil plant is nurtured and then burnt as Holika. Songs especially for Holi are sung and are referred to as chowtaals. Delicacies are also a part of the festivity and bara, gulgula, tamarind chutney, ghoja, and mahambhog are prepared for the day.
3. Canada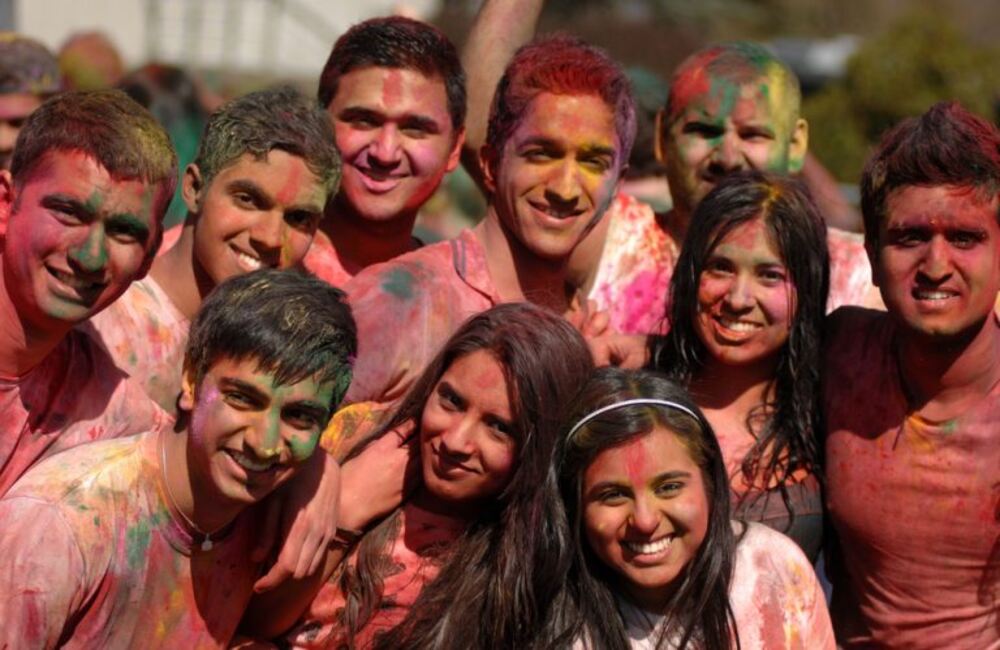 All of us know how much Indians love Canada. It is easier to find an Indian in Canada than to find a Canadian in Canada. Therefore, a lot of places including Toronto, Vancouver, Quebec City, Montreal, etc host several events during this time and witness Indians as well as the locals participating in the celebrations. In fact, Holi has also inspired the famous five km fun run, Colour Me Rad wherein the participants play with colours while running. In Toronto, the Woodbine Beach is the most popular place to play Holi. Various universities like British Columbia University in Vancouver also host some fun Holi events for its students.
4. South Africa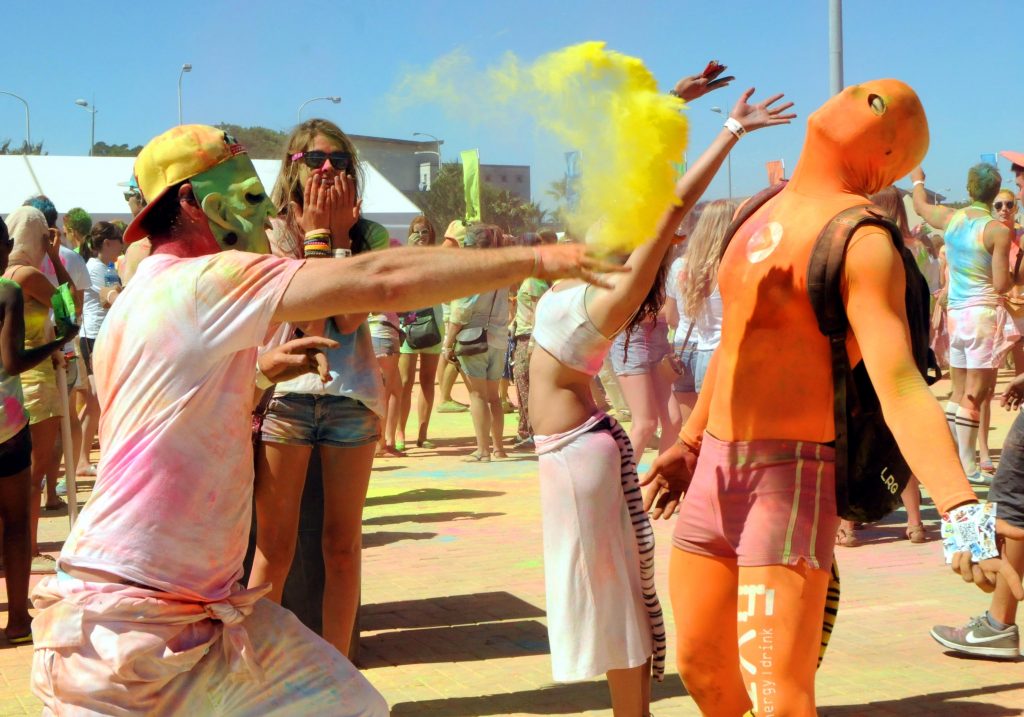 Around the same time, a huge chunk of Gujaratis and Tamilians migrated to South Africa and now form about 65% of the total population. Henceforth, Holi is celebrated with much enthusiasm and fervour in parts of South Africa. Likewise, Holika is burnt followed by playing with colours and water. The spirit of Holi is maintained by singing songs and meeting friends and family members during the evenings. Capetown hosts a number of music festivals during this time of the year.
5. India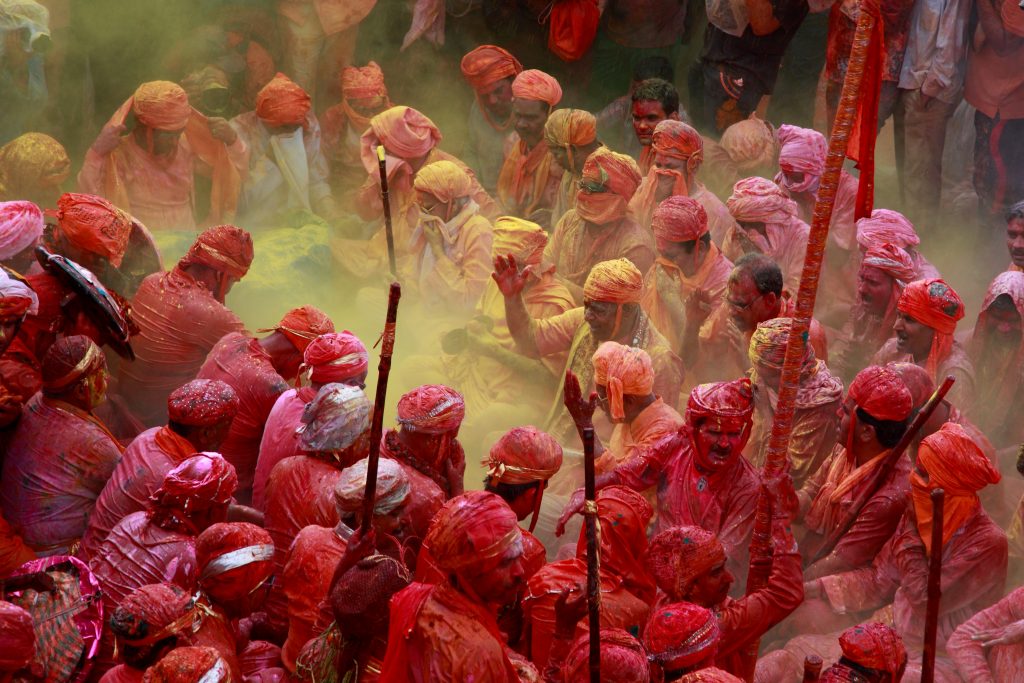 Vrindavan – When in India, Vrindavan is the place you should be heading to if you wish to celebrate Holi to the fullest. While colours form a major part of the celebration, what distinguishes the festival over here is the usage of flowers. Yes, you heard it right. Holi is played with organic colours and flowers, often in the premises of the temples. Vrindavan which happens to be associated with Lord Krishna is known for its matchless Holi celebrations. It is said the Lord himself loved celebrating the festival and thus it is more of an auspicious and sacred ritual for the locals here. Try bhang if you can handle some cannabis. Another local celebration that is a must-see is the lath maar Holi in Barsana, Nandgaon, and Mathura. It takes place few days before the actual date of Holi. As per legends, Lord Krishna would visit the village of his beloved, Radha during Holi and teased her and her friends. Taking it as an offence, the local women would beat him up with sticks. A similar activity is performed at the Radha Rani Temple in Barsana amidst colours and songs are sung in colloquial language or braj bhasha.
Goa – Holi and Shigmotsav mostly land up during the same time and hence, Goa is another destination you should be checking out if you want to take the perfect Holi experience in India. Shigmotsav is a beautiful representation of the Hindu ethnicity in Goa. On the fifth day of Shigmotsav, Rang Panchami is celebrated wherein people play with colours. This year, the Shigmotsav will be taking place from 24th March till the 7th of April.
New Delhi – Holi in the capital city involves a whole lot of fun and celebrations. If you are someone new to the city, you can participate in various events hosted in different parts of the city. Holi Moo is one such festival which is not only safe but also full of life. The event takes place in Asiad Village (near HKV) offering an array of choices in food, music, and art.
So what places would you like to pick for Holi, this year? It's time to witness a kaleidoscope of culture and festivity!