Still a sleepy little city on the banks of the Godavari River, Nashik is just waiting to wake up to a cosmopolitan life. Known as Panchavati in the myths, the very place where Lakshman cut Shurpanakha's nose, Nashik is a place of many facets. On one side are its hundreds of temples and significance as one of the four host cities of the mighty Kumbh, while on the other are the several vineyards scattered all around! Now, this should give you an idea of how rewarding a vacation or even an impromptu trip to the city could be. If you are still looking for more conviction, here is our list of the best things to do in Nashik:
Things to do in Nashik:
1. Go on a Temple Tour
On a tour of Nashik, visiting its prominent places of worship is a must. You can start with Trimbakeshwar Temple, one of the 12 Jyotirlingas and the holiest temple in Nashik. This 18th-century temple built by Peshwa Nana Saheb houses a bejewelled crown said to date from the era of the Pandavas. This temple is slightly unique, as instead of a Shiva Linga, it houses three stones, each representing one deity from the Hindu Trinity.
The next important temple to visit is Kalaram Temple, called so because the idols of Lord Rama, Lakshman and Goddess Sita are all carved from black stone. The shrine exterior is adorned with meticulous carvings, while the spire atop its pyramidal tower or Shikhara is covered in pure gold!
You can easily find nearest 2 star hotels in Nashik to stay.
Trimbakeshwar Temple

Location: Shrimant Peshwe Path, Trimbak (29 km from Nashik)
Timings: 5:30 am to 9:00 pm

Kalaram Temple

Location: Panchavati Road
Timings: 5:30 am to 9:00 pm
2. Go Hiking to Anjaneri Fort
If you are not the touristy type and are rather looking for some off-beat things to do in Nashik, then a trek to Anjaneri Fort is perfect for you. Situated more than 4000 feet above sea level, the fort is a great place for those seeking a little solitude and adventure. The name Anjaneri is a reference to Anjani, the mother of Lord Hanuman, as it is believed that the monkey god was born here. On the way to the fort, you would be able to see several intricate carvings. Atop the hill is a cave, where 12 people can stay together, which is why there are options of night trekking as well.
Location: Anjaneri Hills (28 km from Nashik)
Trek Duration: 1 Day
Difficulty Level: Easy
Average Cost: ₹1200 per person (varies with tour operator)
Best Time: Monsoon (July–September)
Also read our blog on 10 Monsoon Essentials That You Must Not Forget During Your Outing This Season!
3. Step Back in Time at Pandavleni Caves
One of the quintessential places to visit in Nashik, Pandavleni Caves are a cluster of 24 rock-cut caverns on a roughly 300-feet high hillock. Dating back to almost 250 BC, these caverns are home to statues of Buddhist as well as Jain deities. The two main types of caves here are Vihara (residential apartments for monks) and Chaitya (places of worship with stupas). The caves are numbered 1–24 depending on which century those were carved in, and as you make your way from the older to the newer caves, you notice a constant increase in the level of ornamental detailing. There are around 300 steps to the top, so Pandavleni Caves also make up for a fine trekking spot.
Location: Buddha Vihar, Pathardi Phata
Timings: 8:30 am to 5:30 pm
Ticket Price: ₹15; free for children under 15 years
4. Spend an Evening at Gangapur Dam
Those who are in the mood for some quality time with friends, family or that special someone can head to Gangapur Dam on the Godavari River. The place might not look or sound like much, but the peace and relaxation you get here are second to none. You can pack a picnic basket and just sit on the shores of the reservoir watching the sun set and talking endlessly. In winters, you might be able to see a variety of migratory birds. Plus, there are also facilities for jet skiing and boating on the backwaters.
Location: Gangavhare (15 km from Nashik)
Timings: Open throughout the day
Entry Fee: Free entry for dam; separate charges for boating
Best Time to Visit: October–March
5. Take a Holy Dip in Ram Kund
Ram Kund is a 27 x 12-metre bathing tank situated in the centre of the city. Its name and religious significance stems from the fact that Lord Ram bathed here during his exile and had previously carried out the last rites of his father, Dashrath, here. During the Kumbh Mela, the area is swarmed by multitudes of devotees, who come to take a sin-cleansing dip and also immerse the bone of their loved ones. It also has a historical significance as the ashes of several eminent personalities including MK Gandhi, Jawaharlal Nehru, Indira Gandhi, Rajendra Prasad and Rajiv Gandhi were all immersed in it.
Location: Ramkund, Panchavati
Timings: Open throughout the day
Entry Fee: Free entry
6. Get Blinged at Saraf Bazar
If you are more into traditional markets than contemporary malls, then you can visit Saraf Bazaar, situated in the city centre. One of the busiest shopping places in Nashik, it is popular for its endless jewellery stores. Ornaments of all types in gold and silver are sold by numerous stores along the road. You can buy necklaces, arm rings, anklets and earrings for yourself or as gifts. Certain shops even sell utensils made of gold, which would go perfectly in your collection.
Location: Panchavati
Timings: 11:00 to 8:30 pm (closed on Tuesdays)
7. Splurge at Nashik City Centre Mall
This fairly airy shopping mall perfectly reflects the city's cosmopolitan transformation. The largest modern retail centre in the city, spread in over 9,00,000 square feet, it has something for all types of shopaholics. Whether you are looking for grocery and other household stuff, furniture, electronics, decorative art, womenswear, menswear, footwear, ethnic wear, apparel and travel accessories, books, jewellery or gifts, you can get everything here. Further, the mall also has a movie theatre for all Bollywood aficionados as well as a Scary House for kids. On the dining front, the mall has Baskin Robbins, Barbecue Nation and Mad Over Chicken among numerous restaurants.
Location: Lavate Nagar
Timings: 11:00 to 10:00 pm
8. Chill at Amusement Parks
The several water parks in Nashik are great places to cool off and have some fun. With pools of all shapes and sizes and meandering water slides that provide the ultimate thrill, children will absolutely love these places. Even if you are a grownup, you will enjoy every bit of your trip. The lush hills of the Western Ghats make the perfect backdrop. The best thing is perhaps that several of the water parks also have restaurants to cater to that big hunger you develop after all that activity.
Shagun Water Park

Location: Near Ghoti Toll Plaza, Mumbai-Nashik Highway, Igatpuri
Timings: N/A
Entry Fee: ₹400–650 (varies with package and height)

Shubham Water World

Location: Jadhav Paradise, Anjeneri Hills, Nashik-Trimbakeshwar Road
Timings: 10:00 am to 05:00 pm; every day
Entry Fee: ₹500 (free for children below 3 feet 6 inches)

Blue Lagoon Water Park

Location: Mumbai-Nashik Highway
Timings: 10:00 am to 06:00 pm
Entry Fee: N/A
9. Become a Wine Connoisseur for a Day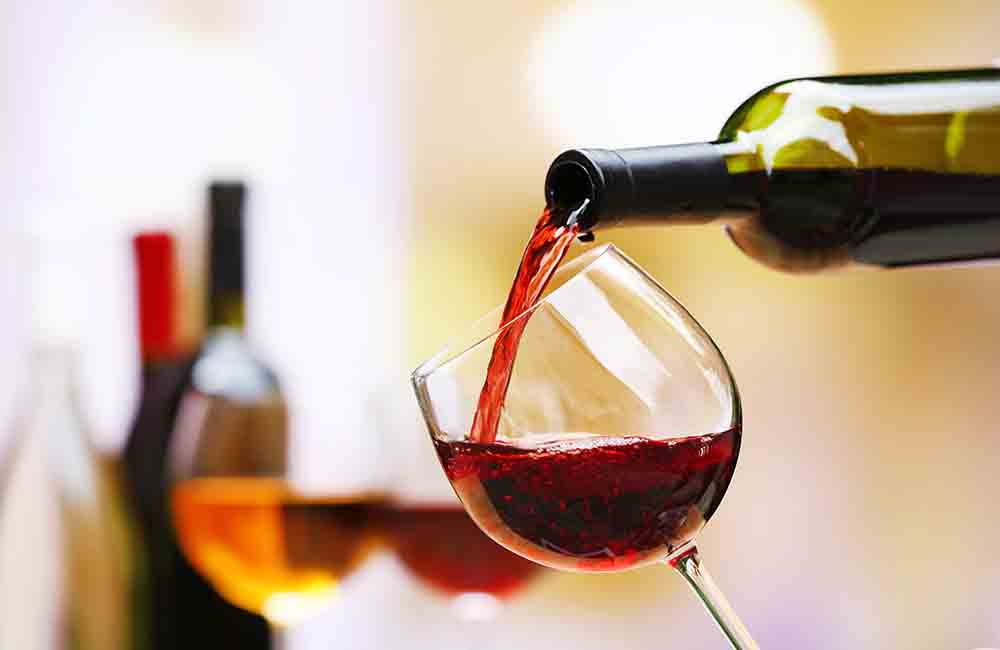 Last but not the least, another must-do in Nashik is going on a tour of vineyards; after all, the city is called the Wine Capital of India. From pale roses and full-bodied reds to tangy whites, a large variety of wines are made in the area. There are several vineyards here that take visitors on a tour through the grape groves, where you can see the harvesting process and learn a thing or two about the different types of grapes and wines. At the end, there might also be a factory visit and a wine tasting session.
Sula Vineyards

Location: Govardhan Village, Off Gangapur-Savargaon Road
Timings:

Visit — 11:00 am to 10:00 pm (Sun–Thurs); 11:00 am to 11:00 pm (Fri–Sun)
Tour — 11:30 am to 6:30 pm (1-hour tour)

Ticket Price: ₹400

Soma Vine Village

Location: Village Ganghavare, Gangapur-Ganghavare Road
Tour Timings: 11:30 am to 6:30 pm (1-hour tour)
Ticket Price: ₹350 (5 wines); ₹500 (7 wines); ₹700 (9 wines)

York Winery

Location: Gangapur–Savargaon Road, Gangavarhe
Tour Timings:

12:00 pm to 6:00 pm (winery tour and wine tasting)
12:00 pm to 10:00 pm (guided wine tasting and tasting room)

Ticket Price: ₹300 (6 wines and tour); ₹500 (5 premium wines and tour)

Vallonne Vineyards

Location: Kavnai Shivar, Taluka Igatpuri
Tour Timings: 12:00 pm to 4:00 pm
Ticket Price: ₹400

Fratelli Wines

Location: Zanjewadi, Malshiras Taluka, Solapur
Tour Timings: 10:00 am to 6:00 pm
Ticket Price*: ₹2500 (adults); ₹1500 (children 7–16 years) *exclusive of taxes
Grover Zampa

Location: Sanjegaon, Taluka Igatpuri
Tour Timings: 10:00 am to 5:30 pm (1–2 hour tour)
Ticket Price: ₹400–600
So, there you go. You are all set for a memorable trip to Nashik now that you know what all there is to do there.