Blessed with a long coastline, Mumbai is home to many picturesque beaches that range from energetic, carnival-like seashores to tranquil oases unexpected in the 'city that never sleeps'. If you really want to get away from the hustle-bustle of the city, there are countless beaches close by you could visit.
Want to know all about the amazing beaches in and around Mumbai? Our guide is here to help:
First, let's look at some of Mumbai's iconic beaches that are must-visit attractions in the city. You may have heard of some of these and some may be new discoveries; we hope you'll enjoy visiting them all!
1. Juhu Beach, Mumbai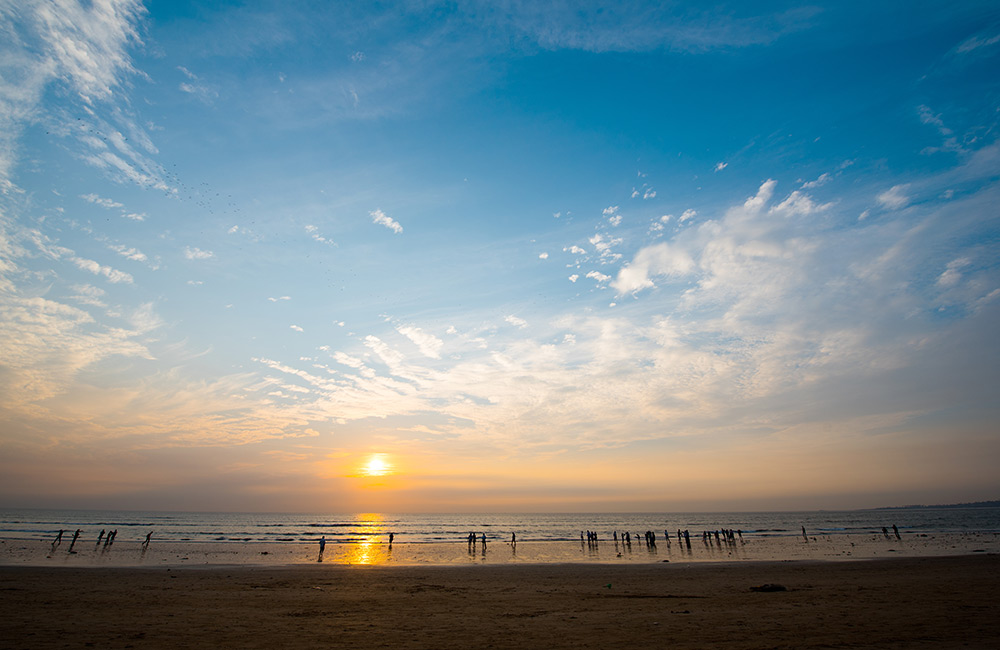 At the top is definitely the expansive Juhu Beach that stretches about 6 km, all the way to Versova Beach in Andheri. Once the haunt of the rich and famous, Juhu Beach today is among the best places to visit in Mumbai with friends or family and is a big local attraction for both locals and tourists.
It becomes really colorful and busy during Ganesh Chaturthi when people bring idols of the deity to be immersed in the sea here. And yes, it is commercialized on every other day of the year with throngs of people, scores of food stalls, horse carriages and sellers, but that's just part of the fun!
How to Get Here?
Drive or take a cab to Juhu from your location
Take a train to either Santacruz, Vile Parle or Andheri on the Mumbai Suburban Railway. Take an auto rickshaw from the station to get to the beach.
Take the nearest Metro to Versova
2. Versova Beach, Mumbai
At the northern end of Juhu is Versova Beach, a quieter arc of sand that adjoins a fishing village of the same name. One of the loveliest beaches in Mumbai, Versova is known for its swimmable waters, the colorful fishing boats, and its breathtaking views of the sun setting into the Arabian Sea.
Populated mostly by couples and youngsters, Versova Beach is a mix of sandy and rocky landscape and considered one of the cleanest beaches in Mumbai. Several interesting cafes and restaurants are in the neighborhood, and it is fun to hop into one of those once you've had your fill of the beach.
How to Get Here?
Drive to Versova or hail a cab from your location
Take the local train to Andheri (West) and get to the beach by an auto-rickshaw or bus
Take the nearest Metro to Versova
3. Girgaum Chowpatty, Mumbai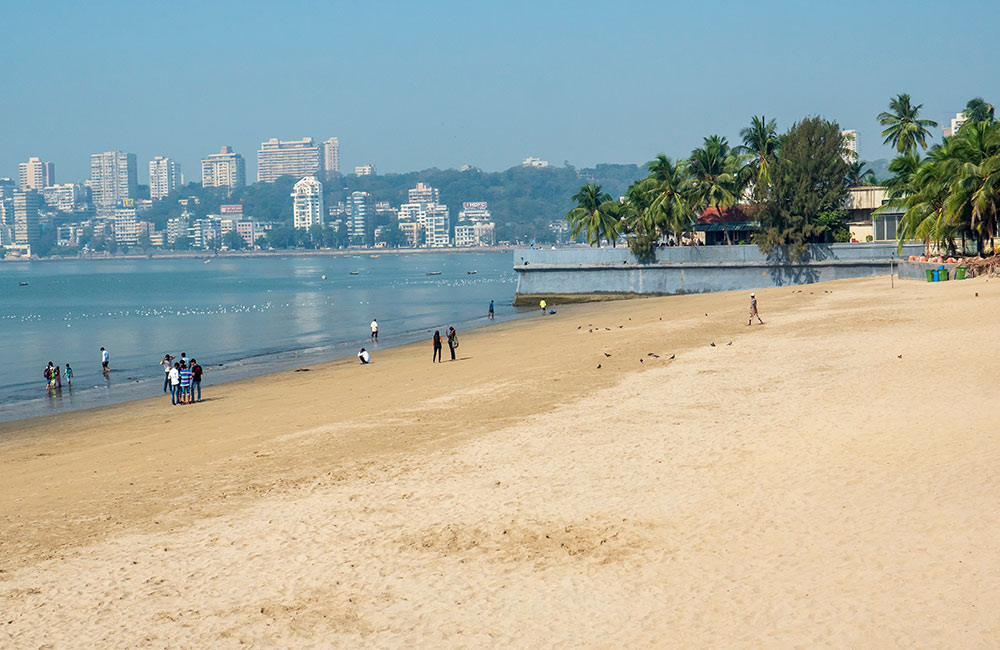 Better known as 'Chowpatty', this iconic Mumbai beach is situated at the far end of the equally iconic Marine Drive and is one of the busiest beaches in Mumbai. Tourists and locals alike flock to this sandy shore to admire the glimmering cityscape and the sun setting into the Arabian Sea.
Although heavily commercialized, Girgaum Chowpatty is still popular because it offers a magical haven for beach lovers in the midst of the fast-paced city life. Here you will find office-goers chilling after work, families taking a stroll by the sea, young couples (renting beach mats by the hour!), food vendors, and hawkers. Go here for a great Mumbai experience and to see what beaches mean to the city.
How to Get Here?
Girgaum Chowpatty is well-connected to the rest of the city by road
Take the local train to Churchgate Station, Charni Road or Marine Lines Station. From there, either take a cab or bus or walk to the beach
4. Madh Island Beach, Mumbai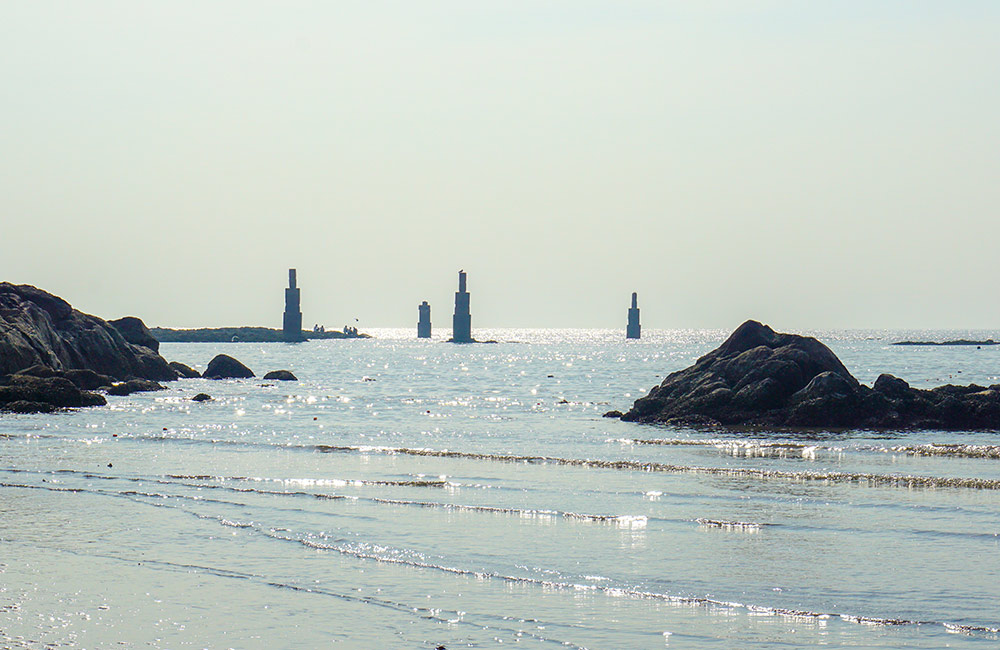 Almost synonymous with the movie and television business, Madh Island Beach is one of the top places to visit in Mumbai with your loved one. Known for its weekend parties, film shoots and the Madh Fort – an Old Portuguese fortification, Madh Island is every beach lover's delight. This beautiful cluster of small fishing villages and farmlands is peppered with lush green resorts and bungalows.
This Mumbai beach is one of the cleanest in the city and offers a tranquil haven for the forever-rushed Mumbaikars. Several luxuriously appointed resorts offer a relaxing weekend while the many cafes and restaurants that dot the island serve amazing food and beverages to day visitors.
How to Get Here?
Take the local train to Malad; take a bus or an auto rickshaw from here to get to Madh Island
Take a ferry ride from Malad
Take a BEST bus to the main Madh stop in the Madh Village and then walk to the beach
5. Aksa Beach, Mumbai
Just a little beyond the busy and crowded neighborhood of Malad lies a stunning little beach called Aksa. One of the few Mumbai beaches that are not commercialized, Aksa is a delightful stretch of sand where you can sit and enjoy the dazzling waters of the Arabian Sea without a care in the world.
INS Hamla of the Indian Navy occupies one end of the beach and a uniformed guard monitors it (to stop you from venturing any further!). Another smaller beach called 'Daana-Paani' at the other end makes for a pretty little vignette; a secluded place where you can have a quiet moment – something lacking on the more popular beaches in Mumbai.
How to Get Here?
Take the local train to Malad (West) or Andheri (West) and hail an auto-rickshaw from there
Take a BEST bus from Borivali Railway Station, on the Madh Island route
6. Gorai Beach, Mumbai
Calm and soothing vibes welcome you to Gorai Beach, located at the northern end of Mumbai. Despite being one of the most frequented beaches in Mumbai, Gorai is still untouched by the rampant crowds you'll see at other beaches in the city. Except for some shack-style establishments that sell beach gear like shorts and sandals or light snacks, there aren't many shops here.
The beach is very clean and mostly populated by families out for a picnic, with bedsheets as beach mats and food packed in tiffins! Clean sands and cleaner waters mean long, leisurely strolls are in order. You could also take a horse ride here or play cricket on the beach.
How to Get Here?
Take the local train to Malad or Borivali (West) and opt for an auto-rickshaw from there
Drive or take a cab directly to the beach
7. Marve Beach, Mumbai
Marve Beach in Malad is a beautiful sanctuary for young couples, groups of friends and families looking to spend a pleasant day without spending too much. One of the quieter Mumbai beaches, Marve is ideal for a day out, playing cricket on the sand, walking along the shore or just enjoying the beautiful views of the Arabian Sea glittering in the sun.
Cashew trees and private homes line the edge of the beach and the place is usually quiet. It does have a ferry service that hikes up the decibels from all the holidaymakers trooping up to Essel World, one of the oldest amusement parks in Mumbai. Another beach you could visit nearby is the Manori Beach – a calm, tranquil place that is great for watching sunsets.
How to Get Here?
Take the local train to Malad or Borivali (West) and opt for an auto-rickshaw from there
Take a BEST bus to the nearest stop or book a cab and reach directly
8. Kalamb Beach, Mumbai
Kalamb Beach is quite the hidden gem of Mumbai – a beautiful, clean beach which seems to stretch for miles together without huge crowds. Although there are quite a few hotels and resorts in the area, not too many tourists know about this awesome retreat.
Located close to the historic Nala Sopara neighborhood of Mumbai, Kalamb Beach is perfect for a day's outing with friends and family. You could hire a hammock for the day or just sunbathe out in the open, play cricket on the beach or take a paragliding lesson.
How to Get Here?
Take the local train to Nalasopara on the Western Line and opt for an auto-rickshaw from there
Book a cab to the beach
Maharashtra gets more than its fair share of coastline along the Arabian Sea. And so that means there are many exceedingly wonderful beaches near Mumbai too that one could get away to for a weekend. Some such beaches near Mumbai are in Kihim Beach, Murud-Janjira Beach and Revdanda Beach. Have you visited any of these beaches? Tell us your favorite stories; you know we love hearing from you!