Nobody likes it when their flight gets delayed. You just arrived at the airport and were headed towards the check-in area when suddenly got the news that your flight has been postponed by several hours…not many things are more frustrating than that. Right? But that's not always the case, especially when you are boarding your flight from Kempegowda International Airport which serves the city of Bangalore. Why's that, you ask? Well, because this world-class airport has so many recreational options that you will never have a dull moment no matter how long you have to wait before your airplane takes off. Keep reading to learn what those are:
Things to Do at Bangalore Airport:
1. Gorge on some lip-smacking delicacies
Hunger is surely going to creep up on you when you are waiting at the airport. So, why not head over to a restaurant and try out some savoury dishes? The only problem you will face at the Bangalore airport is deciding where to go for the meal, since the options are so many. From restaurants serving authentic South Indian fare to the ones where you can try dishes from various parts of the country, there is no dearth of options. There are also several opulent bars where you can sit back, relax and enjoy a refreshing drink.
Also Check: Café in Bangalore
2. Indulge in some retail therapy
Did you forget getting something for the family back home? Well, then perhaps flight delay was a boon because the Bangalore airport is marked with shops and stores where you can buy some amazing stuff. From the famous silk handlooms of South India and branded merchandise by renowned retail outlets to books, local handicrafts and accessories, you can buy them all here. The International Arrivals and International Departures areas are also home to numerous duty-free stores where you can purchase a wide variety of stuff at discounted prices. Read also – Shopping Places in Bangalore
3. Relax with a therapeutic treatment
How would you feel if you could use this free time to rejuvenate your body and mind? Wondering how that is possible? Well, Kempegowda International Airport houses a world-class, plush spa where you can enjoy a plethora of therapeutic and beauty treatments. Its therapies will energize you for the journey ahead and make the time fly as well. Read also – Things to do in Bangalore
4. Catch up with friends or finish your office work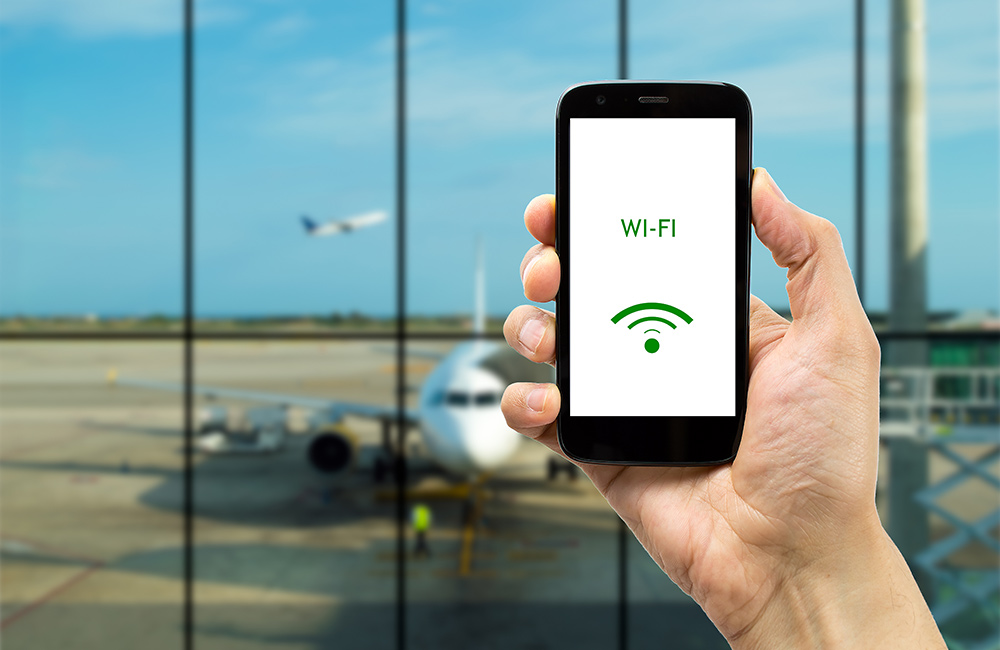 Catch up with friends or finish your office work | #4 of 5 Things to do at Bangalore Airport during flight delays
Wouldn't it be great if you had good Wi-Fi access at this time? Well, guess what; at Kempegowda, you do! Accessible in most parts of the airport is free Wi-Fi that you can use to browse through the feed of your social media accounts or take care of that office work that you didn't get around to finishing. You can use your smartphone, tablet PC or laptop to connect to the internet within seconds. But do note that the free Wi-Fi is only accessible for 45 minutes.
5. Kick back and relax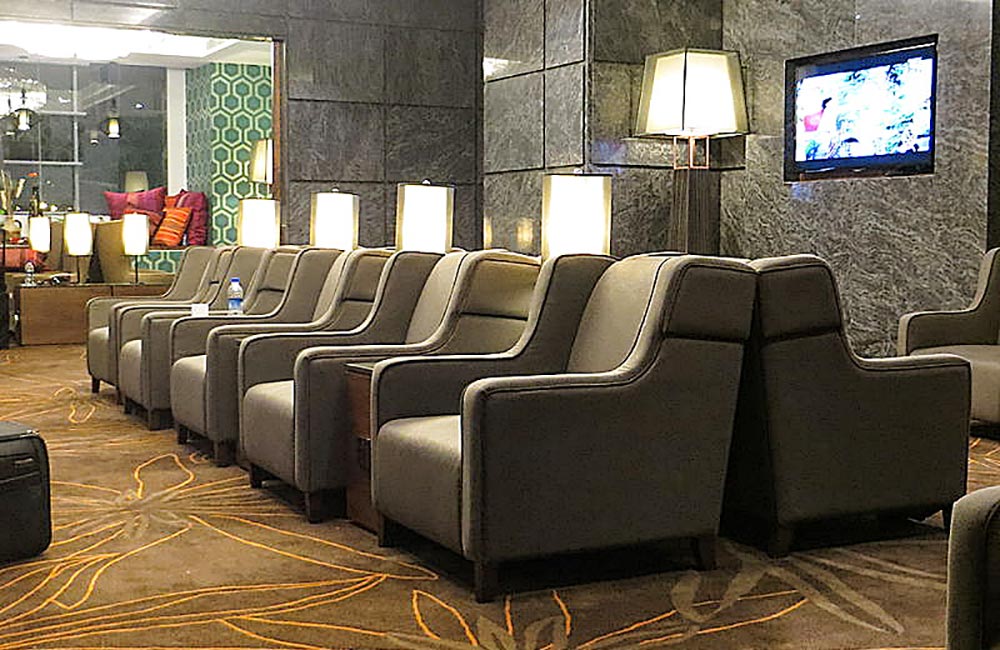 Kick back and relax | #5 of 5 Things to do at Bangalore Airport during flight delays
The Bangalore airport houses several opulent lounges where one can simply relax and wait for the departure time. Stylishly designed, these come with several contemporary features and facilities that are sure to help you kill time. Along with sophisticated seating arrangements, television and Wi-Fi access, these lounges also have spa, massage parlours, well-stocked bars and a host of other comforts and conveniences. And, do not worry if you are not a business or first class flyer or a member of any airline's frequent flyer program as these lounges are open to all travellers and you can simply pay some fee and enjoy access to these.
Things to Do near Bangalore Airport:
When your flight is delayed by several hours, then why not step out of the airport and explore a few amazing places and partake in some exciting activities? Though heading to a hotel near the Bangalore airport and enjoying a relaxing sleep would be unbeatable, it is not always an option. But you can still do a lot. Have a look:
1. Explore the heritage of Bangalore at Devanahalli Fort
A 15-minute drive from the airport brings you to Devanahalli Fort – a centuries-old structure giving a glimpse into the rich past of the region and its monarchs. Near the fortress is also the site where Tipu Sultan, the Tiger of Mysore was born. If you missed exploring this place during your time in the city, then visiting the city is sheer waste.
3. Behold magnificent architecture at Bhoga Nandeeshwara Temple
Now, while you are already out visiting the points of interest that you missed during your Bangalore trip, why not drive 20 minutes further from Devanahalli Fort and see Bhoga Nandeeshwara Temple. Located on the foothills of Nandi Hills, this historical place of worship is undeniably one of the most underrated places to explore in and around the city of Bangalore. It is believed to have been originally built during the 9th century and several modifications and additions to the structure have taken place since. The splendid architecture of this place is reason enough to make a visit. And, now that you are already halfway there and are looking for ways to kill time, this is something you can't miss.
3. Relax amidst nature at Hennur Bamboo Forest
A half-an-hour drive from the airport also brings you to Hennur Bamboo Forest which is a perfect pick for those who wish to spend time amidst nature. Well, it may not be the most gorgeous green space you will find in the Garden City of India, but it is certainly one of the best you will find within this distance.
So, if your flight from Kempegowda International Airport ever gets delayed, you know how to make the most of your time. Evidently, there is no dearth of options.
Now, those were some ways for you to make the most of your time at the Bangalore airport. But how are you planning to make your stay in the Silicon Valley of India delightful? How about booking a stay at a FabHotels Bangalore?
Also Read: Waterfalls in Bangalore