Ancient and bustling, Banaras or Varanasi is considered the holiest city for Hindus in India. It is also known for its vibrant culture and spiritual significance. Devotees from across the globe visit Banaras to pay respects at the revered Shri Kashi Vishwanath Temple and other important temples and ghats in the city. However, spirituality is not the only thing that defines Banaras. The popular Varanasi cuisine is something most tourists fall in love with. Be it kachori sabzi, baati chokha, rabri jalebi or tamatar chaat, almost all famous foods in Varanasi are unique and delectable.
If you are a foodie looking to relish some delicacies during your next trip to the city, make a note of the following culinary treats.
1.Kachori Sabzi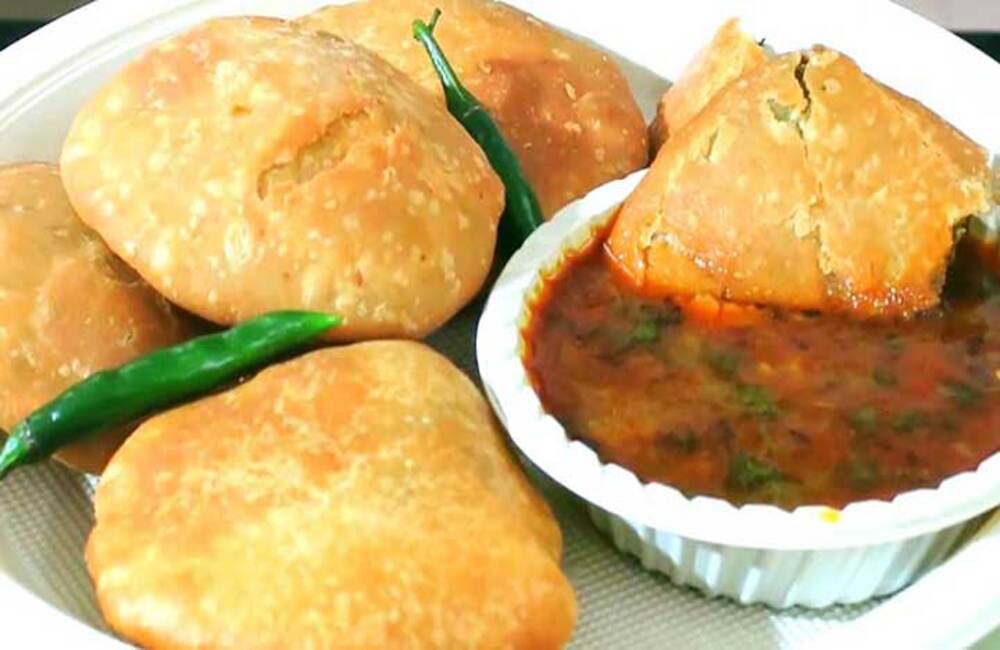 This appetising breakfast item in Banaras is the first dish you must try in the city. While the crispy kachoris are made with a stuffing of lentils and spices (called dal ki pithi), the lip-smacking and aromatic sabzi is prepared with boiled potatoes, black pepper, cloves, chillies and other ingredients. This delectable combination is truly a treat for the taste buds; it is relished by locals, tourists and people of all ages. Visit any street food joint in the city in the early morning and you will see many hostelers and office goers enjoying this hot breakfast. So, we can safely say that your trip to Banaras will be incomplete without tasting the authentic Banarasi kachori sabzi. 
Best Places to Try:

The Ram Bhandar, Thatheri Bazar
Chachi Kachori Shop, Saket Nagar Colony, Lanka
2. Aloo Kachori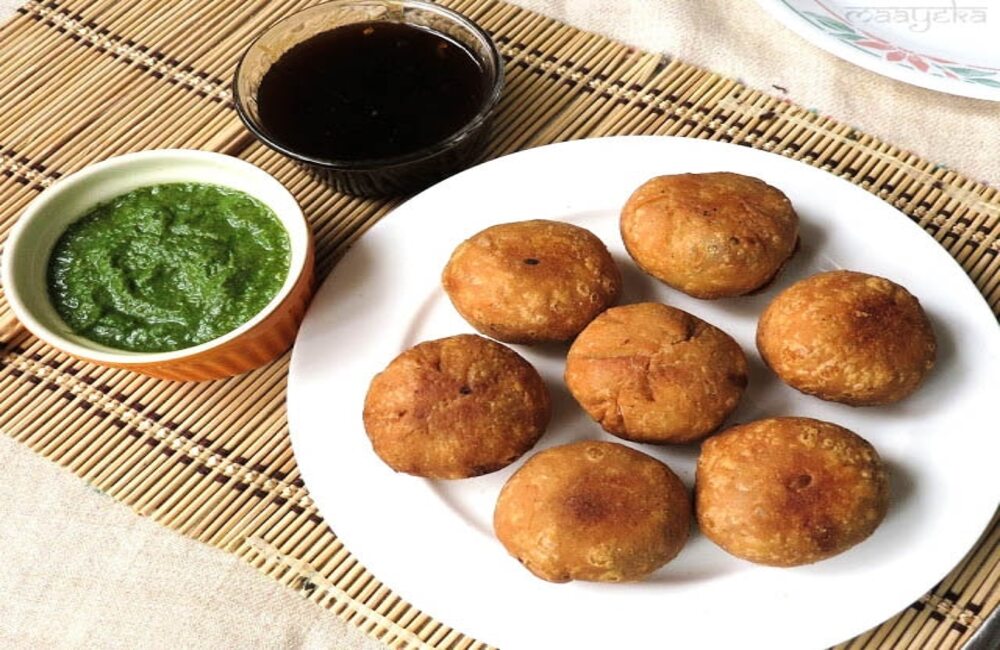 The eateries in Banaras serve two different types of kachoris – badi and choti kachori. While the regular kachoris, made with a lentil mixture (dal ki pithi), are called badi kachoris, the ones with a stuffing of spicy potato mix are called choti kachoris. These choti kachoris are best relished with sweet tamarind and coriander chutneys. They are perfect for anytime snacking, especially when it comes to beating hunger pangs during city tours. Being one of the most famous foods in Banaras, aloo kachori is available in every nook and corner of the city. 
Best Places to Try:

The Ram Bhandar, Thatheri Bazar
Chachi Kachori Shop, Saket Nagar Colony, Lanka
3. Baati Chokha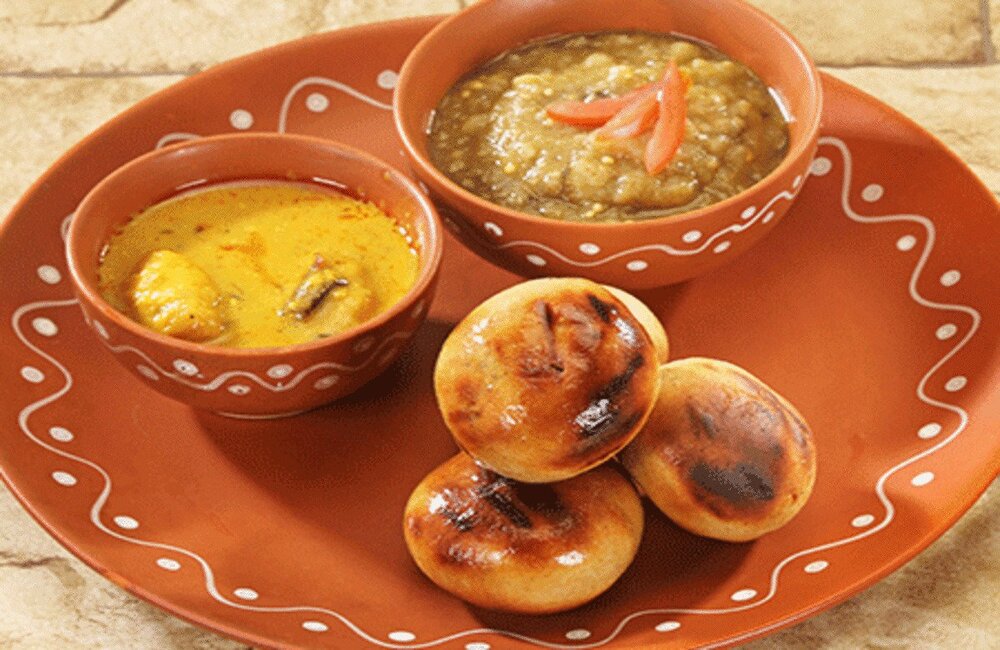 Baati chokha, popularly known as litti chokha, is a tasty snack that you can enjoy at different street food joints and eateries around the city. This Banaras famous food looks like the dal baati of Rajasthan. The round baatis or littis are made with wheat flour dough and stuffed with a flavourful sattu masala. They are then cooked over charcoal for that authentic taste. Chokha is a spicy mixture of roasted eggplants and tomatoes, boiled potatoes, ginger, chillies and other ingredients. A delectable local delicacy, baati chokha is something you can't afford to miss in Banaras.
Best Places to Try:

Baati Chokha Restaurant, Teliyabag
Polti Baati Chokha Restaurant, Assi Ghat
4. Chena Dahi Vada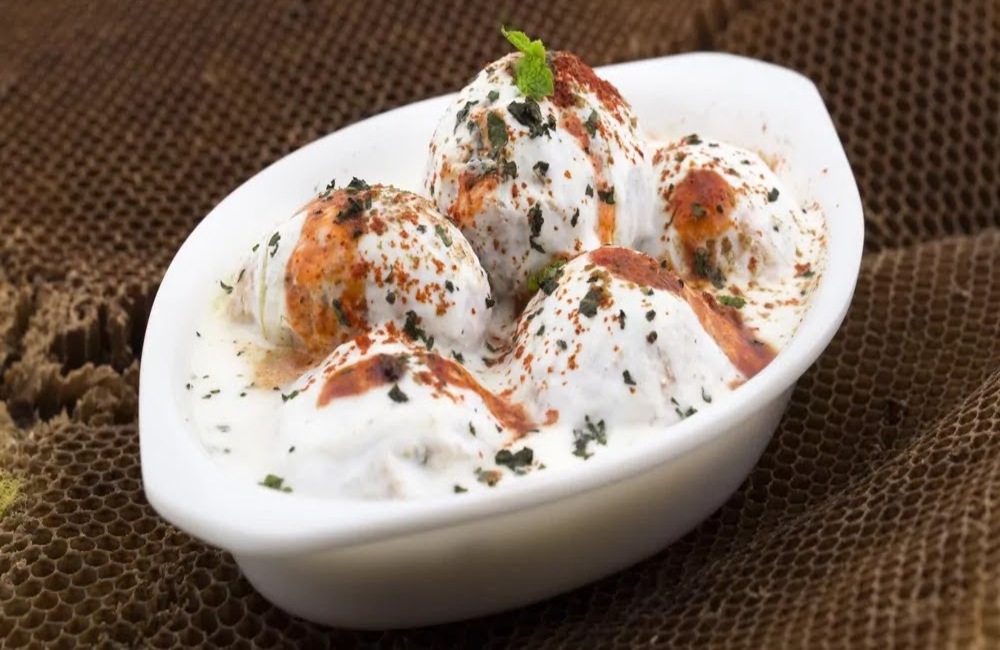 If you are looking to enjoy Varanasi's famous food items during your next trip to the city, chena dahi vada is a must-try. This unique snack is a variation of the popular dahi vada. Chena vadas are prepared with a mix of mashed potatoes, fresh cottage cheese or chena, grated ginger, cornflour and other ingredients. They are shaped round like vadas, deep-fried in oil, and topped with sweet curd, tamarind and coriander chutneys, and masalas. Although a typical breakfast item, you can relish this snack at any time of the day. 
Best Places to Try:

Kashi Chaat Bhandar, Godowlia Road
Deena Chaat Bhandar, Rampura Luxa Road
5. Choora Matar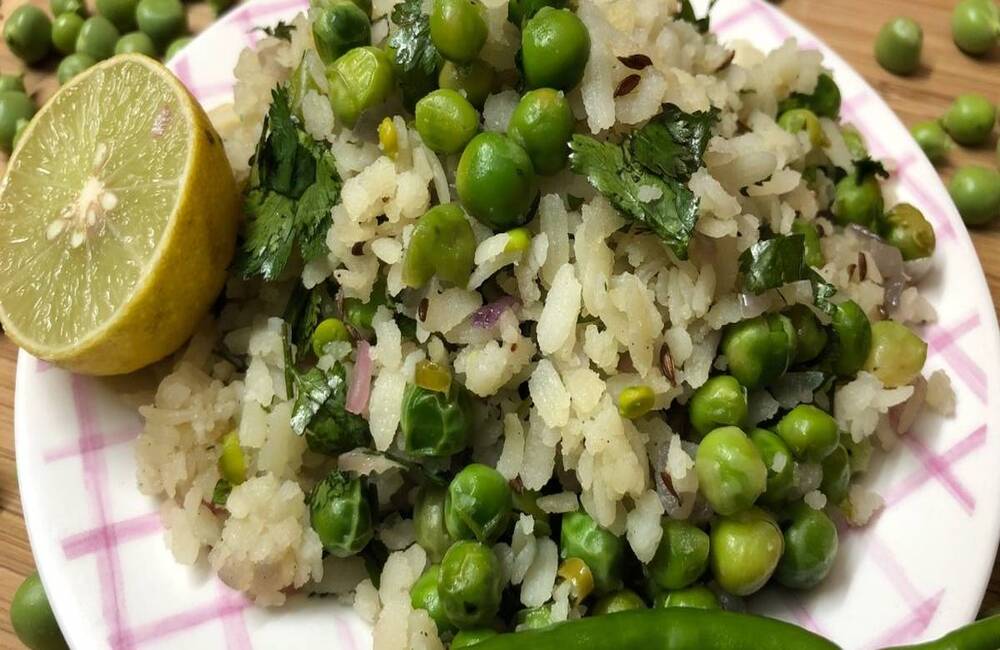 Visit Varanasi during the winter season and you will find scores of street food stalls offering this flavourful snack. Prepared with flattened rice, milk, ghee, cashew nuts, fresh peas and spices, choora matar is Varanasi's version of the popular breakfast item – poha. Chopped coriander leaves and lemon juice are added towards the end for that extra zing. Choora matar is best enjoyed in the evening with hot tea or coffee. 
Best Places to Try:

Kashi Chaat Bhandar, Godowlia Road
Deena Chaat Bhandar, Rampura Luxa Road
Check out the hotels in Varanasi for your next trip
6. Laaiya Channa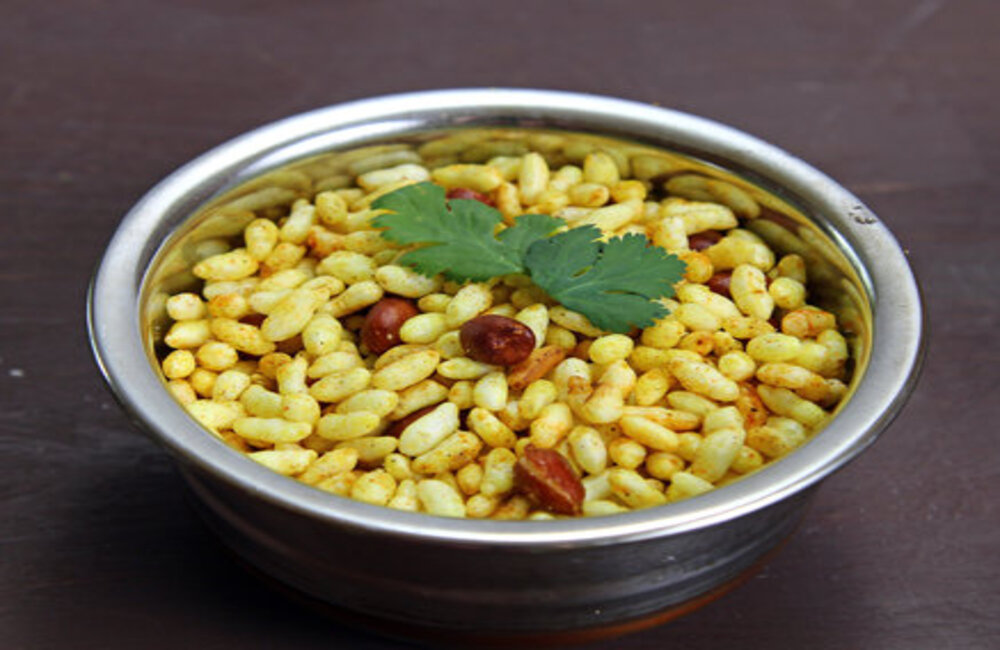 If you like bhel puri, you ought to try laaiya channa in Banaras. This famous food in Varanasi is quite like the lip-smacking bhel puri available in various street food joints across the country. The only difference is that laaiya channa is made with soaked and boiled chickpeas or channa instead of muri or puffed rice. This flavourful snack containing chopped onions, tomatoes, green chillies, peanuts, lemon juice and masalas, is a popular tea-time snack in the city.
Best Places to Try:

Deena Chaat Bhandar, Rampura Luxa Road
7. Dahi Chutney Golgappe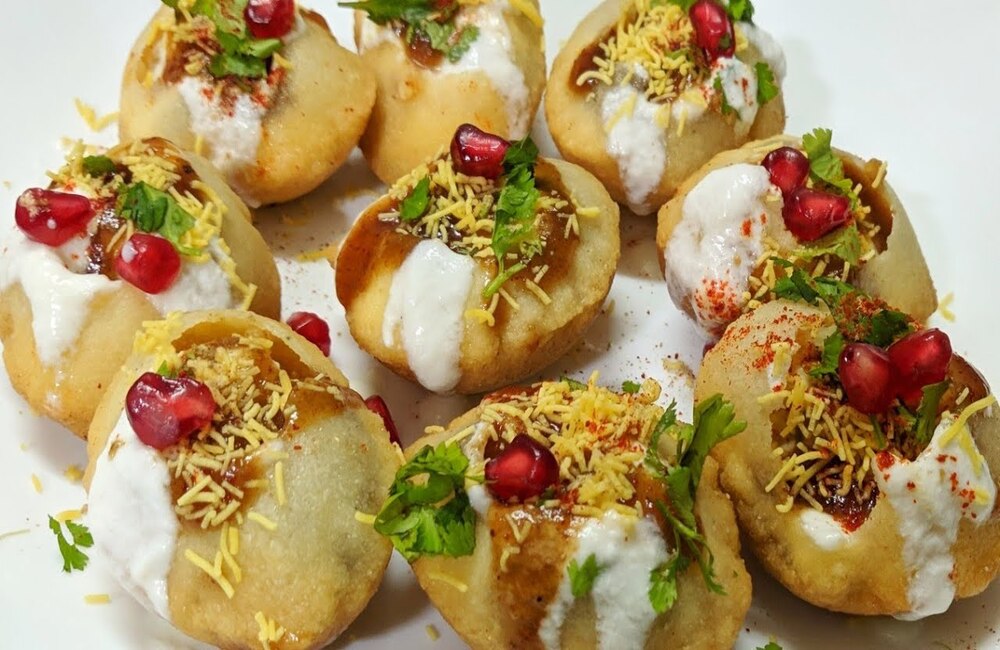 For street food lovers, golgappe in any form is a delicacy. And the dahi chutney golgappe of Varanasi is probably one of the best street foods you can try in the city. The crispy golgappas are stuffed with a lip-smacking mixture of mashed potatoes and chickpeas and then topped with curd, chutneys, masalas, pomegranate seeds and sev. And the result is as delicious as it sounds! So, whenever you find yourself craving something sweet and spicy, rush to the nearest street food joint and relish some lip-smacking dahi chutney golpappe. This famous food in Varanasi is easily available in different eateries around the city. 
Best Places to Try:

Deena Chaat Bhandar, Rampura Luxa Road
Kashi Chaat Bhandar, Godowlia Road
8. Tamatar Chaat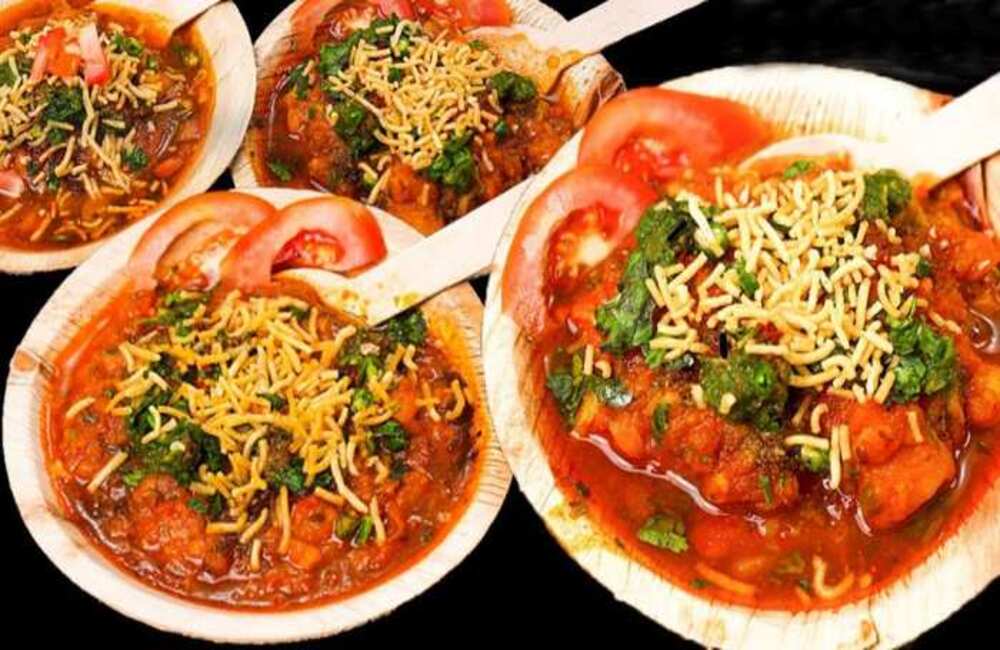 This unique and delicious chaat available at Varanasi's famous food joints is a favourite among locals and tourists. It is prepared with boiled and mashed potatoes and tomatoes, green chillies, onions and coriander leaves. The chaat is flavoured with red chilli powder, black pepper, garam masala, and other spices and served in biodegradable bowls made from the leaves of palash for that local touch. Although tamatar chaat can be a bit spicy, it is a must-try for every chaat lover visiting Banaras. Relish this delicacy once with chaat masala and crispy namak pare and you are sure to come back for more. 
Best Places to Try:

Kashi Chaat Bhandar, Godowlia Road
Street food stalls on Lahurabir Road
9. Malaiyyo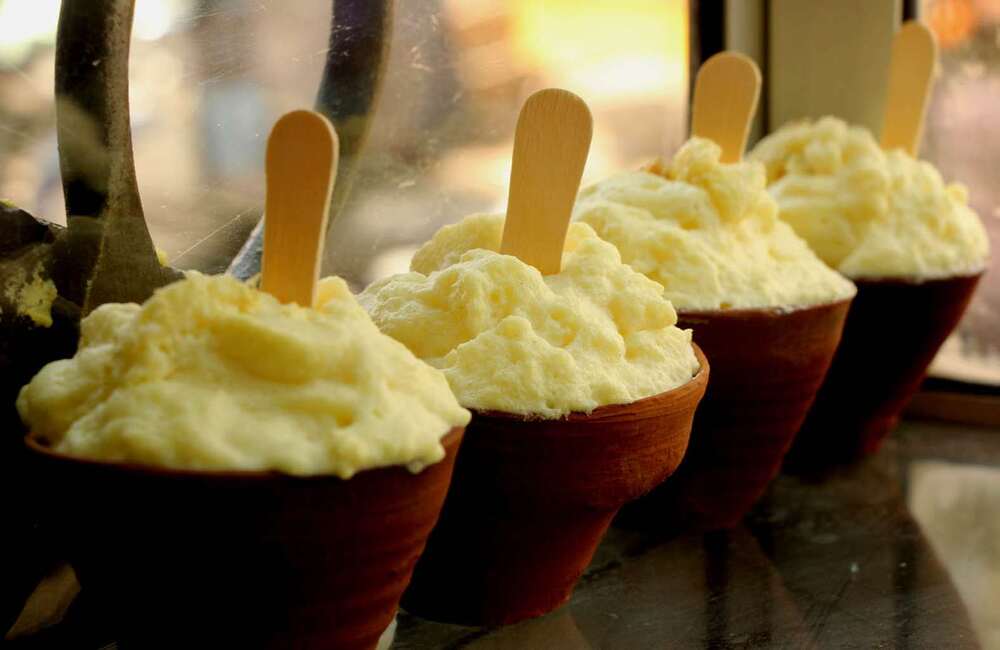 A delicacy in Varanasi, malaiyyo is a melt-in-the-mouth sweet dish available only in winter. It is made of milk foam or froth and the preparation process is quite special. To make malaiyyo, milk is boiled in an iron wok and then kept under the open sky at night. This is done for the dew drops to help initiate the foaming process. The milk is then churned with cardamom powder, saffron strands and sugar till the entire thing changes to foam. It is then garnished with chopped pistachios and almonds and served in local earthen cups called kulhads. If you are visiting Banaras in winter, make sure you relish this unique street dessert as you may not find it anywhere else.
Best Places to Try:

Thatheri Bazar, Old Banaras
Kachori Wali Gali, Chowk
Check out the hotels in Lucknow for your next culinary trip
10. Rabri Jalebi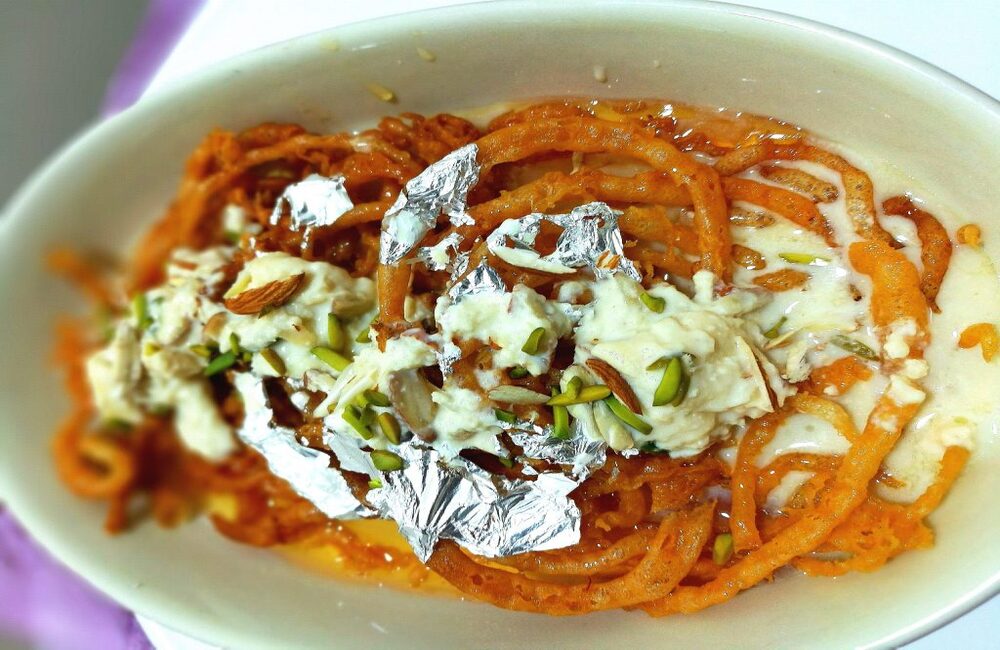 Rabri is a sweet dish made with condensed milk and flavoured with sugar, saffron strands, rose water, almonds and pistachios. On the other hand, the desi ghee jalebis are prepared with all-purpose flour, yoghurt, saffron strands, sugar syrup and other ingredients. And when you relish these two together, the taste is totally drool-worthy. You got to try this Varanasi's famous food at least once whenever you are in the city. 
Best Places to Try:

Om Shree Ram Bhandar, Nadesar
Sweet shops in Chowk and Godowlia
11. Launglata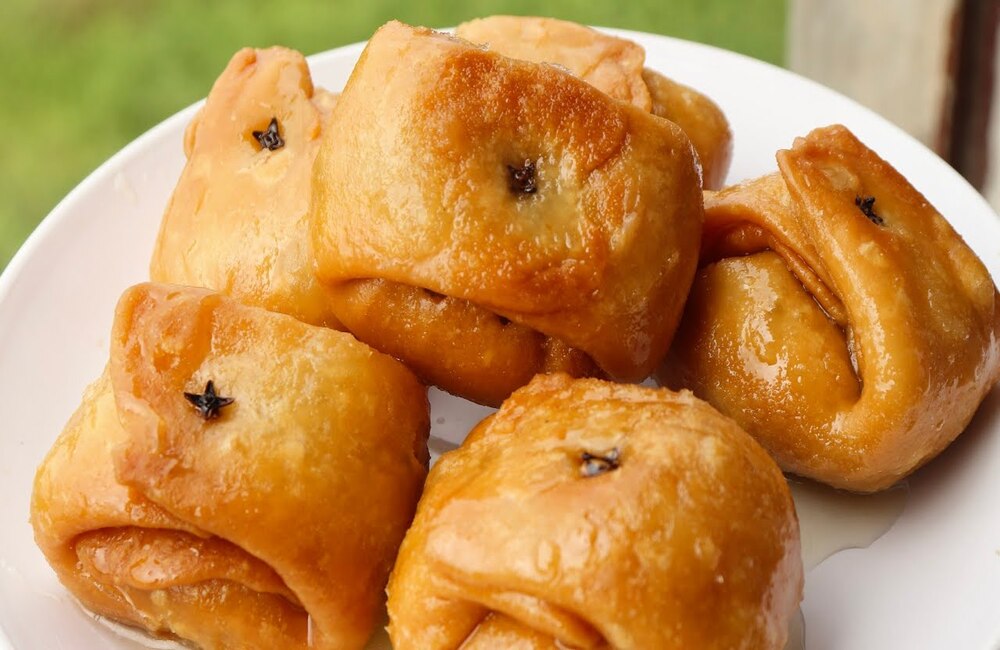 Launglata is a sweet delicacy that the locals mostly relish during Holi. However, it is available in the sweet shops and street food stalls of Varanasi throughout the year. Launglata has a crispy covering made of all-purpose flour or maida, while the delicious filling is prepared with crumbled mawa or khoya, saffron strands, chopped nuts, sugar and cardamom powder. The sweet is deep-fried in ghee, soaked in sugar syrup and served hot. It is more like a royal sweet best relished with other traditional and famous foods in Varanasi.
Best Places to Try:

Shri Madhur Jalpan, Near Spice KCM
Kachori Wali Gali, Chowk
12. Banarasi Paan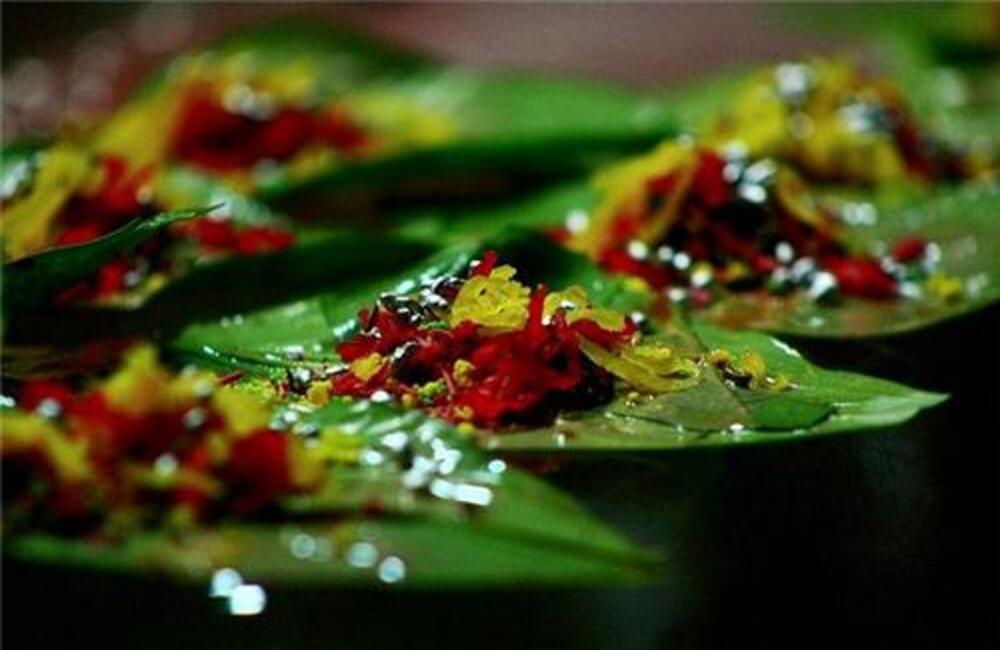 Say Banaras and the first thing that comes to mind is Banarasi paan, all thanks to the popular Bollywood song "Khaike Paan Banaras Wala". As per locals, your meal is incomplete if you do not have a paan at the end of it. Banarasi paan is prepared by stuffing betel leaves with a combination of ingredients, like betel nuts, fennel seeds, clove powder, cardamom, cinnamon, menthol, lime or tobacco. The sweet version or meetha paan is milder and has no tobacco or lime. It is mostly flavoured with gulkand, fennel seeds and a few soft suparis. 
Best Places to Try:
Keshav Paan Bhandar, Mahmoorganj
Keshav Tambul Bhandar, Lanka Road
13. Thandai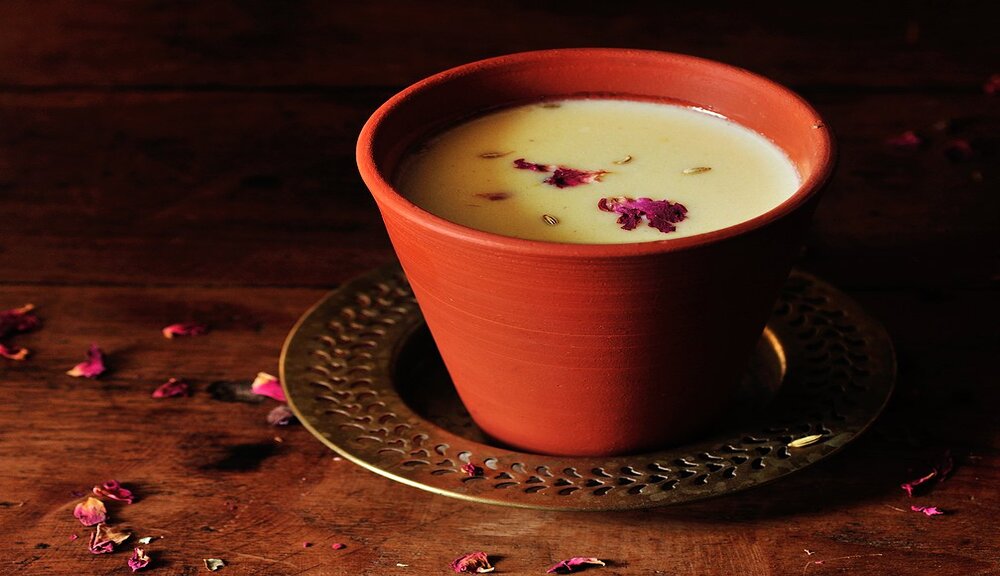 As famous as Banarasi paan, thandai is a flavoured cold drink that everyone visiting Banaras must try. While it is prepared like the usual thandai with milk, saffron, cardamom, fennel seeds, almonds, rose petals and sugar, a seasonal fruit puree is also added to the drink for that additional flavour. However, there's something more that makes Varanasi's thandai different from the usual ones. The drink is topped with rabri, chopped nuts and dry fruits and served in clay cups or kulhads. It is cooling, filling, refreshing and perfect for those hot summer days. 
Best Places to Try:

Baba Thandai, Godowlia
Kashi Vishwanath Thandai Ghar, Harha
14. Kulhad Chai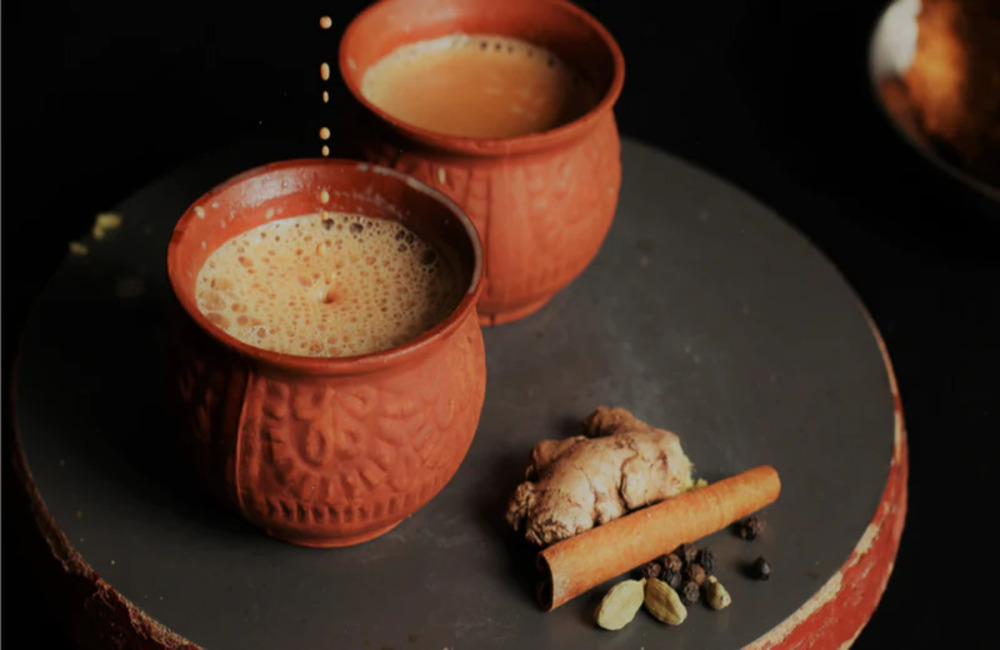 If you are looking to try popular drinks apart from foods in Banaras, remember to include kulhad chai in the list. Yes, a simple thing like chai tastes amazing in the city. It is prepared with buffalo milk and is richer and creamier when compared to regular tea. The local tea sellers also use some special chai masala for a unique flavour and aroma. This hot beverage in Banaras is served in kulhads or earthen cups and this further accentuates the taste. 
Best Places to Try:

Kashi Café, Assi Ghat
Nandey Tea and Coffee Shop, Near Pandey Ghat
15. Lassi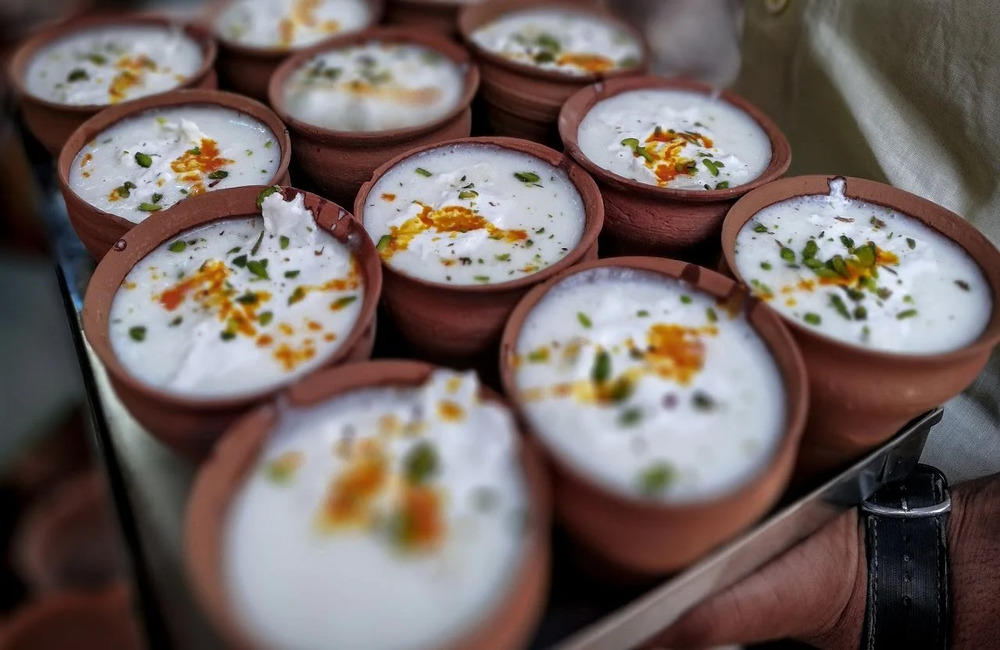 Wondering how a simple drink like lassi made it to the list of most famous foods in Varanasi? Well, Banarasi Lassi is quite different from the ones available in other parts of the country. In Varanasi, lassi is prepared in a special way; it is more like a dessert drink and quite filling. To make Banarasi lassi, fresh curd and sugar are whisked for a while and then topped with rabri, saffron strands, and chopped pistachios and almonds. Some eateries around the city serve different flavours of this delicacy, such as mango lassi, rose dry fruit lassi, butterscotch lassi and gulkand lassi, much to the delight of lassi lovers. 
Best Places to Try:

Blue Lassi Shop, Govindpura
Kachori Wali Gali, ChowkSo, these are some of Banaras' famous foods and beverages that you ought to try if you are a foodie. Most of these delicacies are easily available at the street food joints throughout the city, so you need not travel far to relish them. Also, if you are on a leisure trip, try and explore the streets of Banaras on foot for the best experience. This way, you can even try different street food stalls in the city and relish the best chaats and sweets.