Hyderabad, the grand city of the Nizams, hypnotizes everyone with a mélange of awe-inspiring monuments, palaces, forts, mosques, tranquil lakes, bustling street markets, and more. Matching up to the distinct glory of the city is its mouth-watering cuisine that includes the iconic Hyderabadi biryani, kebabs, rolls, and more. A 2-day trip to Hyderabad can be a refreshing experience in itself but the only question is where do you start from?
Worry not, because we have compiled a comprehensive 2-day Hyderabad itinerary for you to explore the best attractions of the city.
DAY 1
9.00 am – 11.00 pm: Marvel at the architectural splendor of Golconda Fort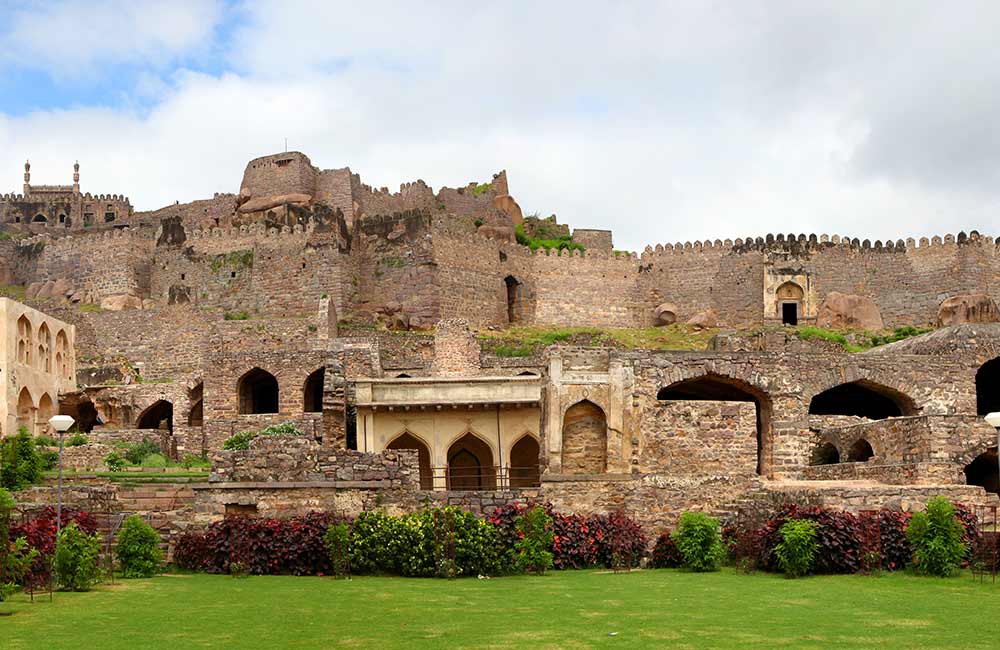 On the first day, tuck in a filling breakfast at your hotel and head out towards the majestic Golconda Fort, which was once home to the fabulous Kohinoor diamond. Spend some time exploring this medieval fort that features elaborate gateways, royal chambers, moveable bridges, stables, temples, mosques, and other structures.
Timings: 8.00 am to 5.30 pm; every day
Entry Fee: ₹15 for Indians; ₹ 200 for foreigners; ₹ 25 for still photography
Now, proceed to Qutub Shahi Tombs, another historical attraction in Hyderabad located a short distance away from the fort.
By road: 10 minutes' drive
11.15 am – 1.15 pm: Go for a quick tour of Qutub Shahi Tombs followed by lunch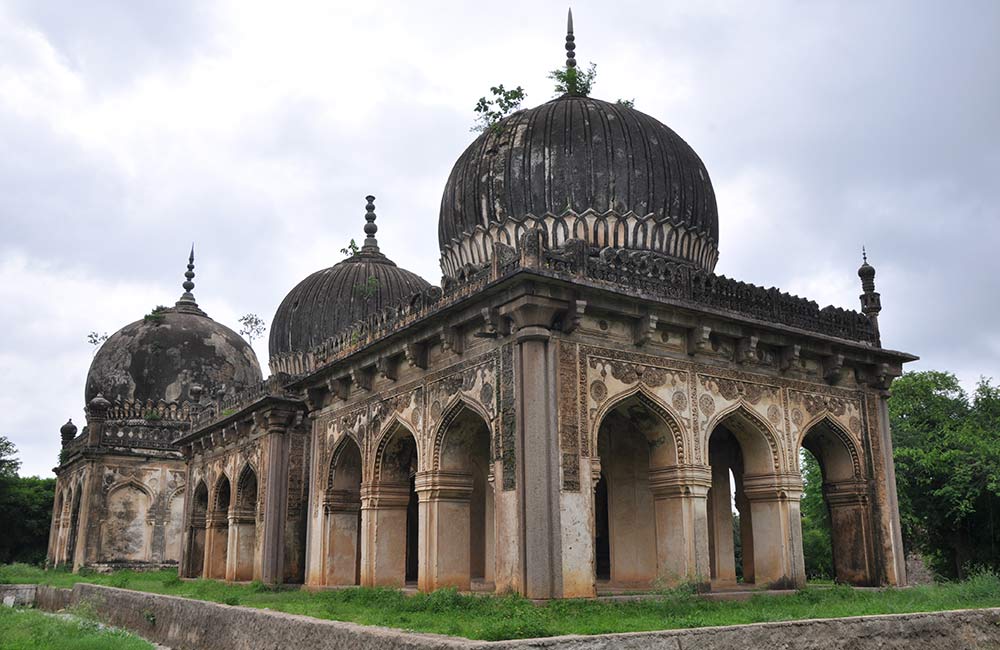 The resting place of the rulers of the Qutub Shahi Dynasty, this tomb complex is located amidst the picturesque Ibrahim Bagh garden. The tombs, which count among the oldest monuments in Hyderabad, display a spectacular blend of Hindu, Persian, Deccan, and Pathan architectural styles.
Timings:30 am to 4.30 pm; closed on Fridays
Entry Fee: ₹ 5 for kids; ₹ 10 for adults; ₹ 20 for still photography
Aren't you exhausted by now? Why don't you take a break and dig into a quick lunch at a nearby restaurant to replenish your energy levels?
Where to eat
Mataam Al Yamani
Pepper & Salt
Maa Santosh Family Dhaba
Memoria
After a satisfying lunch, make your way to Salar Jung Museum, one of the finest and largest museums in Hyderabad.
By road: 35 to 40 minutes' drive depending on traffic
2.00 pm – 4.30 pm: Delve into the history of the region at Salar Jung Museum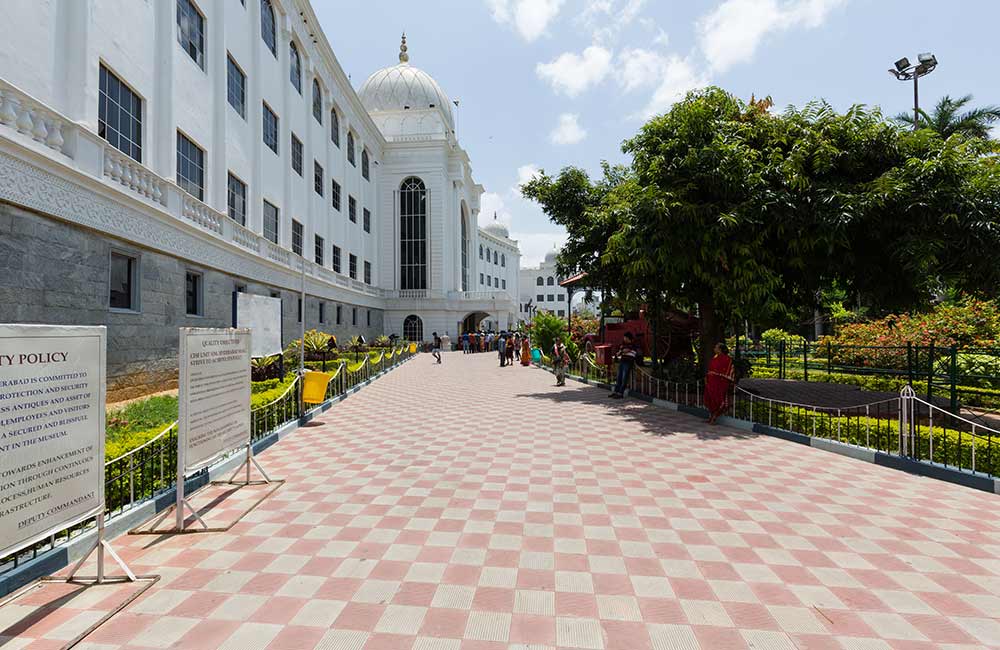 Spread across two floors and divided into 38 galleries, Salar Jung Museum houses a treasure trove of priceless art pieces and artifacts from around the world. These include a bejeweled dagger of Mughal Emperor Jehangir, a set of ivory chairs belonging to Tipu Sultan, a decorated fruit knife of Noorjehan, and furniture pieces belonging to Napoleon and King Louis XIV.     
Timings: 00 am to 5.00 pm; closed on Fridays
Entry Fee:  ₹ 20 for Indian citizens; ₹ 500 for foreigners; ₹ 50 still photography
Now it's time to explore the most celebrated landmark in the City of Nizams – the one and only Charminar. 
By road: 5 to 10 minutes' drive
4.40 pm – 5.30 pm: Spend some time soaking in the charm of Charminar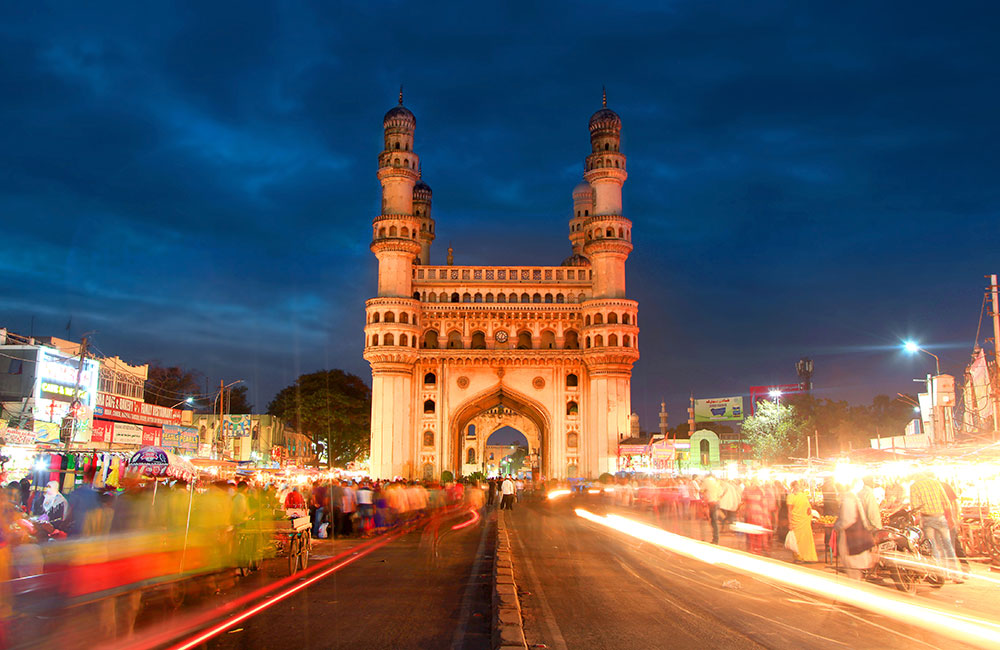 Charminar or the mosque of the four minarets is undoubtedly the finest example of Hyderabad's cultural and architectural heritage. The imposing four-storied monument has a mosque located on its top floor. Constructed in the Islamic style of architecture, this 16th-century monument offers a splendid view of the surrounding areas from the first floor.
Timings: 9.30 am to 5.30 pm; every day
Entry Fee: ₹ 5 for Indians; ₹ 100 for foreigners
Adding to the charm of the Charminar is the lively market and food stalls surrounding it. Go ahead and explore this area and its lanes where you get some of the best street food items in Hyderabad. 
5.30 pm – 6.30 pm: Shop around and relish some local treats in the Charminar Area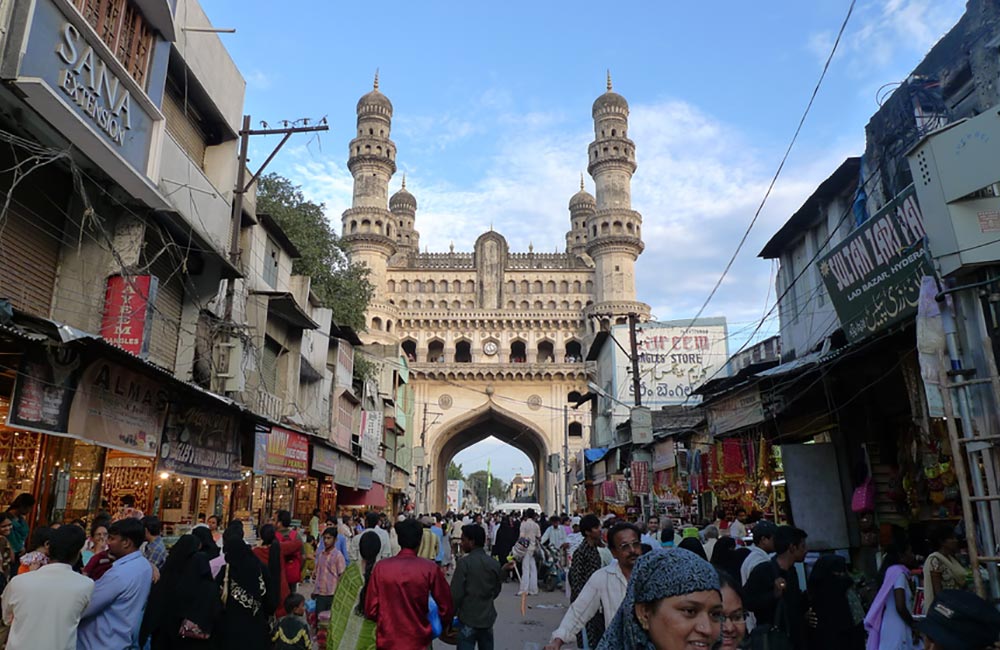 Often called the heart of Hyderabad, the Charminar area is where you can soak in the scenes and smells that best depict its matchless vibe. While here, don't forget to shop for pearls, bangles, duppattas, etc. at the bustling Laad Bazaar aka Choodi Bazar. You can also binge on the famous Hyderabadi Dum Biryani and other delicacies at the street food joints dotting the area.
Where to eat
Nimrah Cafe and Bakery
Akbar Fast Food Corner
Pista House
Shadab Hotel
Shah Ghouse
Agra Sweets
Matwale Doodh Ghar
Kebab-E-Jahangiri
Before you call it a day, head out to the Hussain Sagar Lake to witness the romantic side of the city.
By road: 25 minutes' drive
7.00 pm onwards: Soak in the beauty of Hussain Sagar Lake, explore nearby attractions, and end your day with a lavish dinner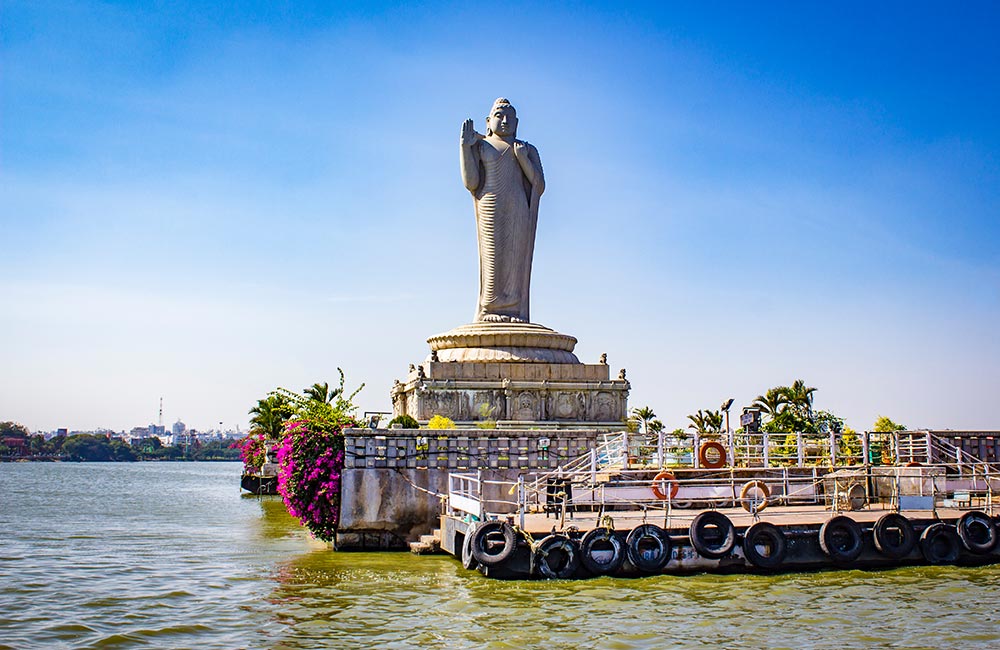 Hussain Sagar Lake, one of the top picnic spots and the most popular lake in Hyderabad, has a towering statue of Lord Buddha in its center. After spending some moments enjoying the stunning view of the lake, proceed to explore nearby attractions.
What to do
Take a ferry ride to the Lord Buddha statue
Enjoy laser show at Lumbini Park
Drive down the Necklace Road
Tired, aren't you? Bring an end to your day with a relaxing dinner at one of the nearby restaurants.
Where to eat
The Water Front
Amogham Lake View
Tansen
Ohri's 70 mm
By the Bay
Many of these places also offer alcohol, just in case you want your favorite poison to unwind after a long day! Once done, get back to your room and rest well so that you wake up energized for another day of sightseeing.
DAY 2
8.30 am – 9.30 am: Start your day with a leisurely breakfast at Café Niloufer
Start your second day in the City of Pearls with a leisurely breakfast at Café Niloufer. The café serves a host of freshly baked breakfast items, among which Osmania Biscuits, Irani Chai, and Malai Bun are crowd pullers.
Timings: 4.30 am to 12.00 midnight; every day
Now that you are fueled up, proceed to your first stop on the second day – the magnificent Chowmahalla Palace.
By road: 20 minutes' drive
10.00 am – 12.30 pm: Capture the magnificence of Chowmahalla Palace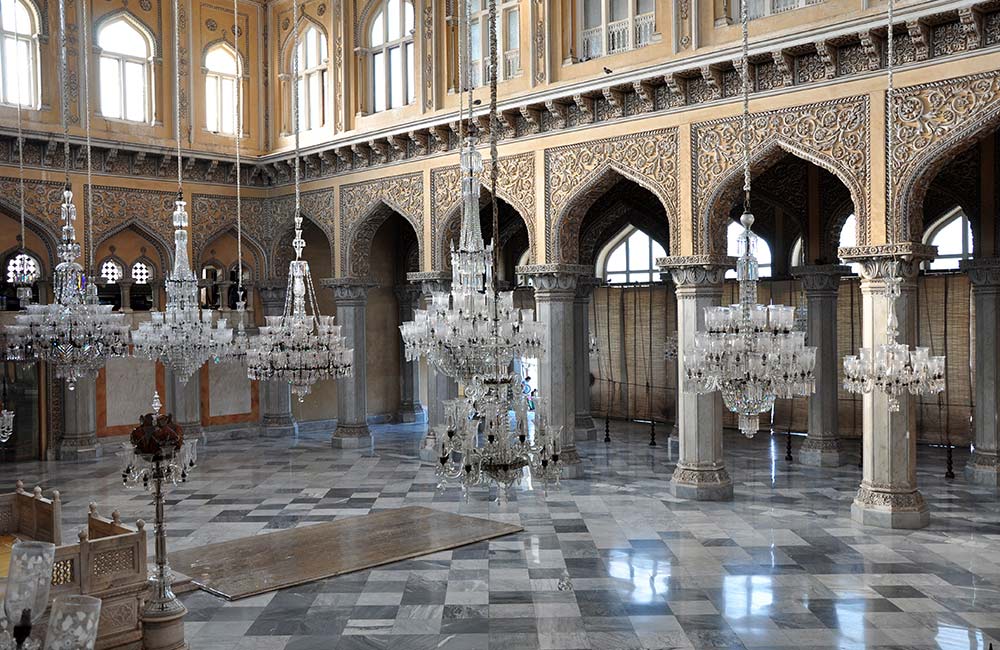 The grand Chowmahalla Palace once served as the administrative center cum residence of the Nizams. Spread over 12 acres of land, the structure includes two courtyards, fountains, gardens, and a darbar hall with a raised marble area that once served as the royal seat. While here, you can shop for some showpieces at the souvenir shop located within the palace complex.
Timings: 10.00 am to 5.00 pm; closed on Fridays
Entry Fee: ₹ 10 for kids (below 12 years); ₹ 80 for Indian adults; ₹ 200 for foreigners; ₹ 50 for photography; ₹ 200 for videography
Your next stop is Mecca Masjid, another structure showcasing the architectural legacy of Hyderabad.
By road: 5 minutes' drive
12.45 pm – 2.30 pm: Take a tour of the majestic Mecca Masjid followed by lunch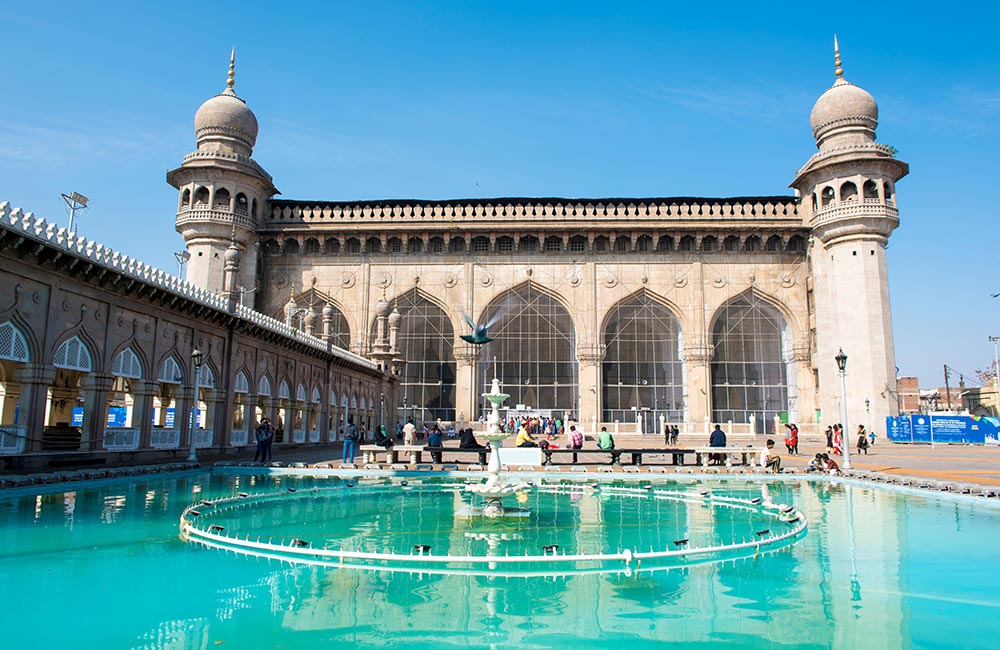 One of the largest and oldest mosques in India, this 17th-century masjid is a fine blend of architectural beauty, exquisite design, and intricate motifs. The central arch of the mosque was built using bricks made of soil sourced from the holy land of Mecca.
Timings: 4.00 am to 9.30 pm; every day
Entry Fee: Free
Once you are done exploring this wonderful structure, it's time to enjoy the culinary delights of Hyderabad at one of the nearby restaurants.
Where to eat
Taj Restaurant
Hotel Shadab
Hotel Nayaab
Lee's Chinese Restaurant
Next, how about checking out Purani Haveli, another historical structure where more of the Nizams legacy awaits you?
By road: 15 minutes' drive
2.45 pm – 4.30 pm: Stroll through Purani Haveli and the Nizam's Museum
The spellbinding Purani Haveli, which was the erstwhile residence of the Nizams, showcases the timeless beauty of European architecture. Make sure to explore the Nizam's Museum at the palace where you can find many exhibits including the sixth Nizam's wardrobe, which is the largest one of its kind in the world.
Timings: 10.00 am to 5.00 pm; every day
Entry Fee: ₹ 100 for adults; ₹ 15 for kids
Now, it's time to take a short break from history and seek nirvana at the Birla Temple, one of the must-visit temples in India.   
By road: 15 minutes' drive
4.45 pm – 6.00 pm: Spend some serene moments at the stunning Birla Temple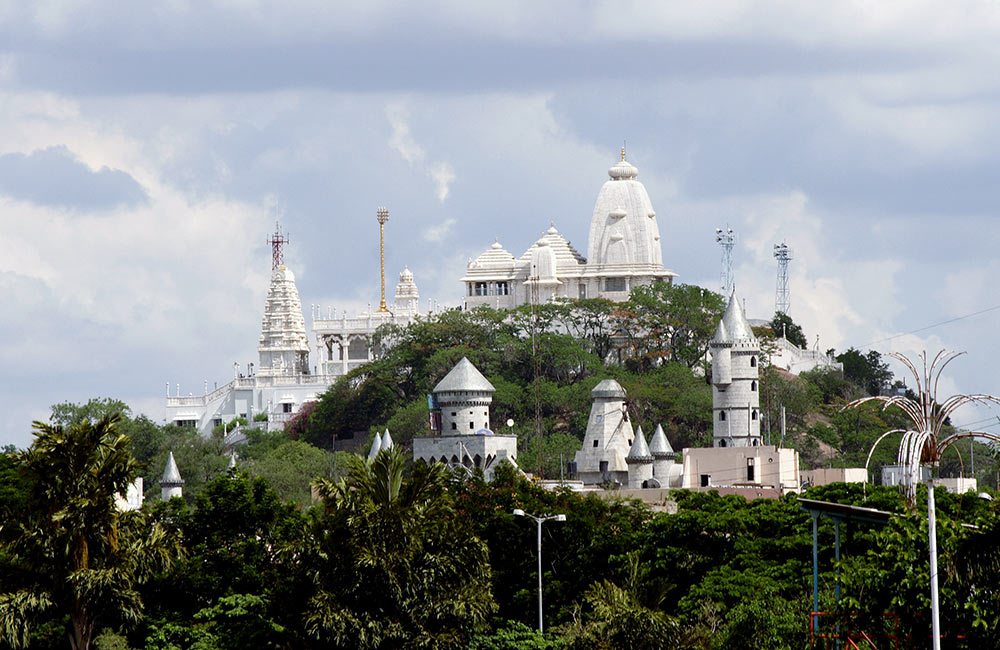 Located on a green hill, the white structure of the Birla Temple draws instant attention and offers a breath-taking view of the surroundings. The architecture of the temple showcases a blend of South Indian and North Indian styles.
Timings: 7.00 am to 12.00 noon; 3.00 pm to 9.00 pm; every day
Entry Fee: Free
Next, how about going on a guilt-free shopping spree at a local market in Hyderabad? The good-old Begum Bazar must be your next stop.
By road: 15 minutes' drive
6.30 pm onwards: Shop at Begum Bazar followed by a scrumptious dinner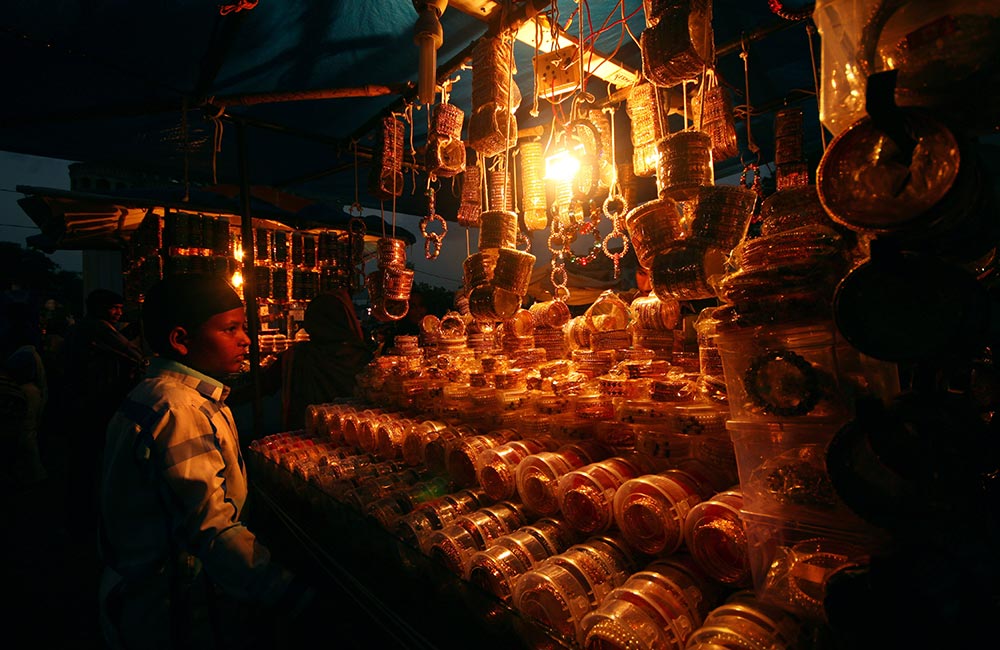 Begum Bazar is one of the oldest and largest shopping hubs in the city. You will find all kinds of items here but the market is mainly known for Bidri-studded jewelry and Bidriware.
Timings: 10.00 am to 11.00 pm
Once you are done shopping, proceed to a nearby restaurant and have a scrumptious dinner to mark a happy end to your Hyderabad trip.
Where to eat
Hotel Rajdhani
Hotel Mansingh
Hotel Tara International
New Santosh Dhaba
After relishing some delicious authentic Hyderabadi delicacies for dinner, retire to your room/head to the airport with a bunch of happy memories.