A bustling city, situated in western Madhya Pradesh, Indore can easily be called the financial capital of the state. The city is known for its impeccable local cuisine, its innumerable temples, as well as its friendly people. Awarded as the cleanest city for two consecutive years, it is one of the most immaculate destinations in India. What makes it a centre of attraction for hundreds and thousands of tourists from across the nation, and the world, is the fact that this city is a melting pot of religions, cultures, cuisines and trades!
Of course, you will face crowded spots, especially at places of worship and indigent traffic conditions on some roads, but consider that as a small price that you pay in exchange for some exemplary experiences. So, if you are planning to visit Indore any time soon, here is a list of major attractions in the city, as well as outing places near Indore you ought to explore.
Places to Visit near Indore within 50 km
Rajwada
A seven-story historic fort, Rajwada once acted as the residence of the Holkars and now serves as a tourist spot. Constructed in the year 1749, under the aegis of Malhar Rao Holkar, this palace finds a place in the heart of the old city. Flaunting French, Maratha and Mughal architectural styles, with a magnificent courtyard or chowk in the centre, complete with a majestic garden in the front that houses the statue of Queen Ahilyabai!
When visiting here, try to reach the place during the time of the Light and Sound Shows hosted by the fort. Voiced by the revered actor Amitabh Bachchan, this show illustrates the history of the palace as well as of the city of Indore in a spectacular way!
Trivia:  The city of Indore is also known as Ahilyabai Nagari, in honour of the queen.
Distance from Indore: This heritage fort lies right in the city's centre.
Timings:
For Visiting the Fort – 10:00 am to 05:00 pm
For the Light and Sound Show – 06:30 pm for Hindi and 07:45 pm for English.
Price: Entry ₹ 10 per person. You can expect to pay ₹ 200 per person if you go for the Light and Sound Show
Sarafa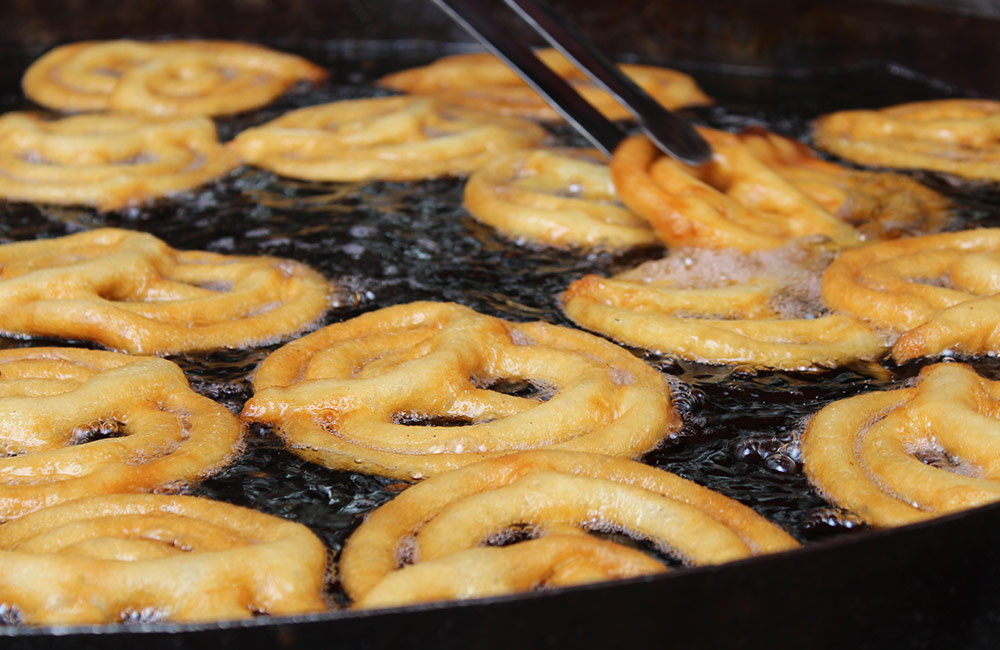 If you wish to taste the local cuisine of Indore in a rogue way, Sarafa is the best place to be! Once the hundreds of jewellery shops pull their shutters down and call it a day, the street food market of the city comes to life. Offering some unique culinary delights such as dahibada, bhutte ka kees, sabudana khichdi, chole-tikiya, and the best of sweets including jaleba, malpua, rabdi, and special mango ice-cream amongst tens of other delights that you can relish. Being a street-food market, this place will serve all that you can devour for the price of peanuts. 
Distance from Indore: Located in the city centre, this is right next to the fort of Rajwada.
Timings: 09:00 pm to 01:00 am.
Chappan Dukan
While the name suggests that it might be a shop, Chappan Dukan is essentially a street lined with tens of shops offering the best of Indori cuisine. Right from the quintessential Poha-Jalebi to the scrumptious Johny Hot Dog (which is nothing but a burger!), from the delightful Jodhpuri Kachori to the luscious Shikanji, from the coconut and potato wonder called Patties to lip-smacking momos, this place will offer you everything that you could possibly eat, and how!
Distance from Indore: This small market is situated well within the centre of the new city, and is conveniently approachable.
Timings: 08:00 am to 11:00 pm.
Lalbagh Palace
A historical site built by the Lords of the Holkar Dynasty, the Lalbagh Palace sprawls over an area of 72 acres. Known for once having some spectacular rose gardens, the palace still houses a magnificent statue of Queen Victoria. Constructed over a span of 35 years, the architectural style of this palace draws inspiration from the European, Baroque, Palladian as well as Renaissance. Your visit to this mansion will leave you spellbound with its antique furniture, murals, chandeliers, and even drapes. What makes it more wondrous are the figures sculpted in accordance with Greek and Latin mythology!
Distance from Indore – It is situated at a distance of about 4 km from the old city centre.
Price – Entry ₹ 2 per person
Timings – 10:00 am to 05:00 pm
Patalpani
The vertical waterfall that Patalpani is, makes for a perfect picnic spot, especially if you are visiting the city during monsoons. The gushing waters fall from a height of approximately 50 metres offering a unique spectacle. Surrounded by stunning hills in a lush green blanket, this adventurous spot is one of the best places to visit in Indore with friends. While you must devour the majestic beauty that this place has to offer, you ought to keep yourself safe from the water as it is notorious for its heavy flow.
Trivia: Patal is the Hindi world for Netherworld (hell). The place is named so because it is considered that the water that flows here extends to the invisible underworld.
Distance from Indore: 33 Km
Price: No entry fee, though you may need to pay toll charges on the way!
Timings: 7:00 am to 07:00 pm
You can find many hotels in Indore that provide you easy to these places, so make you check out a few options before booking a room.
Places to Visit near Indore within 100 km 
Janapav Hill
This is essentially an unexplored gem which makes for an amazing getaway. With a scenic drive that takes you to this place, complete with a stunning greenery that surrounds it, Janapav is a must-visit attraction. Ideal for those who love a moderate trek that lasts for a couple of hours, this place will leave you spellbound, not just for its beauty, but also for its historic significance. The birthplace of Parshuram, the sixth avatar of Lord Vishnu as well as the source of the River Chambal, Janapav deserves your time and attention!
Distance from Indore: 45 Km
Timings: It is recommended that you visit the place during daylight. You should keep aside a span of 3-4 hours for your trip to Janapav Hill. 
Ujjain
A visit to Indore is incomplete without visiting the astoundingly revered city of Ujjain. Home to one of the 12 jyotirlingas of India – the Mahakaleshwar, this city is known for its umpteen temples including but not limited to, Mangalnath temple, KaalBhairav temple, GadhKalika and Harsiddhi temples amongst many others. One of the 7 holiest cities in India, you ought to visit Ujjain to experience a divine charm like none other.
Distance from Indore: 55 Km
Omkareshwar
Situated on the banks of the Holy river of the Narmada, or Ma Rewa as it is locally called is the stunning temple of Omkareshwar. Noted as one of the 12 Jyotirlingas of the nation, this temple is revered by people from all across the nation! Flooded by hundreds and thousands of devotees in the Hindu month of Saavan, this abode of Lord Shiva is as majestic as you can imagine it to be.  What adds to the charm of this pilgrim sight is the scenic beauty that surrounds it, and the mystical vibe that it exudes.
Distance from Indore: 80 Km
Timings: 05:00 am to 10:00 pm 
Price: While there is no entry fee, you will have to pay for transportation to the temple, which can be done either via local buses or cabs from Indore 
Mandu
Also known as the 'Fort City', Mandu offers a memorable trip to the glorious heritage that it houses. Celebrated for its awe-inspiring architecture and sweeping views, this little town is bound to leave you mesmerised with its many sights including the iconic Jahaz Mahal, and the majestic Rani Roopmati Mahal, which is an architectural marvel in itself. Some of the other attractions that you must visit when here, include the Hindola Mahal, the tomb of Hoshang Shah as well as the Baaz Bahadur Palace.
Trivia: The tomb of Hoshang Shah is known to have inspired the construction of Taj Mahal.
Distance from Indore: 95 Km
Price:
          For Roopmati Pavillion – ₹ 5 per person for Indians and ₹ 100 per person foreign tourists.
          For Jahaz Mahal – ₹ 5 per person for Indians, ₹ 100 per person foreign tourists, and ₹ 25 for carrying video                  cameras.
Timings: 07:00 am to 07:00 pm
Maheshwar
This is one of the most picturesque places to visit near Indore within 100 km. Situated near the holy river of Narmada this place is not only known for its architectural brilliance but also its spiritual charm. Home to Queen Ahilyabai Holkar, this town houses her fort as well as a palace complete with innumerable temples. To add to the inexplicable splendour of this wondrous little town are the pristine ghats by the river, which offer a sight that you will remember in the years to come.
When here, don't forget to take a look at the exquisite Maheshwar Sarees and fabric, crafted to perfection with the local looms.
Distance from Indore: 95 Km
Price – Free of cost, though you will need to pay for your transportation.
Timings – 10:00 am to 05:00 pm
Phew! That looked like a long list, but if you manage to include even a few, if not all, of the above-mentioned attractions, your trip to the city of Indore will become a memorable one. Given that the city experiences hot and dry summers, we would suggest that you plan your trip in the months of July to February, in a bid to make the most of your sojourn!