Not just at hill stations and beach heavens, there are many perks of holidaying in a metropolitan city too  – there is much to see, it is easy to reach and get around, and there are many great options for accommodation and eating out. And while saying this, New Delhi and Mumbai are probably the first places that come to mind. While these cities are similar in many ways, certain things make them different and unique, like the culture, climate, food and tourist attractions. However, it won't be wrong to say that both cities are equally amazing and promise a comfortable and memorable holiday every time. If you are finding it tough to decide between Delhi and Mumbai for your next trip, this guide can help you.
Delhi or Mumbai Sightseeing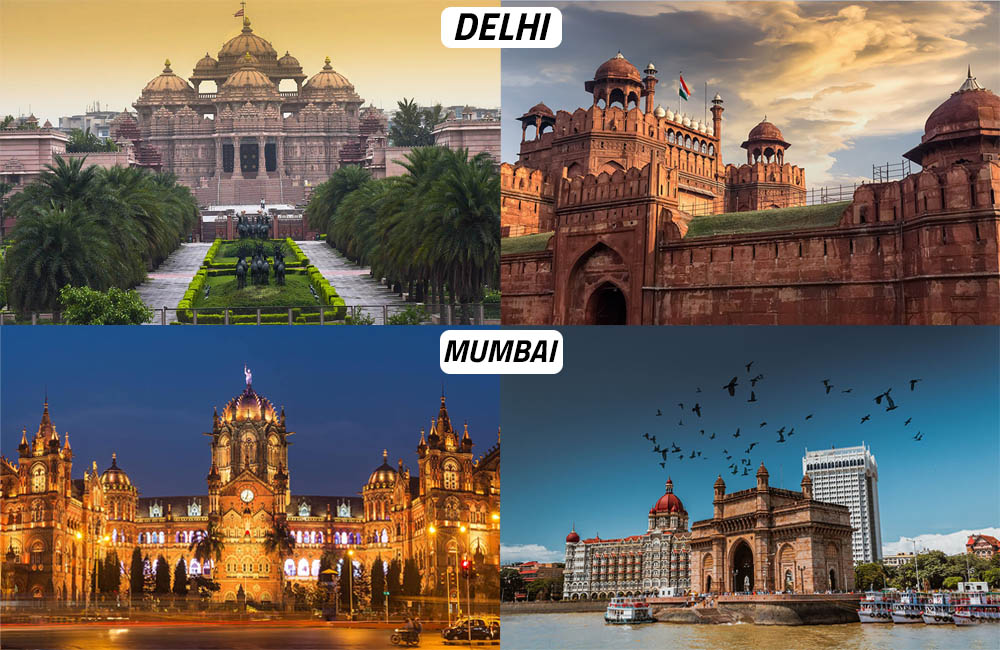 Both Delhi and Mumbai are home to some iconic attractions that draw tourists from far and wide. While the capital city of India has monuments showcasing brilliant Mughal architecture, the monuments in Mumbai boast Gothic, Victorian, Indo-Saracenic and contemporary architectural styles. Also, Mumbai is famous for Bollywood tours, beaches, coastal drives and street food, while Delhi is more popular for its rich history and culture, local cuisine, winters and shopping tours.
So, if you are a beach lover or a Bollywood fan, you can pick Mumbai for your next vacation. The city is popularly known as the entertainment capital of India as the biggest film industry in the world, Bollywood, is in Mumbai. When exploring the city, you can also spot some celebrities and their luxurious houses. Here are some popular places to visit in Mumbai for different types of tourists:
Juhu Beach: This long and popular beach in Mumbai attracts beach-lovers and foodies alike. Besides taking a dip in the water, you can explore the food stalls here and enjoy some lip-smacking street food, such as vada pav, pani puri, bhelpuri, missal pav, pav bhaji, idli, dosa and more. The area near the beach is home to many celebrities, so you might even catch a glimpse of some of them jogging on the beach during the morning hours.
Gateway of India: Built in 1924, this imposing structure showcasing Indian, Western and Arabic architectural styles, is a popular attraction. You can take a ferry ride from here to view the monument from the sea as well as reach other nearby attractions, such as Elephanta Caves and Alibaug. What's more, the area around Gateway of India is peppered with some of the best eateries and hotels in Mumbai.
Marine Drive: One of the most popular places in Mumbai, Marine Drive is frequented by those looking to take a leisurely stroll by the sea, watch the sunset or spend some serene time alone or with a loved one. The place looks amazing at night as well when the entire coastline lights up.
Bandra Worli Sea Link: A long drive along the Bandra Worli Sea Link is one of the best things to do in Mumbai. This architectural marvel extends across the arc of Mumbai's coastline and looks particularly stunning at night when it is lit up.
Museums: Mumbai houses many amazing museums and art galleries that are frequented by tourists and locals alike. Some prominent ones are Jehangir Art Gallery, RBI Monetary Museum, Dr Bhau Daji Lad Museum and Nehru Science Centre.
Amusement Parks: If you are looking to spend some fun time with your near and dear ones, you can visit Water Kingdom, Suraj Water Park, Tikuji-ni-Wadi, EsselWorld and Snow Kingdom in Mumbai.
Other attractions: The city is also dotted with some important religious sites, such as Shri Siddhi Vinayak Ganpati Temple, Haji Ali Dargah, Shri Mahalakshmi Temple, Mumba Devi Temple and Babulnath Temple. Other prominent places to visit in Mumbai are Sanjay Gandhi National Park, Maharashtra Nature Park, Kanheri Caves, Dadar Chowpatty, Girgaum Chowpatty, Aksa Beach, Gorai Beach and more.
Now, let's take a look at what Delhi has to offer. It is a wonderful holiday destination for history and architecture lovers. The following places add to the charm of the city and make it a must-visit:
Red Fort: Built by Shah Jahan in the mid-17th century, this historic fort made of red sandstone is now a monument of national importance. Red Fort is the place where the Prime Minister of India hoists the country's flag on 15th August every year.
India Gate: Dedicated to the soldiers who died in the 1st World War and Anglo-Afghan War, India Gate is a war memorial and an iconic monument in the city. The prestigious Republic Day Parade is held in front of India Gate on 26th January every year.
Qutub Minar: Boasting a height of 73 metres, Qutub Minar is the tallest brick minaret in the world. It was built in the 13th century and is popularly known as a victory tower. The minar has five storeys and is done up with marble and red sandstone. This prominent historical attraction in Delhi is also a UNESCO World Heritage Site.
Humayun's Tomb: Built in the 16th century by Humayun's first wife Hamida Banu Begum, in memory of her husband, Humayun's Tomb is one of the main attractions in Delhi. The mausoleum boasts a delightful combination of Mughal architecture with Persian elements. The tomb features on the list of UNESCO World Heritage Sites in India as well.
Purana Qila: Located on the banks of River Yamuna, Purana Qila is a prominent tourist hotspot in Delhi. It was built in the 16th century and is counted among the oldest forts in the city. The structure showcases impeccable Mughal architecture with gates and bastions adorned with blue and white marbles. The lush green lawn adds to the beauty of the fort and makes it a must-visit.
Wildlife Sanctuaries: Wildlife lovers visiting the city must explore Asola Bhatti Wildlife Sanctuary, Deer Park, Sanjay Van and Aravali Biodiversity Park.
Other attractions: Other places to visit in Delhi are Rashtrapati Bhawan, Raj Ghat, Garden of Five Senses, Mughal Gardens, Lodhi Garden, Kingdom of Dreams, Lotus Temple, National Museum, Indira Gandhi Memorial Museum, KidZania and more. The city is also a hub for shopaholics, foodies and nightlife-lovers.
Delhi or Mumbai for Couples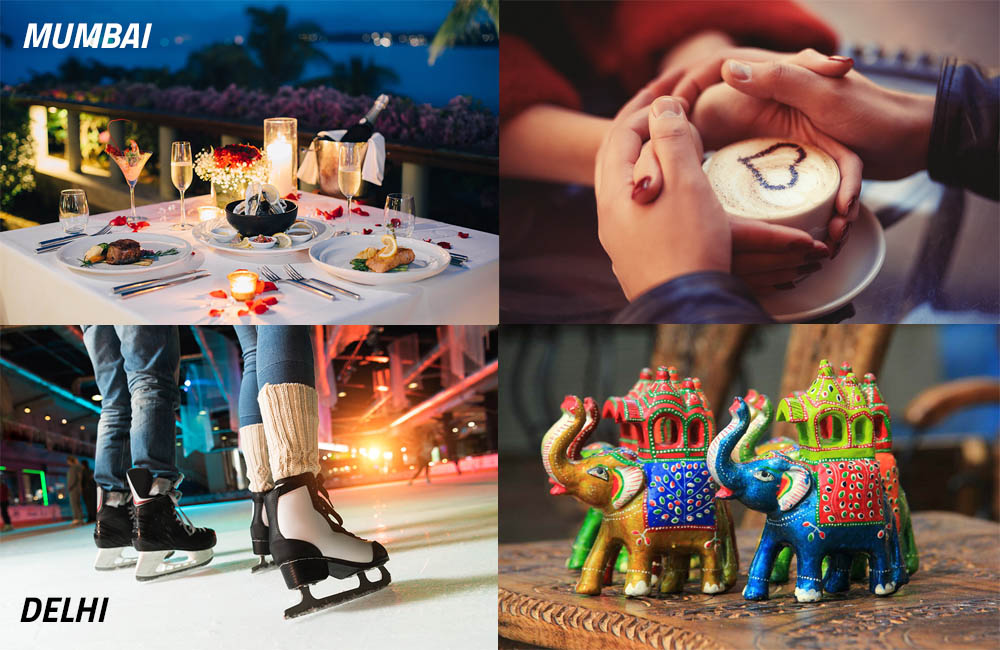 Couples planning a vacation but confused between Delhi and Mumbai must spend some time to compare these destinations before zeroing in on one.
For instance, if you and your partner love beaches and sunrise, Mumbai is a better option. Being a coastal city, Mumbai has many beaches where you can spend some quiet time with each other and enjoy a range of lip-smacking street foods. You can also take a walk on the promenade of Marine Drive, visit Bandra Bandstand and watch a play at Prithvi Theatre. Hanging Gardens, Chhota Kashmir and Victoria Gardens are also some peaceful and beautiful places for couples. And that's not all, Mumbai boasts a lively atmosphere and is known for high-end shopping, vibrant nightlife, luxurious restaurants and hotels, and stylish boutiques. It is undoubtedly the 'City of Dreams' or 'Mayanagri' that will transport you to another world altogether. And if you are planning a long vacation, you can visit Lonavala, Khandala, Mahabaleshwar, Panchgani and other popular hill stations near Mumbai.
On the other hand, if historical spots fascinate you and your partner, there are many such places to visit in Delhi as a couple. The city has many monuments dating back to the Mughal era as well as places of national importance, like Red Fort, Parliament House, India Gate, Purana Qila, Tughlakabad Fort and more. Delhi is also a treat for foodies, nightlife lovers and shopaholics. And that's not all, Delhi has many art galleries, museums, parks and other attractions as well that you can explore based on your preferences.
Delhi or Mumbai for Shopping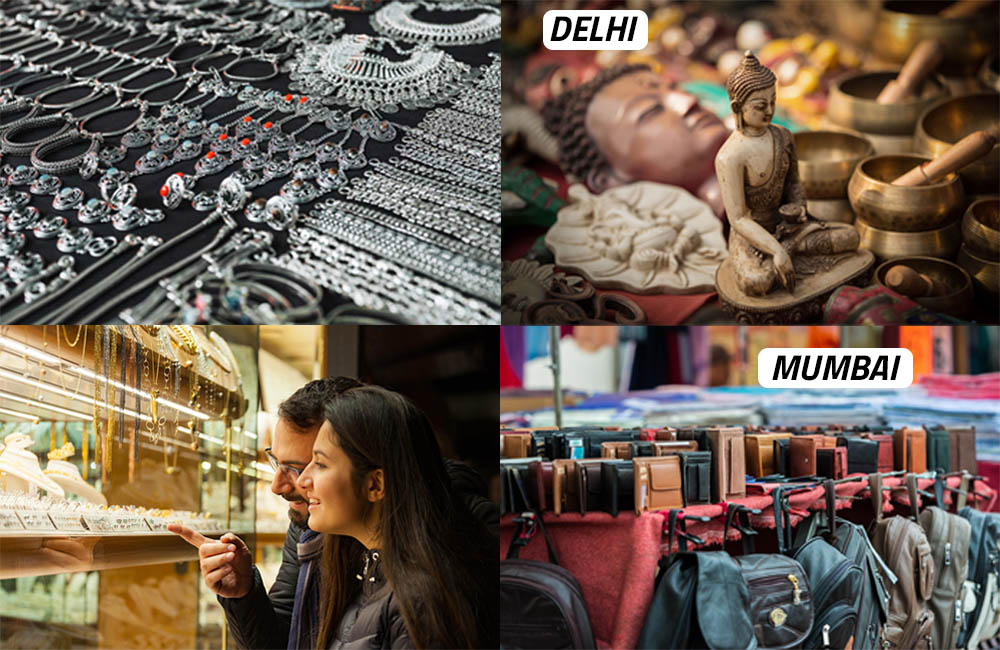 Both Delhi and Mumbai have plenty of options for shopaholics. From local products to international brands and designer labels, you will find almost everything in these metro cities. Although it is difficult to choose between the two, here are certain points that you can keep in mind.
From vibrant bazaars, flea markets and wholesale markets to boutiques and huge malls, Delhi has it all. Janpath Market, Chandni Chowk, Sarojini Market, Dilli Hatt, Palika Bazaar – there are many such vibrant bazaars in Delhi selling a range of products at economical rates. And if you prefer shopping in malls, Delhi has some of the best malls selling branded products from around the world. Select City Walk, DLF Emporio, DLF Promenade, Ambiance Mall and Pacific Mall are some of the many shopping malls in the city.
When it comes to retail therapy, Mumbai has its own appeal too. The city is a shopper's paradise with many bazaars and street markets brimming with a wide selection of products. You can shop till you drop at Colaba Causeway Market, Zaveri Bazaar, Dadar Flower Market, Linking Road Street Market, Crawford Market, Lalbaug Market and so on. Mumbai is peppered with many malls as well, including Phoenix Market City, Inorbit Mall, Infiniti Mall, Oberoi Mall, Palladium and Korum. From branded apparel and footwear to trinkets and leather goods, you will find almost everything in these malls.
Delhi vs Mumbai – Best Time to Visit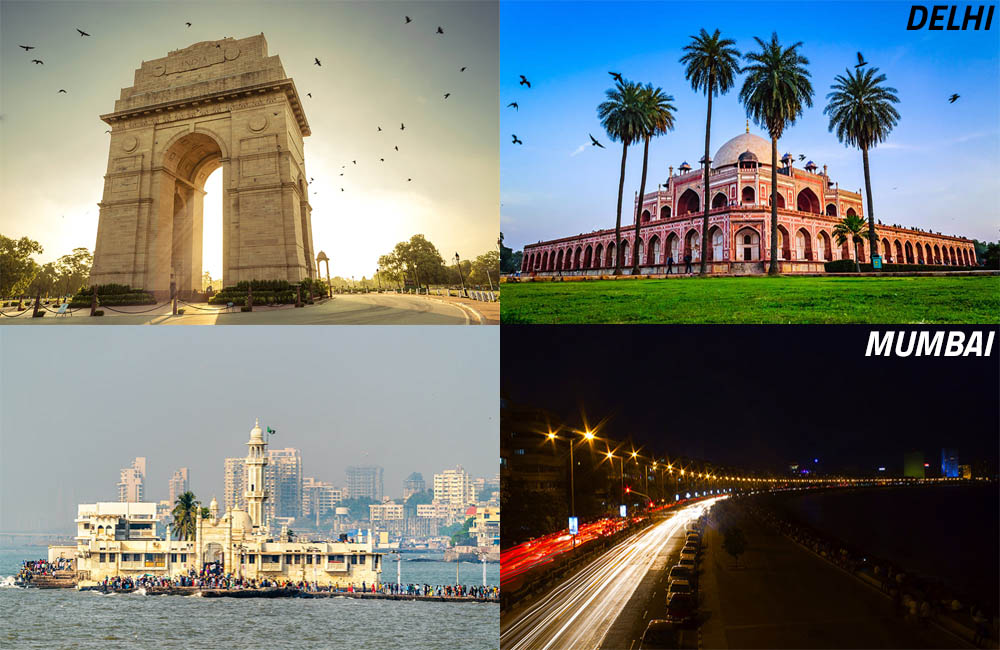 Delhi experiences scorching summers and bone-chilling winters. Hence, the best time to visit the capital city of India is from October to mid-December and February to March. Although mornings and evenings can be a bit chilly, the gentle sunlight all through the day makes city tours a breeze. Delhi also hosts many music, film, drama and literature festivals during the winter season. What's more, you can go for some amazing Christmas and New Year's Eve events and parties in the Delhi-NCR area. Monsoon is also a good time to visit Delhi when the temperature drops considerably. The parks and gardens in the city look lush green and beautiful during this time. The hotels in Delhi are also relatively cheaper during monsoon.
On the other hand, being a coastal city, Mumbai experiences very hot summers and pleasant winters. Therefore, the best time to visit Mumbai for a comfortable holiday is during the winter season, i.e., from November to February. The weather is moderate during this time of the year, so you can explore the city comfortably. From street shopping and exploring tourist attractions to enjoying delectable street foods and spending time on the beach, there are so many things to do in Mumbai during the winter season. If you are planning a trip around Christmas and New Year, you can attend some amazing parties and events in the city as well. Mumbai is good to visit during the monsoon season as well when the entire city looks green and refreshed. However, heavy rains and waterlogging can prevent you from making the most of your trip.
Delhi or Mumbai – Which City to Choose for Holidaying?
If you prefer a coastal destination with plenty of shopping options, good food and luxurious hotels, you can pick Mumbai. On the other hand, if you are a history and architecture buff who loves exploring ancient monuments, you must plan a trip to Delhi. The capital city of India is great for shopping and dining as well. And if you love street food, you must know that Mumbai is famous for vada pav and missal pav, while Delhi is known for delectable chaats, chole bhature and parathas. When it comes to accommodation, there are plenty of hotels in Mumbai and Delhi, and you can easily find one as per your requirements and budget. However, wherever you plan to go, make sure you book flight tickets and hotels rooms in advance for easy availability and attractive deals.