About to visit Indore for the 'n'th time and don't know what to do in the city apart from the usual sightseeing, late-night binging and shopping? Why don't you try something unusual this time, say a picnic?! No, I am not insane and I'm certainly not high. Going on a picnic is one of the best things to do in Indore, especially if you are a group of friends or have kids with you. There are many places within the city as well as nearby, where you can sit down with a basket full of home-cooked goodies and indulge in some bonding with your loved ones. Still don't believe me? Then, check-out our recommendations on the most popular picnic spots near Indore:
Picnic Spots in Indore
1. Pipliyapala Regional Park, Indore
Pipliyapala Regional Park has everything you would want in a picnic spot in Indore — lush lawns, trees, lots of fun attractions and even a large lake. Occupying a huge area of around 120 acres, the park also has a long canal with bridges that serve as excellent photography spots. Then, there is a Mughal-style garden, a maze of creepers and bushes, an artists' village, boating facilities and a mini-cruise ship with an on-board restaurant. If you come here during the day, stick around till the sun sets, because that is only when the incredible musical fountains operate.
Timings: 11:00 am to 9:00 pm
Entry Fee: ₹ 25 (adults); ₹ 10 (children)
2. Kamla Nehru Prani Sangrahalay, Indore
Kamla Nehru Prani Sangrahalay or simply the zoo is arguably among the best places in Indore to visit with children, so make sure you take them here on a picnic. The zoo has several types of animals like eagles, vultures, owls, tigers, monkeys, pelicans, leopards, Himalayan black bears, striped hyenas, golden jackals, bats, sambar deer and foxes. Your children would learn a lot about wildlife in a single day of being here. For more fun, there are buggy, elephant, pony and camel rides available.
Timings*:
9:00 am to 7:00 pm (March–June)
9:00 am to 6:00 pm (July–February)
*Closed on Mondays
Entry Fee: ₹ 10
Also Read: Historical places in Indore
3. Meghdoot Upvan, Indore
Another beautiful garden in Indore, Meghdoot Upvan is a great place for a relaxed family picnic. You can go for a little walk, feast your eyes on a variety of trees and colourful flowers, sit along water ponds and see the fountains in the evening. Plus, there are numerous swings and slides for kids to have a wonderful time, while the adults get some much-needed relaxation from their daily life.
Timings: 7:00 am to 7:00 pm
Entry Fee: ₹ 5 (Mon–Fri); ₹ 10 (Sat–Sun)
4. Sirpur Lake, Indore
Want to be close to nature while you enjoy a picnic? Then, Sirpur Lake is the best place for you, as here you can see a variety of birds. So bring your camera along. After years of neglect, the lake and surrounding area were revived by the government and declared an important bird area. Though the lake can be visited round the year, winters are considered the best time if you want to see the widest variety of birds at once.
Timings: 6:00 am to 7:00 pm
Entry Fee: Free
Best Time to Visit: November–February
Here is our blog on the most scenic lakes in Indore
5. Ralamandal Wildlife Sanctuary, Indore
If zoo is not your thing, but you still want to see animals, then no need to travel hundreds of kilometres, as Ralamandal Wildlife Sanctuary is just outside the city! It is home to an array of deer and an even larger variety of birds, both resident and migratory. Perhaps the best thing about this picnic spot in Indore is that you can take your own bike or car inside. Plus, there are also facilities for a camel ride. For those, who want to spend more than just a few hours in the lap of nature, a rest house provides accommodation.
Timings: 9:00 am to 6:00 pm
Entry Fee: ₹ 60
Best Time to Visit: November–February
Picnic Spots near Indore within 50 km
6. Tafreeh Agro Park
How about spending a day at a farm with lots of activities? Then, head straight to Tafreeh Agro Park, which is spread across 40 acres outside the city. With a vast expanse of fields with all kinds of crops growing, your eyes are soul is sure to get refreshed. There is even a lake here, on the banks of which you can sit and enjoy a memorable picnic. Owing to the many activities and attractions, the place is popular among groups of friends, families and even schools.
Distance from Indore: 8.6 km
Timings: 10:00 to 6:00 pm
Entry Fee: ₹ 200
Activities: Boating, bonfire, barbecue, rope bridge, rock climbing, zip lining
7. Patalpani Waterfall
Waterfalls make for excellent picnic spots, and Patalpani Waterfalls is among the best such places near Indore. Wondering why it is named 'Patalpani', meaning 'waters of the netherworld'? Because local legends claim that its pool is so deep that the falling water goes straight to the underworld! Apart from being mythically alluring, the waterfall is also utterly scenic, with hills, greenery and silence all around. You would love sitting nearby (may be just close enough so that the breeze brings some of the falling water towards you) and talking endlessly.
Distance from Indore: 29.2 km
Best Time to Visit: July–September
Also read our blog on all the breathtaking waterfalls near Indore
8. Kalakund
Not a lot of people know about Kalakund, so you can be assured of all the peace and serenity you want. About an hour's drive from Indore, Kalakund is a place known for its night camping and jungle trekking activities. The campsites here offer many other experiences, such as zip lining, twin rope walking, rappelling and even paintballing. Several team-building activities are also organised here, so if you are a company planning a corporate outing, you can easily have one here.
Distance from Indore: 31.4 km
Entry Fee: ₹ 200 onwards (depends on the agency and campsite)
9. Choral Dam
A little outside the city in the midst of nothing but silence and greenery is Choral Dam, a reservoir on the eponymous river. The dam serves as a perfect place to spend time with your girlfriend, boyfriend or husband/wife. Bring your packed picnic basket, spread that large sheet on the ground and just peace out. If you are in the city in summers, come here in the evening, and in winters almost the entire day is perfect for an intimate picnic.
Distance from Indore: 39.4 km
Best Time to Visit: October–March
Activities: Photography, paddle boating, speed boating
Check out our blog on all the amazing places to visit in Indore for couples
10. Janapav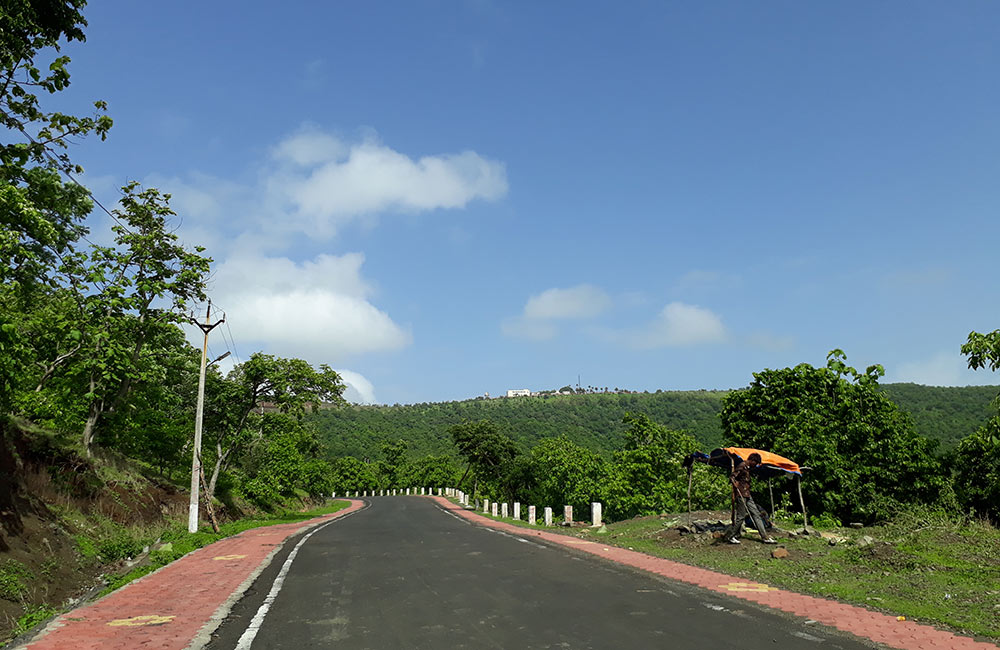 One of the best places to visit in Indore within 100 km, Janapav Hill has a twofold significance. First, it is said to be the birthplace of Parashuram, and second, it is a picturesque picnic spot near Indore. If you are having to visit the city in summers, this will serve as an ideal getaway from the scorching sun, as the entire area is enveloped in greenery. If you are up to it, you can even hike all the way to the top!
Distance from Indore: 45.9 km
Best Time to Visit: October–April
Picnic Spots near Indore beyond 50 km
11. Sailani Tapu
Spread across 5 acres near the town of Omkareshwar, Sailani Tapu or Sailani Island Resort is operated by the Madhya Pradesh Tourism Development Corporation (MPTDC). True to its name, the resort is situated on a secluded island on the Narmada River! Apart from lazing in its well-equipped rooms and dining at the multi-cuisine restaurant, you can also sit on the river bank and let your troubles disappear. To add to your experience, the resort offers several water-based activities.
Distance from Indore: 78.9 km
Tariff: ₹ 7000 per night onwards
Activities: Boating, surfing, cruise, sailing, fishing
Looking for more such exciting stuff? Then, read our blog on the most fun things to do in Indore
Still thinking that apart from shopping, dining and sightseeing, spending your day at your hotel in Indore is the only thing worth doing? Well, then head out to any of these places for the time of your life.