India is an exciting concoction of different cultures, traditions, practices, landscapes and architectural styles. Our country is not just famed for the countless attractions that get photographed by tourists every year, but also for being the birthplace of yoga. Different parts of India are peppered with yoga retreats and ashrams where enthusiasts flock from far and wide to pursue and achieve holistic wellbeing.
After all, yoga is an ancient form of exercise that helps improve strength, and flexibility, and balances the mind and body to promote feelings of calmness and positivity. Yoga originated in India around 1500 BC and is an important part of Indian culture. So, if you are keen to embrace it or find out more, check out the following yoga destinations in India. Whether you wish to learn the basics or hone your skills, these places are perfect for you to engage in this mental, physical and spiritual exercise.
1. Rishikesh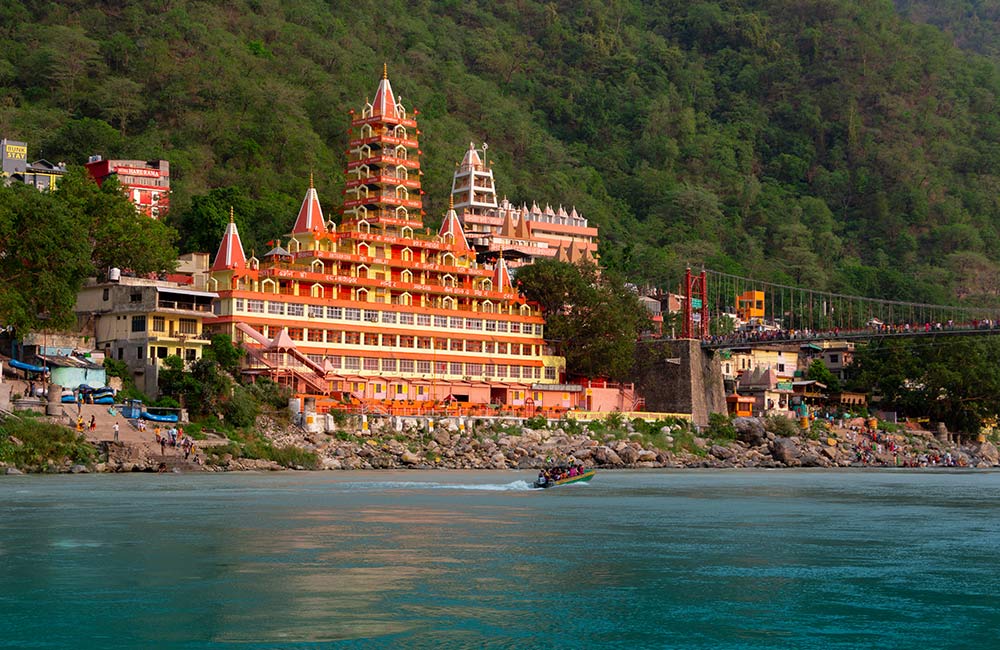 Popularly known as the Yoga Capital of the World, Rishikesh is one of the first places to visit if you are a yoga lover. This city in the northern state of Uttarakhand is nestled in the foothills of the Himalayas and brims with abundant natural beauty. Hence, the place creates the perfect setting if you are looking to connect with your spiritual side through yoga and meditation. River Ganga, which originates from the mountainous terrain and flows through Rishikesh, adds to the natural charm and serenity, making the place ideal for different spiritual activities.
If you are planning a yoga retreat, you can join one of the many yoga centres in Rishikesh to experience the magic of practising yoga in a serene, scenic and soothing atmosphere. The place offers many opportunities to learn yoga and meditation from experienced yoga teachers.
Best Yoga Centres and Retreats in Rishikesh:
Parmarth Niketan
Omkarananda Ganga Sadan
Sivananda Ashram
Sadhana Mandir
Yoga Niketan
Anand Prakash Ashram
Apoorva Yoga Academy
Himalayan Yog Ashram
 2. Auroville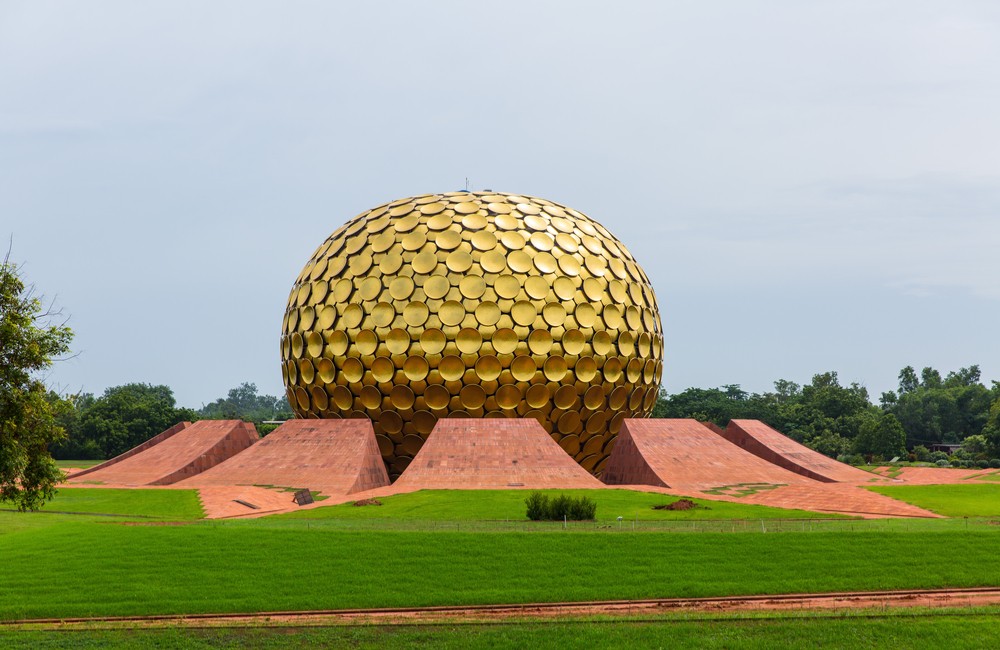 An experimental township in the Viluppuram district of Tamil Nadu, Auroville is one of the most peaceful and spiritual locations in India. The place is known for housing the revered Matrimandir or Temple of the Divine Mother. This large golden dome-shaped structure, which looks like something emerging out of the earth, symbolises the birth of new consciousness. If you are a spiritual seeker, the Integral Yoga developed by Sri Aurobindo and The Mother Mirra Alfassa, is one of the best transformational practices you can engage in.
Auroville is an ideal place to relax and rejuvenate your mind and body. Practising yoga and meditation in the peaceful environment here can help strengthen your physical and mental health and transform you inside out.
Best Yoga Centres and Retreats in and around Auroville:
Sancya Yoga, Auroville
Sri Maa School of Transformational Yoga, Auroville
Laboratory of Evolution, Auroville
Verite, Auroville
Ara Awareness Research Centre, Puducherry
Sita Cultural Centre, Puducherry
 3. Varanasi
Located on the left bank of the holy River Ganga, the historic town of Varanasi or Kashi is an amazing destination for yoga lovers. Apart from being home to the famous Kashi Vishwanath Temple, Shri Vishalakshi Mata Shaktipeeth Temple, Dashashwamedh Ghat and other religious sites, the town have many ashrams where esteemed gurus conduct traditional yoga classes. And if you want to learn modern and dynamic yoga poses, Varanasi has some good yoga studios as well.
Being one of the most prominent religious places in India for Hindus, Varanasi exudes a distinctive spiritual vibe that attracts pilgrims and peace-seekers from across the globe. Hence, practising yoga and meditation here is undoubtedly one of the best experiences for enthusiasts. In addition to learning yoga, you can immerse yourself in the traditions and culture of this holy town for a memorable experience.
Best Yoga Centres and Retreats in Varanasi:
Siddharth Yoga Classes
Yoga Training Centre
The Yoga House
Brahmavarchas International Yoga Academy
Art of Living Centre
Intl Yoga Training Ashram
Kashi Yog Sansthan
Shri-Shri Yog Dhyan Kendra
 4. Kerala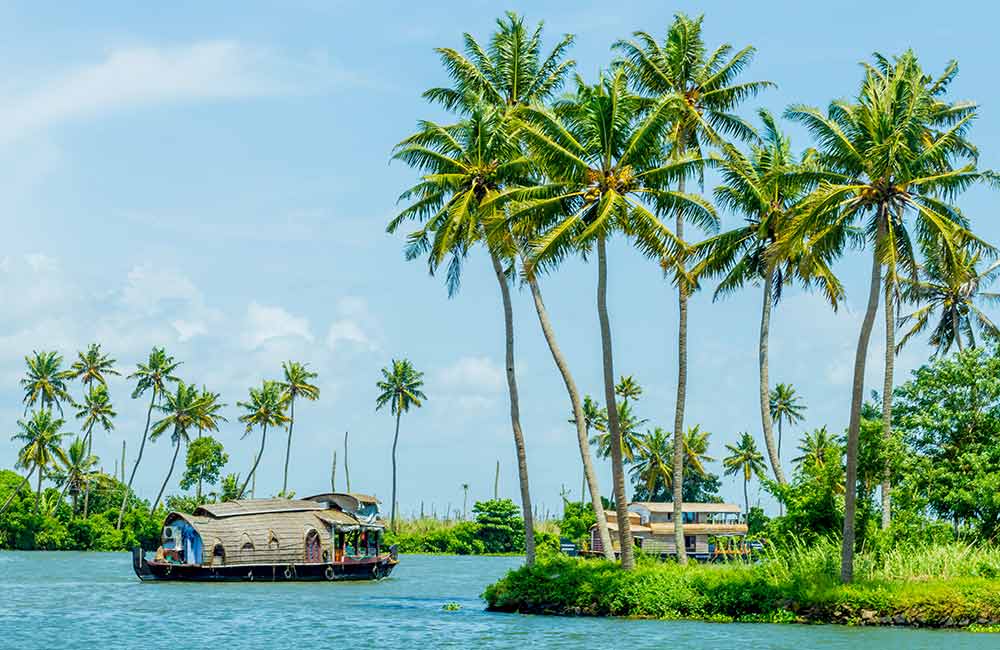 Known for its beautiful landscapes, beaches, houseboats and backwaters, Kerala is counted among the most popular tourist destinations in India. And if you are a yoga enthusiast looking to visit the best yoga destinations in India, make sure Kerala is on your list. The state's natural beauty and serenity play perfect hosts to yoga lovers and promise a memorable experience. Kerala is particularly known for a tantric form of yoga, which is a combination of Hatha yoga and a martial art form called Kalaripayattu. This practice helps boost your spiritual and physical powers.
If you are seeking inner peace and spirituality, you can stay in one of the many good yoga centres in Kerala and engage in some serious yoga and meditation amidst serene surroundings. The result will be a healthy and happy mind and body. What else can you ask for!
Best Yoga Centres and Retreats in Kerala:
Sivananda Yoga Vedanta Centre, Thiruvananthapuram
Sivananda Ashram, Thiruvananthapuram
Universal Yoga Consciousness, Thrissur
Uliyakoil Jawahar Balabhavan, Kollam
Jai Hind Kalari Sangham, Kottayam
Kaivalyam Wellness Retreat, Munnar
Abhijna School of Yoga and Meditation, Thiruvananthapuram
 5. Goa
Say Goa and these are the things that probably pop in your mind – beautiful beaches, vibrant beach parties, delectable seafood and endless street shopping. However, if you are a yoga enthusiast planning a serene and rejuvenating vacation in Goa, there are some renowned schools and retreats in the state for yoga and ayurvedic practices. Located on the golden sands of some popular beaches and surrounded by swaying palm trees, these yoga retreats in Goa are a wonderful combination of fun, natural beauty and serenity.
Apart from practising different asanas and meditating by the sea, you can engage in other activities like swimming and sunbathing. Many yoga retreats offer traditional ayurvedic treatments, massages and reflexology of hand and feet along with Satvik meals and other facilities. You can also take the help of yogis and gurus to learn about enlightenment and other such topics.
Best Yoga Centres and Retreats in Goa:
Ashiyana
Lotus Nature Cure
Purple Valley Yoga Retreat
Yoga Magic Eco Retreat
Bamboo Yoga Retreat
Little Cove Yoga Retreat
Preksha Yoga
Satsanga Retreat
Banyan Tree Yoga
 6. Dharamshala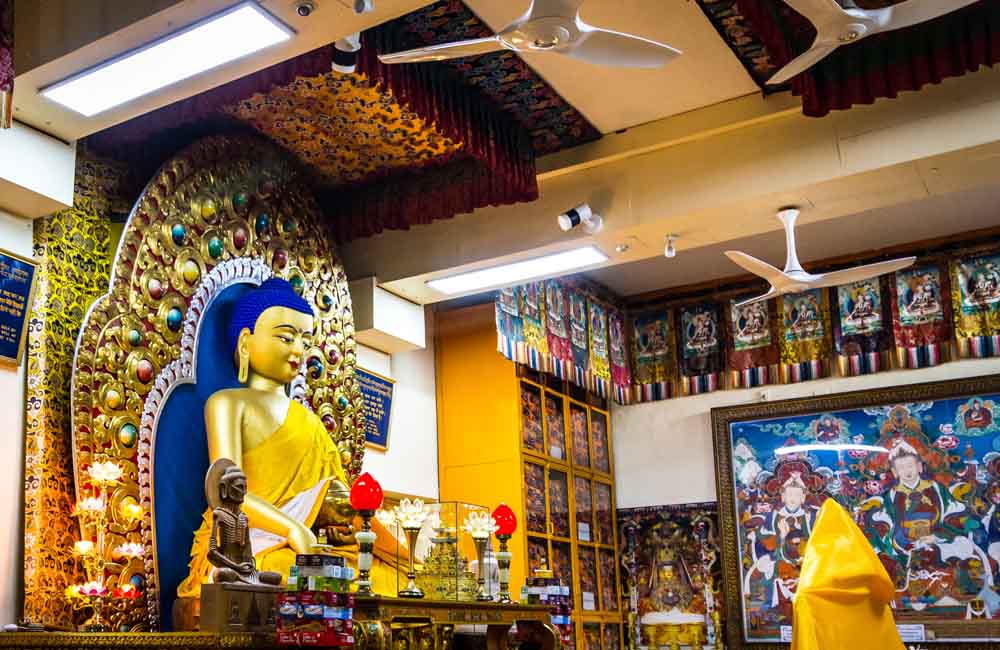 A picturesque hill station in the upper reaches of Kangra Valley in Himachal Pradesh, Dharamshala is yet another popular destination in India for yoga lovers. The place exudes serenity and even a short stay in one of the yoga and meditation centres here can be life-changing for you. This is what makes this scenic hill station a favourite among spirituality seekers and yoga enthusiasts. What's more, the beautiful surroundings create the perfect setting if you are looking to promote your physical and mental well-being through yoga and meditation.
Home to many Buddhist monks, including His Holiness the Dalai Lama, the place has a distinctive spiritual vibe and soothes the mind. Hence, practising yoga and meditation is a unique experience here. From drop-in yoga sessions to long-term classes, Dharamshala has a range of options for enthusiasts.
Best Yoga Centres and Retreats in Dharamshala:
Himalayan Iyengar Yoga Centre
Shiv Darshan Yoga School
Abhinam Yoga
Shree Hari Yoga
Sarvaguna Yoga
Raj Yoga School
Siddhi Yoga
NEO Yoga India
Om Yoga Ashram
 7. Wayanad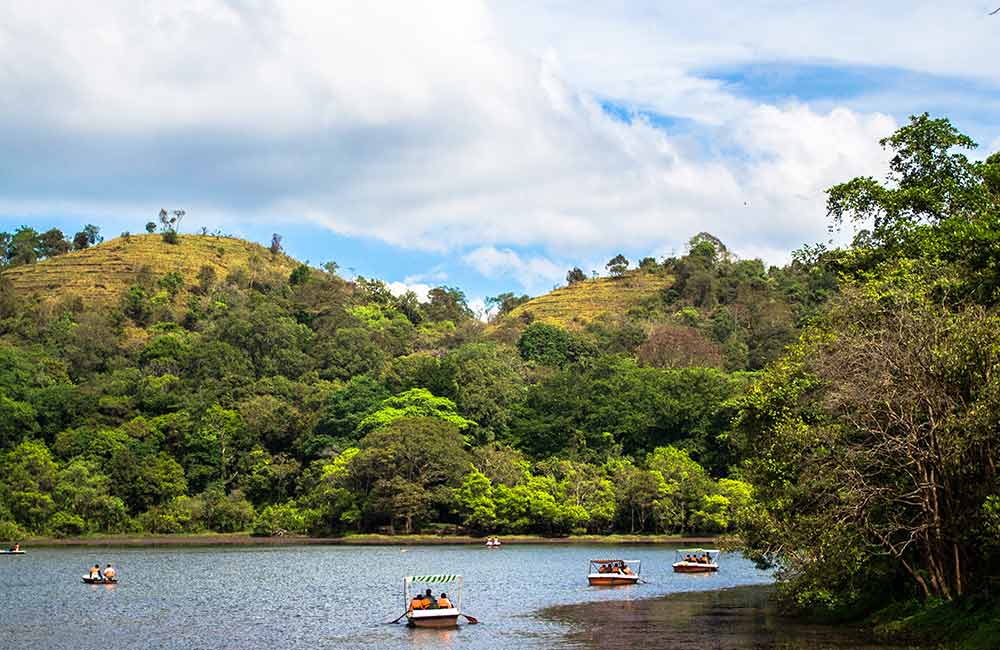 Nestled amidst the lush green mountains of Western Ghats, Wayanad is one of the most scenic and tranquil places in Kerala. This beautiful hill station offers the perfect atmosphere for yoga practices, meditation and spiritual awakening. The peace of the place is ideal if you are looking to connect with yourself, relieve stress and enhance mind-body balance.
Thanks to its proximity to Bangalore, Wayanad is a popular yoga destination among city dwellers looking for a relaxing and rejuvenating break from the hustle-bustle. A short stay in one of the many yoga retreats here can help you dive deeper into the world of yoga and achieve peace of mind and body. Apart from engaging in yoga and meditation, you can explore the popular attractions around, such as Wayanad Wildlife Sanctuary, Edakkal Caves, Bandipur National Park and Soochipara Waterfalls. The place is known for its trekking trails, flora, fauna and birdwatching sites as well.
Best Yoga Centres and Retreats in Wayanad:
Ayurjyothi Yoga Centre
Brahmakalpam Ayurveda Hospital and Yoga Centre
Vedaguru
Udayagiri Rejuvenation Retreat Centre
Kannur Ayurvedic Centre
Art of Living Wayanad
 8. Gokarna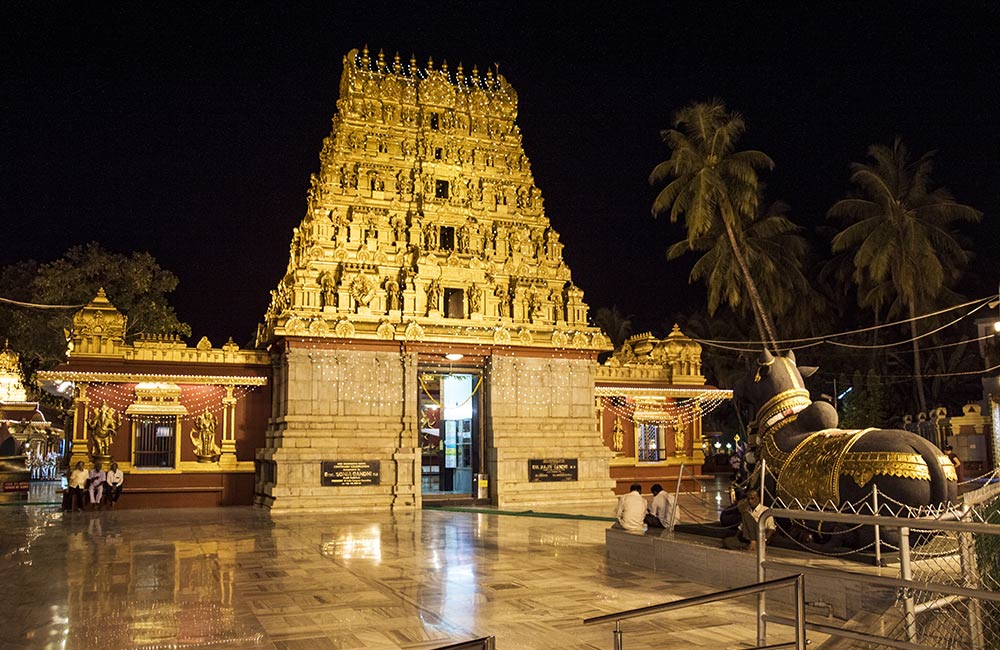 Located in western Karnataka, Gokarna is a small and peaceful town known for its pristine beaches, beautiful landscapes and Hindu temples. Apart from attracting scores of pilgrims and nature lovers, the town is a preferred destination for yoga lovers. It is dotted with some amazing yoga schools, ashrams and meditation centres where you can learn the basics as well as advanced yoga asanas. What's more, the sandy beaches, swaying palm trees and natural surroundings of Gokarna will help you relax, rejuvenate and connect with your spiritual self. Some common forms of yoga you can learn in Gokarna are Vinyasa, Iyengar, Hatha, Kundalini and aerial yoga.
Besides being a popular attraction among yogis, Gokarna is a popular tourist destination. Hence, during your stay in one of the yoga retreats here, you can visit the top attractions around, such as Paradise Beach, Sri Mahabaleshwara Swami Temple, Om Beach and Gokarna Main Beach, and make the most of your trip.
Best Yoga Centres and Retreats in Gokarna:
Red Earth Gokarna
Namaste Yoga Farm
Tipi Garden Yoga Retreat
Shree Hari Yoga
Digambara
 9. Mysore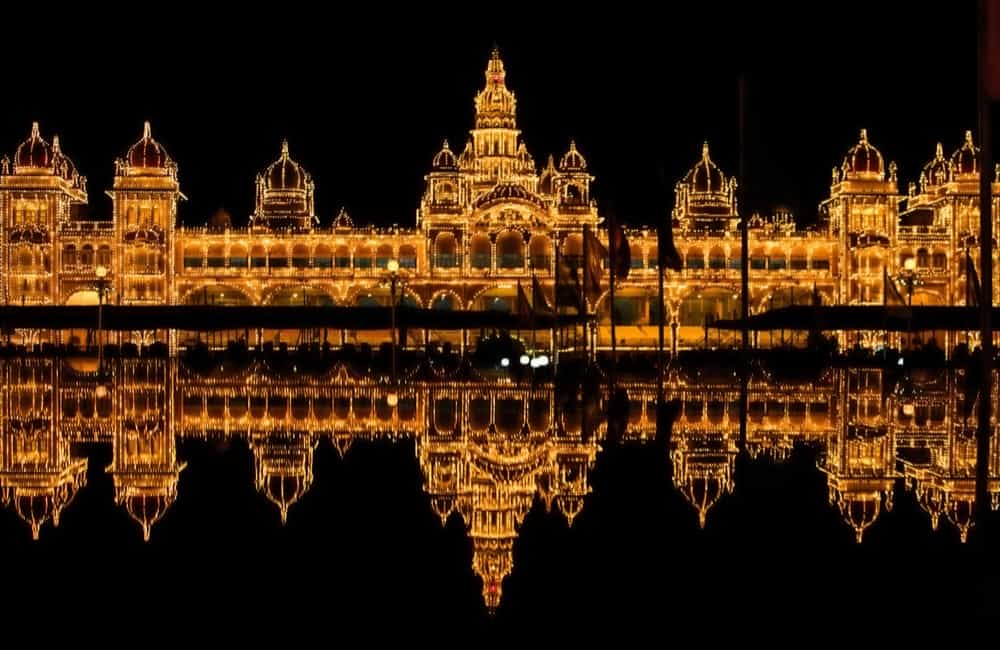 Widely known as the birthplace of modern yoga, Mysore is a must-visit for every yoga enthusiast. The city is particularly famed for being home to the revered yoga teacher and ayurvedic healer – Sri Tirumalai Krishnamacharya. It is also the birthplace of Ashtanga Yoga. Established in 1948, the popular Asthanga Yoga Institute in Mysore attracts Asthanga practitioners from around the world. Apart from this, Mysore is also home to many more renowned yoga centres where you can learn yoga sutras as well as back bending, Shatkriya, Hatha and Pranayama.
Whether you are seeking peace or looking to gain more flexibility, strength, stamina and concentration, a few days of yoga practice under the guidance of an expert teacher in Mysore can help. And if you are looking to hone your Ashtanga practice, you can visit K Pattabhi Jois Ashtanga Yoga Institute and practice under the guidance of Saraswati Jois, the daughter of a renowned Indian yoga guru, Sri K Pattabhi Jois.
Best Yoga Centres and Retreats in Mysore:
Mysore Hatha Yoga Kendra
Ayuryoga Eco Ashram
Ashtanga Sadhana Yoga Shala
Yogatantra Anushtana
Indea Yoga
Sharath Yoga Centre
Mysore Mandala Yogashala
Chaitanya Yoga Kendra
Samayak Yoga Mysore
 10. Pune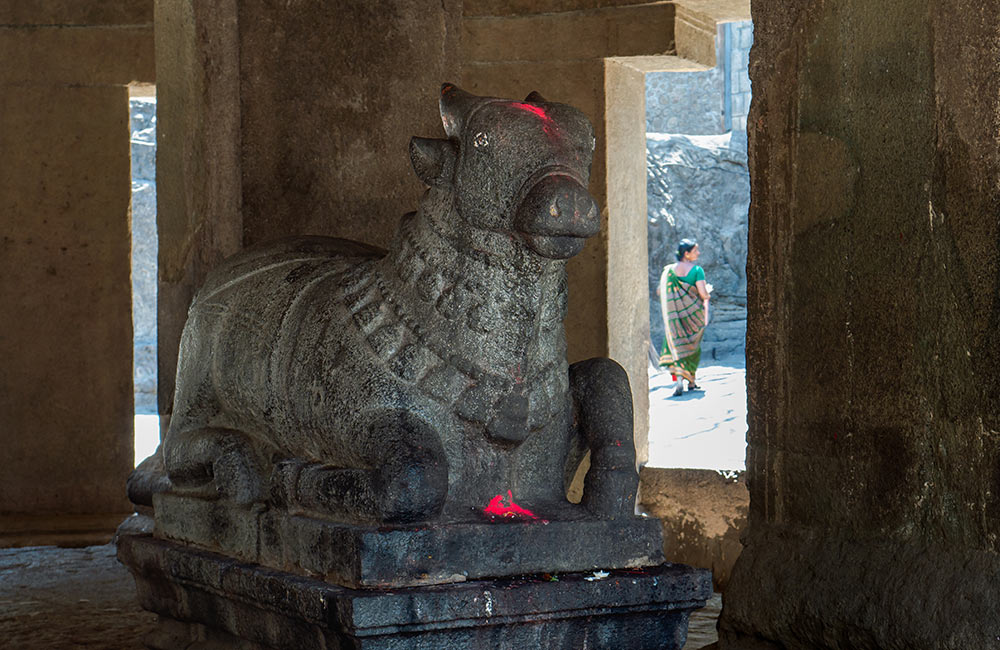 Yoga centres and retreats in India are not restricted to scenic hill stations and small towns. Even major cities like Pune have many options for yoga lovers, thanks to renowned yogis or yoga teachers who once resided here. This city particularly was home to two popular yogis – BKS Iyengar and Osho. Hence, many yoga lovers visit Pune either to practice asanas and meditation or for pilgrimage. Ramamani Iyengar Memorial Yoga Institute (RIMYI) and Osho International Meditation Resort are the two most popular yoga centres in Pune.
In addition to these, the city is peppered with many more amazing yoga institutions and centres for different types of people. For instance, if you are looking to lose weight, you must visit the PH Prime Hot Yoga Studio. The controlled temperature in this yoga centre, coupled with increased heat and humidity, can burn calories, reduce stress and detoxify your body. And if you want to tone and strengthen your muscles, practising yoga in Biorhythm Yoga Studio can help.
Best Yoga Centres and Retreats in Pune:
Gnosis Medical Yoga & Unnati Yogatherapy Training Centre
MIT World Peace University
Aarogya Siddhi Yog
Rei Yoga Centre
Samsara – The Yoga Studio
Y'Phoria Yoga
Om Studio
All in all, whether you're a beginner or an experienced yogi, spending a few days in one of the many yoga centres and retreats in India can help you connect with your mind, body and soul like never. Hence, if you are planning a spiritual holiday, you can visit one of the yoga destinations in India listed above and learn different asanas from professional yogis. From improving strength and flexibility to promoting alertness and overall mental health, regular practice of yoga can do wonders for you.