Located right in the heart of Amritsar, Gobindgarh Fort echoes the fascinating history of Punjab and offers insights into the events that have shaped the region into what it is today. The 18-century fort lies just about 2 km away from the famous Golden Temple and boasts of a history of over 250 years. Originally built during the Bhangi Misl era, the fort was seized and renovated first by the Sikh Empire and later by the British. After independence, it became a bastion for the Indian Army. Currently, it serves as a live museum where visitors can witness the heritage of Punjab.
Planning a visit to this top historical attraction in Amritsar? Here's everything you should know about Gobindgarh Fort, including its history, architecture, attractions, timings, entry fee, lesser-known facts, and other useful information.
Gobindgarh Fort, Amritsar Information
| | |
| --- | --- |
| Location | Old Cantt. Road, Vijay Chowk |
| Type | Fort |
| Also Known as | Bhangianda Killa |
| Fort Timings | 10:00 am to 10:00 pm; every day |
| Museum Timings: | Pagdi Museum and Sikh Art Museum – 10:00 am to 7:30 pm; every day |
|   | Toshakhana and War Museum – 10:00 am to 7:00 pm; closed on Mondays and government holidays |
| Entry Fee | Packages varying from ₹ 150 to ₹ 649 per head for Indians; packages varying from ₹250 to ₹1000 per head for foreigners |
| Commissioned by | Gujjar Singh |
| Area | 43 acres |
| Year of Construction | 1760 |
| Maintained by | The Government of Punjab |
| Material Used | Bricks and lime |
Gobindgarh Fort, Amritsar: History
Did you know that Gobindgarh Fort was originally known as Bhagian da Qilla? A local chieftain of the Bhangi Misl named Gujar Singh Bhangi built it as a mud fortress in the 18thcentury, and hence the name.
Maharaja Ranjit Singh, the first maharaja of the Sikh Empire, conquered the fort in the early 19thcentury. It was he who renamed it as Gobindgarh Fort after Guru Gobind Singh, the 10th guru of the Sikhs. Further, he made many renovations and added new structures to the fort from 1805 to 1809. Much of these revamps were based on French military fortification plans and Maharaja Ranjit Singh even took help from a French architect for the same. The major reason why he strengthened the fort was to protect the Golden Temple and the city of Amritsar from invaders.
Gobindgarh Fort remained under the control of Maharaja Ranjit Singh until 1849 when it was seized by the British. After the country's independence, it was garrisoned by the Indian army and remained inaccessible to civilians for a long time. Finally, on 10th February 2017, the fort was opened to the public as a live heritage museum.
Gobindgarh Fort, Amritsar: Architecture
Gobindgarh Fort has a square layout and is made using bricks and lime. All four corners of the fort are adorned with two doors and a parapet. Four strategically located bastions are inside the fort premises, each displaying the Anglo-Sikh style of architecture. Multiple gates including Nalwa Gate (main entrance) and Keller Gate (back entrance) provide entry to the fort. It also features an underground tunnel that leads towards Lahore and a deep moat that encircles the walls.
The fort displays many unique features and structures, some of which were added during the Sikh period while some others were added by the British. Toshakhana, Darbar Hall, Colonial Bungalow, and Khas Mahalare some of the existing structures inside the fort that display unique architectural beauty. The original structure also housed a coin minting factory, 25 cannons, and 8 watchtowers.
Gobindgarh Fort, Amritsar: Today
Today, Gobindgarh Fort is one of the top tourist places to visit in Amritsar. It has been converted by the Government of Punjab into a live heritage museum and a treasure trove of the region's history. Currently, the fort houses museums, a vibrant bazaar, and several food stalls. It also serves as an infotainment hub where you can immerse yourself in fun rides, games, exciting activities, 7D shows, handicraft shopping, folk dances, live performances, and much more.
Shows and Live Performances at Gobindgarh Fort, Amritsar
Several high-tech shows and live performances are conducted at Gobindgarh Fort to attract visitors and educate them on the history and heritage of Punjab. These include:
Whispering Walls (Light and Sound Show): Every evening, a multimedia light and sound show is conducted at the premises of Gobindgarh Fort. This infotainment show, which is named Whispering Walls or Kanda Boldiyan Ne, highlights the illustrious past of the fort as well as the city.
Duration: 30 minutes; everyday
Language: Punjabi and English
Timings:7:15 pm (Punjabi); 7:45 pm (English)
Sher e Punjab: It is an immersive 7D show directed by Ketan Mehta, an internationally renowned film director. The show depicts the life and times of Maharaja Ranjit Singh in an entertaining and informative manner.
Timings: Throughout the day
Language: Punjabi with English subtitles
VR Shows: In addition to the 7D and light and sound shows, the fort also has Virtual Reality (VR) shows that offer a high-tech experience and take you on a trip through the fort's history.
Timings: Throughout the day
Spirit of Punjab (Live Performances): The fort has a stage housed within it where you can watch cultural performances all through the day. It remains vibrant with folk dances and live performances of Bhangra, Gidda, Gatka, games, comedy, dholi, etc. You can even participate and win prizes here.
Timings: Throughout the day
Attractions at Gobindgarh Fort, Amritsar
Among the major attractions at Gobindgarh Fort are:
Toshakhana, a domed structure that once served as the treasury of Maharaja Ranjit Singh. It was where he kept the famous Kohinoor diamond. At present, it houses a coin museum displaying a remarkable collection of old and rare coins.
Gates that once provided multi-level entrance checks such that the army could make surprise attacks in case the fort came under invasion.
The moat running along the perimeter of the fort walls. It is about 6 meters deep and about 20 to 25 meters wide at the base.
Khas Mahal or Coffee House, a building that exhibits distinct architectural elements from the Sikh and colonial eras.
Darbar Hall, which once served as a hospital and later converted into an officers' mess during the occupation of the Indian army.
Four bastions situated at the four corners of the fort.
War Museum housed inside the Anglo Sikh Bungalow aka Colonial Bungalow, where you can see rare war instruments and replicas of Maharaja Ranjit Singh's personal sword as well as the Zamzama, the largest cannon of its time.
Pagdi Museum, where interesting forms of turbans from across Punjab are kept on display.
Sikh Art Museum, which houses a rich collection of paintings depicting the warriors and saints of Punjab.
Haat Bazaar, a vibrant market place where you can shop for souvenirs and handicrafts.
ZaikaGali, a food joint housed within the fort where you get lip-smacking street grubs including golgappe, tikki, chaat, and
AmbarsariZaikaDhaba, a dhaba-style eatery that serves authentic and delicious Punjabi food.
Lesser-known Facts about Gobindgarh Fort, Amritsar
Gobindgarh Fort was the venue for the grand wedding of Prince Nau Nihal Singh, the grandson of Maharaja Ranjit Singh.
The fort had a 50-meter tall watchtower dating back to 1874 which was demolished by the Indian army.
A bell constructed in 1863 in Sheffield, the UK still exists at the fort. This steel bell is believed to be a cast made by Naylor Vickers & Company to make other bells for Amritsar.
Attractions near Gobindgarh Fort, Amritsar
Durgiana Temple (1 km)
Hall Bazaar (2 km)
Mata Lal Devi Temple (2 km)
Jama Masjid Khairuddin (2 km)
Gurudwara Baba Atal Rai (3 km)
Khalsa College (3 km)
Maharaja Ranjit Singh Museum (4 km)
A visit to Gobindgarh Fort can be an enriching experience in itself. How about including the fort in your Amritsar itinerary to enjoy a slice of Punjab's rich heritage and history?
Recommended Reads: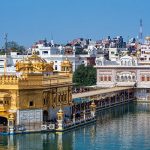 2 Days Amritsar Itinerary: A Perfect Plan for Sightseeing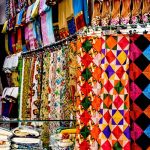 8 Wonderful Shopping Places in Amritsar That You Can't Miss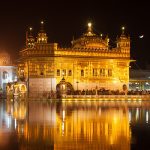 How to Reach Amritsar by Flight, Train, Car or Bus: Trip Guide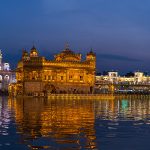 Best Time to Visit Amritsar: Temperature with Activities List