Most cities of Gujarat are famous for their rich heritage and culture. Vadodara or Baroda as it is popularly known as is one such city that is resplendent with the colors of the chaniya choli during the Garba and brimming with religious fervor during Ganesh Chaturthi. The city is also the UNESCO World Heritage Site for Pavagadh and Champaner. It is the third largest city of the state of Gujarat and is home to the royal family of the Gaekwads, who ruled over the city back in the 18th century. Vadodara receives generous blessings of the Sun God all the year round, with mercury levels touching as high as 45- 48 degree Celsius at times. The only respite that the residents of the city have from this scorching heat is through its Water Parks. So, when most of the Barodians as they call themselves are not shopping, they are relaxing with family at the Amusement and Water Parks in and near Vadodara. Most of the water parks in Vadodara are located in the same complex as an amusement park which adds to the fun element and you can plan your whole day at both the places.
Water Parks in Vadodara:
1. Ajwa Water Park
This park tops the list of not only the water parks of Vadodara but of Gujarat as well. Located inside the Ajwa Fun World, the park has been giving the much-needed respite from heat to the people of Vadodara for the last twenty-three years.  There are as many as 22 high-tech water slides in this amazing water park in Vadodara along with a 60 feet high sliding tower which is the highlight of the place. The Ajwa resort in Ajwa Fun World also plays host to several corporate events and tourists. There are several packages for both school children and corporate which include food and water activities. Some of the iconic rides of Ajwa Water Park are Dark Hole Slide, Space Bowl Slide, Tube Slide, Pendulum Slide, Elephant Slide, Body Slide, and Super Car to name a few. This water park has activities lined up for all age groups and there are so many things to do that you can spend the entire day at this place easily. Further, there is Rain Dance as well if you want to let your hair down while beating the heat. The water park is surrounded on all sides by a lush green landscape which adds to the refreshing feeling that encompasses you once you take a dip in the cold waters. 
Entry Fee: The water park package includes: Water rides+ Breakfast + Lunch+ Hi-Tea for INR 850/-
Timings: 10.00 A.M. to 6.00 P.M. Open all days
Location: Ajwa Nimeta Road
2. S-Cube Water Park
Located amidst green surroundings and spread over a sprawling area of ten acres, this water park in Vadodara is the perfect place to spend the weekend with family and friends. The entire complex with its 17 rides, restaurants, and the amusement park holds the position of being the largest entertainment complex of Gujarat. You can start the day by enjoying the water rides and then can move on to the boating area which has boats made in the shape of colorful swans. S-Cube Water Park has a Food Island which has eateries offering a wide selection of cuisines. An amusement park called Gujarat Fun World also forms a part of this water park along with a conference hall, walkway, and a restaurant. The water park offers reasonable packages to schools getting their kids here for a picnic and to corporate. You can also have a birthday or a kitty party here with packages that include food and water rides. Double Screamer, Boomerango, Lemon Sweepe, Reverse Splash, Cyclone Bowl, and Blue Ripple are some of the rides which are as thrilling as their names are interesting. S- Cube Water Park is one of the perfect spots to spend an adrenaline pulsing day with friends and family.  If you are visiting the water park with your tiny tots in tow then, the park has some exciting rides for them as well. A pirate ship swing, mini roller coaster ride, a toy train, a boating area and a "striking car" karting area will keep them occupied while you enjoy your water activities.
Entry Fee: INR 500. For children with height less than 2.5 feet, entry is free.
Timings:30 A.M. to 6.00 P.M. Open all days
Location: Opposite Vrindavan Gardens, Ajwa
3. Fun Time Arena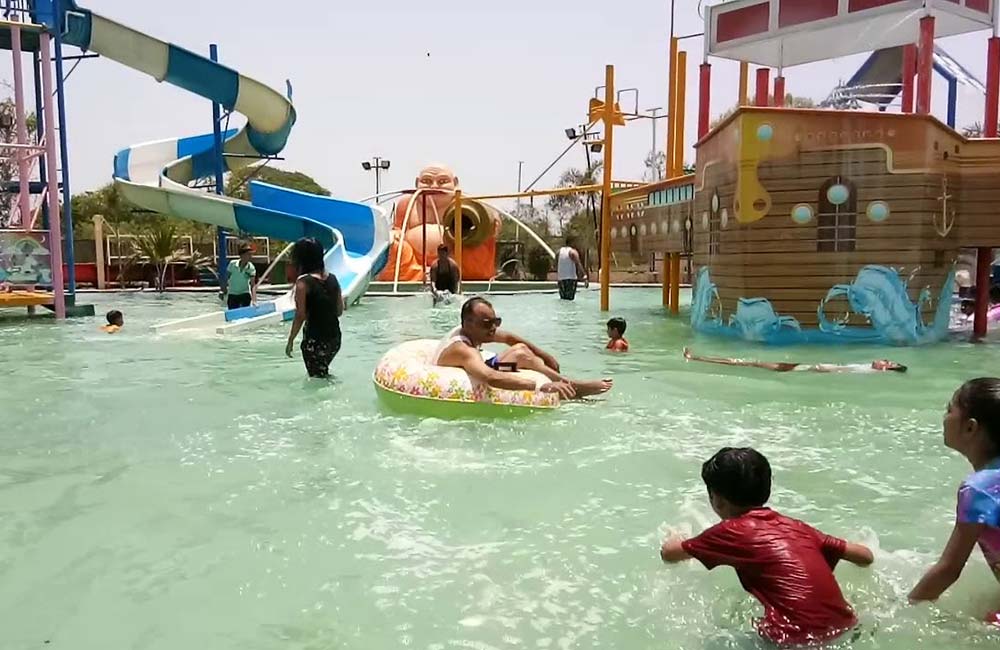 One of the popular places on the outskirts of Vadodara includes the Fun Time Arena Water Park, which is the go-to place on a sweltering day. The park has been divided into two zones: Greenball and Blueball. While the latter is the water activity area for both children and adults, the former houses a multi-cuisine restaurant. You can plop on a tube and just float away in the pool achieving a state of rejuvenation or enjoy the rides. Either way, it will be a relaxing activity. For kids, the water park has shallow water zones that adhere to the height and water levels perfect for kids. If you are up for it then you can shake a leg in the rain dance arena which plays foot tapping music while showering you with artificial rains. In case you have forgotten to carry your swimming costume you can rent one there itself for an extra charge. With a refreshing ambiance, lip-smacking food and an atmosphere filled with thrill and fun, Fun Time Arena is a pocket-friendly budget getaway for the people of Vadodara.
Entry Fee: INR 200 on Weekdays and INR 250 on Weekends
Timings:00 A.M. to 10.00 P.M. Open all days
Location: Ankodia Road, opposite Antica Green Woods
4. Swapna Srushti Water Park
Swapna Srushti Water Park holds the honor of being the only Water Park in the World to have been given with the National and International Excellence Awards for consecutively 3 years. The park has created rides which emulate the Seven Wonders of the World inside the campus and it brings people to it from all parts of the state. Even if you are planning to visit the park with your kids as young as a year old, you will not be disappointed as the park offers fun and thrilling activities for all age groups. This water park is located 114 km from Vadodara which takes approximately 2 hours but if you start the day early, you can go to the park and come back the same day. For the people of Vadodara, when it comes to having fun and beating the heat, a little distance has never deterred them. You can zip through the Kargil Ride which has three rides side by side in tricolor, or you can zoom away in the Largest Family Ride which will scare you at first but once you try it, will make you want for more. Not-to-miss attraction at this park is the Safe Cyclone ride which has many turns like a cyclone and is not for the faint-hearted.
Another water park quite close to the Swapna Srushti Park is the Shanku Water Park which can be covered in the same day itself as it takes not more than 4 hours to enjoy all the rides and water activities at Swapna Srushti Park.
Entry Fee: INR 500
Timings:00 A.M. to 5.00 P.M. Open all days
Location: Gandhinagar-Mahudi Highway, Gram Bharati Cross Road, Amarapur,
5. Shah's Water City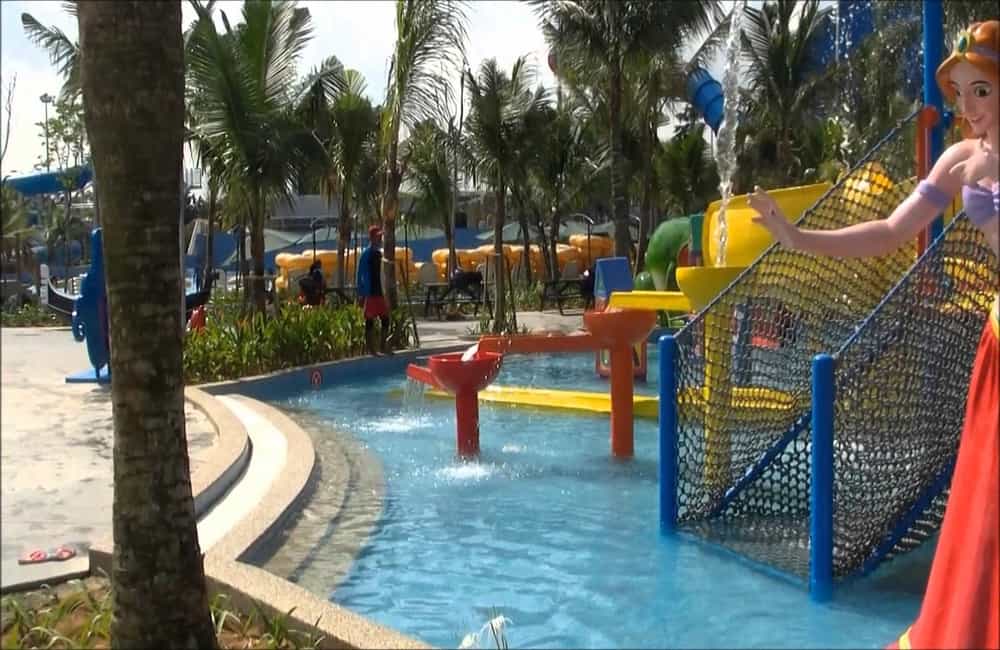 Located on the Mumbai- Ahmedabad Highway No- 8, Shah Water City is at a distance of around 100 km from the city and is one of the water parks near Vadodara that are keeping the fun quotient of the denizens at a peak. The drive to the park from the city is lined with a green landscape that starts to build your anticipation about the refreshing day that you are about to have. Shah Water City is famous for its biggest water pool in all of Gujarat and that is what brings hordes of people to this park. Some wonderful rides here include the Dry Water Slide, Aqua Shuttle which zips you along at a great speed and the high-speed boat rides. Not to miss attraction at the park is the Aqua Trail Body Slide which makes you lose control of the body midway in the slide and you fall in the water, hands, and feet swaying and screaming with delight. The walkways in the water park have been lined with lush green trees which complement the aqua blue water.  Food and water activity packages for Shah Water city start from INR 700 and go up to INR 1500, depending the time you wish to spend at the park and the food package that you wish to club with the water activities. Read also about weekend getaways from Vadodara
Entry Fee: INR 199 and for Senior Citizens and Children of 2-10 years the entry fee is 149
Timings: 10.00 A.M. to 6.00 P.M. Open all days
Location: Goblej, National Highway no. 8, Between Bareja and Kheda
If you are staying in Vadodara or visiting the city, it's time to grab your costume, and dive into the aqua blue heaven now!
Recommended Hotels in Vadodara:
Use Coupon Code "STAYFAB", Get UPTO 60% Discount!