The year 2019 has blessed all of us hard working, weary souls with more than 10 long weekends. Planning a short trip, amid the hustle and bustle of city life, is a favourite activity for a lot of people. But, what exact places can you travel to, from Chennai? Look no further, we've got the top five weekend getaways from Chennai, ideal for a short vacation for every kind of traveller.
Chennai is blessed with not just scenic beaches and ancient towns, but quaint hills stations, stunning architecture and serene getaways. A short one day trip near Chennai can be to Mahabalipuram, a UNESCO World Heritage Site or to the tranquil erstwhile French colony, Pondicherry, one of the most popular tourist places near Chennai within 300 km. Here's our top five:
Weekend Getaways from Chennai:
1. Mahabalipuram
Known for its temples and architectural monuments built by the Pallava dynasty, 7th century onwards, Mahabalipuram is one of the most popular tourist places near Chennai within 100 km, an ideal destination for a day trip.
The most interesting site here, both from an architectural and religious point of view, is Krishna's Butter Ball. This giant boulder, precariously perched on a steep rock slope refuses to bow down to the laws of gravity. The actual name of the stone is Vaan Irai Kal, Sky God's Stone, believed to be a giant dollop of butter Krishna dropped.
Right next to the shore of the Bay of Bengal is the Shore Temple, another must-see attraction in Mahabalipuram. Believed to be one of the only surviving temples of the seven that were built in its style, the Shore Temple (8th century) is a UNESCO heritage site. It is among the oldest stone temples in Southern India. The shrines in the temple are dedicated to Lord Vishnu and Shiva. 
Pancha Rathas, built during the Pallava dynasty, is a beautiful example of monolithic architecture. The five chariots or rathas are chiselled from a single block of stone each and named after the Pandava brothers and their spouse Draupadi from Mahabharata. A visit to this place will definitely leave you marvelling at the architectural acumen of our ancestors. Timings are from 6 AM to 6 PM. Entry fee is Rs. 10 for Indian citizens
Mahabalipuram distance from Chennai: 56 km
How to reach: Taxi and bus services run regularly from Chennai to Mahabalipuram (approximately 1.5 – 2 hours)
Best time to visit: November to February
Ideal for: Religious and cultural travellers
Activities: Surfing at Mahabalipuram Beach, boat rides, turtle walks
2. Pondicherry
An eclectic mix of French flavour, spirituality and the best beaches around, the small town of Puducherry/Pondicherry will charm you with its serene ways. Pondicherry, home to Auroville and the Aurobindo Ashram is famous among spirituality seekers as one of the most popular tourist places near Chennai within 200 km. But it's not just the introduction to spirituality that brings tourists to this beach-side town. The French Riviera of the East offers you the best authentic French cuisine, the culinary delights of the place are indeed endless.
No visit to Pondicherry is complete without a visit to The Aurobindo Ashram, established in 1926 by Sri Aurobindo and Mirra Alfassa (The Mother). It's visited by people from the world over. You can buy handmade paper articles, ayurvedic medicines and perfumes. Open from 8 AM to 12 PM and 2 PM to 6 PM, entry is free.
The experimental township of Auroville, founded in 1968 by The Mother, Mirra Alfassa, is a universal township where people from all cultures and nationalities live in harmony together. It also houses the imposing and stunning Matrimandir, which holds a special significance for yoga practitioners. Opening hours are from 10 AM to 6 PM.
The place with all the buzz, the Promenade, is a popular 1.2 km beachfront situated along the Bay of Bengal next to White Town. Enjoy a cup of coffee or the best of French cuisine at the many cafés located next to the stretch.
Pondicherry distance from Chennai: 152 km 
How to Reach: Drive down from Chennai via the scenic East Coast Road (ECR) or book a train from Chennai to Pondicherry (approximately 4-6 hours). The best option by air, is to take the flight to Chennai and then go via road or train till Pondicherry. 
Best time to Visit: October to March 
Ideal for: Religious, couples, offbeat travellers 
Activities: Yoga and meditation sessions at Aurobindo Ashram or Auroville, water sports, sailing 
Must-try meal/restaurant: Try an authentic Continental meal at Villa Shanti (approximate cost for two Rs.1500) 
Did you know? Pondicherry was the largest French colony in India! The best way to explore the city is on bicycles or motorbikes.
3. Kolli Hills
Slowly warming up as an offbeat destination, ideal for a one day trip near Chennai, Kolli Hills is the perfect mix of nature and serenity. Though there are very few hotel options here, this is the destination's charm as well. It definitely takes you as far from civilisation as one can get. So if you are looking for a completely offbeat, non-touristy place to explore, this is it!
The Agaya-Gangai Falls near the Arappaleeswarar Temple is a must-see spot as are the coffee and spice plantations around the hills.
Kolli Hills distance from Chennai: 400 km 
How to Reach: Trains from Chennai to Salem, about 100 km from Kolli Hills. Follow NH 45 from Chennai (approximately 6-7 hours) 
Best time to visit: March to June 
Ideal for: Nature lovers, trekkers, solo travellers
Also check couple friendly hotels in Chennai
4. Mysore
Think Mysore, and the first image that comes to mind is the glorious Mysore Palace. The Mysore Palace or Amba Vilas Palace is the official royal residence of the Wodeyar dynasty. The sprawling palace is located in the heart of Mysore. Built in the 14th century, re-construction of the current palace started in 1912. The most interesting part inside is the Doll's Pavilion, Gombe Thotti, which houses traditional dolls from the 19th and early 20th centuries. You can also see wooden elephants adorned with 84 kg of gold here. Read also – Things to do in Mysore
Don't forget to catch the Mysore Palace illumination and 'the light and sound show' 7 PM onwards (except Sunday). Palace timings are from 10 AM to 5:30 PM.
Manicured gardens and stunning flowers as far as the eyes can see, Brindavan Gardens, is another must-see attraction in Mysore. Spread over more than 150 acres, the gardens are perfect for an evening visit when the water fountains are lit up. Opening timings are from 6 AM to 8 PM. Entrance fee is Rs. 15 for adults, Rs. 10 for kids.
Kabini Dam, at a height of 2,284 feet on the river Kabini is an engineering feat which is a must visit! Surrounded by lush green forests, it's the perfect spot to get those selfie shots!
Mysore distance from Chennai: 482 km 
How to Reach: There are direct trains and buses available from Chennai to Mysore (approximately 3-4 hours). The nearest airport is Bengaluru International Airport, 170 km away 
Best time to Visit: October to February 
Ideal for: Families, culture enthusiasts 
Activities: Yoga at Badri Yoga School 
Must-try meal/restaurant: Bonda, Khara Bath and Kesari Bath (sweet dish) 
Did you know? The Mysore Palace attracts more than 6 million tourists every year
5. Coorg
Lush green coffee plantations, gushing waterfalls and a laid-back life, Coorg or The Scotland of India, is all about going back to the simplest pleasures of life. This holiday destination is ideal for anyone seeking peace and quiet, considering the very limited nightlife options. The town of Madikeri, in Coorg, offers panoramic views of the Western Ghats, and is the perfect balance of nature and history.
Coorg has a lot to explore, from tasting the best coffee India has to offer to exploring the 17th-century palaces; from experiencing the grandeur of the Abbey Falls to the meditative space of Bylakuppe. We dig deeper into the top attractions Kodagu has to offer.
The Madikeri Fort, situated in the centre of the Madikeri town was built in mud in the 17th century by Muddu Raja, the then king of Coorg, and later rebuilt in granite by Tipu Sultan. The fort is quite unique, as it houses not only a temple but also a church, a prison and a museum. It is an ideal spot to witness a gorgeous sunset.
The road leading to Abbey Falls is a short trek covered with huge trees on both sides, the perfect trail to hear the sound of gushing water, increasing in volume, to make you excitedly await the sight that will welcome you on the next turn. Water roaring from a height of 70 feet is an experience that will stay with you for a long time. A picnic by Abbey Falls is undoubtedly one of the top experiences in Coorg.
Nagarhole National Park is part of the Nilgiri Biosphere Reserve and comes under Project Tiger, which aims at preserving wildlife. Also called the Rajiv Gandhi National Park, it was once the hunting grounds of the Maharaja of Mysore. Along with tigers, you'll find Asiatic elephants, jungle bison, leopards and langurs here, among other wildlife. More than 250 species of birds are found here, making it a popular spot for bird-watching. The park is under consideration to be declared as a World Heritage Site by UNESCO. 
Bylakuppe, the second largest Tibetan settlement after Dharamsala, was established in 1961 by Lugsum Samdupling. The magnificent Namdroling Monastery, also called the Golden Temple, is a must visit (especially during Losar, the Tibetan New Year). It's open from 7 AM to 8 PM, entry is free. 
About 30 km from Madikeri is Dubare Elephant Camp, an elephant training camp situated on the banks of river Cauvery. You can participate in activities like feeding them or watch them be given a bath by their mahouts. Dubare is also popular for river rafting.
Coorg distance from Chennai: 575 km 
How to Reach: The nearest airport is Mangalore International Airport at a distance of 160 km. Taxis are readily available to travel within Coorg. 
Best time to Visit: October to March 
Ideal for: Families, solo travellers 
Activities: Visits to coffee plantations, river rafting, trekking, camping, jungle safari, bird-watching 
Must-try meal/restaurant: Pandhi curry (Kodava pork curry) with akki roti (rice roti), Kudambuttu (steamed rice dumplings) and Bamboo-shoot curry. 
You're all set now! Pack your bags and get ready to enjoy a short break to any of these weekend getaways from Chennai!
6. Pulicat
About 1 hour 30 minutes' drive from Chennai, Pulicat is a tranquil seaside township. Small but extremely picturesque, this beach town is located in the Thiruvallur district. This is one of those lesser talked-about destinations that will give you both peace of mind and a chance to rewind after a chaotic week in the city's chaos. The most loved places here are Pulicat Lake and Pulicat Bird Sanctuary that attract tens of thousands of birds from across the globe. While winters would be the best bet if you are looking forward to seeing as many species, you can have a gratifying experience all throughout the year. The Flamingo Festival, held in the winter months, is a major crowd puller to this part of the country. Other than the bird sanctuary and lake, you can take a stroll across the Dutch Cemetery, colonial-era churches and forts, and the nearby villages that have a personality of their own. Needless to mention, being a beach destination, you also get to savour amazing seafood here!
Distance from Chennai: 55 km
How to reach: Drive via Outer Ring Road and then take SH 104. You can also take the East Coastal Road which will be a little lengthier route
Best time to visit: October to March
Ideal for: Nature lovers, ornithologists and birdwatchers
Activities: Bird-watching, exploring quaint churches and fort, attend the Flamingo Festival
7. Nellore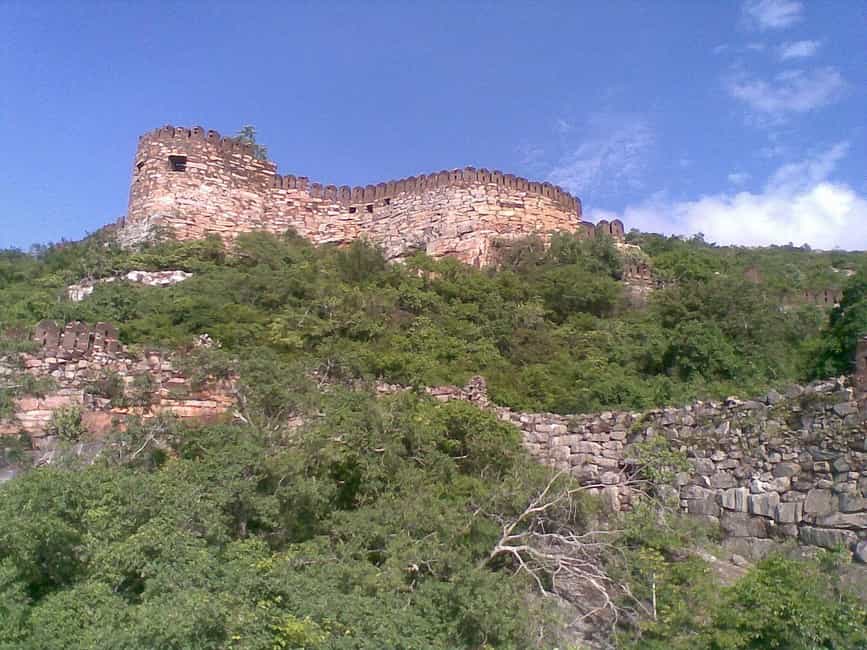 Nellore | #7 of 8 Weekend Getaways from Chennai
Nellore is a township in the state of Andhra Pradesh. Located 177 kilometres from Chennai, this part of India is rich in heritage, natural vistas and manmade wonders. It is important to note that Nellore is perhaps one of the few remaining places reminiscent of the glorious Mauryan Age. Today, you will be able to revisit its decorated history at Udayagiri Fort and the several ruined structures around it. Another reason to visit Nellore is the Nelapattu Bird Sanctuary. Just like Pulicat Lake, this sanctuary is visited by hordes of birds during the winter months. There are several residents species as well, so you can satisfy your curiosity all-round the year! While you are here, don't miss out on visiting Somasila Dam.
Distance from Chennai: 175 km
How to reach: The fastest route to reach Nellore from Chennai is via NH16
Best time to visit: October to April (summers should be avoided)
Ideal for: History enthusiasts 
8. Yelagiri
Yelagiri offers a complete contrast of the experiences we have talked about till now! It's a hill station with green terraced plantations, valleys overlooking pristine lakes and clouds almost at your face! Situated in Tamil Nadu, it gives you a tryst with nature, and regardless of who you are travelling with (or if you are travelling alone), it's a place to get lost in. The Swami Malai Hills are perfect for a respite if you have been looking for a getaway from the city life. When here, make sure, you go on a trek to Jalagamparai Falls. These are majestic, and the cascading waters are both music to the ears and a sight worth capturing in your lens. You may also take a boat ride on Punganoor Lake for a much-needed break.
Distance from Chennai: 227 km
How to reach: Since Yelagiri is only 4.5 hours' drive from Chennai, it can be best reached via road trip. Fastest route is via SH 116 & NH 48
Best time to visit: All through the year
Ideal for: Nature lovers & adventure freaks
Activities: Trekking, rock climbing and paragliding
Weekend Getaways from Chennai (Video):