Every diehard shopaholic will nod in agreement that nothing can match the joy of street shopping. The Law Garden Night Market in Ahmedabad takes the experience to a whole new level. Wondering how? For starters, it is a night market that comes to life only after sundown. Every evening, the area surrounding the Law Garden, a famous public garden located right in the heart of the city, turns into a lively shopping hub with numerous make-shift stalls. The place buzzes with vendors selling local garments, artificial jewelry, décor items, handicrafts, and street grubs while shopaholics and foodies swarm the streets. Come morning, you cannot find the faintest trace of this vibrant market. It's almost as if the area has a secret nightlife!
Curious enough to know more about the Law Garden Night Market in Ahmedabad? Here are all essential details such as timings of the market, what to buy, what to eat, nearby restaurants, nearby attractions, useful tips, and more.
Law Garden Night Market, Ahmedabad Information
| | |
| --- | --- |
| Type | Local street market |
| Location | Ellisbridge |
| Nearest Bus Stop | Law Garden BRTS |
| Entry Fee | Free |
| Timings | 7:00 pm till midnight; all days of the week |
| What to Buy | Traditional garments, handicrafts, ethnic jewelry, footwear, bags, home décor items, and fashion accessories |
Things to Buy at Law Garden Night Market, Ahmedabad
The Law Garden Night Market, one of the most popular places to shop in Ahmedabad, is best known for a wide range of colorful goodies and local handicrafts that are sold at highly competitive prices. Jam-packed with stalls selling ethnic garments from Kutch and Saurashtra, glittery trinkets, antique jewelry, traditional wall hangings, and more, this evening bazaar is where you can find the soul and rich art traditions of Gujarat. Some of the most popular things to buy at Law Garden Night Market, Ahmedabad include:
Gagra cholis (traditional skirt and blouse worn by Gujarati women) featuring rich mirror work, animal motifs, rabari designs, and applique embroidery
Bandhej or bandhani (tie and dye work) sarees and fabrics
Garments with banni work, an embroidery style unique to Gujarat
Handmade waist belts made from seashells with rich mirror work
Embroidered wall hangings
Richly decorated chaniyas (traditional skirts)
Quilted tabletops
Costume jewelry
Decorative cushion covers
Colorful handbags or jholas
Antique neckpieces and bangles
Embroidered bedspreads
Kurtis and suits
Dupattas featuring bandhani, lehriya and zari work
Angrakha dhoti (traditional kurta and dhoti worn by Gujarati men)
Phentu (a long piece of cloth wrapped around the head)
Juttis (traditional embroidered footwear that come in attractive colors)
Western clothing including jeans, tops, skirts, and palazzos
Street Food to Try at Law Garden Night Market, Ahmedabad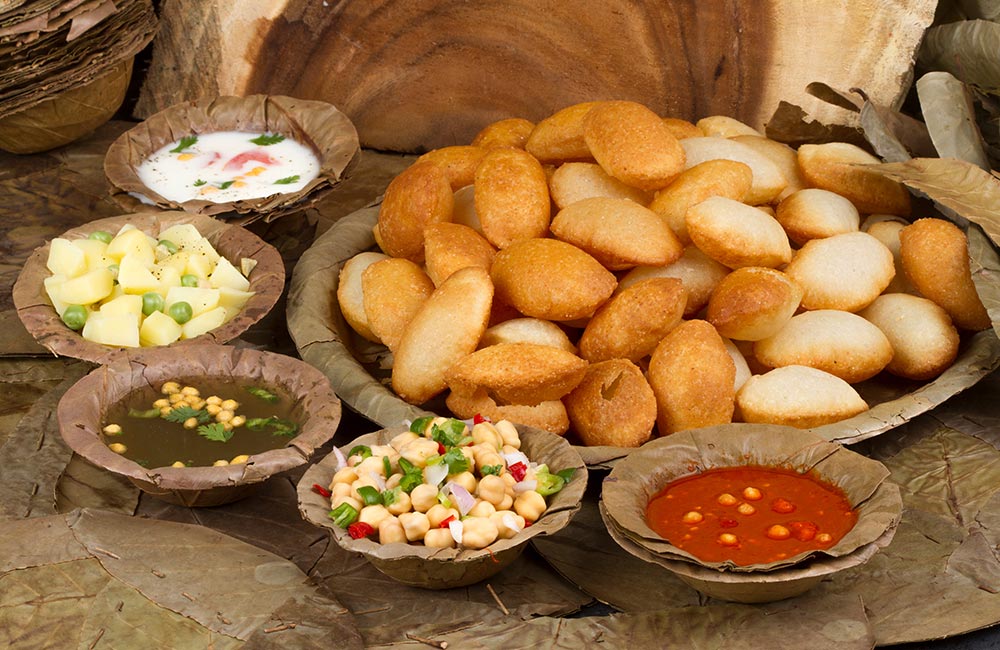 What's the point in street shopping if you don't indulge in some local snacks and street grubs? The neighborhood surrounding the Law Garden is one of the must-visit street food places in Ahmedabad where you can enjoy the culinary delights Gujarat is best known for.  Sweet or savory, snacks or quick meals, North Indian or South Indian, you'll get them all here. What's more, you will also find fusion food stalls that sell desi versions of Italian and Chinese delicacies.
Items You Must Try: Gol Gappas, Buttas, Dhoklas, Pav Bhaji, Chaats, Dosas, Uttapams, Idlis, Dabelis, Ashrafi's Kulfis, Ice Cream, Jasuben's Pizza, Rolls, Sandwiches, Chinese and Italian Fusion Food, Ragda Pattis, and Magai Paan
Restaurants and Eateries in and around Law Garden Night Market, Ahmedabad
Besides numerous food stalls and make-shift kiosks, the Law Garden area is also home to some of the best restaurants and eateries in the city. Popular dining options near Law Garden Night Market, Ahmedabad include:
Swati Snacks
New Freezeland
The Esplendido Café
Tomato's
Cryo Lab Handcrafted Ice Cream
Nanjing
Sasuj Dining Hall
William John's Pizza
Sankalp Restaurant
Jasuben's Old Pizza
Ambrosia Restaurant
Honest Restaurant
TandoorworkZ
Useful Tips for Shoppers
Use your haggling skills to seal the best deals
Make sure to carry cash as the stalls might not accept debit/credit cards and other digital payment options
The market can get crowded during peak hours, so take care of your belongings
If you want to experience the market in all its exuberance, plan a visit during the Navaratri season
Wear comfortable clothing and a good pair of walking shoes
Other Things to Do at Law Garden, Ahmedabad
Shopping and eating are not the only things to do while you are in the area. The lush green Law Garden also serves as a major hub for recreational activities and is one of the best picnic spots in and around Ahmedabad. We suggest you squeeze in a couple of hours to explore the garden before setting out on your shopping spree. Some of the top things to do at the Law Garden include:
Put your feet up and enjoy the company of nature
Try your photography skills
Take a stroll through the garden
Go jogging on the well-maintained tracks
Do yoga
Play with your little ones at the children's play area
Read your favorite book sitting on a garden bench
Attractions near Law Garden Night Market, Ahmedabad
Parimal Garden (1 km)
Kite Museum (2 km)
Lalbhai Dalpathbhai Museum (3 km)
Bhadra Fort (3 km)
Teen Darwaza (3 km)
Amdavad Ni Gufa (3 km)
Shreyas Folk Museum (3.5 km)
Siddi Saiyed Mosque (3.5 km)
Sabarmati Riverfront (4 km)
Manek Chowk (4 km)
Rani no Hajiro (4 km)
Alpha One Mall (4.5 km)
Vastrapur Lake (4.5 km)
Vikram Sarabhai Space Exhibition Center (5 km)
Sundarvan (5 km)
Gujarat is famous for its exquisite handicrafts, colorful garments, and locally made décor items. For travelers, who want to take a piece of Gujarat back with them, there is no better place to shop than the Law Garden Night Market. What's more, when you shop at this local bazaar, you are indirectly helping a local weaver, craftsperson, artist or quilter. 
Recommended Reads: