Domestic passenger flights in India will resume from Monday i.e. 25th May after almost 2 months of the restriction imposed by the government to deter the spread of the novel coronavirus.
In a recent announcement, Civil Aviation Minister Hardeep Singh Puri said that operations will start 'in a calibrated manner' and though there may be fewer flights, 'it is not viable' to keep middle seats empty as this may lead to around 33 per cent surge in ticket prices.
Earlier, when Prime Minister Modi had announced Lockdown 4.0 with more relaxations, The Directorate General of Civil Aviation (DGCA) had asserted that commercial passenger flights would stay suspended till May 31. However, yesterday, Mr. Puri had tweeted that the decision to restart domestic flights was not up to the central government alone. "In the spirit of cooperative federalism, the government of states where these flights will take off and land should be ready to allow civil aviation operations," Hardeep Puri had tweeted on Tuesday.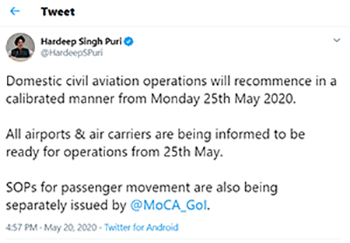 SOPs for Passenger Movement
With the recommencement of domestic flights, the Airports Authority of India (AAI) issued standard operating procedures (SOPs) for smooth and safe passenger movement. Here's the complete list:
Confirmed web check-in will be compulsory for all passengers to enter the airport.
No physical check-in will be allowed at the airport. Passengers shall compulsorily walk through a thermal screening zone before entering the terminal premises
Only a single check-in bag will be allowed per passenger
Wearing face mask will be mandatory
No meals will be served in the flights 
Aarogya Setu app a must-have for all passengers, except those below 14 years of age
Complete sanitisation of bags before entry and exit
Flight crew to wear full PPE suits while flying.
Hand sanitisers will be readily available throughout the airport & airplane.
Use of trolleys to be discouraged. However, select passengers, genuinely needing trolleys will be provided the same on request.
Seating arrangement at the airports shall be done in a manner that maintains social distancing among passengers.
Terminal entrance to have mats/carpets soaked in bleach to disinfect shoes.
Open-air ventilation arrangement to be done inside airports where ever possible to avoid central air-conditioning.
Floor marking will be done to maintain distance
Airport operator to ensure the cleanliness and sanitisation of every corner of the airport premises including counters, chairs, washrooms, railings, doors, lifts, trolleys, etc.
Important Note: The ministry mentioned any vulnerable persons, including the elderly, expecting women and passengers with prior health issues should avoid travel.