Guru Nanak Jayanti is one of the most prominent Sikh festivals which is observed as the birthday of the first of their gurus, Guru Nanak. The founder of Sikhism, Guru Nanak played an important role in shaping and strengthening the Sikh community.
According to the Sikh literature, the birth anniversary of Guru Nanak is celebrated on the Full Moon day of the Indian lunar month, Kartik. Synonymous with Gurpurab or Guru Nanak's Prakash Utsav, this day is celebrated with utmost enthusiasm among the Sikhs throughout the nation.
In the year 2023, Guru Nanak Jayanti will be celebrated on 27th November (Monday).
Guru Nanak Jayanti History and Significance
Although there are no official reports about the origin of this festival, it is believed that the custom of celebrating Guru Nanak Jayanti is as old as Sikhism. Said to be one of the youngest religions of the world, Sikhism was founded by Guru Nanak, who is believed to have been born on 15th April 1469  which is Vaisakhi as per the Nanakshahi calendar at Rāi Bhoi Kī Talvaṇḍī village (present-day Nankana Sahib, Punjab, Pakistan) in the Lahore.
However, there are a few Sikh communities who believe that Guru Nanak was born on the full moon day of the lunar month of Kartik, which coincides with the month of October-November of Gregorian calendar.
Therefore, different communities of Sikhs observe Guru Nanak Jayanti on either Vaisakhi or the full moon day of the lunar month of Kartik.
Guru Nanak Jayanti 2023 Celebrations across India
Mainly associated with the Sikh community, Guru Nanak Jayanti is celebrated with utmost joy all over the nation. Not just Sikhs but even Hindus celebrate this day to commemorate the birthday of Guru Nanak. People visit Gurudwaras and recite verses from Guru Granth Sahib, the holy book of Sikhism, on this day.
People from the Sikh community decorate their homes and organize grand get-together. Multiple celebrations and feasts take place at the Golden Temple, and thousands of Sikh and Hindu families visit Amritsar every year on this day for offering prayers at the holy shrine.
Best Places to observe Guru Nanak Jayanti 2023 in India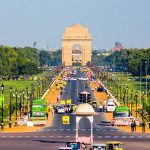 How to Reach Delhi by Flight, Train, Car or Bus
Year-Wise Guru Nanak Jayanti Observances
| | | | |
| --- | --- | --- | --- |
| YEAR | DAY | DATE | Event/Festival |
| 2015 | Wed | 25-Nov | Guru Nanak Jayanti |
| 2016 | Mon | 14-Nov | Guru Nanak Jayanti |
| 2017 | Sat | 4-Nov | Guru Nanak Jayanti |
| 2018 | Fri | 23-Nov | Guru Nanak Jayanti |
| 2019 | Tue | 12-Nov | Guru Nanak Jayanti |
| 2020 | Mon | 30-Nov | Guru Nanak Jayanti |
| 2021 | Fri | 19-Nov | Guru Nanak Jayanti |
| 2022 | Tue | 8-Nov | Guru Nanak Jayanti |
| 2023 | Mon | 27-Nov | Guru Nanak Jayanti |
| 2024 | Fri | 15-Nov | Guru Nanak Jayanti |
| 2025 | Wed | 5-Nov | Guru Nanak Jayanti |
Other Festivals in India with Holiday Type