The festival of Valmiki Jayanti is observed as the birth anniversary of Maharishi Valmiki, who wrote the great Hindu epic Ramayana. According to the Hindu calendar, it falls on the full moon day of the month of Ashwin, which corresponds to September-October in the Gregorian calendar. Also referred to as Pragat Diwas, Valmiki Jayanti will be celebrated on 28th October (Saturday) in 2023.
What is Pargat Diwas?
Valmiki Jayanti is also known as Pargat Diwas where Pargat means birth. Valmiki Jayanti is celebrated to offer tribute to the great sage and his teachings of values and social justice. The exact date and time of Valmiki's birth are unknown, but he is believed to have lived around 500 BC.
Valmiki Jayanti History and Significance
History
The story goes that Maharishi Valmiki met Lord Rama during his exile. He also rescued Sita after Lord Rama banished her from the kingdom of Ayodhya and provided her shelter. It was in his ashram that she gave birth to the twins, Luv and Kush. During their childhood, the great sage became their instructor and taught them Ramayana which contains 24,000 verses (shlokas) and 7 cantos (kandas).
There is another popular belief that Valmiki was a highway dacoit named Ratnakar in his early years. He used to rob and kill people until the day he met Narad Muni, who transformed him into an ardent devotee of Lord Rama. After meditating for years, a divine voice declared his penance successful and bestowed him with the name Valmiki. He was later revered as Adi Kavi for being the first poet of Sanskrit Literature. His works, especially the great epic, are recited to date by Hindu devotees.
Role in Ramayana: In the Ramayana written by Valmiki, there is a mention of Lord Rama killing Ravana which is celebrated as Dussehra, and the return of Lord Rama from exile which is celebrated as Diwali.
Role in Mahabharata: After the battle in Mahabharata, Valmiki was one of the sages who visited Yudhisthira. Valmiki told Yudhisthira that praying to Shiva has a lot of benefits including the cleansing of the sins.
The First Shloka by Valmiki: Valmiki is also known as 'Adi Kavi' or the first poet and he wrote the first ever shloka and the first ever poem called 'Ramayana' with 24,000 verses. The first ever shloka by Valmiki was in grief and rage at a hunter who shot a crane couple with his arrow-
मा निषाद प्रतिष्ठां त्वमगमः शाश्वतीः समाः।
यत्क्रौञ्चमिथुनादेकमवधीः काममोहितम्॥
You will find no rest for the long years of Eternity
For you killed a bird in love and unsuspecting
Other Names of Valmiki
Valmiki has many names called by the devotees like Balmiki, Ratnakara, Lal Beg, and Bala Shah. He has also been given some honors like Adi Kavi, the first poet, and Maharishi.
Valmiki Jayanti Celebrations across India
Valmiki Jayanti is celebrated with great joy in India, particularly by Hindu devotees.
Attending a Shobha Yatra- It is a procession carried out by people in their local areas with an idol of Valmiki. People sing devotional songs and shlokas along with the yatra.
Reciting the Ramayana- The recitation of the Ramayana is done in remembrance of Valmiki.
Visiting Temples- People pay their tributes and prayers in the temples of Valmiki across the country. The temples of the sage are decorated with flowers and lights, and the devotees offer free food and recite prayers.
Valmiki Temple, Amritsar, Punjab
Popularly known as Bhagwan Valmiki Tirath Sthal, it is a historic monument located in Amritsar, Punjab. It is believed to be the place of Valmiki's residence and the place where he provided shelter to Sita. This is the place where the sons of Lord Rama and Sita, Luv, and Kush were born.
Best Places to Observe Valmiki Jayanti in India 2023
Some of the best places to observe the celebrations for Maharishi Valmiki Jayanti in India are:
1. Chennai
Thiruvanmiyur temple in Chennai is believed to be a 1300-year-old temple dedicated to Valmiki. People sing devotional prayers and dance on the day of Valmiki Jayanti.
2. Uttar Pradesh
Valmiki Jayanti is celebrated on a grand level in Gorakhpur, Uttar Pradesh. All the temples are decorated in traditional ways with a 24-hour Ramayana recitation.
3. Punjab
Bhagwan Valmiki Tirath Sthal celebrates the festival with joy as it is the place of residence of Maharishi Valmiki. Multiple events like Nagar Kirtan and Langar are organized by the management.
4. Karnataka
In Mysore, Karnataka marks Valmiki Jayanti celebrations with a grand and colourful procession. People decorate temples with flowers and follow the rituals for Ramayana Katha.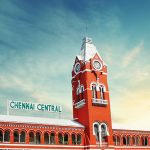 How to Reach Chennai by Flight, Train, Car or Bus
Year-Wise Valmiki Jayanti Observances
| | | | |
| --- | --- | --- | --- |
| YEAR | DAY | DATE | Event/Festival |
| 2021 | Wed | 20-Oct | Valmiki Jayanti |
| 2022 | Sun | 9-Oct | Valmiki Jayanti |
| 2023 | Sat | 28-Oct | Valmiki Jayanti |
| 2024 | Thur | 17-Oct | Valmiki Jayanti |
| 2025 | Tue | 7-Oct | Valmiki Jayanti |
| 2026 | Mon | 26-Oct | Valmiki Jayanti |
| 2027 | Fri | 15-Oct | Valmiki Jayanti |
| 2028 | Tue | 3-Oct | Valmiki Jayanti |
| 2029 | Mon | 22-Oct | Valmiki Jayanti |
| 2030 | Fri | 11-Oct | Valmiki Jayanti |
Other Festivals in India with Holiday Type
FAQs
Q. Why Valmiki Jayanti 2023 is important?
A. Valmiki Jayanti is important to celebrate the birth of the first-ever poet and offer tribute to the teachings for social justice and values.
Q. How old is Valmiki Ramayan?
A. The original date of Valmiki Ramayan is unknown but according to scholars, it dates back to the 3rd century.
Q. Is Valmiki Jayanthi 2023 a government holiday?
A. Valmiki Jayanti 2023 is an optional holiday.
Q. Where is Valmiki born?
A. According to historians, Valmiki was born along the banks of the Ganges in ancient India.
Q. What is the full name of Valmiki?
A. The birth name of Valmiki was Ratnakar and he was born in the house of a sage named Prachetasa.
Q. Which Yuga Valmiki was born?
A. Valmiki was born in Treta Yuga.
Q. Is Valmiki Jayanti 2023 a national holiday?
A. No, Valmiki Jayanti is not a national holiday, it is celebrated as an optional holiday.