Karva Chauth or Karwa Chauth is one of the most significant festivals in the life of a married Hindu woman. Majorly celebrated in the western and northern parts of India, this day symbolizes the strength of the bond between a husband and wife. On this day, Indian married women keep a day-long fast for the well-being and longevity of their better halves which is concluded upon the sighting of the moon.
According to the Hindu calendar, this day falls on the fourth day of Kartik month, every year. In 2023, Karva Chauth will be observed on 1st November (Wednesday) in India.
Karva Chauth History and Significance
There are no official records revealing the exact origin of this festival. But there are multiple legends in Bhagwad Gita that date back the origin of Karva Chauth to the mythological period.
The most popular legend of all is the one of Queen Veeravati. The story goes that her seven brothers tricked her into breaking her first Karva Chauth by posing a mirror as the moon, out of the love they had for their sister. Soon after breaking the fast, Veeravati got the news of her husband's death that left her devastated and she kept crying until a goddess appeared and revealed the truth about what her brothers did. She asked Veeravati to complete the ritual, and then the Lord of Death, Yama, was forced to release the soul of her husband.
The Mahabharata connects this day to the time when Arjuna went to the Nilgiris, leaving the other Pandavas alone. They faced a lot of problems in his absence and to help them, Draupadi prayed to Lord Krishna who guided her to keep a fast for the well-being of her husbands. She followed all the rituals as per his instructions, and this helped Pandavas overcome all the problems.
There are many other legends about the origin of this festival including the one about a Pati-vrata woman named Karwa and of Satyavan and his wife Savitri.
Karva Chauth 2023 Celebrations across India
On this day, married women dress up like a bride and apply mehandi to honour the relationship with their husbands. They begin the fast with sunrise and consume no water or food throughout the day until the sighting of the moon. In the evening, they recite stories based on the origin of Karwa Chauth and pray. When the moon appears, they break the fast by offering water first to the moon and then to their husbands. The husbands then offer water and a sweet to their wives to break their fast.  
Married women receive gifts from their in-laws and husbands as a token of love and prosperity. In some parts of India, unmarried women also fast on this day in the hope to get their desired life partner.
Best Places to Observe Karva Chauth Celebrations in India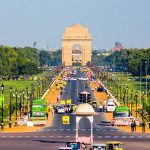 How to Reach Delhi by Flight, Train, Car or Bus
Year-Wise Karva Chauth Observances
| | | | |
| --- | --- | --- | --- |
| YEAR | DAY | DATE | Event/Festival |
| 2015 | Fri | 30-Oct | Karva Chauth |
| 2016 | wed | 19-Oct | Karva Chauth |
| 2017 | Sun | 8-Oct | Karva Chauth |
| 2018 | Sat | 27-Oct | Karva Chauth |
| 2019 | Thur | 17-Oct | Karva Chauth |
| 2020 | Wed | 4-Nov | Karva Chauth |
| 2021 | Sun | 24-Oct | Karva Chauth |
| 2022 | Thur | 13-Oct | Karva Chauth |
| 2023 | Wed | 1-Nov | Karva Chauth |
| 2024 | Sun | 20-Oct | Karva Chauth |
| 2025 | Fri | 10-Oct | Karva Chauth |
Other Festivals in India with Holiday Type