Dussehra or Vijayadashami is celebrated after the conclusion of the nine-day-long festival of Navratri. In 2023, Dussehra will be observed on 24th October (Tuesday) in India. This day also marks the beginning of preparations for Diwali in 2023 which will be celebrated after 20 days of Dussehra. 
Known as one of the most prominent festivals of the Hindu community, Dussehra marks the victory of Lord Rama over the demonic ruler, Ravana who kidnapped Rama's wife, Sita. Dussehra is a Sanskrit word that translates to 'ten (dasha) defeat (hara)' in English as it is known that the King Ravana had 10 heads. According to the Hindu calendar, this day falls on the 10th day of the month of Ashvina which overlaps with September-October in the Gregorian calendar. In this article learn all about the Dussehra 2023 date, muhurat, history, significance, how to celebrate, traditions, cultures, prayers, other related festivals and places to observe.

Dussehra/Vijaydashami 2023- Muhurat, Tithi, and Puja Timings
Dussehra or Vijaydashami 2023 will be celebrated on 24th October, Tuesday in India.
| | | | |
| --- | --- | --- | --- |
| Events | Date and Day | Time Start | Time End |
| Dashami Tithi Begins | 23 October 2023, Monday | 05:44 PM |   |
| Dashami Tithi Ends | 24 October 2023, Tuesday |   | 12:00 PM |
| Vijay Muhurata | 24 October 2023, Tuesday | 02:18 PM | 03:05 PM |
| Aparahna Pooja Time | 24 October 2023, Tuesday | 01:32 PM | 03:51 PM |
Dussehra or Vijaydashami – History and Significance
According to legends, Ravana abducted the wife of Lord Rama which led to a deadly war between them. Demonic King Ravana was given the boon of being indestructible by Lord Brahma. After several events, Rama managed to kill Ravana by shooting an arrow through his belly button. Therefore, the 10th day of Ashvina month of the Hindu calendar is celebrated as Dussehra, every year.
There's one more legend behind this festival. According to Mahabharat, this day commemorates the victory of Arjuna who single-handedly defeated the entire Kaurava Army. Arjuna is also known as Vijaya and hence, the day he destroyed the army is referred to as the 'Vijaya Dashami'.
Many people throughout the nation celebrate this day as an occasion to honour the victory of good over evil. Devotees in the Eastern parts of India observe this day as the end of Durga Puja which begins with the festival of Navratri.
Legends of Dussehra
There are two famous legends of Dussehra – Lord Rama defeated Ravana and Goddess Durga defeated Mahishasura.
Ravana, king of Lanka, is thought to have been defeated on this day by Lord Ram. On the tenth day of intense combat, Lord Ram succeeded in killing Ravana.
Goddess Durga is said to have killed the monster Mahishasura on this day marking the victory of good over evil.
Why do we celebrate Dussehra/Vijaydashami 2023?
Dussehra festival is celebrated as the victory of Lord Ram over Ravan. It also celebrates the triumph of Goddess Durga over the demon Mahishasura. On this day, Arjuna single-handedly defeated the entire Kaurava Army. This festival commemorates the victory of good over evil.

How do we celebrate the Dusshera festival in India?
People do Dussehra pooja at home and in temples and greet each other with a 'Happy Dussehra'. There are many grounds that host the stage for Ramleela acts. People enjoy the fairs with fun games, rides, and food, and watch the burning effigies of Ravan, Meghnada (Ravana's son), and Kumbhkarana (Ravana's brother).
Dussehra/Vijaydashami: Tradition, Rituals, and Culture
There are many rituals, and traditions related to Dussehra and these are celebrated in different cultures throughout the country.
Ramlila Performances: Ramlila or Ramleela is a dramatic performance to narrate the story of Lord Rama through dance, plays, and acts.
Burning of Raavan's Statue: People gather around on the evening of Dussehra to burn the statue of Ravana. It symbolises the victory of good over evil.
Worshipping the Goddess Durga: Durga Puja is widely celebrated in India, where people pay homage to the goddess Durga and celebrate the victory of the goddess over the demon Mahishasura. It is celebrated for 5 days with many rituals and practices. In 2023, Durga Pooja will be celebrated from 20th October to 24th October.
Worshipping of Weapons: Also known as Shastra Pooja or Ayudha Pooja, according to the legends, on this day goddess Durga defeated the demon. After the victory, her weapons were worshipped by the gods. People worship their weapons and give offerings to the goddess on the day of Vijayadashami festival.
How to Wish Happy Dushera 2023 in India: Happy Dushera wishes
Here is the list of the best Happy Dushera 2023 wishes in India
Happy Dussehra
Happy Vijayadashami
May Dussehra light up your hopes of happy times.
May all the obstacles and troubles in your path disappear this Dussehra.
Let your anger burn away today, just like the effigy of Ravana. Have an amazing Dussehra 2023.
May all your sorrows burst away like the fireworks on this night. May your happiness multiply a thousand-fold this Dussehra.
May Maa Durga remove all the evils from your life. We wish you and your loved ones a very happy Dussehra.
May the truth always triumph; may the good always win over evil. May you be blessed with infinite wisdom.
Open the doors and welcome all positivity into your home. Happy Dussehra 2023.
I wish that the brightness and happiness of Dussehra fill your life with fortune, joy, and success.
Happy Dussehra 2023 to you, your friends, and your family. May you be blessed with enormous strength and courage to be righteous and successful.
May this Dussehra bring wisdom, fortune and happiness to your life. Happy Vijayadashmi.
Dussehra 2023 Celebrations across India
On Dussehra festival, devotees wear new clothes and organize public festivities to commemorate the victory of good over evil in the northern parts of India. Celebrated as the conclusion of the nine-day-long fast of Navratri, Dussehra is observed by organizing a theatrical enactment of Rama's life story which is called Ram Lila. Followed by the effigies of Ravana, his son Meghanada, and brother Kumbhakaran are set on fire in open fields throughout the nation.
People in the Eastern region of India including West Bengal,  Bihar, and  Odisha observe this day as the end of Durga Puja which is celebrated by wearing a red saree and putting on vermilion. It is observed as an emotional occasion and Bengalis sing folk songs while immersing the idols of Goddess Durga in water bodies.
Best Places to Observe Vijaydashami/Dussehra 2023 Celebrations in India
The festival of Dussehra is celebrated with great fervour throughout the country.
Northern India
In North India, the best places to observe Dussehra are:
Eastern India
In East India, the best places to observe Dussehra are:
Southern India
In South India, the best places to see Dussehra are:
Western India
In West India, the best places to see Dussehra are:
Cities where Dussehra is Celebrated the Best
1. Delhi
Dussehra is celebrated with great splendour in the city of Delhi. It is a ten-day celebration with huge grounds hosting Ramleela, dandiya nights, Dussehra fairs, and food fests.. People gather around to watch Ravan Dahan or the burning of effigies of Ravana on the 10th day and visit temples.
How to reach:

By Air: Indira Gandhi International Airport
By Train: New Delhi Railway Station

Places to Stay: Hotels in Delhi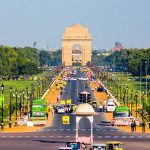 How to Reach Delhi by Flight, Train, Car or Bus
2. Mysore
Dussehra or Mysore Dasara is the most awaited festival in Mysore, which is celebrated with the royal fiesta during Navratri. The Mysore Palace is decorated with more than a lakh light bulbs on this occasion. The 400-year-old tradition of the Dussehra celebration is being followed with all the rituals in the city of Mysore.
How to reach:

By Air: Mysore Airport
By Train: Mysore Railway Station
Things to do in Dussehra 2023 with Family and Friends
Prayers: People worship and offer prayers to the goddess Durga and other gods. There is also a tradition of worshipping weapons, vehicles, and work tools.
Fairs and Ravana Dahan: People enjoy the rides, shopping, and street food at the Dussehra fairs with their families. People also watch Ravana Dahan or the burning of Ravan's statue which symbolises the win of light over darkness.
Watch the Ramlila: Ramlila is a 10-day event in which the life story of Lord Rama is depicted through dramatic acts and dance performances. People with their families watch Ramleela in the evening.
Other Festivals in India with Holiday Type

Year-Wise Dussehra Observances
| | | | |
| --- | --- | --- | --- |
| YEAR | DAY | DATE | EVENT/FESTIVAL |
| 2020 | Sun | 25-Oct | Dussehra |
| 2021 | Friday | 15-Oct | Dussehra |
| 2022 | Tue | 4-Oct | Dussehra |
| 2023 | Tue | 24-Oct | Dussehra |
| 2024 | Sat | 12-Oct | Dussehra |
| 2025 | Thur | 2-Oct | Dussehra |
| 2026 | Tue | 20-Oct | Dussehra |
| 2027 | Sat | 9-Oct | Dussehra |
| 2028 | Wed | 27-Sep | Dussehra |
| 2029 | Tue | 16-Oct | Dussehra |
| 2030 | Sun | 06-Oct | Dussehra |
FAQs
Q. Which goddess is worshipped on Dussehra day 9?
A. Goddess Siddhidatri is the 9th form of Maa Durga. Her name means the one who gives us power.
Q. What are the 9 Durga names?
A. The names of 9 Durga forms are Shailaputri, Brahmacharini, Chandraghanta, Kushmanda, Skandamata, Katyayani, Kalaratri, Mahagauri, and Siddhidatri.
Q. Which God is worshipped on Dussehra Puja?
A. Goddess Durga is worshipped during both Navratri and Dussehra. People also do Lord Rama pooja on Dussehra.
Q. Is Dussehra a Public Holiday?
A. Yes, Dussehra is a public holiday. People plan to visit different cities and temples during Dussehra 2023 holidays for the celebration.
Q. What is the Vijayadashami 2023 date?
A. The Vijayadashami 2023 date is 24th October.
Q. What is Mysore Dasara 2023 date?
A. The Mysore Dasara date in 2023 is 15th October to 24 October.
Q. Is Vijayadashami good for marriage?
A. Vijayadashami significance marks a new start on the tenth day after the end of darkness. So, it is considered to be an auspicious day to get married and start a new life.
Q. What is the other name of Dussehra?
A. The Other names of Dussehra are Vijayadashami and Dasara. Vijayadashami meaning is victory on the tenth day.