Bhai Dooj or Bhaiya Dooj is observed on the second day after Diwali celebrations. This day commemorates the sacred relationship shared between a brother and sister. Sisters apply tilak on the foreheads of their brothers and pray for their prosperity and longevity.
According to Vikram Samvat calendar, Bhai Dooj is observed on the second lunar day of Shukla Paksha. In 2023, Bhai Dooj will be celebrated on 14th November (Tuesday).
Bhai Dooj History and Significance
Although, there are no texts stating the official tale related to the origin of Bhai Dooj. However, it is believed that after killing demon Narakasura on the day which is now celebrated as Diwali, Lord Krishna visited his sister Subhadra who welcomed him by applying a tilak on his forehead. And since then, this day is celebrated as Bhai Dooj.
Another folklore states that on this day the lord of death, Yamaraja visited his sister, Yami who welcomed him with flowers, sweets and applied tilak on his forehead. In return, the lord of death presented her with a gift which reflected his affection for her.
Bhai Dooj Celebrations across India
Bhai Dooj (Northern India), Bhau Beej (in Maharashtra & Gujarat) or Bhai Phonta (Bengal) is similar to Raksha Bandhan. On this day, Indian women pray for the long life and happiness of their brothers. Sisters apply tilak on the forehead of their brothers while praying for their well-being. And in return, men give gifts to their sisters and take a vow of protecting them.
Best Places to Observe Bhai Dooj Celebrations in India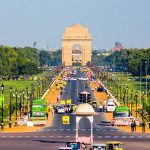 How to Reach Delhi by Air, Rail or Road
Other Holidays in November 2023
| | | |
| --- | --- | --- |
| Event / Festival | Day / Date | Holiday Type |
| Diwali | Sun 12-Nov-2023 | Gazetted Holiday |
| Govardhan Puja | Mon 13-Nov-2023 | Restricted Holiday |
| Chhath Puja | Sun 19-Nov-2023 | Restricted Holiday |
| Guru Nanak Jayanti | Mon 27-Nov-2023 | Gazetted Holiday |
Year-Wise Bhai Dooj Observances
| | | | |
| --- | --- | --- | --- |
| YEAR | DAY | DATE | Event/Festival |
| 2015 | Fri | 13-Nov | Bhai Dooj |
| 2016 | Tue | 1-Nov | Bhai Dooj |
| 2017 | Sat | 21-Oct | Bhai Dooj |
| 2018 | Fri | 9-Nov | Bhai Dooj |
| 2019 | Tue | 29-Oct | Bhai Dooj |
| 2020 | Mon | 16-Nov | Bhai Dooj |
| 2021 | Sat | 6-Nov | Bhai Dooj |
| 2022 | Wed | 26-Oct | Bhai Dooj |
| 2023 | Tue | 14-Nov | Bhai Dooj |
| 2024 | Sun | 3-Nov | Bhai Dooj |
| 2025 | Thur | 23-Oct | Bhai Dooj |