Bhai Dooj or Bhaiya Dooj is observed on the second day after Diwali celebrations. Bhai Dooj is also known as Bhai Phota, Bhau Beej, Bhai Bij, Bhai Beej, Bhatru Dwitiya, Bhav Bij, Bhatri Ditya, Bhai Fota and Bhai Tikka. This day commemorates the sacred relationship shared between a brother and sister. Sisters apply tilak on the foreheads of their brothers and pray for their prosperity and longevity. According to the Vikram Samvat calendar, Bhai Dooj 2023 is observed on the second lunar day of Shukla Paksha. In 2023, Bhai Dooj will be celebrated on 14th November (Tuesday).
Here you can learn about Bhai Dooj/Bhai Phota 2023 date, significance and background, celebrations, places to observe, culture, rituals and year-wise observations
Bhai Dooj/Bhai Phota History and Significance
Although, there are no texts stating the official tale related to the origin of Bhai Dooj. However, it is believed that after killing the demon Narakasura on the day which is now celebrated as Diwali, Lord Krishna visited his sister Subhadra who welcomed him by applying a tilak on his forehead. Since then, this day is celebrated as Bhai Dooj.
Another folklore states that on this day the lord of death, Yamaraja visited his sister, Yami who welcomed him with flowers, and sweets and applied tilak on his forehead. In return, the lord of death presented her with a gift which reflected his affection for her.
What is the Meaning of Bhai Dooj?
Bhai Phota or Bhai Dooj has a literal meaning that is derived from the two words Bhai and Dooj. 'Bhai' means brother and 'Dooj' is the second day after the emergence of the new moon. Hence, Bhai Dooj is celebrated on the second day after the festival of Diwali.
Why is Bhai Dooj called Yama Dwitiya?
Bhai Dooj is called Yama Dwitiya in the southern part of India. This name has been derived from the legend of Yama, who is the God of death and his sister Yami or Yamuna. According to this folklore, Yama met his sister on Dwitheya, which is the second day after the new moon. This particular incident started to be celebrated as "Yamadvitiya" or "Yamadwitheya" throughout the country. From that day onwards, some people in the country celebrate Bhai Dooj as Yama Dwitiya.
Bhai Dooj Tradition, Rituals and Culture
There are many rituals and traditions that revolve around the festival of Bhai Dooj.
Which God is Worshipped in Bhai Dooj?
Devotees take a bath early in the morning and worship Yama, Lord Ganesha, Chitragupta, Yamuna and the many messengers of Yama. There are numerous mantras that are chanted along with worshipping the idols.
Ritual of Dry Coconut
Giving dry coconut to brothers is considered a symbol of auspiciousness during Bhai Dooj. It is believed that when Lord Krishna visited his sister Subhadra after prevailing over demon King Narakasura, she embraced him with a warm welcome, flowers and sweets. She then applied tilak on Krishna's forehead and gave him the dry coconut.
Other Rituals
The thali from which the brother is worshipped is beautifully decorated. The thali has fruits, sandalwood, vermilion, flowers, betel nuts and sweets.
According to traditions, sisters usually make a seat of rice flour for their brothers. The brothers sit on these seats for the sisters to perform their rituals.
Sisters pour water on their brother's palms while reciting the holy mantra and tie kalava on their hands. Then, tilak is applied to the forehead.
After the tilak is applied, flowers of betel nut, Kaddu, betel leaves and coins are placed on the brother's palms.
The sisters then perform the Aarti. Seeing a flying kite in the sky is often considered a good omen.
After the Aarti and Tilak are completed, the brother gives his sister a gift and pledges to protect her life.
Brothers meet their sisters on Bhai Dooj and complete the custom of 'Bhagni Hasti Bhojanam'. In this custom, the brothers have to eat the food sisters prepare for them. It is said that this tradition was started by the God of death, Lord Yama.
Is there any Holiday on Bhai Dooj?
Bhai Dooj is not a mandatory holiday in India. It is an optional holiday provided in the private sector, employees can choose to take a day off on this festival. However, most businesses and offices remain open on Bhai Dooj.
Bhai Dooj/Bhai Phota/ Celebrations across India
Bhai Dooj (Northern India), Bhau Beej (in Maharashtra & Gujarat) or Bhai Phonta (Bengal) is similar to Raksha Bandhan. On this day, Indian women pray for the long life and happiness of their brothers. Sisters apply tilak on the forehead of their brothers while praying for their well-being. In return, men give gifts to their sisters and take a vow to protect them
Festivals that are Celebrated before Bhai Dooj/Bhai Beej
Bhai Dooj is a part of the 5-day Diwali celebration that includes Govardhan Puja as well. The festivities begin with Dhanteras and Naraka Chaturdasi on the first two days respectively.
1. Diwali
Diwali or Lakshmi Puja is celebrated on the 3rd day of the celebrations. Diwali is celebrated as Rama's defeat of the evil Ravana and his triumphant journey back home after spending 14 years in exile. It marks the victory of knowledge over ignorance, joy over despair and light over darkness. It is celebrated on the Amavasya (or new moon) which is the 15th day of Kartik month, every year.
2. Govardhan Puja
Govardhan Puja which is also called Annakoot or Annakut is a festival celebrated by Hindus throughout India. It falls on the first lunar day of the fortnight of the Kartika month, which is the fourth day of Diwali. It commemorates the Baal Roop or the child form of Lord Shri Krishna. Devotees celebrate this festival by worshipping Govardhan Parvat (a hill) and offering 56 varieties of vegetarian food (Chappan Bhog) as a form of gratitude.
You May Also Like: Kartik Purnima 2023
Best Places to Observe Bhai Dooj Celebrations in India
Even though Bhai Dooj is celebrated throughout the country, there are a few states where the festival is observed with great fervour.
1. Bhai Phonta in West Bengal
Bhai Phota or Bhai Phonta is celebrated with great enthusiasm in Kolkata, West Bengal. The rituals and importance of this festival are deeply rooted in the Bengali society. Bhai Phonta is celebrated in Shukla Paksha of the Kartik month of the Bengali Calendar. Sisters fast from morning on the day of Bhi Phota. They also prepare sandalwood paste and organise tender grass shoots or 'Durba' and paddy grains.
Conch shells are blown when sisters put tilak on their brothers' foreheads. Traditional Bengali breakfasts and lunches like Aloo Dum, different categories of fish and Luchi are made for this festival. Sisters also give sweet curd or Misti Doi to their brothers.
2. Bhai Bij in Haryana, Gujarat, Maharashtra and Goa
The people of Goa and Maharashtra celebrate the festival of Bhai Dooj as Bhav Bij. Brothers have to sit in a square on the floor after they consume a bitter fruit called Karith. This festival is also celebrated as Bhau Bij or Bhai Bij in Gujarat, Karnataka, Haryana and Maharashtra. In Gujarat, sisters celebrate Bhai Bij by applying traditional Tikal and performing prayers or special aarti.
3. Bhai Tika in Nepal
Bhai Tika is one of the most important festivals in Nepal after Dashain (Dussehra/Vijaya Dashami). This festival is also known as Bhaitihar, the meaning can be described as tihar of brothers. Bhai Tika is observed on the third day of the Tyohar festival. A special prayer is dedicated to Yamraj by the sisters to pray for the longevity and well-being of their brothers. A Tika – seven coloured long is applied on the forehead of the brothers by sisters. This occasion is also observed by the Bahun, Chhetri, Maithali, Tharu and Newari communities in Nepal.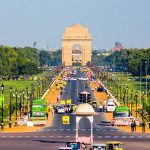 How to Reach Delhi by Flight, Train, Car or Bus
Year-Wise Bhai Dooj Observances
| YEAR | DAY | DATE | Event/Festival |
| --- | --- | --- | --- |
| 2015 | Fri | 13-Nov | Bhai Dooj |
| 2016 | Tue | 1-Nov | Bhai Dooj |
| 2017 | Sat | 21-Oct | Bhai Dooj |
| 2018 | Fri | 9-Nov | Bhai Dooj |
| 2019 | Tue | 29-Oct | Bhai Dooj |
| 2020 | Mon | 16-Nov | Bhai Dooj |
| 2021 | Sat | 6-Nov | Bhai Dooj |
| 2022 | Wed | 26-Oct | Bhai Dooj |
| 2023 | Tue | 14-Nov | Bhai Dooj |
| 2024 | Sun | 3-Nov | Bhai Dooj |
| 2025 | Thur | 23-Oct | Bhai Dooj |
Other Festivals in India with Holiday Type
Further Read: Top Places to Visit in November in India
FAQs about Bhai Dooj
Q. Who gives money on Bhai Dooj?
A. Brothers bless their sisters on Bhai Dooj and give them gifts or money in return.
Q. Is Govardhan and Bhai Dooj the same?
A. No, Govardhan and Bhai Dooj are not the same festivals. Bhai Dooj is usually celebrated after the Govardhan Puja.
Q. Is Bhai Duj a national holiday?
A. Bhai Duj is celebrated as a public holiday in 5 states – Rajasthan, Sikkim, Uttar Pradesh, Gujarat, and Uttarakhand.
Q. Who is the sister of Bhai Dooj Yama?
A. Yamuna or Yami is the sister of Bhai Dooj Yama.
Q. Do sisters keep fast on Bhai Dooj?
A. Yes, sisters keep a fast for their brothers on Bhai Dooj and prepare delicious meals for them.
Q. Which God is Worshipped on Bhai Dooj?
A. Bhai Dooj is also known as Yama Dwitiya. The Lord of Death, Yamraj is worshipped along with Yama-Doots and Chitragupta who were the followers of Lord Yamraj.
Q. What is Bhai Dooj and what is the difference between Bhai Dooj and Raksha Bandhan?
A. Bhai Dooj is celebrated on the second lunar day of Shukla Paksha as per the Hindu calendar month – Kartik. Whereas, Raksha Bandhan is celebrated during Purnima or full moon day in the month of Shravana which is the fifth lunar month in the Hindu calendar.
Q. What is eaten on Bhai Dooj?
A. A special thali is prepared for the occasion of Bhai Dooj with kumkum, supari, sweets, akshat, roli and gola (dried coconut).