One of the most popular festivals of the Hindu community, Raksha Bandhan is observed as the day to honour the relationship between a brother and sister. In English, 'Raksha Bandhan' translates to 'the bond of protection, obligation or care'. According to the Hindu calendar, Raksha Bandhan falls on the last day of the lunar calendar month of Shravan. In 2023, Raksha Bandhan will be celebrated on 30th August (Wednesday).
Raksha Bandhan History and Significance
The origin of Raksha Bandhan goes as far as the era of Gods and Goddesses. According to a popular legend, Draupadi tied a piece of cloth on Lord Krishna's wrist when he hurt his finger while fighting to kill the evil King Shishupal. Krishna, in return, promised to protect her.
Medieval history has another significant version about a brother's promise to his sister. When under attack by Bahadur Shah of Gujarat, Rani Karnavati of Mewar sent a Rakhi to Emperor Humayun and sought help from him. Touched by the gesture, the Mughal ruler abandoned his military campaign and rushed to help the queen without wasting any time.
During the Partition of Bengal in 1905, Rabindranath Tagore started Rakhi Mahotsav – a mass Raksha Bandhan festival, to instil a feeling of togetherness and love between Hindus and Muslims of Bengal. It is known that he started this tradition as a counter to the efforts of the British of creating a divide between communities.
Raksha Bandhan Celebrations across India
On this day, a girl puts tilak on her brother's forehead, performs his aarti, and ties a Rakhi around his wrist, commemorating their sacred bond. In return, the brother gives special gifts to his sister, along with the promise to take care of her and protect her under any circumstances.
Among the Rajasthani and Marwari communities, there is a ritual to tie 'Lumba Rakhi' on the bangle of their brother's wife. It is believed that since the wife is considered to be the better half, the ritual would be incomplete without her. Also, she will equally share her husband's responsibility to ensure the well-being of his sister. This ritual is fast catching up to other Indian communities as well.
Places to Observe Raksha Bandhan in India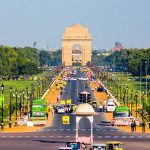 How to Reach Delhi by Air, Rail or Road
Other Holidays in August 2023
Year-Wise Raksha Bandhan Observances
| | | | |
| --- | --- | --- | --- |
| YEAR | DAY | DATE | Event/Festival |
| 2015 | Sat | 29-Aug | Raksha Bandhan (Rakhi) |
| 2016 | Thu | 18-Aug | Raksha Bandhan (Rakhi) |
| 2017 | Mon | 7-Aug | Raksha Bandhan (Rakhi) |
| 2018 | Sun | 26-Aug | Raksha Bandhan (Rakhi) |
| 2019 | Thu | 15-Aug | Raksha Bandhan (Rakhi) |
| 2020 | Mon | 3-Aug | Raksha Bandhan (Rakhi) |
| 2021 | Sun | 22-Aug | Raksha Bandhan (Rakhi) |
| 2022 | Thur | 11-Aug | Raksha Bandhan (Rakhi) |
| 2023 | Wed | 30-Aug | Raksha Bandhan (Rakhi) |
| 2024 | Mon | 19-Aug | Raksha Bandhan (Rakhi) |
| 2025 | Sat | 9-Aug | Raksha Bandhan (Rakhi) |