Diwali, also referred to as Deepavali, is one of the most prominent festivals of the Hindu community. This festival of lights holds a sacred place in the hearts of millions around the globe. With its origins deeply rooted in the rich tapestry of Indian culture, this enchanting celebration marks the triumph of light over darkness, knowledge over ignorance, and joy over despair. In this article, we will learn all about Diwali 2023 date, its history and significance, the timing of Lakshmi Puja, how to celebrate etc.
When is Diwali in 2023?
According to the ancient calendar, Diwali is observed on Amavasya (or new moon) — the 15th day — of the month of Kartik, every year.  In India, Diwali 2023 will be celebrated on 12th November (Sunday). Diwali is observed as a Gazetted Holiday throughout the nation. According to the Hindu calendar, this year Diwali will be celebrated after 20 days of the Dussehra 2023 festival.

History and Significance of Diwali
Although, there are no official records stating the origin of Diwali; among many legends about this festival, one thing is common — the triumph of good over evil. It would be apt to say that different parts of the nation celebrate this day for different reasons. The northern part of India observes this day as the occasion when Lord Rama along with his wife Sita, brother Lakshman and Hanuman, returned to Ayodhya after defeating the demonic king Ravana. Since the night they came back was a no-moon day (Amavasya), people light earthen pots on the night of Diwali.
On the other hand, South Indians celebrate the occasion as the day when Lord Krishna defeated the demon Narakasura. Further, it is believed that Lord Vishnu and Goddess Lakshmi tied the knot on this day. Alternate legends also claim that Goddess Lakshmi was born on the new moon day of Kartik month.
5-Days of Diwali 2023 Celebrations in India
Diwali is one of the most widely celebrated festivals in India and among Hindus worldwide. This festival of lights spans five days, with each day holding its own significance and customs. Check the below table to learn about the 5 days of Diwali 2023 with Date, Shubh Muhurat timing and more.
Diwali 2023 Date and Muhurat Timings
| Date | Day | Event | Muhurat Timings |
| --- | --- | --- | --- |
| 10 November 2023 | Friday | Dhanteras | 06:02 PM to 08:00 PM |
| 11 November 2023 | Saturday | Chhoti Diwali | 11:39 PM to 12:32 AM |
| 12 November 2023 | Sunday | Diwali | 05:40 PM to 07:36 PM |
| 13 November 2023 | Monday | Govardhan Puja | 06:18 AM to 08:36 AM |
| 14 November 2023 | Tuesday | Bhai Dooj | 01:17 PM to 03:30 PM |
1. Diwali Day 1: Dhanteras: November 10th, 2023 Trayodashi – Dhanteras is a joyous festival that celebrates wealth, prosperity, and the auspicious beginning of Diwali. People clean their homes, buy new clothes, and purchase gold and silver as it is considered to be auspicious on the day of Dhanteras.
2. Diwali Day 2: Choti Diwali: November 11th, 2023 Chaturdashi – Choti Diwali sets the stage for the main grand festival, which follows the next day. People decorate their homes, create colourful rangoli designs, and light oil lamps.
3. Diwali Day 3: Diwali: November 12th, 2023 Amavasya – On the main day of Diwali, people dress in new clothes and gather with their families for prayers and puja. The most auspicious time for worship or Puja Mahurat is from 05:40 pm to 07:36 pm. The exchange of gifts and sweets is an integral part of Diwali celebrations. Diyas and fireworks light up the night sky, and people enjoy special cuisines and sweets.
4. Diwali Day 4: Govardhan Puja and Padwa: November 13th, 2023 Pratipada – Govardhan Puja celebrates the divine intervention of Lord Krishna. Devotees create a replica of Govardhan Hill using food items like rice and sweets. Govardhan Puja also emphasizes the importance of environmental conservation and sustainable practices. Padwa is a celebration of a bond between husband and wife. On this day, husbands buy gifts for their wives. People also start new accounts for their businesses as it is considered to be auspicious.
5. Diwali Day 5: Bhai Dooj: November 14th, 2023 Dwitiya – Bhai Duj is a special day that celebrates the beautiful bond between brothers and sisters. It is a time to express love, gratitude, and blessings to strengthen the bond of siblinghood.
How to do Diwali Puja/Deepawali Puja in 2023 
Lakshmi Puja is one of the most important rituals performed during Diwali. There are numerous ways as to how you can perform the puja, but here is an easy step-by-step guide for you to create the perfect ambience during the Lakshmi Puja. 
1. Clean the House: Since Goddess Laxmi is invited to a home during the puja, it is essential to create the perfect environment for her. Clean the house thoroughly including the walls and floors. Sprinkle Gangajal (you can also use the water from Ganga River) to purify the house. Then, arrange banana and mango leaves, and bunches of marigolds to decorate the house. 
2. Prepare the Puja Altar: Locate a small, raised platform and place a red cloth over it. Then, keep a handful of rice and keep it in the centre of the altar. 
3. Place the Kalash: Place a bronze or silver kalash in the centre of the rice. Fill 3/4th Kalash with water and add a marigold flower, a pinch of rice, a coin, and 1 betel nut. Place 5 mango leaves at the mouth of Kalash. Finally, keep a small plate with turmeric on the mango leaves and draw a lotus flower in the turmeric. 
4. Display Lord Ganesha and Lakshmi Figures: Place the picture frame and idol towards the centre of the table. Keep the idol in the southwest direction of the Kalash. Keep a small plate of rice in front of Goddess Laxmi and draw a lotus flower with turmeric on the rice. Also, keep a few coins in front of the Goddess. 
5. Seek Career Success: Place items related to your career or work like pens, laptops, books, or tools next to Lord Ganesha and Goddess Laxmi. This way you will be able to offer your success to the deities. 
6. Remove the Darkness: After the above steps, apply a tilak or a mark of turmeric on the idols. Light an oil lamp (or diya) and place 5 wicks inside the diya. Keep this diya on the altar. 
7. Chant the Mantra: Gather your family at the altar, sit in front of the platform and put a tilak on the Kalash. Chant: "Ya Sa Padmasanastha Vipul-Kati-Tati Padma-Patrayatakshi, Gambhirartav-Nabhih Stana-Bhara-Namita Shubhra-Vasttariya. Ya Lakshmirdivya-Roopairmani-Gana-Khachitaih Svapita Hema-Kumbhaih, Sa Nityam Padma-Hasta Mam Vasatu Grihe Sarva-Maangalya-Yukta."
8. Offerings to the God: Offer rice grains and flowers to the Goddess after you have recited the prayer.
9. Cleanse the Idol Lakshmi: Place the Lakshmi idol on a thali and bathe it with Panchamrita (which is a mixture of many things including ghee, jaggery, honey, milk etc.). Clean it with water again, wipe it and keep it with the Kalash. 
Symbols of Deepavali
There are many auspicious customs and traditions associated with Diwali. Let's have a look at all the symbols related to Deepavali. 
Diyas: Diyas are lit during Diwali to symbolise the triumph of good over evil, knowledge over ignorance and light over darkness. They are made of clay and are filled with oil.
Rangoli: Rangoli is a pretty traditional Indian art form where colourful designs are created on the floor using flower petals, rice and coloured powders. It brings good luck and wards off evil spirits.
Fireworks: Fireworks create a festive atmosphere adding a sense of splendour to the festivities. Traditionally, fireworks were used to scare away negative energy and attract positive vibes.
Lakshmi: Lakshmi is worshipped on the occasion of Diwali as she is considered the goddess of abundance, prosperity and wealth. She also symbolises spiritual enlightenment and purity.
Ganesha: Vinayaka or Lord Ganesha and is highly regarded as the God of wisdom and beginnings. He symbolises strength, intelligence and the ability to overcome any challenge.
Toran: Toran is a traditional decorative element made of marigold flowers, mango leaves and other colourful elements. It is hung at the entrance to invite good fortune and prosperity. 
Diwali 2023 Celebrations across India
Hindus throughout the world celebrate Deepavali — the festival of lights — with utmost joy and enthusiasm. In every home, Lord Ganesha and Goddess Lakshmi, along with valuable items, are worshipped. After the puja is concluded, devotees distribute sweets and gifts among neighbours and friends. Kids along with elders burst crackers and light candles to celebrate this occasion. From clothes to jewellery and furniture to crockery, almost everything on the shelf gets a re-haul. The aura of Diwali is so magical that people from everywhere come around to especially witness the fervour. Let's take a look at the top 5 places in India where Diwali celebrations reach an all-time high.
1. Jaipur, Rajasthan
Jaipur has to be on the top. For one, the decorations are exceptionally great. The whole city is laden with lights and lanterns in different colours and shapes. From popular markets in Jaipur like MI Road, Nehru Bazaar, Tripolia Bazaar, and Bapu Bazaar to community centres, the illuminations are exemplary. A shopping festival is organized and the best-decorated market wins. Do not miss out on enjoying authentic Rajasthani sweets.
2. Varanasi, Uttar Pradesh
A thousand lights and diyas brighten up the ghats of the sacred city of Varanasi. Witness the Ganga aarti during Diwali and you will be left in awe. The whole city lights up during the festive season. Homes can be seen decorated with fresh flowers and diyas all around. The streetside stalls that serve cheap yet scrumptious local food just get better around this time in Varanasi.

3. Kolkata, West Bengal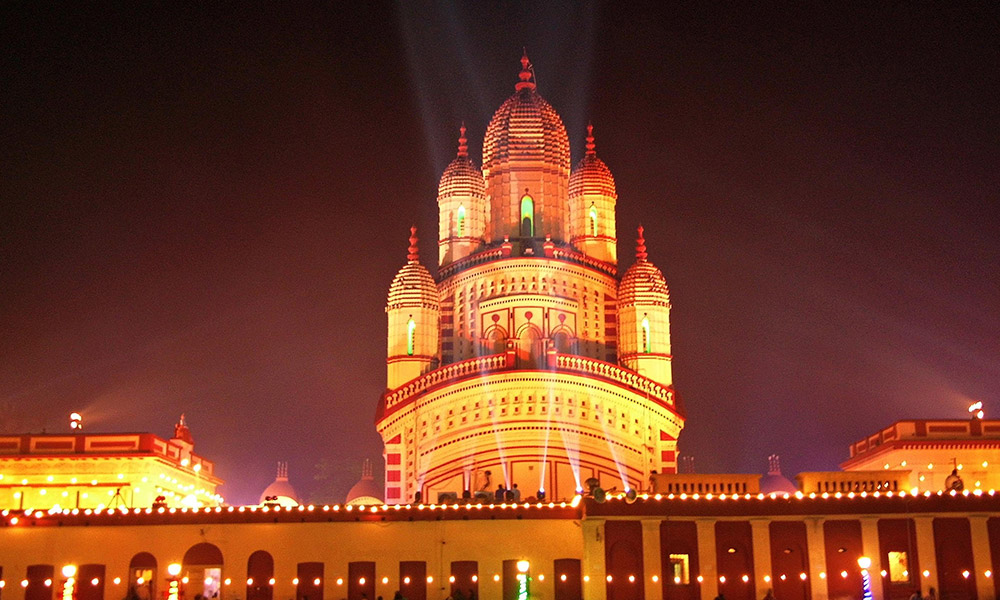 While the City of Joy is at its grandest during Durga Puja, it doesn't get any less festive during Diwali. Bengalis worship Goddess Kali on Diwali and it is an altogether different experience to watch the lighting and gatherings. Just imagine how magical the city might look during the festive season when its vibrancy is infectious even on regular days.
4. Amritsar, Punjab
The state of Punjab has its own charm that attracts one and all. The magnetic persona and the spirit of zeal that the locals have is hard to find somewhere else. For the people of Punjab, Diwali celebrations are as grand as possible. In fact, the majestic Golden Temple is lit with a thousand lights and diyas that speak volumes about the faith of people in this revered place.

5. Mumbai, Maharashtra
It's not just the importance of the city that brings Mumbai on the list but the visual fireworks that make the 'City of Dreams' stand out during Diwali. As a shopper, you must include Zaveri Bazaar, Crawford Market, and Chira Bazaar on your list. Marine Drive looks all the more heavenly at this time of the year. The city hosts a number of events with celeb presence which are indeed fun to attend. So go, stroll around the market, shop till you drop, splurge into some mouth-watering delicacies, and forget about the calories for a week.
May the festival of Diwali bring peace and prosperity to your lives!

Year-Wise Diwali Observances
| | | | |
| --- | --- | --- | --- |
| YEAR | DAY | DATE | Event/Festival |
| 2015 | Wed | 11-Nov | Diwali |
| 2016 | Sun | 30-Oct | Diwali |
| 2017 | Thur | 19-Oct | Diwali |
| 2018 | Wed | 7-Nov | Diwali |
| 2019 | Sun | 27-Oct | Diwali |
| 2020 | Sat | 14-Nov | Diwali |
| 2021 | Thur | 4-Nov | Diwali |
| 2022 | Mon | 24-Oct | Diwali |
| 2023 | Sun | 12-Nov | Diwali |
| 2024 | Fri | 1-Nov | Diwali |
| 2025 | Tue | 21-Oct | Diwali |
Other Festivals in India with Holiday Type
FAQs about Diwali 2023 
Q. Why Diwali is late in 2023?
A. Diwali falls on a new moon of the Kartik month that comes after 20 days of Dushehra. This year Diwali will be celebrated on Sunday, November 12, 2023.
Q. What is the time for Diwali in 2023?
A. The most auspicious time for worship or Puja Mahurat of Diwali in 2023 is from 05:40 pm to 07:36 pm.
Q. Is Diwali 5 days long?
A. Yes, Diwali is celebrated for 5 days starting from Dhanteras to the 5th day which is Bhai D00j.
Q. Is the Diwali date fixed?
A. The date of Diwali changes every year as it is observed on the day of the new moon of Kartik Month. In 2023, It will be celebrated on November 12.
Q. Is Diwali a holiday in the USA?
A. Diwali is not an official holiday in the USA. Some organisations and states recognize it as an optional holiday.
Q. What are the 5 days of Diwali?
A. The five days of Diwali are Dhanteras, Choti Diwali, Diwali, Govardhan Puja and Padwa, and Bhai Duj.
Q. When is Diwali/Deepavali in Canada?
Ans. In Canada, Diwali will be celebrated on 12 November 2023.
Q. Is Diwali a holiday in Pakistan?
A. Diwali is an optional holiday in Pakistan.
Q. Is Diwali a holiday in the UK?
A. In the UK, Diwali is not considered to be a public holiday; it is an optional holiday.
Q. When is Diwali in 2024?
A. Diwali will be celebrated on 1st November 2024.
Q. Which country declared a Diwali holiday?
A. Pennsylvania state in the US has declared Diwali as an official holiday. Along with India, some countries that observe Diwali as a national holiday are Fiji, Malaysia, Singapore, and Nepal.
Q. Which is the first day of Diwali?
A. Dhanteras is celebrated on the first day of Diwali. It is considered to be the beginning of Diwali as people buy new clothes for Diwali, purchase gold, and clean and decorate their homes.
Q. Is it Diwali or Deepavali?
A. Diwali is also known as Deepavali, Dewali, Dipavali, or the festival of lights. Deepavali comes from the word Deep which means clay lamps.
Q. Why are Diwali fireworks burnt during the festival?
A. The burning of Diwali fireworks is marked as a gesture of joy of winning. However, we should be cautious of the impact on the environment while burning the fireworks. 
Q. When is Diwali 2023 date Delhi?
A. Diwali 2023 date Delhi is 12th November 2023.
Q. When is Diwali 2023 date Chennai?
A. Diwali will be celebrated on 12th November in Chennai. 
Q. Which festival is celebrated after 18 days of Diwali?
A. Kartik Purnima is celebrated after 18 days of the Diwali festival.
Q. When is Diwali 2023 date Punjab?
A. Diwali will be celebrated in Punjab on 12th November 2023.
Q. When is Diwali 2023 date Mumbai?
A. Diwali 2023 date Mumbai is 12th November 2023.