The stage is set for Janmashtami celebrations. Also known as Gokulashtami, the day marks the birth of Hindu Lord Krishna. The whole nation comes together to celebrate the birthday with much fervour and enthusiasm. It is quite common to see kids dressed up as little Krishna, markets lined up with sweets and elegant handis, people preparing for the plays (also known as Ras Leela) and temples being decorated with flowers. As per the Hindu calendar, Janmashtami is celebrated on the eighth day of Krishnapaksha of the month of Bhadrapad. While celebrations throughout the country are mesmerising, few places deserve a special mention. It is at these destinations that you can get the true essence of Janmashtami celebrations. Let's take a look at the different places where this festival finds a special place in the heart of people.
1. Mathura-Gokul-Vrindavan, Uttar Pradesh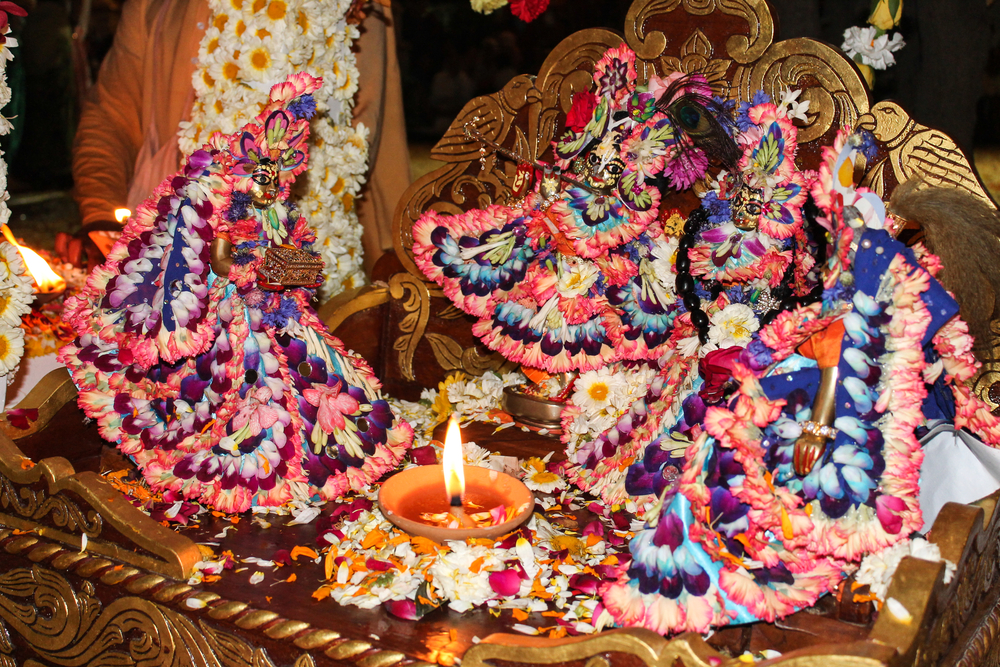 The three places associated with Krishna's childhood – Mathura, Gokul, and Vrindavan are your go-to destinations if you plan to celebrate your Janmashtami away from home. Mathura that happens to be the birthplace of the lord has some 400 temples dedicated to Lord Krishna, all of which are decorated beautifully during this time. Chanting of shlokas, enactment of Raas Leela, fireworks, and jhulotsava are some common ways to welcome Krishna at all these three places. Celebrations begin almost 10 days before the birthday and inflow of tourists increases considerably during this time of the year.
2. Udupi, Karnataka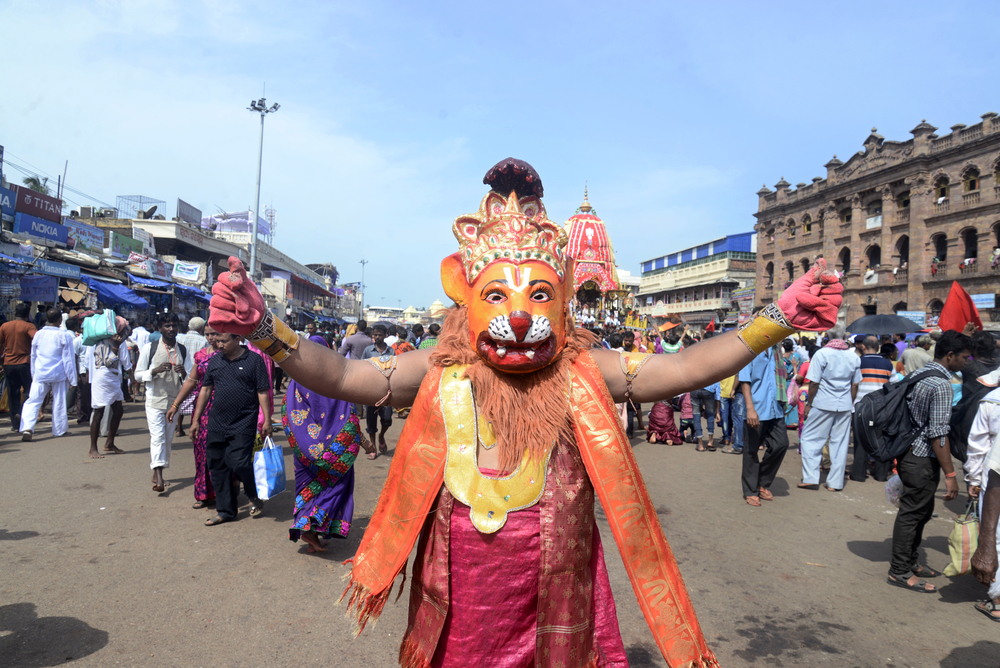 Similar to North, the southern region of India also gets into the festive mood. Raas Leela referred to as Vittal Pindi in Karnataka, is performed by the locals. Gopuras are erected below which the chariot moves throughout the city. Earthen pots filled with curd (or simply dahi handi) are hung on these gopuras and later on broken by sticks. Huli vesha dancers are a huge attraction during the celebrations. Several local contests are conducted wherein people dress up in ethnic costumes making the festival vibrant and colourful. Prasadam is distributed among the devotees and devotional songs are sung.
3. Imphal, Manipur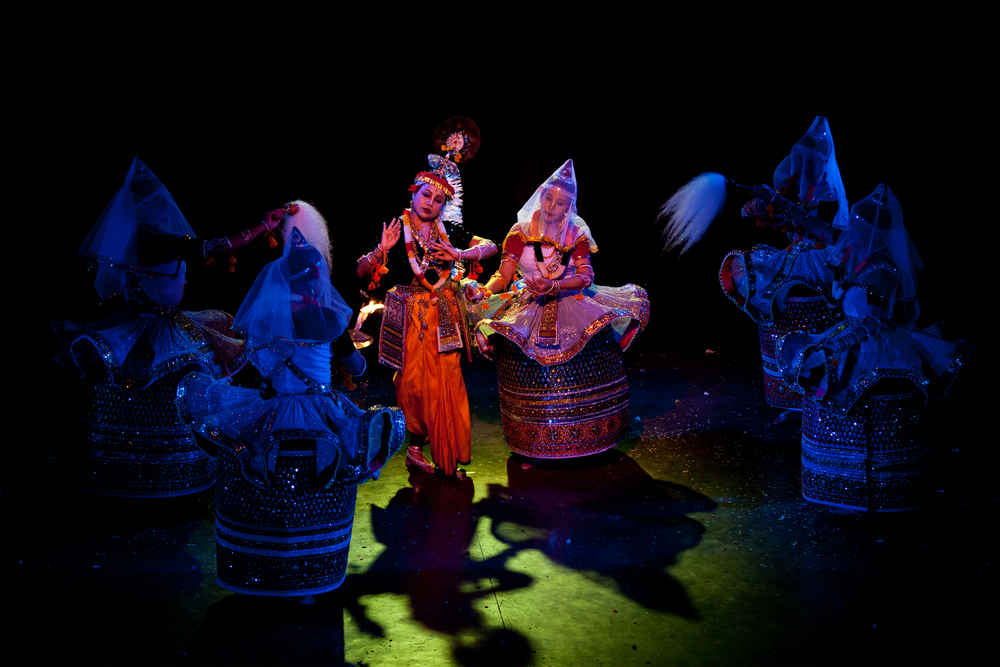 Unlike the remaining festivals of North India that aren't as famous in this part of the country, Janmashtami witnesses a huge crowd of devotees at Mahabali Temple Sri Govindjee Temple. People observe fast and visit the temple offering floral tribute to the Lord. Folk dance performances are a major part of Janmashtami celebrations in Manipur and enchant tourists.
4. Mumbai-Pune, Maharashtra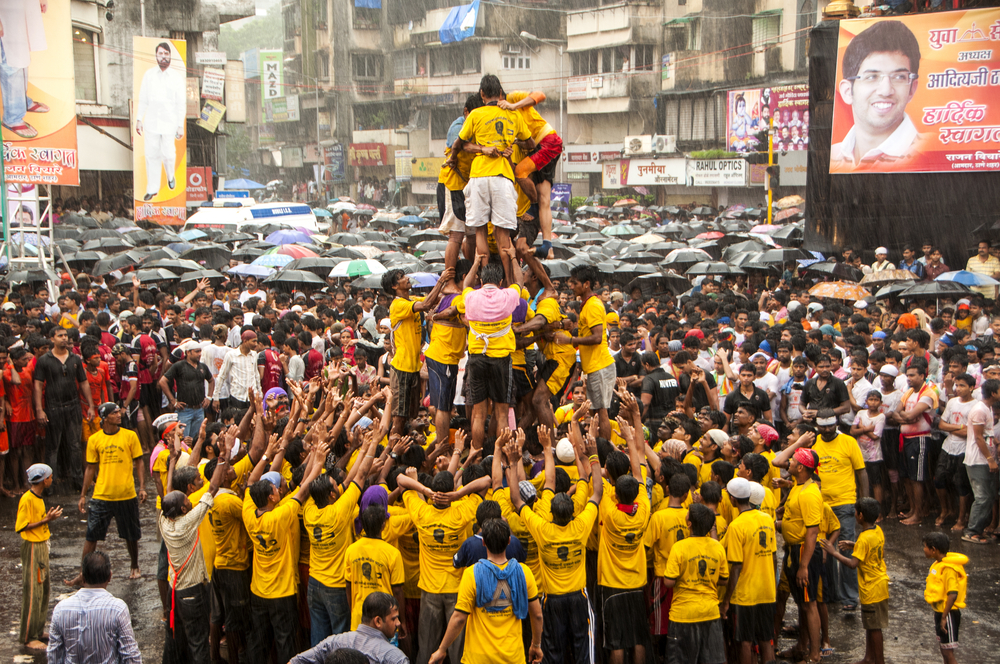 Janmashtami is celebrated in a unique manner in Maharashtra. A human pyramid is formed to reach and break the hung earthen pot filled with curd, milk, water and fruits. The idea behind this is to celebrate the mischievous side of lord Krishna who'd steal butter or curd from the hung pots. This event is held on a large scale in Mumbai and Pune with cash prizes as large as Rs. 12 lakh. Thousands of people gather to witness this splendid form of Janmashtami celebration in Maharashtra.
5. Puri, Odisha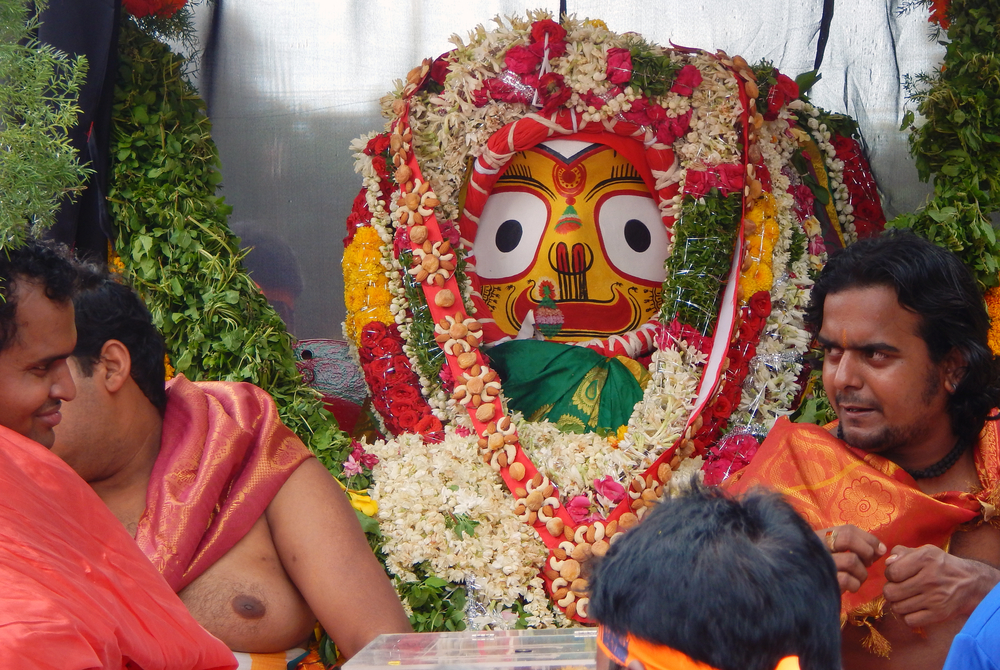 Famous for the Jagannath Temple, Puri has its own set of celebrations that are unique to the region. People observe fast till midnight and chant Hare Krishna and Hari Bol. Devotional songs are sung and verses from the Bhagavad Gita are recited. Several forms of sweets are cooked at home and distributed among everyone as a part of the celebrations.  The temple is beautifully decorated and is a sight to watch on Janmashtami. Apart from these, places like Dwarka in Gujarat (the place that Krishna went on to rule), Assam, and parts of Tamil Nadu also celebrate the festival with great zeal and gusto.
6. Around the World
Indians living abroad also celebrate Janmashtami in a grand way. Religious processions are carried out in the Little India, Singapore, the Richmond Hill Temple in Canada and Bhaktivedanta Manor in London.
There's no doubt that India hosts of the best celebrations in the world via its fests and fairs. Janmashtami is as colourful and vibrant as any other festival celebrated in India. So let's experience yet another side of India this Gokulashtami. Wishing you all a wonderful time with your friends and family- from all of us at FabHotels!